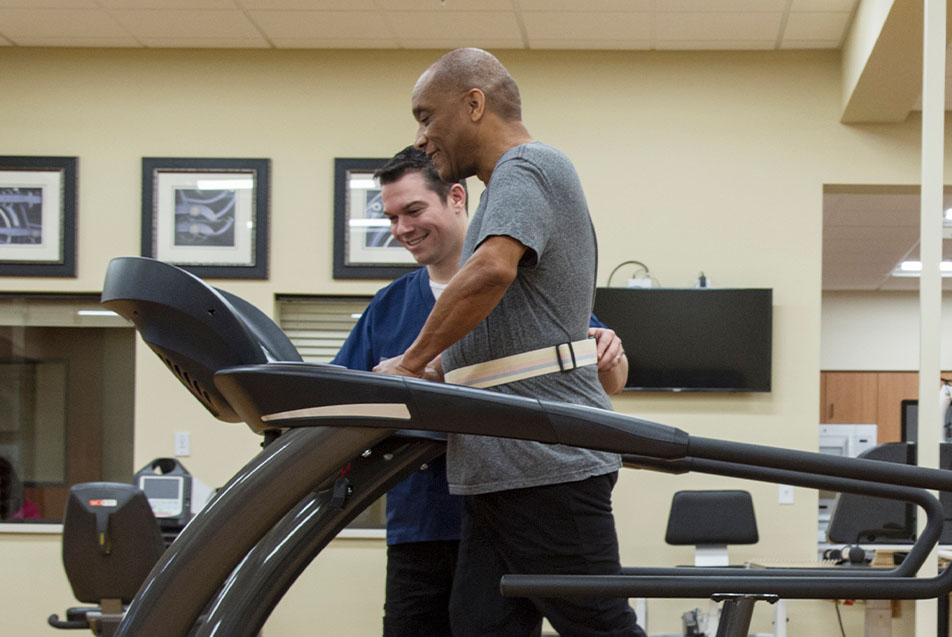 Poor circulation in any part of the body can be painful and increase your risk for heart attack or stroke. However, with early diagnosis and treatment, you could experience better mobility and a more active life. Emily Keltner, MA, cardiac rehab manager, Cardiac Rehab, Parkview Heart Institute, and Anwer Habib, MD, PPG – Cardiology, help explain what supervised exercise therapy is and the many benefits it offers those with vascular disease.
What is supervised exercise therapy?
Supervised exercise therapy (SET) is a physician-referred exercise and education program for individuals diagnosed with peripheral arterial disease (PAD), a circulatory condition in which narrowed blood vessels reduce blood flow to the limbs. The goal of a SET session is to exercise to the point of symptom or onset of claudication (low blood flow to the leg muscles). The workout helps the blood vessel repair themselves, allowing for increased blood flow, especially during physical activity, increasing walking time and distance. A typical SET program usually consists of 36 sessions offered three days a week for 12 weeks lasting from 30-60 minutes.
Who's an ideal candidate for SET?
As previously mentioned, SET is ideal for patients with PAD who experience intermittent claudication symptoms that prevent them from engaging in daily activities. With this condition, the arteries in the legs often have plaque buildup, which blocks blood flow to major muscle groups (buttocks, hips, thighs, calves), causing pain and discomfort (or claudication) when walking. Some patients describe this discomfort as cramping in their calf or fatigue in their legs that only improve after resting.
Patients with PAD and a history of claudication usually benefit most from the program. However, patients who've undergone revascularization (a procedure that helps restore blood flow in blocked leg arteries with balloons or stents) or have a severe reduction in blood flow resulting in tissue loss or gangrene (and have successfully been treated) may also find relief with a SET program.
What are the benefits of a SET program?
Patients who complete a SET program often see improvement in their walking distance and time. Many also reported an improvement in their symptoms and overall quality of life. This level of improvement is comparable to taking medication or undergoing a revascularization procedure, especially for patients with intermittent claudication.
How can someone know if SET is right for them?
If you're curious about SET, please discuss with your primary care provider your candidacy for the program and if it is right for you. Moreover, referral to the Parkview Vascular Clinic would also be a route to get evaluated for this program, especially if you have established peripheral arterial disease.
If you have claudication symptoms and haven't received a peripheral arterial disease diagnosis, a vascular screening test called an ankle brachial index (ABI) test might help detect the condition. An ABI screening can happen without a physician referral and is especially important if you have a history of high blood pressure, diabetes, coronary artery disease or smoking, as these are major risk factors for peripheral arterial disease.
Where can someone seek SET or cardiac rehabilitation services?
SET sessions with our specialty-trained cardiac rehabilitation team are available at several Parkview locations throughout the region with a new location opening next year in Warsaw, IN. For more information or to see if you qualify for treatment, please speak with your primary care provider.