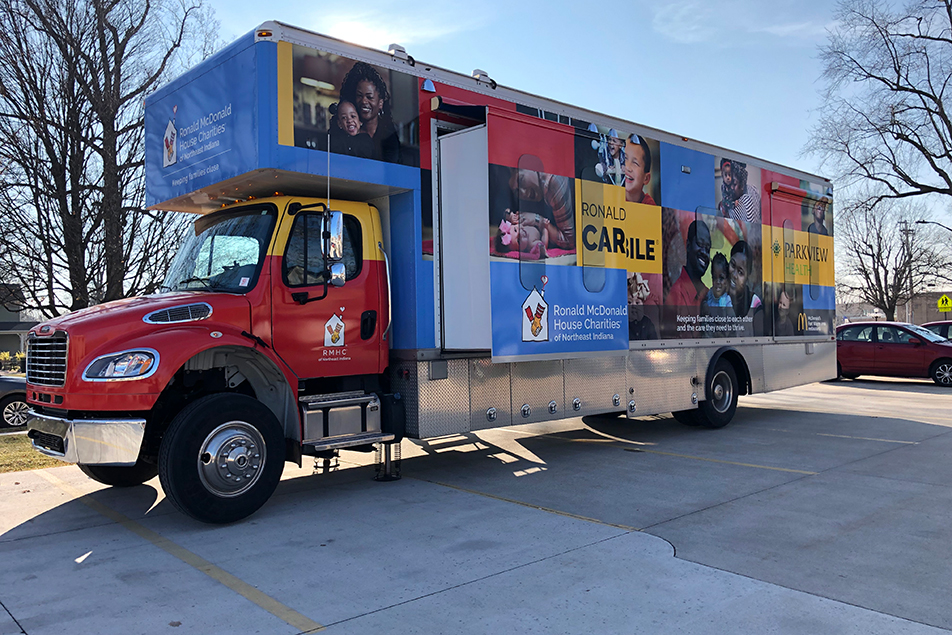 This post was written by Courtney Leach, digital/social media manager, Parkview Health.
In November 2003, former president of South Africa, Nelson Mandela, said, "Our children are our future and one of the basic responsibilities is to care for them in the best and most compassionate manner possible."
It's a concept that the majority of the world both embraces and also recognizes as an ever-present challenge. Young people hold immeasurable potential, but a fair amount of the weight that determines what they will do with it – what opportunities they will have – falls on the shoulders of the adults who come before them.
There are many branches that feed into a child's overall probability for prosperity. Each new life brings with it a unique set of inherited variables. These can be geographic, economic, social, spiritual, emotional, cultural. While the opportunity to succeed is open to everyone, it's undeniable that being dealt certain cards in any of these areas can make obstacles easier or more difficult to overcome.
The nuances of families and the dynamics of each household are complex, but there is one fundamental facet to every being that is universally recognized as an essential element for thriving, and that's health. Without it, there is no guaranteed path forward. A foundation of good health is our ticket to play the game. To enter the arena. To fight for the prizes and the progress. It's an imperative differentiator and principle piece of development.
As a health system, Parkview recognizes how critical early care is for young people. It's an acknowledgement that, nearly five years ago, prompted a deeper dive into how we address the kids who are falling through the cracks when it comes to pediatric care.
As a result, in June 2018, Parkview Health, in partnership with Ronald McDonald House Charities, introduced the Ronald McDonald Care Mobile to northeast Indiana. The concept is a doctor's office on wheels, on which PPG – Pediatrics providers visit neighborhoods to grant convenient access to health services for children 0 – 18 years old.
After a short stint off the road, the bus is back, and I was eager to meet the team going into communities to make a difference and set the next generation up for success.
9 a.m. – Coming aboard
The vehicle was easy to spot – papered in primary colors and adorable faces of happy kiddos. They were parked at the Eckhart Public Library, a lot tucked onto a somewhat quiet corner near the heart of downtown Auburn.
I immediately heard the mumble of the generator, working to power the heat and mechanisms on board. There was an older gentleman opening hatches and checking on things outside. He smiled and motioned for me to climb in. "They're in there!" he said. I wrapped my hand around the chilled railing and summited the steps – thump, thump, thump – before opening the door.
I was greeted by Angela Troyer, NP, PPG – Pediatrics. She was busy running through the processes of preparing the bus for patients, who could arrive at any time. Early morning tasks include checking the temperatures on vaccines that require specific storage, a brief inventory of supplies and touching base with staff.
I heard the steady one-two-three thump of soles on steps, a slight jostling, and the door opened. Sunlight coated the floor at Angie's feet. I recognized him from my walk in. "Have you met Terry?"
Terry McManama has been navigating the care mobile to sites in Allen, Huntington, Kosciusko, LaGrange, Noble, Wabash and Whitley counties for nearly 3 ½ years and retains a wealth of knowledge about the program. "I taught at Churubusco High School for 37 years," he told me. "I only got my CDL (commercial driver's license) because I was a coach and I got tired of waiting for the route drivers on game days. One evening, I was volunteering at the Ronald McDonald House, and someone mentioned they were hiring a driver for the care mobile. And here I am! This has honestly been a dream job."
He used the words "has" and "been" as a lead-in to the follow-up fact that he planned to retire from his position with Parkview just two days after my visit. I would be observing him during his final hours on the bus.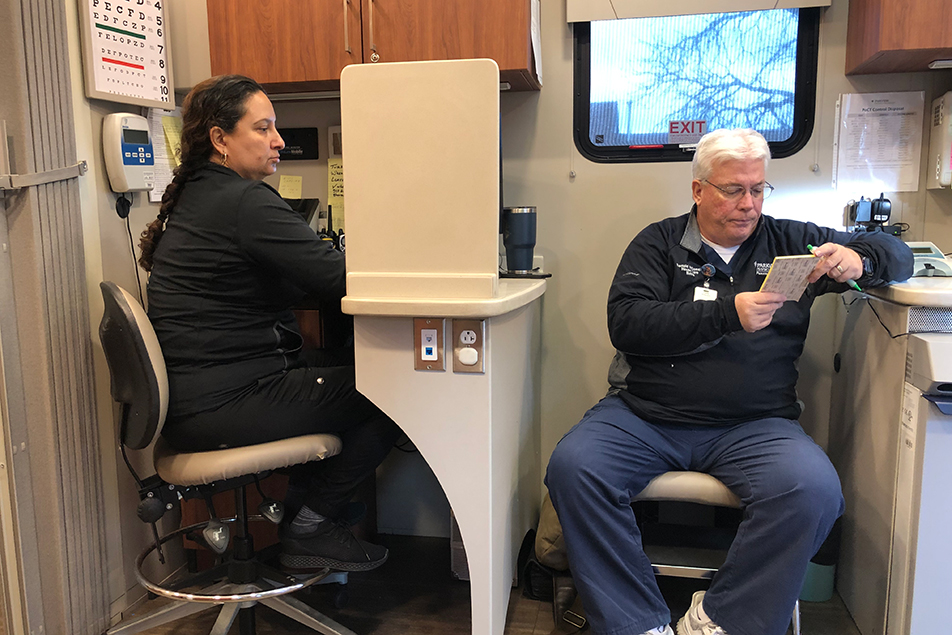 Terry, in turn, introduced me to Deiah Vanover, a former school bus driver for Carmel Clay Schools, who is taking over his role. Terry and Deiah serve as both the driver and front desk receptionist for the care mobile. "It's just like a doctor's office," Terry explained. "We help with registration and getting everything ready for their visit." These responsibilities, I would later observe, can also include providing entertainment for waiting siblings and classmates.
The state-of-the-art 40-foot care mobile unit is complete with two patient exam rooms, a laboratory and a patient education center. It has four levelers, slide outs and, according to Terry, is taller and catches more wind than a school bus.
During our early conversation, Terry mentioned how good it felt to be back to seeing patients, noting a brief time in which the care mobile was parked, first due to the pandemic and then staffing issues. "We lost our provider in December 2021, and then Angie got hired in March of 2022," he explained. "So, in June of this past year we were able to get back out."
Angie was thrilled at the opportunity as well. After stints in NICU, college health, serving as an adjunct professor and working at Parkview Huntington Hospital for eight years in the Family Birthing Center, she became a family practice nurse practitioner. "I learned so much from working closely with Dr. [Duane] Hougendobler during that time," she recalled. "When this opportunity came up, he put in a good word for me. After I was hired, I had to get all of the certifications and background checks. I'd worked in a number of states and those things just take time, but we're here now."
Angie currently handles all clinical care provided on the bus, which includes immunizations, wellness visits, screenings (hearing, vision, developmental), point-of-care testing (lead, hemoglobin, urine), fluoride treatments, and childhood health and safety education. "We're looking for a certified medical assistant or registered nurse to help," she offered, when I lifted my eyebrows at the breadth of their offerings.
9:40 a.m. – Huddle up
Again, the succinct one-two-three thump of the steps. Shelia Johnson, the coordinator for the care mobile, stopped by to drop off brochures and supplies. The group began discussing the calendar for the weeks ahead, a rundown of cities and circumstances. Where to park, who to contact and how many patients would potentially show up.
One of the biggest hurdles for the care mobile has been awareness. There are some communities, like Huntington, where Angie has connections, that have high utilization, others, where participation is low, and still more where they haven't had a chance to visit just yet.
"We go to Huntington North once a month," Angie said. "I coordinate with the school nurse and administration to get the kids out of school for any needs." The care mobile services are available to children up to the age of 18, as long as they are still enrolled in high school. Older kids can see Angie with a signed consent form, while elementary and junior high patients need a parent to accompany them. I listened in, as they threw out holidays and volleyed questions about days when parents worked and those when they didn't, and how that might impact attendance.
One day a week, Angie carves out time to make calls and pursue new leads. Sheila is dedicated to these efforts on a broader scale. They reach out to organizations, business owners, school administrators and nurses, and key contacts within different communities in an effort to spread the word about the initiative and grow their footprint and therefore, impact. They are relentlessly stoking the embers of an earned trust and rapport with groups where that doesn't necessarily come easily.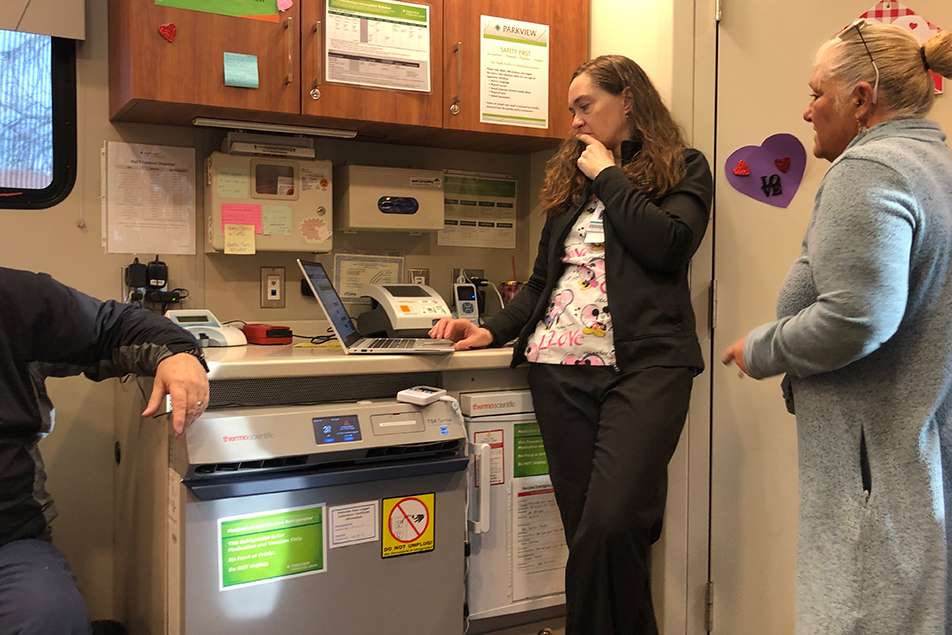 While Angie is a member of the PPG – Pediatrics group, the program and any other employees report up through Community Nursing. This is a natural alignment, and ties into the Parkview Community Health Improvement efforts. But Angie mentioned, several times during our day together, that there really are no silos when it comes to providing care like this. "It takes a village to make this work," she said. "I often reach out to Dr. Hougendobler or Dr. [Tony] GiaQuinta for advice. They are amazing resources and huge advocates of this program. I work with Kari Carrillo-Donges, LPN, on vaccine questions and protocols. It's truly a collaborative effort. There's no way I could do this alone."
10:15 a.m. – The NP will see you now
Thump, thump, thump. "Do you have a long wait?"
Within minutes, the bus filled with a local mother and her six little ones. The group sprang into action. Terry and Deiah started taking names, birthdates and insurance information. Angie's eyes darted between her laptop, where she was pulling up vaccine records and past wellness exams, and a sticky note, where she quickly jotted down the key findings.
Sensing a slight dip in the tolerance of the young crowd, Terry pulled out packets of building blocks and gave one to each child. I had to chuckle behind my mask watching the magnetic shift. The kids absolutely adored him. They gathered at his knees, tapping and tugging to showcase their block creations, each little face basking in awe at his exaggerated, but genuine, reaction, feeling validated by his elation. He found me leaning against the wall trying to stay out of the way. "This," he said, "is what I'm going to miss the most."
I ducked into a corner in the rear exam room, where Angie was patiently walking one of the toddlers, who was due for routine immunizations, through a pair of small, impending pokes. A tentative flinch and then it was over. The little one threw his hands up in a self-congratulatory moment of joy. He walked out to join his siblings where Terry was waiting. "Did somebody earn a sucker?" he asked, and the little guy pridefully snatched the candy from his hand.
One of his older sisters wasn't quite as confident. After some hesitation, Terry came back with his phone and turned on a video from her favorite movie. She looked on, pleasantly distracted for a bit. It took a pep talk from Mom to get her through it, but in the end, she, too, earned a sucker.
We excused ourselves so Angie could close the folding door and do a well child exam for one of the older children. Terry put Stuart Little on in the main cabin, captivating the audience and bringing the overall conversation in the communal space to a standstill.
After all of the tiny arms were tucked back into bulky winter coats, and canary yellow building block creations were collected, I waved goodbye to the procession of satisfied patients. Just before leaving, their mom shared her enthusiasm for the services, "I love you guys! You're so nice." She mentioned that she'd used the care mobile once before, with a similar result. "Now I'm always checking to see where you're going to be. I try to tell everyone."
1 p.m. – Moving the needle
The door latched and I felt a collective exhale. From the front exam room, where I was rifling through my purse for the protein bar I'd tossed in that morning, I heard Angie say, "They were such well-behaved kids."
I dropped onto the freshly disinfected bench seat across from her and pulled at the wrapper of my modest meal. "It's amazing when you think about it," I said. "You have to be ready to respond to whatever comes through the door, at any time."
She picked at her lunch and considered my comment. "I guess my past work experiences have really prepared me to think on my feet."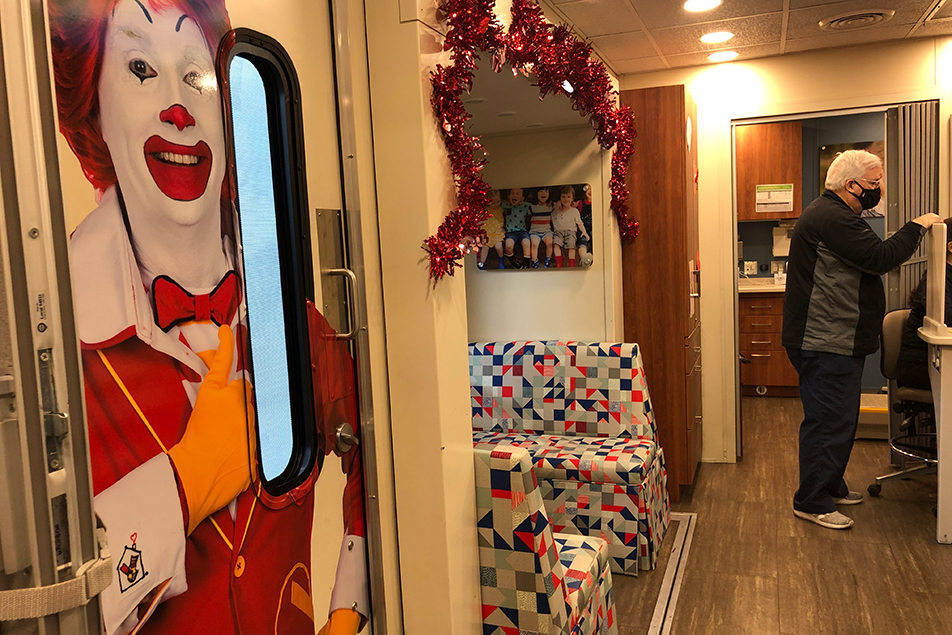 While the majority of what Angie sees are children who need a well child visit or vaccines, she can address medical concerns as well. She has some limitations with testing on the bus, like swabbing for COVID and influenza, though she explained that being able to do so wouldn't necessarily change her course of treatment. "I don't keep certain things on the bus because I want to be a good steward of the funds we have, and I just can't justify the cost of items we don't use often. But I can do quite a bit on here. I can test for lead, hemoglobin, a basic urinalysis, glucose and pregnancy, and provide all of the pediatric vaccines."
Access to vaccinations is an integral piece of the care mobile program. They provide vaccines for both privately insured patients as well as those who qualify for Vaccines for Children (VFC), a federally funded vaccine program for kids. There are strict guidelines for storage and handling of the vaccines. Thus, Angie has to take them off and on the bus daily, and keep track of the refrigerator and freezer temperatures at the beginning and end of the day.
In addition to storage, there are other considerations for vaccines. If it's a series, for example, the team has to be sure they get back to the location in the time window when those children would be due for the next dose or a booster.
Angie recognizes that the topic of immunizations can be sensitive, but she wants the public to see the mobile clinic as a safe space. "I think sometimes parents wait or don't utilize our services ­– for vaccines or other needs – because they feel shame or worry about the stigmas tied to healthcare. But we never pass judgement. The most important thing for us is just to get them started. That's a win."
The bigger goal for the initiative overall is to get children established with a primary care provider or pediatrician. "This is challenging obviously if insurance is the issue." The care mobile won't turn any pediatric patient away. They run Medicaid or private insurance just like they would in a doctor's office, but many of their patients are self-pay. "There are a lot of scenarios that contribute to kids falling through the cracks with healthcare. Maybe a parent who carried the insurance lost their job and they're in a window where they don't have coverage. Or they just got here and they're getting their footing."
It's not uncommon for the team to see migrant families and asylum seekers. "I find that migrant parents are very proactive in getting medical care for their children," Angie said. "But there is an inherent skepticism with some populations and often, I think that comes with the language barrier."
The mobile team does have access to tablets with CulturaLink translation services and some sites provide translators. "When we're able to break down those communication barriers, it makes such a big difference," Angie said.
Ultimately, she knows that the success of the Ronald McDonald Care Mobile rests in the adoption of and trust in their services. "I want to get the word out," she said. "I am here to help! I believe in this program, and I know we can do a lot more. When I think about what we've already accomplished for some of our migrant community members and asylum seekers, it gives me hope for the impact something like this can have for people who are trying to find a long-term solution. It's rewarding being able to provide access until families can find another way to get regular care."
I thanked the team, wished Terry the best in his retirement, thump, thump, thumped down the steps, and walked to my car. The sun was shining for the first time in what felt like weeks, and I stood in its glow before climbing behind the wheel. Terry was starting the process of closing up the bus for its trip back to the Glencarin office. I flipped to the last page I'd written on in my notebook and jotted down the word "passion."
A vision is one thing, but the actual work of creating change is exhausting. There are days when the group is so busy, they don't sit down. And then there are stops when attendance is low and the day on the bus drags on, that feel tedious, I'm sure. But when you talk to Angie about her job, there's an optimistic underpinning about what's possible. You get the sense that you're standing beside her on the brink of a massive breakthrough.
I think that passion is her pebble, and each shift, she tosses it out into the water. And while right now, the ripples that initiates are somewhat modest, they're only going to grow. As long as Angie's willing to show up, intention firm, pebble in hand, and make more waves, the impact of the program she's so passionate about will reach farther and farther. It will touch more and more lives. It will move the needle for countless children in our communities. That is the view she sees on the horizon.
In many ways, despite the recognizable names on the side of the vehicle, the care mobile has been a grassroots effort. The team, both the members on the road and the ones back in the office, behind the scenes, are committed to breaking down barriers and shattering stigmas, and those are feats that can't be rushed. But Angie isn't going anywhere. Unless, of course, you count the paved patches of real estate where you can find her and Deiah waiting to help, in their doctor's office on wheels.
Parents can walk-in or schedule an appointment on the Ronald McDonald Care Mobile by calling 1-877-PPG-TODAY (774-8632). You can find the current schedule here or request the care mobile at a location by filing out this form. If you have a suggestion for a location where the care mobile could be of service, or know a group that might benefit from learning more about the program, contact Sheila at 260-437-0087.