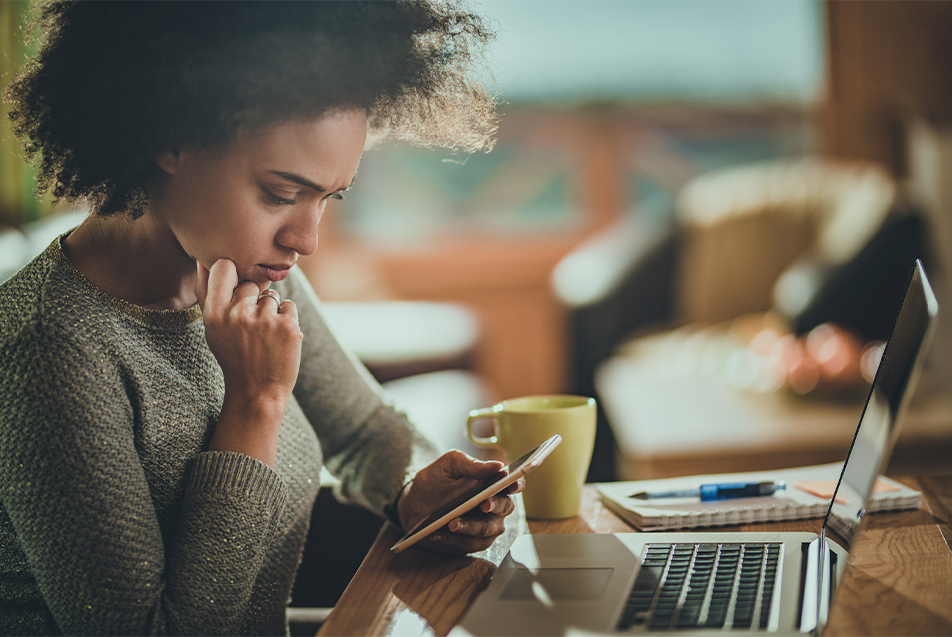 This post was written by Brandon T. McDaniel, PhD, research scientist, Parkview Research Center.
First, I want to say, once again, it's ok for you to feel anxious, stressed, angry and more during this time. You don't have to be perfect. We're all feeling this way, you're not alone. I research and teach individuals and families about healthy digital habits, and yet, even I find myself mindlessly perusing my phone more often than I used to. For example, my daily screen use is up around 3 to 4 hours per day now, when it used to be around 2 hours. This pandemic, and everything that has come with it, is affecting us all.
There are a ton of reasons we get on our phones throughout the day. Here are just a few examples:
Why should we care about our phone use?
There are several reasons we should care about and even limit our phone use, but let's start with the following:
Our usage can affect our mental health: Passive phone use, such as scrolling through social media without a specific purpose and often without really engaging others, has been linked with increased depression [1].
May interfere with personal relationships: The small interruptions during a conversation or time spent together due to phone use is termed "technoference" or "phubbing". Even the mere presence of a phone during interactions has been shown to lower the quality of face-to-face time [2, 3, 4]. On days when phone use interrupts interactions between spouses or partners, individuals feel less satisfied with their relationship and more negative about their interactions [5].
It can affect our children: Before the COVID-19 pandemic even began, 65% of mothers said that technology interfered during playtime with their children once or more per day. Also, 78% of teens said device use interfered with the time spent with their parents at least sometimes [6, 7]. And, if I had to guess, phone use and "phubbing" around family members have only increased now that we're all stuck at home, feeling stressed, maybe working remotely and trying to stay connected. What we need to realize is that, even if our phone use is important, phone use around our children can change the quality of our interactions, as well as how our children are feeling and behaving.

Behavior problems: When tech interrupts parent-child interactions, young children may begin to display their feelings of frustration and disconnect through an increase in behavioral problems, putting further stress on everyone [8].
Feelings of sadness, anger, loneliness and rejection: When children or teens were interviewed, they often stated these feelings regarding their parents' phone use [9], and some studies have linked too much parent phone use with depressive symptoms and feelings of rejection in their teens [10]. This is likely because our children and teens may view our phone use around them as a reflection on themselves—that they are not worthy of our undivided attention.
Tips for being more intentional about your phone use
Now, I know we can't snap our fingers and magically fix things. We are still going to have times we need or want to get on our phones and utilize technology, but it's still important for us to be intentional about our use. Here are a few suggestions to try:
Tech-free times or zones in your home: The idea behind this is to set up a time or space where there will be no technology use. Instead, everyone will do their best to focus fully on one another. Many families, for example, try to make dinner a tech-free time while others have decided that their bedrooms are tech-free zones. This is a good place to start. You may not be able to control your tech use all the time, but you can be more successful at controlling your use during specific times or in specific spaces. Also, by getting the whole family involved you are creating accountability, which will help everyone to be more successful.
Make eye contact: As human beings, we thrive on eye contact. It's one of the ways we communicate to others that we "hear" them and "care" about what they're saying. I know you might be in the middle of a task for work or typing an important email to a friend, but even turning away from your device just for a few seconds and looking directly in your child's eyes can make a big difference to the child. This is also true for your spouse, partner or any other family member.
Create a family plan for media manners: Work together with your family to create an agreed-upon plan that outlines what kind of tech use is acceptable. Determine how and when you will or will not use tech around other family members. In other words, make sure you focus on what you should do if you need to use tech when you're with your family. Talking about expectations can help everyone understand while hopefully eliminating misinterpretations and hurt feelings.
Track your time: Many of our devices have time tracking features built into them. I suggest looking at these features regularly and examining which apps you've used the most that day. Then, consider why you used those apps and whether there's anything you'd like to change. If you find it's too stressful for you to look at this, then please reduce the frequency of checking your use, but continue to work on having focused time with your children whenever possible.
Remember you are human: I know I'm asking you (and myself!) to be more mindful and intentional with your phone and technology use, but I also know this is difficult to do since we're all stressed out right now and our devices are designed to draw us in and keep us coming back. It's NOT unusual to have difficulty controlling the urge to check or get on your phone. It's also ok if you fall short, repeatedly.
Please keep trying and realize the easiest thing you can, right now, is practice understanding, communicate with one another and set up tech-free times/zones, allowing you to engage in quality, focused time with your family. Remember, small changes can make a big difference.
Sources
Escobar-Viera, C. G., Shensa, A., Bowman, N. D., Sidani, J. E., Knight, J., James, A. E., & Primack, B. A. (2018). Passive and active social media use and depressive symptoms among united states adults. CyberPsychology, Behavior & Social Networking, 21(7), 437–443. doi:10.1089/cyber.2017.0668
McDaniel, B. T., & Coyne, S. M. (2016). "Technoference": The interference of technology in couple relationships and implications for women's personal and relational well-being. Psychology of Popular Media Culture, 5, 85-98. doi: 10.1037/ppm0000065
Roberts, J. A. & David, M. E. (2016). My life has become a major distraction from my cell phone: Partner phubbing and relationship satisfaction among romantic partners. Computers in Human Behavior, 54, 134 – 141. doi: 10.1016/j.chb.2015.07.058
Przybylski, A. K., & Weinstein, N. (2013). Can you connect with me now? How the presence of mobile communication technology influences face-to-face conversation quality. Journal of Social and Personal Relationships, 30(3), 237-246.
McDaniel, B. T., & Drouin, M. (2019). Daily technology interruptions and emotional and relational well-being. Computers in Human Behavior. doi: 10.1016/j.chb.2019.04.027
McDaniel, B. T., & Coyne, S. M. (2016). Technology interference in the parenting of young children: Implications for mothers' perceptions of coparenting. The Social Science Journal, 53, 435-443.
Stockdale, L. A., Coyne, S. M., & Padilla-Walker, L. M. (2018). Parent and child technoference and socioemotional behavioral outcomes: A nationally representative sample of 10- to 20-year-old adolescents. Computers in Human Behavior, 88, 219-226.
McDaniel, B. T., & Radesky, J. (2018). Technoference: Parent technology use, stress, and child behavior problems over time. Pediatric Research, 84, 210-218.
Steiner-Adair, C., & Barker, T. H. (2013). The big disconnect: Protecting childhood and family relationships in the digital age. Harper Collins: New York.

Xie, X., & Xie, J. (2020). Parental phubbing accelerates depression in late childhood and adolescence: A two-path model. Journal of Adolescence, 78, 43-52.