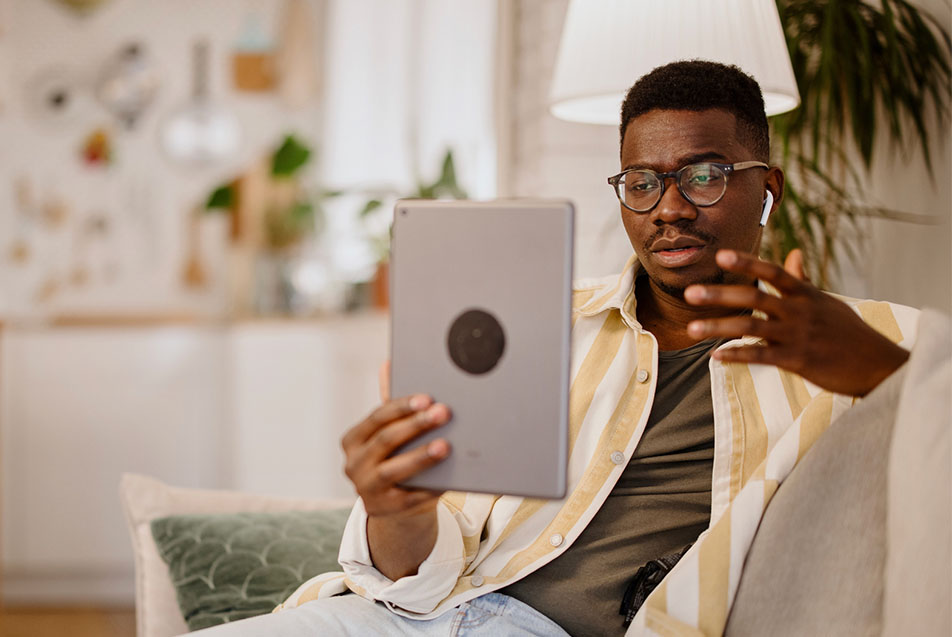 This post was written by Jayne Sloan, NP, MSN, FNP-BC, PMHNP-BC, PPG – Mind-Body Medicine.
The first full week of October was Mental Illness Awareness Week, making it an excellent time to discuss the virtual mental health care options available to you. Parkview has offered virtual care for mental health since March 2020 and the onset of COVID-19. Whether you need an initial diagnostic evaluation or a follow-up appointment, a psychiatric assessment is largely based upon conversation and observation rather than a physical exam, making the field of psychiatry ideal for virtual care and visits through Parkview MyChart.
Available services
Over the last few years, healthcare systems worldwide have had to adapt very quickly, including mental health care. But just like medical care, there is still a need to stay connected with people in meaningful ways, which is where Parkview's virtual mental health services come in. It has given providers the chance to expand their geographic reach, allowing clinicians the opportunity to offer excellent mental health care to more patients from anywhere. Parkview Behavioral Health Institute is connecting people in the following ways:
A HelpLine
Phone consults
Video chat counseling
Small group interactions
Scheduled video visits with your Parkview provider via MyChart (To participate you must be an established patient with a Parkview provider, have an active MyChart account and a scheduled video visit.)
Scheduled video visit with a licensed therapist or psychiatrist via Parkview OnDemand (Parkview OnDemand is available for a fee per visit, regardless of your insurance plan.)
Conditions we treat
We can treat a wide range of mental health conditions through virtual care. Some of those include:
Insomnia
Bipolar disorder
And more
Benefits of virtual mental health services
There are numerous benefits that come with virtual mental health care. Through my practice, I have seen the success of these services for patients that may have otherwise not had access to a traditional mental health visit. Some of the most prominent benefits include the following:
Flexibility
Convenience
Better continuity of care
Increased appointment attendance
Fewer barriers to quality mental health services
Patients have more control over their care
The same level of exceptional care
Delivering an exceptional level of care virtually is synonymous with an in-person visit. Virtual care options offer the same quality and components as an in-office appointment, like privacy, confidentiality, eye contact, listening skills, note-taking, detailed question asking and open communication. They also allow for greater patient management which is fundamental to mental health services. Personally, after providing virtual mental health care services for the last two and a half years, I feel that my ability to offer superior patient-centered care has increased, along with greater patient satisfaction.
How to make your virtual visit a success
There are several steps a patient can take to make their visit a success. Some general guidelines we recommend to anyone getting ready for an upcoming virtual visit include the following:
Having adequate lighting and a strong phone or Wi-Fi signal
Being in a quiet environment with reduced background noise, if possible
Turning off text messages and phone notifications once your visit begins
Sitting up and giving your undivided attention to the provider
Have your calendar ready so you can schedule a follow-up appointment at the end
Bringing a list of your current medications and preferred pharmacy
Avoiding virtual visits in a public place where privacy is compromised
Refraining from virtual visits in a car or while driving
When to reach out
It's important to remember that you can reach out at any time, not just during a crisis. In fact, it may be time to speak with someone if:
You can't do the usual things you enjoy doing
You feel more anxious
You are consumed with worry (about the future or about things that might happen)
You feel more blue than normal, etc.
Remember, you don't have to be physically ill or hurt to seek care. Also, while virtual mental health services are appropriate for most patients, there are circumstances where someone may need close, direct treatment or in-person medical intervention. In this case, it's important that you speak with your provider to decide which course of action is right for you.
Getting started
To learn more about MyChart or create your MyChart account, visit us here. For further questions or assistance, the MyChart Help Center has resources including a patient guide and frequently asked questions.
For more information about Parkview OnDemand, please click here.
If you or a loved one needs to speak with someone sooner or requires help connecting to appropriate mental health resources, please call the Parkview Behavioral Health Helpline at 260-471-9440 or 800-284-8439, anytime, 24 hours a day.