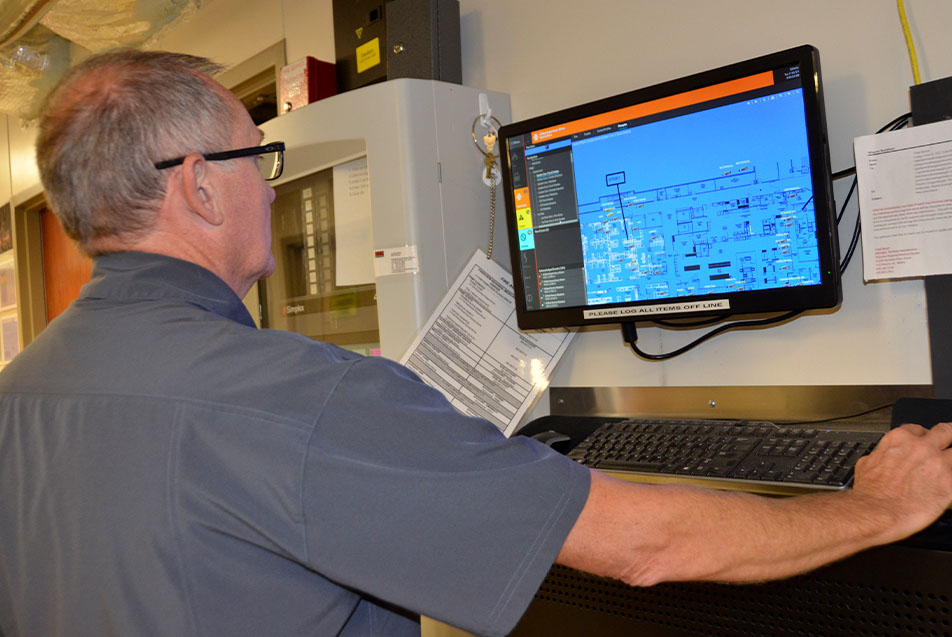 This post was written by Courtney Leach, digital/social media manager, Parkview Health.
In the United States, the population of an average city is just over 20,000 residents. We treat approximately 7,000 patients on the Parkview Regional Medical Center (PRMC) campus every day. When you combine that number with the thousands of visitors, vendors and co-workers coming and going, it isn't a stretch to think of our north side facility as a freestanding mini metropolis. And, as I learned firsthand, along with any bustling borough comes a significant demand for machinery and maintenance.
On a Tuesday morning in the middle of July, I found the impressive team supporting the PRMC infrastructure on the lower level of the main tower. I would be spending time with just some of the 38 staff members who, spread over three shifts, manage a breadth of responsibilities on most of the north campus, including PRMC, Medical Park 11, the Parkview Heart Institute (PHI), The Parkview Cancer Institute (PCI), The Parkview Ortho Hospital and SurgeryONE. When all is said and done, these men are the caretakers to approximately 2.2 million square feet of Parkview property.
My guide for the day was Wayne Burkhart, facilities engineer supervisor. "I've been working here for 10 years and I consider myself a newbie," he told me, already several calls deep into his day. Wayne's father was a Baptist minister, so he grew up spending time in hospitals, but this, he told me, is different. "It takes a special person to go into a patient room in high pressure situations." And Parkview is different. "The guy who trained me has been here for 44 years. People don't stay in a job for 40+ years because it's a bad work environment. It's the hardest job I've ever had. Every day brings a new set of challenges, but I love it."
We stopped by the office to pick up Nate Saucedo, facilities technician. As we walked, Wayne explained that the team is responsible for all air handlers in the hospital. "I'll show you more later today, but it's a big responsibility. These are vital in a hospital setting, particularly in an operating room (OR). The air could make the room go from a positive environment to a negative environment, so we need to check the humidity and pressure levels." Wayne and Nate ducked into the men's locker room and changed into scrubs, a wardrobe exchange they have to make quite often to investigate issues within sterile areas of the building.
There are currently 39 ORs in the facilities the team oversees. Today they had to address an issue in one of the surgical supply rooms. "This is a world-class hospital, and it brings a new challenge every minute. Our guys do so much to maintain a high standard of reliability for our hospital equipment. They handle all of it."
As we made our way back to the office, Wayne noticed a tear in the flooring, a result of wear from the TUGs and heavy carts. He pulled out his phone and set a reminder to come back and take a photo of the blemish. It only took about an hour of being the facilities engineer supervisor's sidekick to arrive at the conclusion that his was a tireless quest for faultlessness. Wayne's is the primary team protecting, polishing and improving the face of Parkview. No one wants that face to have any flaws or imperfections, but, like with any great city, things are inevitably going to happen. Machines are going to break, paint is primed to chip, motors are bound to burn out. Fort Wayne and the other 28 Facilities team members, there's always something to fix, tighten, inspect or touch up in a building that never truly sleeps.
The greater impact of their efforts isn't lost on any member of the group. They know that their waterfall of tasks isn't just about demonstrating their abilities or making things look nice. It's about supporting the vital work of others as well. "I think about the dietary team, for example," Wayne said, as he explained Facilities' ownership of tray line equipment and various machines in that area. "They're in there cleaning dishes and working so hard. We want to be attentive to them, so that they can do their jobs without any disruptions. Same with every other area of the hospital."
We walked back into the workroom, and Wayne began pulling people over to tell me about their roles. With each introduction, I learned of a different responsibility for the group. Mark McComb, facilities technician, for example, is the primary point person for Parkview's pneumatic tube system. There are miles of tubes throughout the health system's buildings and across campus, with 260 carriers sending lab samples, medications and other supplies at any given time. (Picture the tubes at a bank.)
While there are 60 transfer units throughout the facility, the tube hub is located in the Facilities office, where Mark can monitor transactions at his computer. At 9 a.m., there had already been 1,000 transactions within the system. The average is 3,000 on a typical day. Sometimes the carriers can get physically lost. In those situations, Mark can find it through the computer and, if necessary, go help free the carrier to resume its route. There are 12 blowers (eight in the main tower, two in PCI and one in the Outpatient Services Center) running 24/7 to support the system. Wayne's team is responsible for maintaining the machines, including any motor repairs or replacements.
A call came through on Wayne's phone. Someone had accidentally rammed heavy equipment into the elevator door and now it wasn't working. He grabbed a small box of keys off of the wall and we made our way toward elevator 20. When we arrived, he realized he had the wrong key and called back to the office. While we waited, I took the opportunity to ask Wayne how he got into this line of work.
"I was just out of high school and worked as a maintenance tech guy at a dairy in Warsaw. Eventually, I went to BASF, a giant German conglomerate. I remember interviewing and the manager asked, 'Why should I hire you?' and I said, 'I know I don't look like much, but I have a wife, a house and two small kids I need to provide for.' I knew I would double my salary if I got the job. He took me to the plant manager and said, 'I'm going to take a chance on this guy.' I worked there for 25 years, second shift, and eventually the day shift. After 25 years, there wasn't anything else for me to do there. My wife worked at Parkview and she'd been telling me to join the team. I was 46 when I came in to interview, and scared to death.
"That first night when I came to work, I sat in my car and I heard my father's voice: 'Be not afraid.' I prayed that whatever happened, I would be able to respond. And I can tell you I've loved every second of it. Sure, it's overwhelming. Sometimes, especially on the weekends, you think, 'There's only one of me and all these rooms,' but there's something so satisfying about the work. When a doctor calls because he or she is having a mechanical issue, they're out of their element. If they need water or electricity, I can help with that. I can help the patient and the caregiver in that way, and that's so rewarding."
Two team members arrived with the proper keys and Wayne rode the elevator up, then back down. They waited to be sure, but it seemed to be functioning fine. A co-worker tentatively pressed the down button, clearly nervous to get on, and Wayne offered to ride with her. He seemed to be wired to help others, a characteristic I observed in the way he spoke of his work and the words he chose to describe his team.
"I've had the benefit of being under great leaders," he later told me. "I treat people with respect and give them opportunities, sure, but it really starts with Chad [Bloom, manager, Facilities and Maintenance Services]. He's very supportive in everything we do. I'm a teammate. I just also happen to be the one who has to hand out the work."
His team is a huge source of pride for Wayne. He spoke of each man in a personal way, taking the time to make sure I understood their character and their dedication. "When people are engaged, they give you something you can't pay for. These guys have servants' hearts. They're talented and they go above and beyond." A big part of obtaining that type of loyalty comes from getting the right people through the door. In order to build the strongest team possible, Facilities involves the entire team in the hiring process. "All candidates must go through a peer interview before they receive an offer," Wayne explained. "We need well-rounded workers with the right attitude."
That attitude is particularly important on the weekends, when a "skeleton crew" of two is on site. While the team is comprised of a number of trade-certified individuals – two electricians, two plumbers, a locksmith, three painters, an HVAC specialist – as well as general mechanics, everyone is required to have a basic understanding of the full scope of responsibilities, from the tubes to the elevators to the fire system, and every bulb, switch and drain in between.
That expectation comes with a heavy helping of grace. "The thing is, there's no way you're going to have your hands on this much equipment every day and not make a mistake. The important thing is, we come together to fix the problem and then learn from it and move forward," Wayne said.
I met Tyler Boleyn, one of two plumbers on staff (the other is Aaron Rowe, whom I would meet later in the day). We walked up to see a new bottle filling station Tyler had installed in one of the OR waiting areas. When I asked Tyler what weekends were like, he smiled. "Sometimes, I drive by at night and I'm just in awe of how big the facility is. I'm a plumber, and now I have keys for 49 elevators and I'm looking at switches." He went on to give one particularly powerful example. "One night, I was here with Wayne, and we got an alert that the tube system was down. At the same time, a fire alarm started going off. I'm talking to the house supervisor, and her priority was the tube, because she had a blood sample that had to get to the lab within so many minutes. We had to work together to address both, quickly."
In addition to drains and typical plumbing needs, Tyler and Aaron help manage all water fountains, ice machines and decorative water fixtures. Each one has to be cleaned, inspected and maintained. As we walked by the chapel, Wayne pointed out that this includes the holy water in the entryway.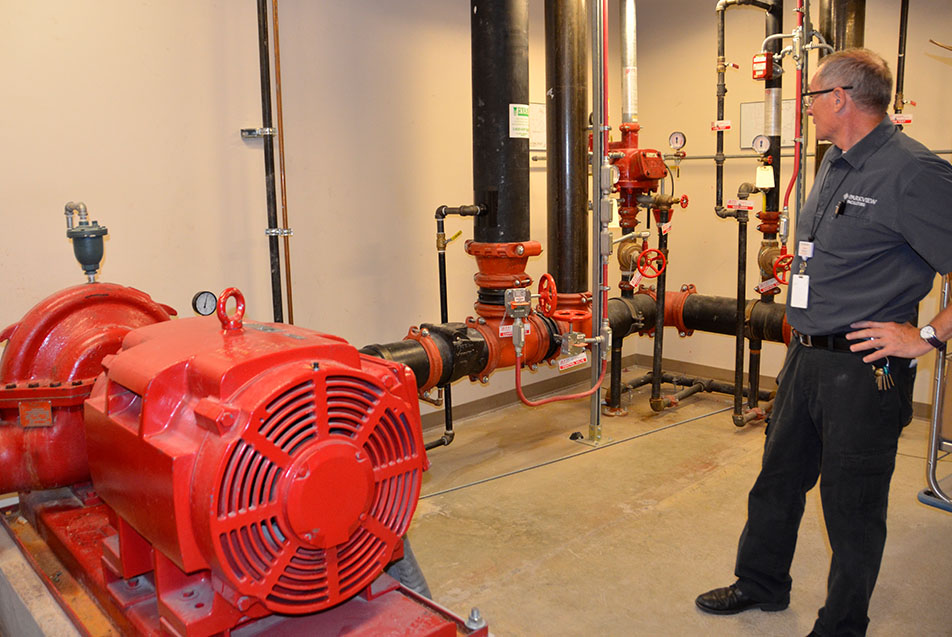 One of the most complex facets of the team's efforts is the dual fire systems. The two systems have to communicate with each other, and require a lot of coordination and documentation. "We took over the system from the Security team several years back," Wayne said. "Nobody likes fire alarms, and if we make a mistake, the fire department comes. I'm proud that we took it on but it's a huge responsibility. I'd be lying if I didn't say it was overwhelming at times. That being said, there's a difference between responsibility and stress. We took the time to really learn the system so we could reduce the stress and make fewer mistakes."
There isn't much that will burn in the building. All of the furniture is flame retardant and fire stopping safety measures are in place, thanks in part to Dave Kahn. Dave issues permits for anything that goes into the walls or above the ceiling in PRMC. "There's more behind the pretty here," he said. "There's just so much behind the walls – more than anyone realizes." As a life safety technician, Dave works on fire extinguisher inventory (716 and counting), the gas barrier system and fire stopping. Lately, he's been busy verifying that all fire system wires – over 40 acres of floor and ceiling space – are secured above the ceiling tiles and not touching other wires linked to the complex freeway system of speaker, antennae, smoke, data, cable, phone, sprinkler, call system, tube system and other wires and support items for devices running between floors.
Each fire alarm device, including thousands of sprinkler heads and valves, has to be cleaned and replaced routinely. To be in accordance with the Joint Commission, the organization responsible for accreditation and certification for the hospital, the system has to be tested in different zones. Paul Noll, facilities technician, is considered the on-site expert, as he underwent extensive formal training with the systems. When testing, Paul and the team are required to call and let police and dispatch know and take pictures to provide to Joint Commission upon request. Thankfully, Paul gets support from Jeff Witt, with Ryan Fire Protection. If a pipe freezes in the winter, Jeff is one of the first names on the list to call.
Just as Wayne introduced me to each of his Parkview team members, he took the time to do the same with each contractor. Throughout the day, I met or heard about team members from Weigand Construction (general contractor), Spangler Fasteners (parts and tools), Otis (elevator repair), Ryan Fire Protection (fire system), Tile Interiors (flooring) and Paint the Town (window frosting and signage). "We value these relationships so much," Wayne shared. "Our team gets larger with our vendors and contractors, and what they bring is invaluable. They are so responsive. It takes a lot of people to keep everything running."
There's certainly no shortage of tasks. It's mind-blowing when you start to tally up the vast scope of the group's duties. There are 202 open work orders at any given time for paint touch-ups alone. Facilities takes care of all of the locks and the "occupied" lights for restrooms on campus, which, as Wayne explained, "Magnetic locks are a specialty in and of themselves." They keep the 3,000 exit signs in the hospital aglow. "We stay on top of everything. If someone sees a light out, they're going to think, 'If they can't change a light bulb how are they going to care for my wife or child.'" It all matters.
On average, Wayne gets 15 calls each hour with various requests for service. An ice machine is dripping, a drain is backed up, a switch is acting strange. "How bad?" he'd ask, and then immediately search the Filofax in his mind before calling up the right team member. Every inch of flooring, every dimmed bulb, every smudge on the wall, every defective coffee machine, every stubborn bed rail or drip or ding or dent or vent. That is this team. Wayne, who covers 8-10 miles in a typical day, wears two cellphones, a pager and a radio at all times. "If something is a patient safety concern at all, that goes to the top of the list." I asked Wayne about the knowledge base it must take to accommodate such an extensive reach of responsibilities. "Our brains work differently," he said. "I can see through the wall. I just understand what's happening with mechanical devices."
I met Jordan Torres, facilities technician, who is responsible for all portable equipment. This includes, but is not limited to stretchers, beds, shower chairs, couches, wall mounts, electronic scales and blanket warmers. This is the short list. There are thousands of pieces of portable equipment in the hospital, each needing to be inspected and maintained. The Parkview Biomed team takes care of anything that touches the patient, while Facilities takes care of everything that supports the patient, with a few exceptions. On the weekends, evenings and overnight, Biomed doesn't have coverage, so the Facilities team has to have a general knowledge of all of this equipment.
I asked Wayne about the onboarding process, an experience I imagine resembles trying to take a drink from a fire hose. "If you can learn the building and a portion of the job in the first year, we're happy. These folks have to be super well-rounded and open. We're going to stretch their skills, but not push them too fast. Safety is a top priority. We haven't had any injuries, and we're so proud of that."
In the hallway, Wayne motions me over to meet Terry Goins with Bed Management. "Terry makes it possible for us to get into patient rooms and do the work we need to do, and that's not always easy, busy as we are." Between maintenance and paint touch-ups and routine checks, Wayne's team has a running list of tasks that require access.
Because of this, in addition to a well-rounded aptitude for all things mechanical, Facilities team members must possess and present a pleasing bedside manner. "Patients are there to get well. We do our best to get in and get out and be kind while we're in there," Wayne explained. "Some patients are lonely and want to talk. Others just want to be left alone. You have to be able to read the room."
Patient comfort and safety are also top priorities. Team members can view every room with a thermostat in the Building Management System on the computer. This makes it so that technicians don't have to go into the room to the change the temperature. There are numerous air handling units on campus and three sets of filters for each. The filters take the air through the preset, secondary set and final phases of filtration. For surgical areas, that filtration includes HEPA, which provides the cleanest air possible. There are more than 90 filters in each air handling unit area. These filters have to be changed routinely and monitored. The team will make adjustments for air quality based on construction in the area or other variables.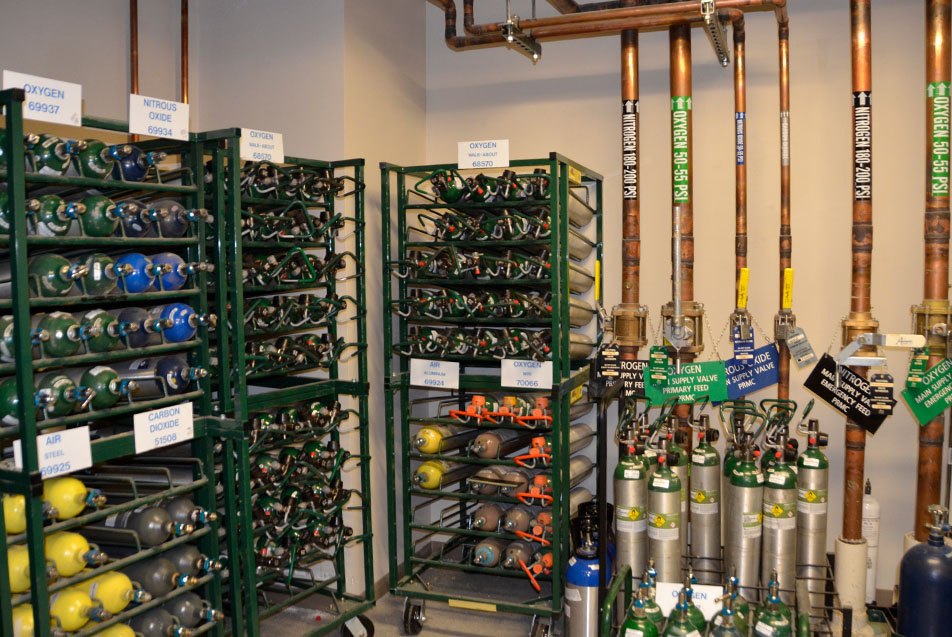 The air quality, like many things the team handles, goes largely unnoticed. "It's often hidden, the work we do. No one knows but our team." Some of the most important jobs are those which produce things undetectable by the naked eye. I was surprised to learn that Facilities actually produces an FDA-certified drug: medical air gas. Wayne and his team are responsible for all gas that goes into a patient's body, including carbon dioxide, liquid oxygen and liquid nitrogen. This means making sure that the pressure is correct and that all gases are ordered. They maintain the compressor and oxygen gauges on the wall, maintain tanks and coordinate repairs.
The team's scope doesn't stop at the walls of the hospital. They have all exterior lights, including the helipad and light landing beacon. The team installed infrared lights to complement the pilots' night vision eyewear. We rode up to the eighth floor to see their handiwork and take a closer look at a very special project.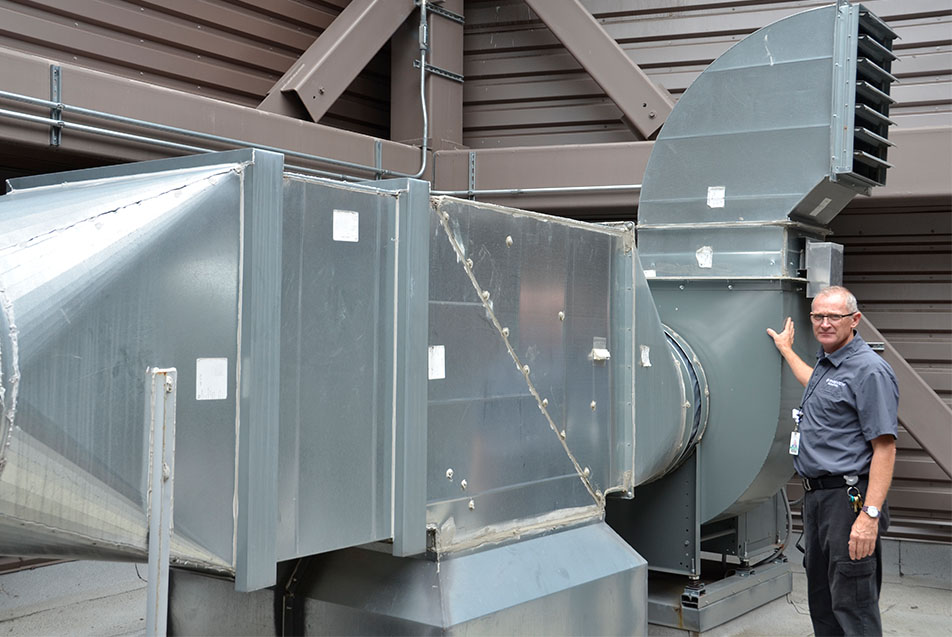 In a room filled with air handlers, Wayne points to a box on the wall with a switch. "There used to be one large fan running for 14 patient rooms. If that would have gone down, they would lose that protective vacuum system and the air handler would pump possibly infected air into all of those rooms. So, four years ago, our entire team put in a backup fan system. I'm proud of it, because every single one of our guys had a hand in that project."
We walked out along the curve in the front of the building. Wayne looked down on the construction in the new tower, and started pointing to various machines. Where I saw beams and pipes on standby and men in helmets going this way and that, he saw the hallways and rooms he would walk a year from now. "It's incredible. This place is always growing," he said, both to me and to no one in particular.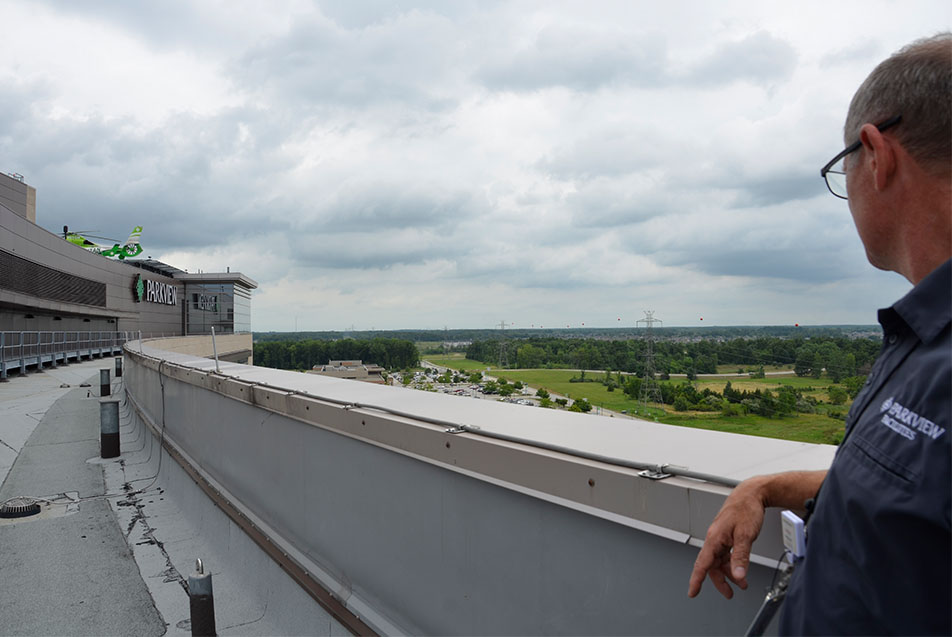 Back downstairs, Wayne introduced me to John Pirrung and Greg Derickson, the team's electricians. The pair had worked together for years before Greg came to Parkview in 2011. When a position opened up at the hospital, Greg thought John would be a tremendous fit. "I knew John had a good heart and not everybody does," Greg said. "It's about being good stewards of the resources, but also holding the door for people. If someone looks lost, help them find their way." The pair tackles everything from door openers to communication boxes to outlets. "We sit next to each other and we have the same training, so we can do our own projects or work together." They also support equipment power, critical power, the uninterrupted power source (UPS) and life safety power.
Standing between the two men, Wayne emphasized their impressive collaboration. "You have to have great communication when you're working with electricity," he told me.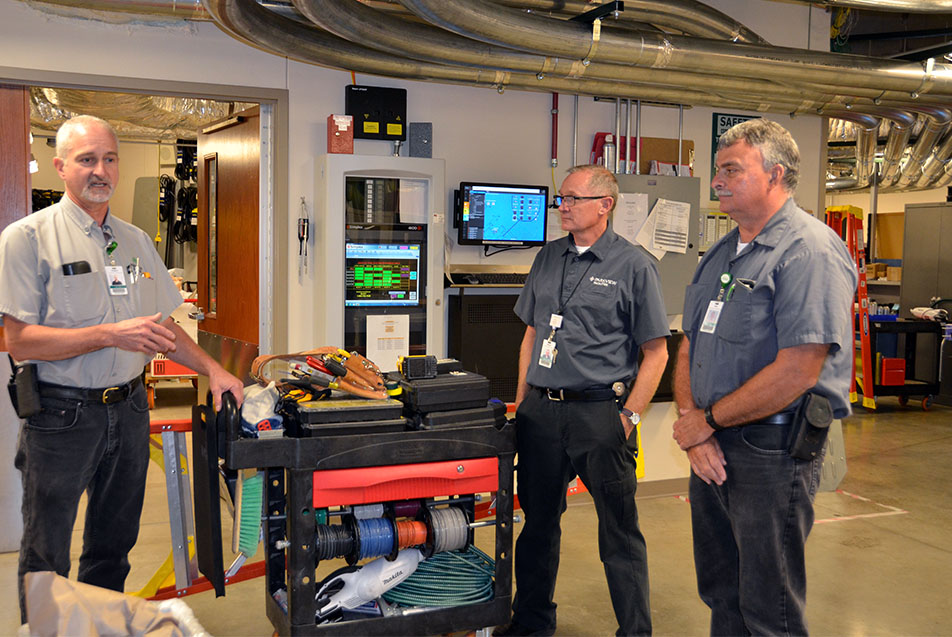 I'd spent a lot of time walking beside Wayne, listening as he spoke of each co-worker like a dear friend and observing countless kind, subtle gestures. Time and time again, he'd called out the servant's heart he saw in his co-workers. I wondered if he realized his own inspiring spirit. "The magic to everything, in my opinion, is to just help with what's in front of you. You can't do everything. But if you do what's right there, that's something." He shrugged and smiled warmly. "You know, I don't always know what people are feeling, but I hope that it's joy. I tell the guys all the time to open up their eyes long enough to see what someone really needs."
Central Utility Plant
The last few hours of my day were spent taking in the logistics of some of the more complex systems in the hospital. Last September, Facilities was divided into two teams: the mechanical shop and the central utility plant, the latter of which is managed by Charles Blomeke, facilities engineer plant supervisor. Charles, who has been with Parkview for seven years, oversees a team of nine facilities plant operators, who specialize in refrigeration, heating and cooling, and emergency power, among other systems.
"The important thing that I've learned, is that things are going to happen. Stuff's going to break, but we have redundancies in place to mitigate problems," he said, early in our time together. Charles is in charge of a small army of massive machinery, including towering generators, boilers and chillers.
The team monitors Parkview's connection to two power substations. If something happens at one, the facility would automatically be switched to the other. The power from the substations comes in and gets distributed. "Think of it like a tree trunk," he explained. "The power goes to the big trunk and then the switch gear takes it out to the third, sixth or eighth floor electrical rooms, like the branches of a tree. Then that power gets distributed to the electrical rooms on each floor, then to lights, etc."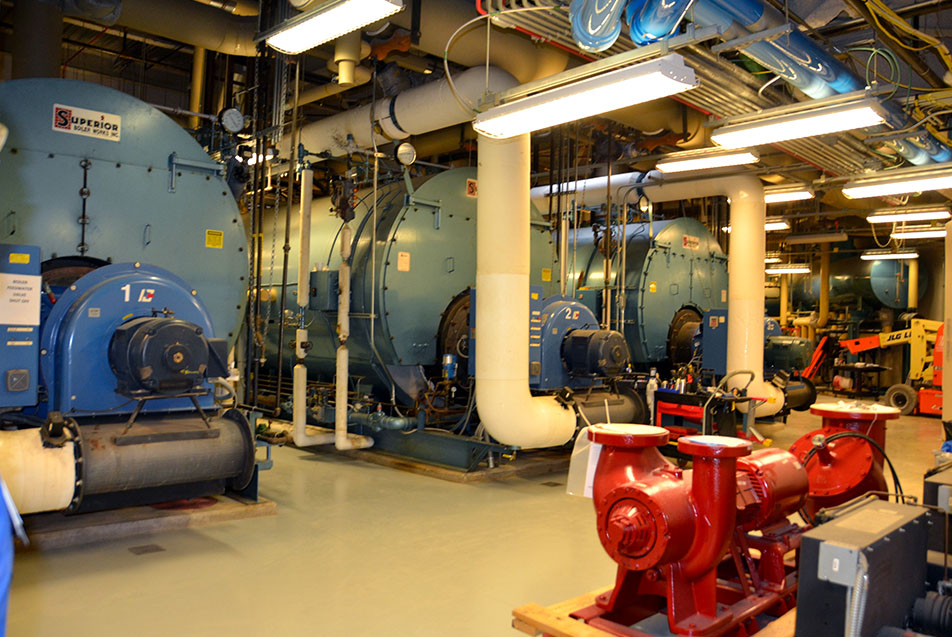 When it comes to the heating systems of the hospital, it truly begins with the boilers. Parkview currently has four 800-horsepower boilers. The number of boilers in use on any given day depends on the weather and the demand. It's typical for the system to run as few as one boiler in the warmer months and possibly all four throughout the colder seasons. These create steam, which goes to the sterilizers, heat exchangers and hot water heaters.
In the mechanical rooms, Charles and his team can change the psi (the measure of pressure) on the steamers, depending on what floor or machine requires the steam. The psi will depend on whether the steam is for a dishwasher, sterilizer, heat exchanger mechanism, or other system.
The steam comes out and condensate gets pumped back into the surge tank, where the boilers will take water to continue their process. The team takes hourly readings and if one boiler is maxing out, they will turn on another one. The boilers are kept warm at all times, in case one is needed.
Air is blown through the air handlers throughout the hospital at around 55 degrees. It comes into contact with hot water from the heat exchanger. If needed, the valve opens and heats the air and delivers warmer air via the thermostat. This arrangement is more efficient and convenient. "We want to be efficient, but keep everyone comfortable as well. It's a fine line sometimes."
Next to the boiler room, you can see large tubes for incoming water. There are booster pumps for pressure, as well as four hot water heaters, which send water out at around 120 degrees. Because the system uses recirculation pumps, there is hot water circulating around the building at all times, so it's available immediately at the tap.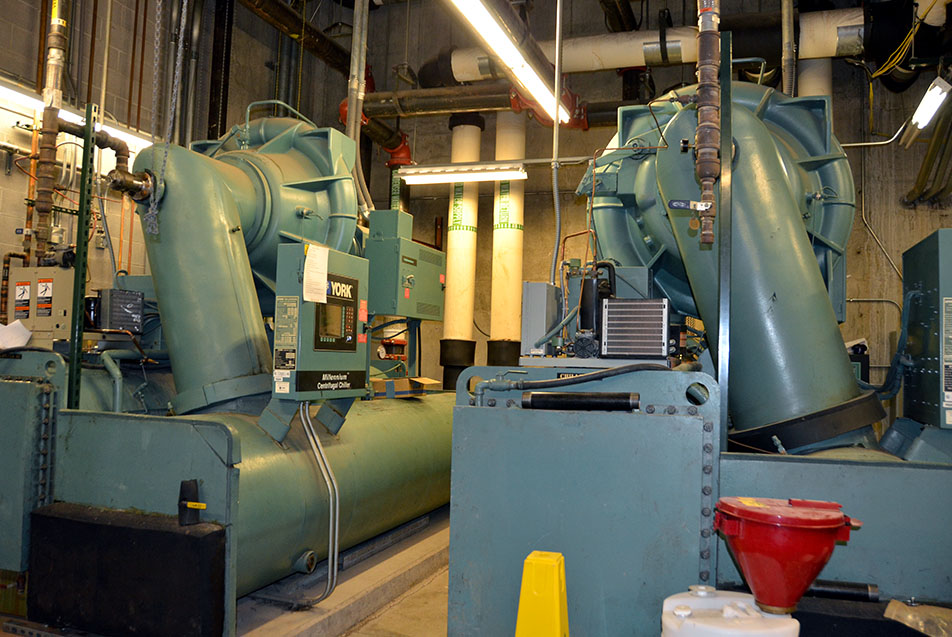 Parkview has five chillers. The fifth came with the opening of the Parkview Cancer Institute. Each one of these chillers has 1,250 tons of cooling capacity. To put that into perspective, your home air conditioner has about 1.5 tons of cooling capacity. Even on the hottest day, we always have a backup in case a chiller goes down. We can also run three of them on generator power. "In a hospital," Charles explained, "it is all about having redundancy to avoid issues."
The chiller compresses refrigerant. Throughout the large area where the boilers and chillers reside, I noticed dark and light blue tubes. The dark blue tubes are used to carry the water out at 42 degrees and the light blue carry water that is coming back at 47 degrees. With the pumps, the water basically goes through a giant radiator in the air handlers to cool the air being distributed throughout all the ductwork in the hospital. Each system supports the next, creating harmonious cycles and effective processes.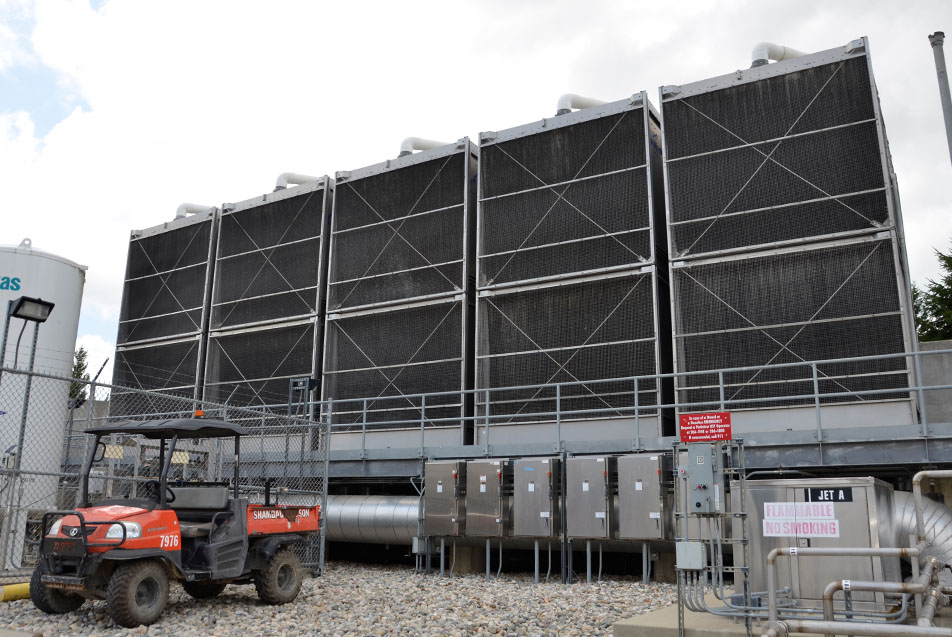 Moving parts create heat, so there's a completely separate system to keep the chiller cooled. Charles pointed out that we were standing above a 15-foot-deep pit down below the chillers. The water from the pit goes through a tube in the top of the chiller towers, located outside by the dock, and then drops down into the tower where it's filtered down and then pushed back to the chillers to cool the machines. The towers will use around 150,000 gallons of water for PRMC and 25,000 gallons of water for the adjoining buildings on a hot day, most of which is lost to evaporation.
For a hospital, power is not an option. It is essential. The health system has three (soon to be four) 16-cylinder diesel engine generators. Each one has to be kept warm so it's ready at any time. The generators kick on automatically within 10 seconds of the buildings losing electricity. These machines make their presence and their power known. When they're on, the sound can reach around 120 decibels. (A train whistle is 140.)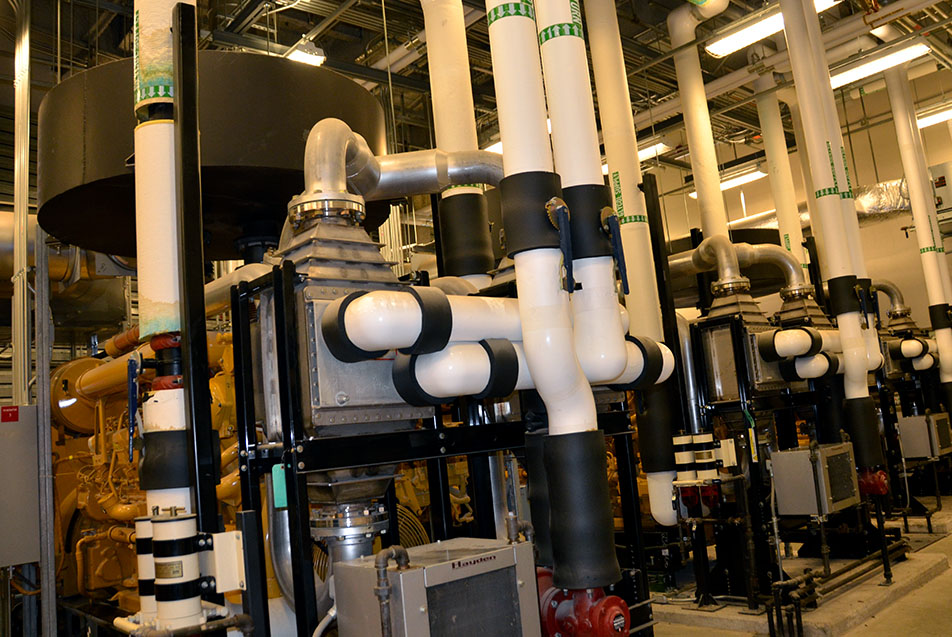 The generators each burn about 40 gallons of fuel per hour. Parkview keeps two 40,000-gallon diesel tanks on site. These machines can generate 2,000 kilowatts of power with all four running, which means that with the fuel and engines on campus, we always keep enough for 96 hours of run time. These generators support life safety and critical equipment – everything plugged into a red receptacle – but not everything throughout the hospital.
Charles walked me through some of the other plant areas located near the dock, which house separate steam, water heating, generators and chillers for some of the buildings off of the main tower, as well as machines supporting medical air, the vacuum system, water softeners and heating valves.
Charles' team provides power, backup power, chilled water and steam for PCI, and takes care of all of the ice machines (over 120 on campus) and general refrigeration needs. They monitor any larger heating and cooling issues as well.
The buildings were steamy on this scorching summer afternoon. I could feel heat radiating off of the steel; perspiration made of energy and fire. The sweat and noise was a bit intense for a girl who's used to sitting in an air-conditioned office, but for Charles, who received an Industrial Maintenance degree from Ivy Tech, there's nowhere he'd rather be. "I have older parents and I've always taken care of people," he said. "This is all part of it. There are challenges every day, but I love it."
Charles was kind enough to escort me back across the land of the fiery boilers and into the Facilities work area. The space was quiet, aside from the subtle dragging of tubes sliding through the tunnels above my head; a sound I wouldn't have recognized eight hours before. The city was calling. It was keeping the second shift crew all tied up, with its illumination and machines and flowing water.
There aren't many people who will make it down to the lower level to meet the team who keeps it all moving. The people who control the elements and keep us comfortable. The people who polish the face of Parkview. But I'm so glad that I did. I'm so thankful for the opportunity to peek above the ceiling tiles and down the barrel of a boiler. These buildings demand great things, and the people who watch over them deliver, day after day, call after call. I'll never look at the towers, lined in lights against the night sky, quite the same.