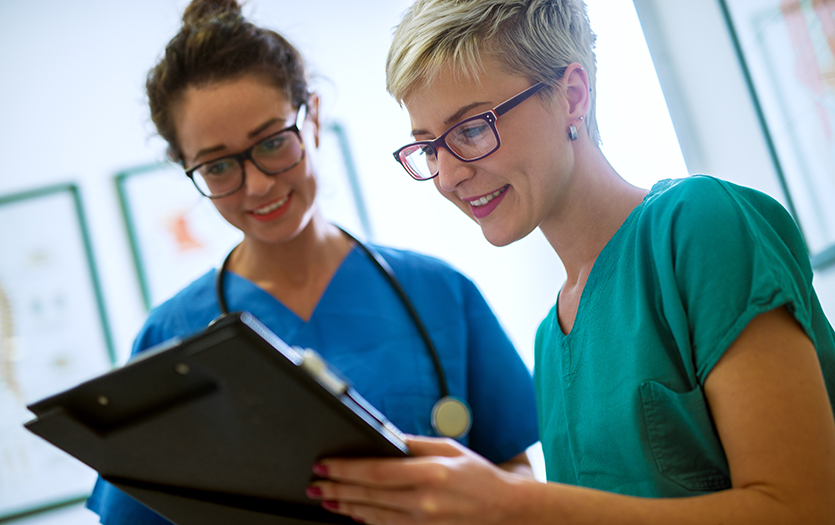 We tapped three caregivers–Angela Mutzfeld, BSN, RN, CMSRN, Parkview Randallia Flex Team, Caitlin Bright, BSN, RN, CMSRN - registered nurse, weekend flex, Parkview Randallia Flex Team–to share their experience with a unique scheduling option for our frontline caregivers, known as the flex team.

When did you start in your flex team position?
Angela: In July of 2019. My manager at that time had reached out to me to discuss the development of the flex team. I was very excited for the opportunity for growth, both professionally and in respect to this new team.
Caitlin: The flex team was created a few years ago, while I was working on a medical unit at Randallia, to help fill staffing shortages and reduce the amount of floating for team members on different units. When it was created, the program was under the same leadership as the unit I was working on, so I had the pleasure of onboarding flex team staff. I joined the team myself in May of 2022.

How would you explain Parkview's flex team program?
Angela: The flex team is made up of several different roles that flex to different areas of the hospital to help meet staffing needs.
Caitlin: The nurses on the flex team at Randallia float between the medical-surgical and rehab units to help fill staffing shortages each shift. We can also float to the emergency department to help take care of patients who are boarding. We are essentially a float pool.

Why was the flex team an appealing option for you?
Angela: Being on the flex team allows you to work in many different areas and be exposed to opportunities you may not see working in a single area.
Caitlin: I joined the flex team for a variety of reasons, but I was especially drawn to the weekend position because it allowed me to work part time, which has given me more time to focus on my mental and physical health. I have also been able to do things I am passionate about, like being a part of the Holistic Response Team at Parkview Regional Medical Center (PRMC) and working on implementing Stress First Aid training through the Quality of Life Committee to help people who may be struggling like I was.

What are some of the benefits you've experienced in your flex team role?
Caitlin: One of the best benefits of the flex team is that I get to know and work with many different people throughout the hospital. Randallia has a lot of amazing nurses and techs, and it's been a pleasure to be able to meet people. I also get to learn a lot because I float between units that may specialize in different things–like surgery or strokes. I'm also grateful for my leaders, who are kind and supportive.

What are some of the differences between the flex team and other flexible nursing roles at Parkview?
Angela: The positions within the flex team are pointed positions, allowing coworkers to receive full benefits. Also, there isn't a single unit to staff, which allows us to be more flexible with scheduling and scheduling changes. Rather than looking at a single unit, we're able to look at the full picture and help adjust to balance the campus as a whole.
Caitlin: The flex team at Randallia is specifically for the inpatient medical and rehab floors.

How does the flex team work?
Angela: The house supervisor assists with the placement of the flex team members and assigns them to the area of greatest need. This need is reevaluated every four hours and adjustments are made as needed.
Caitlin: Before I head into work each morning, I call the resource management office (staffing) to find out which unit I am assigned to. Staffing needs are assessed in four-hour increments so I could start my shift at 3 a.m. and either be there the whole day or pulled to go work on a different unit at 7 a.m. or 11 a.m., depending on the staffing numbers. On each unit I am assigned a group of patients that I care for.

What roles are within the flex team?
Caitlin: The flex team consists of an excellent group of nurses, patient care technicians, and patient safety assistants. For nurses, there are a variety of shift times to choose from.

Anything else you can share about Parkview's flex team?
Angela: The patient care tech position is an excellent opportunity for nursing students as they are exposed to many different areas of nursing while they are in school.
Caitlin: A lot of times, when I tell people I'm on the flex team, they say, "Oh, I could never do that." I tell them that I used to think the same thing, but it's actually kind of nice getting to move around, because if you have a bad day on one unit, you likely get to move and be somewhere different the next day. I also find that the people I work with are very welcoming and helpful. Being on the flex team might not be for everybody, but it's a great opportunity if you like a challenge and learning new things.

Join the team
To learn more about nursing opportunities at Parkview Health, and to apply, contact a Parkview recruiter by calling 260-266-7263, texting "Parkview" to 97211 or emailing us at nursing@parkview.com. You can view our open positions here.