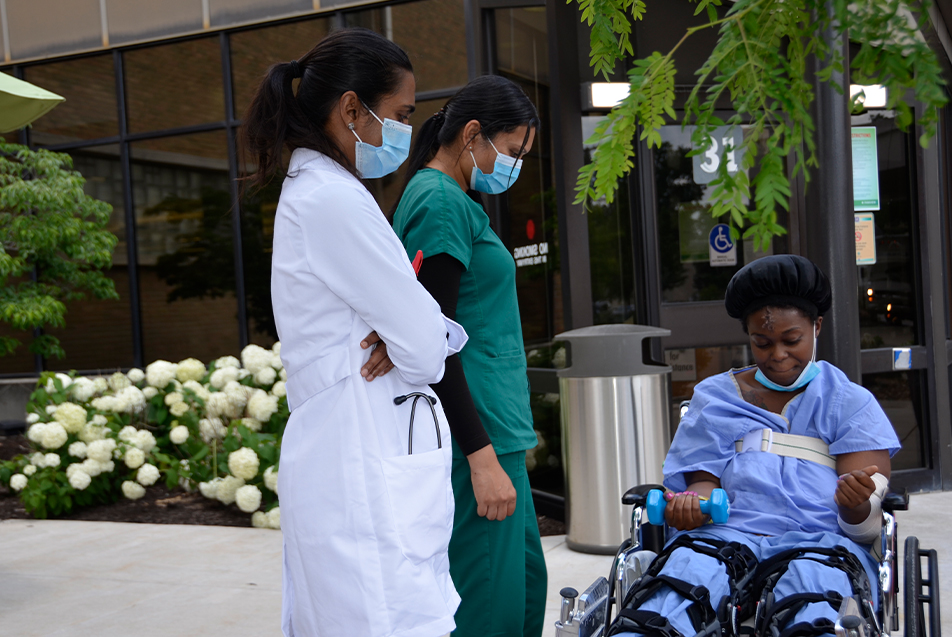 This post was written by Courtney Leach, Digital/Social Media Manager, Parkview Health.
It took me four separate attempts, but I finally got the spelling right: Physiatry. Not Podiatry or Psychiatry, as autocorrect might boldly assume. I was searching for more information about Physiatry. Not familiar with the term? You're not alone. I'd heard talk of these unicorn providers in meetings and work conversations. There was certainly excitement surrounding their arrival and what it would mean for our patients. But I'm not ashamed to admit it now … I never really knew what a physiatrist was or how they fit into the model of care.
A brief history lesson
To give you, the reader, an advantage I didn't have just days ago, I want you to stick with me through a high-level overview. It will be worth it, I promise. Physiatrists specialize in Physical Medicine and Rehabilitation (PMR). In the grand scheme of medical history, Physiatry is fairly young. According to the Association of Academic Physiatrists, during World War I, records indicate the use of physical methods to augment traditional care to rehabilitate injured and disabled soldiers. Physicians began utilizing therapeutic tools and methods like heat, massage, exercise, electrical stimulation, heliotherapy (sunlight) and diathermy (electric currents to stimulate circulation) to assist the wounded.
Formal physiatry education began in 1926 when Dr. John Stanley Coulter joined the faculty of Northwestern University Medical School to teach Physical Medicine. A decade later, in 1936, Dr. Frank Krusen established the Physical Medicine Program at Mayo Clinic, and in 1946 the American Medical Association Council on Physical Medicine voted to sponsor the term "physiatrist."
While it was officially a specialty, it wasn't until soldiers began returning from World War II with significant injuries and cases of polio reached nearly 58,000 in 1952 that physiatrists gained notoriety for treating the "whole patient" to help them achieve rehabilitation and return to functional roles within the community. The growth and knowledge of the specialty has been slowly picking up since the 1970s, and today, demand for these providers is significant.
Physiatrists can treat conditions in the bones, muscles, joints, brain and nervous system. While the category is broad, common examples would be amputations, brain injuries, extreme cancer surgeries, dysphagia, spinal cord injuries, stroke and sports-related injuries. The provider forms a course of treatment integrating things like prosthetics, electrical stimulation, physical therapy, manual therapy, injections, medication, heat therapy and assistive devices.
A multidisciplinary approach means working with various specialties, including physical therapists, psychologists, occupational therapists, speech therapists, nurses, social workers and the network of specialized physicians that provide acute diagnoses for patients throughout the health care system.
Now that we all have our bearings …
A morning at PRMC
Parkview Health has three physiatrists on staff. I requested to spend a day with Sharon David, MD, who oversees the PMR program for the system.
She came through the front doors of Parkview Regional Medical Center (PRMC) just after 9, the corners of her eyes squinting as a smile spread behind her mask. She was bright, immediately relatable. I instinctively noted her soothing tone and petite frame propped up on high heels I could never manage.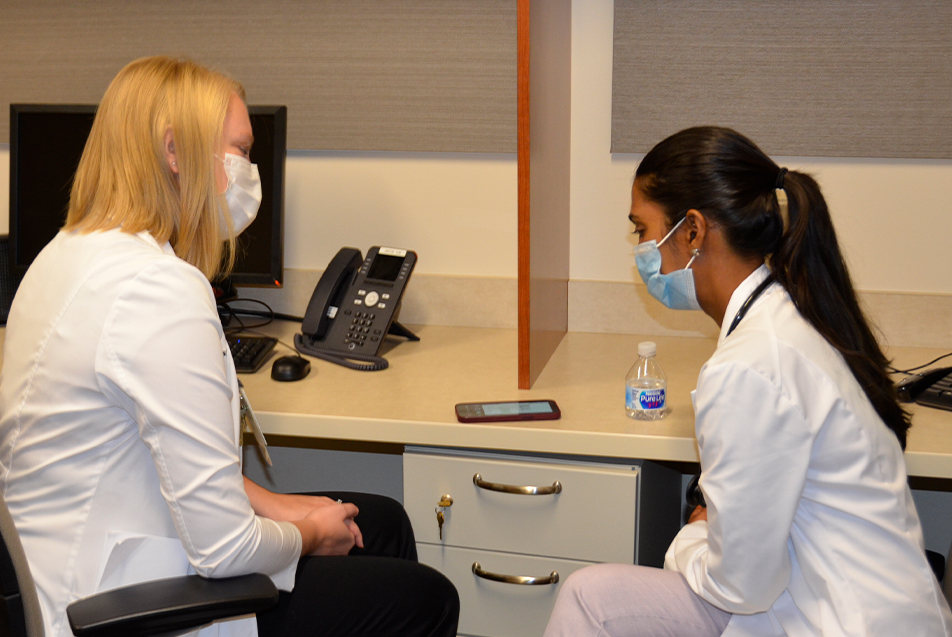 We met Kelsey Landis, NP, and the two immediately began going over the patients they needed to visit. Kelsey has been working with Dr. David for just over a year, though their rapport would suggest it's been longer. Kelsey often performs rounds once on her own before visiting patients again with Dr. David. Together, they are evaluating which patients would be good candidates for inpatient rehab versus continuing treatment at home or, perhaps, a different option.
"A lot of times, we're seeing the family when the diagnosis is very new," Dr. David explained. "They're still trying to figure out what the heck happened. They're in shock."
As we arrived outside the first patient's room, the two consulted the computer to see any updates to the chart. They look at vitals, blood pressure, heart rate, medications and any reports on overall progress. Each a different piece of a giant disassembled puzzle spread out across a table before them. The goal is to identify any issues that might complicate or impact the patient's rehabilitation journey.
We entered the room and Kelsey went to one side of the bed, while Dr. David approached the patient's face on the other. She's suffered a spontaneous brain bleed and complications following. Slowly, gently, Dr. David rubbed the woman's arm. She held her hand and asked her questions. She prompted her to respond, to squeeze or to blink. "Good," she would say at each successful shift. When the patient lifted her finger to give a thumb's up, cheers erupted from the duo sandwiching their subject in support. Progress. That's always the hope.
After the pair was satisfied, we moved on to a young man suffering from a head trauma following a bicycle accident. Then a gentleman with a spontaneous brain bleed. This, I would learn, was the nature of the cases they saw – abrupt, often unpredictable afflictions that sent the unsuspecting individuals into a life-changing tailspin. Their lives as they knew it were shattered, and Dr. David was the custodian who came in and helped sweep up the shards of glass so they could see a path forward.
"When we speak with them or ask certain questions, it's often the first time they think about what life might look like beyond the hospital," she explained. "With some of our patients, it could be exploring what sex might entail. Or for someone older, perhaps it's a feeding tube or changes to their home. The logistics of using the bathroom. These are things they can't even comprehend in the chaos of a new diagnosis."
As we crossed over into the new tower, Kelsey saw the sister of the patient we were going to visit. She was visibly upset. Her brother, she explained, was ready to be discharged to inpatient rehab, but because of his insurance carrier, he did not qualify to go to Parkview Hospital Randallia. "We've just loved the care we've received, and I want to stay with you guys, and now I just don't know what to tell him," she said. Kelsey and Dr. David assured her that they would figure it out. They would make some calls. Everything was going to be OK.

In a hospital, it's never just about the patient. Never.
Transitioning to Randallia
After a 10 o'clock status update call, we drove from PRMC over to Dr. David's office at Randallia.
On a typical day, eligible patients are transferred out of the Randallia Rehabilitation Unit in the mornings, and new patients arrive in the afternoons. The unit has capacity for up to 50, and averages 40 patients on any given day. To qualify, patients must tolerate three hours of therapy; be stable but not necessarily so stable that they can go home; have a realistic chance of progressing to the point of being able to go home; and have a need for at least two therapy disciplines. The average stay in rehab is about two weeks.
The recently renovated Rehabilitation Unit spans the fifth floor of the hospital. Walking the hall, if you tune in, you can hear words of encouragement and cries of frustration. You see men and women tackling daily activities we all take for granted and staring at their feet as they navigate stiff steps in a gait that's their own, but unfamiliar.
As we made our way to her office, I couldn't resist commenting on Dr. David's footwear. "I don't know how you make it through a whole day in those."
"These?" she laughed. "They're just little kitten heels."
It was a fitting response from a woman who, it turned out, has a sign on her office wall that reads, "Be a stiletto in a world of flats." This next to a collection of artwork with script reminding those who read them to be the difference in someone's life.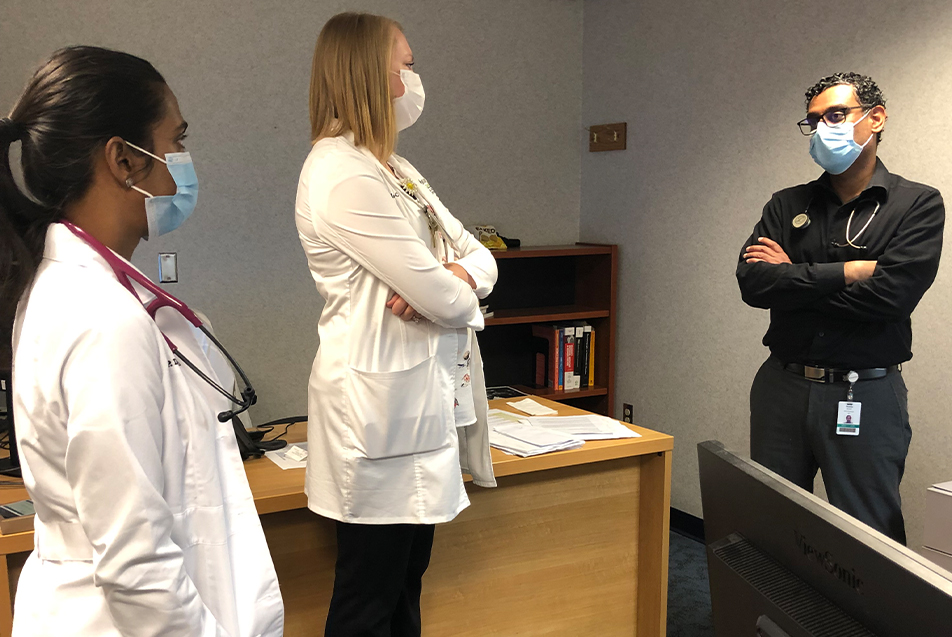 She took me to meet the other physiatrists on staff, Harris Imam, MD, and Bharath Reddy, MD, who share an office on the fourth floor. Jennifer VanZant, NP, who also works with Dr. David, sits just down the hall. After catching up on the weekend's events, new patients and updates to cases, it was time for team lunch.
I took the opportunity to ask the group questions about the last year. Like all areas of the hospital, the COVID-19 pandemic certainly had an impact on the PMR team. "We went from encouraging families to be there as much as possible, to just having a few hours with them at discharge," Jennifer shared. "We're preparing these families to take a loved one home, so there is a lot of information to go over."
The team also saw some startling trends, such as stroke patients coming in later for treatment, and thus experiencing worse outcomes. For those who contracted the virus, rehab can be a bit more difficult. Activity takes a lot out of people who have experienced a significant trauma. This is only amplified by complications from COVID-19. Earlier in the day, when visiting a patient who is struggling with long-hauler symptoms, Dr. David assured, "We'll follow you and just take this one day, one step, at a time."
While there is always one member of the PMR team available during the day, including weekends, there are rare cases in which a physiatrist would be called in outside of that window. "With brain injuries, we evaluate patients based on something called the Rancho Scale," Dr. David explained. "This takes into account their level of arousal. Someone who is a Rancho 1 isn't really responding. A Rancho 3 patient is awake and somewhat responsive. They might even begin to pull their arms or legs away from a painful stimuli, but still can't recognize people and things. But someone who is a Rancho 4 can be very agitated, which could require us to come in.

Think about it like this … at any given moment, you're able to tune certain things out. Maybe a ticking clock or birds chirping outside your window. For those who are Rancho 4, they are taking in all of this sensory input, all of the sights and sounds, but it's hard to put it all together. They're overstimulated and scared, and this can make them act wild."
The value of PMR
In comparison to other parts of the country, Indiana has a low number of physiatrists on staff, though Parkview has plans to grow the team later this summer. It's a welcome change for Dr. David and her colleagues. "There's a high rate of burnout in the PMR field, and I think that's because of the emotional toll it takes on you. We have very intimate, very difficult conversations with these patients. When you see the look on someone's face when they realize just how different their future might be, it weighs on you. We often have to reset their expectations. I have to tell them something they want to achieve might not be possible, and I carry that with me."
Initially, Dr. David, who is from Maryland, intended to go into Pediatrics, like her mother. She went to medical school at Ross University School of Medicine in the Caribbean and did her residency at Georgetown. She learned quickly that Pediatrics might not be the best fit. "It wasn't the 'helicopter parents.' Those, I could handle. That's the type of parent I'd probably be! It was the neglect or disengagement I couldn't take. The situations where a parent should really care, and maybe didn't. It got to me.
Then a girlfriend of mine said, 'You should look into Physiatry. It's so cool!' So, I did. It allows me to be a cheerleader for my patients. And, I have to say, I have an affinity for people with that fighting spirit. My mother was that way. On her death bed, she still swore she was going to beat her cancer. I guess I just have a soft spot for people like that. Rehab allows me to be soft and nurturing, which I love, and I get to really build relationships."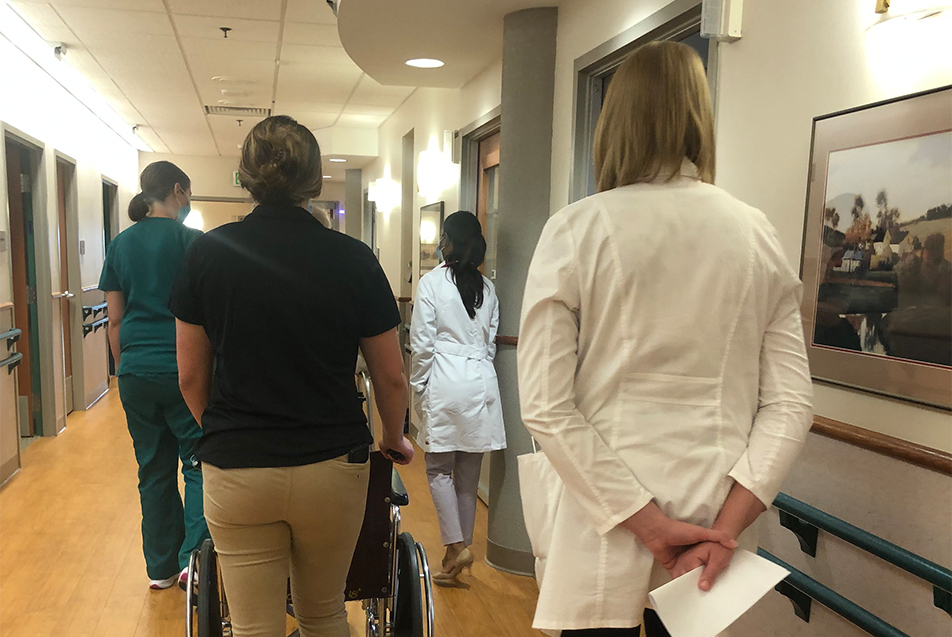 In observing her interactions with the patients she serves – typically just five at a time compared to her colleagues who might have up to 12, due to her administrative duties ­– it's clear she found her niche. Dr. David likes to pop into therapy sessions as often as she can. We joined a gentleman in the hallway as he took a lap with his physical therapist. "How does that feel?" she asked, walking patiently beside him, literally and figuratively. "Thanks for letting me come along," she said, satisfied with the observation.
Dr. David is the first to acknowledge the lack of understanding regarding her specialty. "We're really detectives, and each piece of information is another clue for how to treat the patient." This can be challenging, particularly when many of their patients have limited communication or cognitive challenges.

Movement, for example, tires them quickly, so it can be difficult to decipher between exhaustion from the trauma and any new issues. "We have to consider whether they're tired or there is something else going on," Kelsey said. It's a similar question if their progress is stalled or plateaued. Is it fatigue or is there a medical reason? The investigation is always ongoing.

While a provider with Neurology, Oncology, Cardiology or Pulmonology might make the initial diagnosis and designate the course of treatment, once the patient is ready to transition to rehabilitation, the torch is passed to the PMR team. Often these cases are complex and filled with a lot of uncertainty. "In one sense, we're like an orthopedist, helping with joint pain, and in another sense, we're like a primary care provider, managing chronic conditions," Dr. David explained. "But the things we can do to help these patients are incredible." This includes addressing all aspects of physical trauma, which often includes lingering mental health issues, such as anxiety or PTSD.
The goal is always to get a patient home following their course of treatment. In about 20% of cases, an individual might need to go into a nursing home or similar facility for more care. Perhaps for this reason, the work the PMR team does is sometimes confused with Palliative or Hospice care. "The big difference is that, with Hospice, it's not that the patient quit fighting, but they are fighting for comfort," Dr. David said. "In rehab, they are fighting to push through, to return to a certain level of function."
While this typically results in success, it's not guaranteed. "What's really tough is when the patient wants to push through mentally, but it's just too physically taxing on them. Sometimes, we have to have those tough conversations to address limitations, despite their determination."
But it's the victories that keep Dr. David, Kelsey and their teammates coming back, case after case. There's a tradition in the Rehabilitation Unit. The day before a patient gets discharged, they get a Starbucks drink. "It started because we wanted to find a way to see if the patients could pull out their wallet and stay balanced, then count out the right amount of money, etc.," Dr. David shared. "Then it grew into a tradition. We give them the money, they get to go pick out and order their drink and then everyone who sees it knows they're going home tomorrow."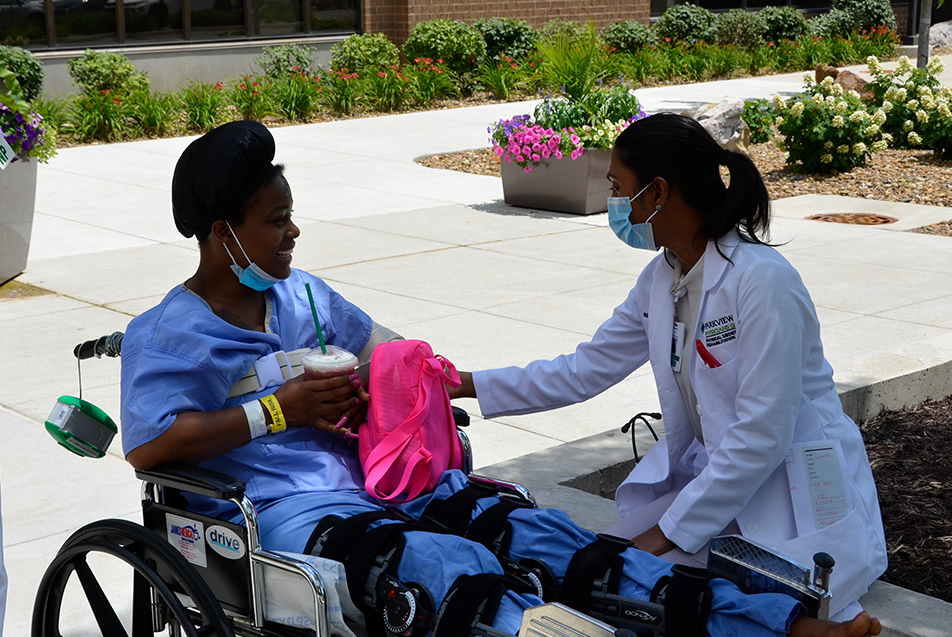 That's how I met Finesse, grasping a plastic Starbucks cup, perspiration running down its sides in the humidity of the late-June afternoon. Finesse was involved in a serious car accident that left her with extensive injuries. After weeks at Randallia, she opted to take one of her final physical therapy sessions as an inpatient outside, under the shade of a tree. Kelsey and Dr. David couldn't resist stopping by to check in and congratulate her.
For me, that was the most striking image of the work the PMR team does. A symbolic screenshot that will stay in my mind forever. Finesse is a young woman, who had put in the work, and she had pushed through. She was smiling from ear-to-ear, brimming with joy and pride in the peaks and valleys of her journey. That's the reward, for both patient and provider.
In my final minutes with Dr. David, she made a call to the patient's sister from earlier that morning. Her brother, in fact, would not be able to be admitted under her care at Randallia. He would need to go to a facility closer to their home in Ohio. "I promise you, he will be in very good hands there," she assured. After she hung up the phone, she scrolled through the facility's website. "It really will be good for him. It's so much more convenient for all of them and this place looks great." I imagine she was picturing his path forward that would play out there, out of her scope of observation. Unable to walk alongside him physically but too invested not to do so in spirit.
The beauty and the burden of life is that it's unstable. Trauma is hurried and invasive and shocking. We need the detectives and the fighters. We need puzzle solvers and steadfast survivors. They are the lead characters in every epic story where the theme is perseverance. When the next step isn't clear, it's the special helpers who light the way. Who chart the course forward. And, in her tiny kitten heels, Dr. Sharon David is leading so many ahead to reclaim the abilities they feared lost. Cheering them on through every milestone and triumph, and offering her hand to squeeze during the setbacks. The more you learn about her work, the stronger you believe in the healers who pick up the torch when it's passed, set their sights on what's possible and never look back.