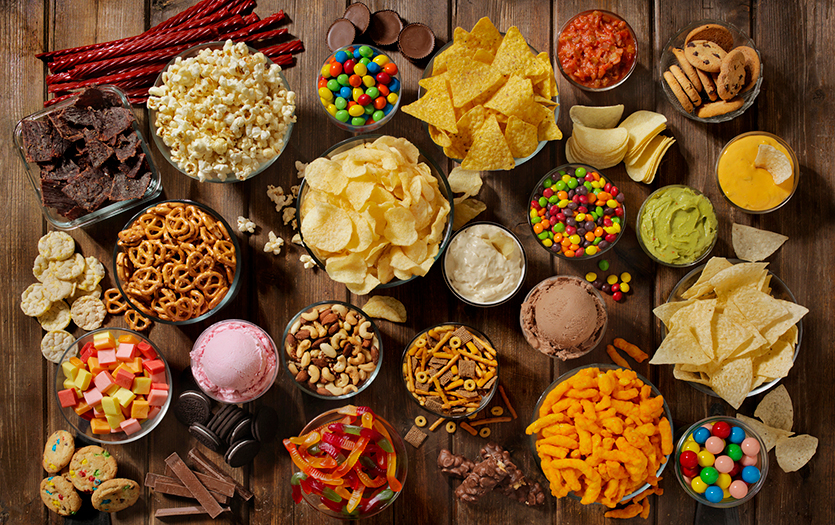 This post was written by Natasha Subramaniam, DNP, PPG – Family Medicine.
We know that foods such as potato chips, cookies, pies, cakes, pizza, soda, microwavable dinners and energy drinks can be hard to put down. It seems like the more of them you consume, the more you want. But is it possible to develop an actual addiction to these ultra-processed foods?

What is ultra-processed food?
An ultra-processed food is one that has been modified from its original form to get a longer shelf-life and better taste. Additives are typically used in these products to help preserve the original food's taste and color and provide flavor, such as sweet or savory.
A simple way to determine if a food or beverage is ultra-processed is to ask yourself: Would it grow mold or spoil in the same amount of time as a piece of fruit, vegetable or meat left to sit out? If the answer is no, you are more than likely looking at an ultra-processed food.

The data on food addiction
Often, when we think of addiction, we're referring to controlled substances, or a condition called Substance Use Disorder. But have you ever considered that food might be an addictive substance as well? Although it doesn't fall into the category of a controlled substance, there is evidence to support the concept that sugar can be more addictive than cocaine! According to a 2013 study, sugary beverages were preferred 94% of the time over cocaine, a highly known addictive substance, because the sugar activates dopamine in the brain, the chemical that makes us "feel good."
The University of Michigan conducted a study that was published earlier this year in which participants were asked a set of 13 questions designed to measure whether, and how often, older adults experienced the core indicators of addiction in their relationship with highly processed foods. These addiction indicators include intense cravings, an inability to cut down on intake and signs of withdrawal. The study revealed that "13% of adults aged 50-80 met criteria for food addiction, and 44% indicated one or more symptoms of addiction to highly processed foods." The poll found that 24% of respondents reported intense cravings, 19% reported inability to cut down despite a desire to do so, and 17% noted symptoms of withdrawal. The findings also showed a higher prevalence in women, over men.
Does this sound like addiction to you?

What would make these foods addictive?
The conversation around this topic really started to pick up when, in 2007, a study was published noting that rats preferred sugar-sweetened water over cocaine infusions as early as two days into the experiment. The study speculated that these items are appetizing to us because our ancestors didn't have sweet receptors.
What does this mean exactly? Well, inside our bodies we have various receptors for caffeine, nicotine, opioids, etc. Receptors are like a lock. Chemicals that we consume are the keys that enter the lock and create a desired response. For example, if you drink a caffeinated beverage in the morning, it might prompt the urge to use the bathroom.
The study's hypothesis that we lack sweet receptors because of our ancestorial physiology is an interesting one. Cave men and women surely did not have access to ultra-processed foods rich in excessive sugar. Instead, their energy sources came from proteins, animal fats and whole foods. This means their bodies ran off ketones as a source of energy, and they did not have the sweet receptors necessary to provide fuel for their bodies.
In most mammals, including rats and humans, sweet receptors evolved in ancestral environments poor in sugars and are thus not adapted to high concentrations of sweet tastes. The supranormal stimulation of these receptors by sugar-rich diets, such as those now widely available in modern societies, would generate a supranormal reward signal in the brain, with the potential to override self-control mechanisms, and thus, lead to addiction.
From an evolutionary standpoint, our bodies are not designed to handle the glucose load of ultra-processed foods making them even more addictive.

Why is ultra-processed food addiction problematic?
According to researchers at the University of North Carolina at Chapel Hill's Gillings School of Global Public Health, only 12% of Americans are currently considered metabolically healthy. We have a huge problem of both ultra-processed foods and subsequent food addiction. The research offers us clues as to the power of these ingredients and why we crave ultra-processed foods even when we know they aren't healthy for us or when our health suffers because of them.
If you struggle with diabetes, heart disease, chronic pain, inflammation, high blood pressure or obesity, it's not a result of a personal shortcoming. You, more than likely, have fallen victim to ultra-processed foods and their drive for overconsumption. Thankfully, Parkview has trained professionals who can help you navigate your return to optimal health. If you're interested in learning more, call us at 260-927-1982.
Additional references
American Society of Addiction Medicine, ASAM (2019, September 15). Definition of Addiction. American Society of Addiction Medicine.
British Heart Foundation (n.d.). Ultra processed foods: How bad are they for your health? Heart Matters. Retrieved June 28, 2023, from
Lenoir M, Serre F, Cantin L, Ahmed SH. Intense sweetness surpasses cocaine reward. PLoS One. 2007 Aug 1;2(8):e698. doi: 10.1371/journal.pone.0000698. PMID: 17668074; PMCID: PMC1931610.
Mahmood, T. A., Arulkumaran, S., & Chervenak, F. A. (2020). Obesity and Obstetrics (2nd ed., pp. 343-349). Elsevier.