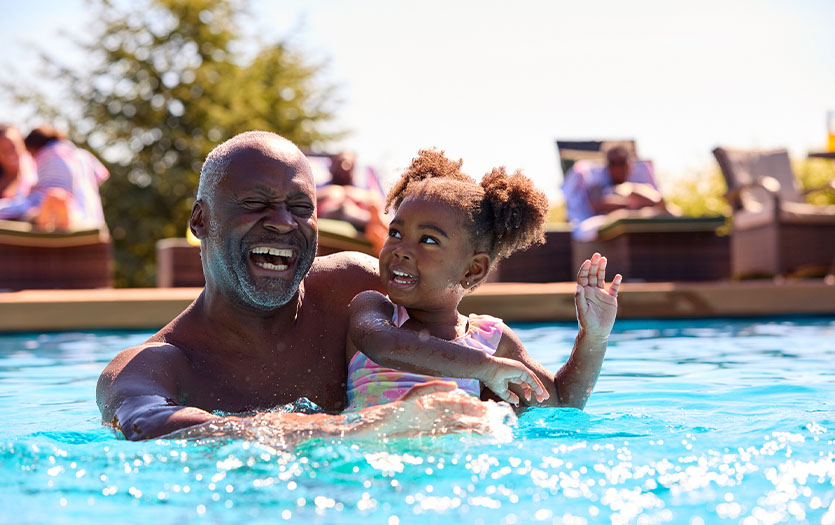 This post was written using information provided by Jennifer Konger, community trauma program manager, Parkview Trauma Centers.
Summertime is all about getting outside and enjoying all the fun activities best practiced in warm weather. But playful cruising, paddling and splashing can turn dangerous quickly, if the proper precautions aren't taken seriously. In an effort to prevent a sunny day from turning sour, the team with Parkview Trauma Centers has some safety tips for three of the season's most common leisure activities: driving golf carts, kayaking and swimming. With safety in mind, we can all have an enjoyable summer—without a trip to the Emergency Room.

Be smart on: Golf carts
Golf carts aren't just for ushering golfers across the course anymore. These slow-moving vehicles can be seen cruising around lakes, neighborhoods and campgrounds. While driving a golf cart can be a lot of fun, it's important to be aware of your state's laws when operating one, along with these simple safety tips:
Only drive the golf cart from the drivers' seat.
Wear seatbelts, if the vehicle has them. (We recommend purchasing one that has seatbelts.)
Only carry the number of passengers you have seats for.
Make sure all passengers are sitting before driving.
Check behind you when reversing.
Avoid sharp turns or sudden stops.
Slow down before turning to avoid flipping.
Keep your feet, legs, arms and hands inside the vehicle.
Use proper turn signals or hand signals when turning.
Do not drive under the influence of drugs or alcohol.
Put your phone away and don't text and drive.
Remove the key before leaving the vehicle.
Avoid steep hills or rough terrain.
Know your state and local laws concerning when a golf cart can be driven on public roadways.
Be smart on: Kayaks
Kayaking is an increasingly popular water sport, and a great way to get exercise while also enjoying the calmness of floating down the river. When taking your kayak out this summer, remember these safety tips:
·Never kayak alone.
·Know your abilities and plan your trip accordingly.
·Know your area – be aware of hazards.
·Always wear a life jacket and dress for immersion.
·Bring important safety gear: cell phone; spare paddle; whistle; towline.
·Check the water and weather conditions prior to launching.
·Make sure you have a way to communicate in case of an emergency.

Be smart while: Swimming
Perhaps the most popular of all summer activities is swimming. While it feels like second nature to some, it's important to remember that swimming can be dangerous. Unfortunately, drowning and near-drowning incidents are all too common. Here are a few basic safety tips for swimming that can help keep you and your family safe:
Never swim alone.
Never let children swim unsupervised.
Use appropriate life jackets or flotation devices when water currents are strong or for a swimmer not fully trained or physically capable.
Always have water safety and water retrieval equipment available—never jump in to save a person who is struggling.
Never assume safety. Remember, drowning can occur in inches of water. Be alert and aware!
With a little bit of care and vigilance, everyone can have a fun and safe summer relaxing and playing outdoors.