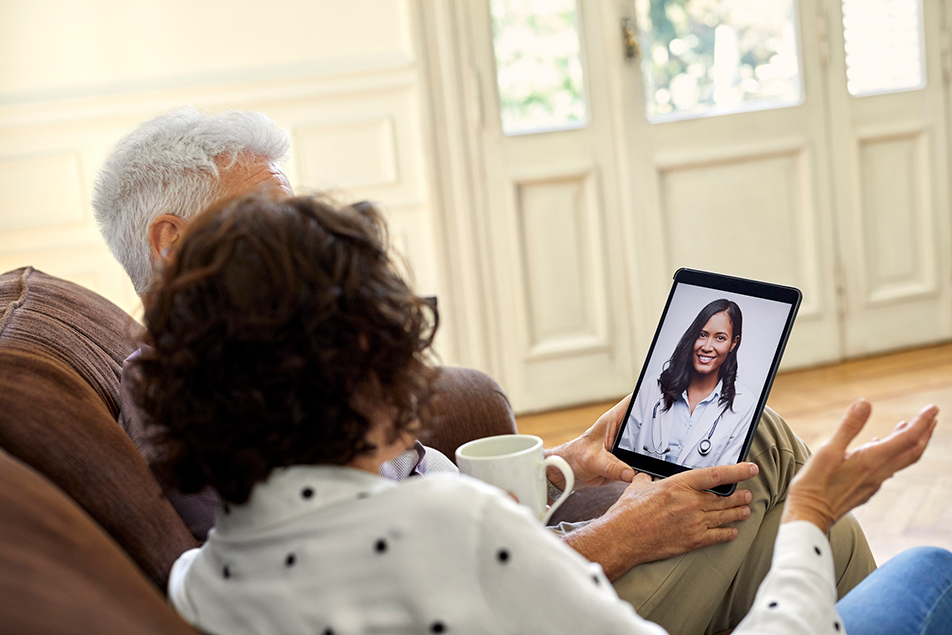 We're hearing and reading comments from community members who are putting off pursuing care for non-coronavirus-related ailments, whether from fear of exposure or fear of leaving the safety of their home. We want you to know that we are still here and your health is still a priority. James Ingram, MD, PPG – Family Medicine, Associate Chief Medical Officer, Parkview DeKalb Hospital, shares more.
With the global COVID-19 pandemic, some hospitals worldwide have become overwhelmed with COVID-19 and patients have been instructed to stay home to help prevent spread of the disease. Such measures have successfully limited the impact of COVID-19 in our community, but there may also be some unintended consequences. Many of our patients rely on careful balancing of their medical conditions to prevent more serious problems, but have been afraid to seek care during this time. As a result, some patients end up in the emergency room with life-threatening health events that could have been prevented.
What is Parkview doing to help serve our patients during this challenging time? In the last few weeks, we have built a virtual platform to allow patients to continue to connect with their healthcare providers. Patients now have the ability to schedule a visit with their primary care provider or specialist, either by video through MyChart or by telephone. Additionally, we have designed a virtual "walk-in clinic" to serve our patients between the hours of 8 a.m. and 8 p.m., 7 days a week. Simply select "Talk to a provider video visits" when you enter MyChart.

For patients who need to be seen in person, we have dedicated clinics with personal protective equipment for both our patients and staff. To keep our patients safe, we have carefully developed protocols to separate patients with COVID-19 symptoms from patients without these symptoms. In the event that higher level of care is needed, our Emergency Room and hospital staff providers are here 24/7.
So, is it safe to see your doctor? Yes! Are we available to you right now? Yes! Don't hesitate to reach out if you need care. Please, don't wait. We will continue to do our best to provide excellent care to every patient, every day. That is a promise from all of us at Parkview health.
An important message from the Parkview Heart Institute
When we don't manage our daily risk factors, that can put us at a greater risk for stroke or a severe cardiac event. If you are experiencing symptoms or signs of one of these complications, Peter Chaille, MD, PPG – Cardiology, urges you to take action. He shares more from the team at the Parkview Heart Institute.
The coronavirus pandemic has created challenges the likes of which we never imagined. One unexpected consequence has been a dramatic decline in the number of patients being treated for cardiovascular illnesses, such as heart attack, stroke and congestive heart failure.
People are frightened, and there are good reasons to be concerned, but fear of contracting coronavirus has prevented people from receiving life-saving therapies. Some are choosing to ignore their symptoms, delay treatments or avoid care altogether rather than risk being exposed to coronavirus at the hospital.
Cardiovascular disease remains the No. 1 killer in the United States. While we recognize the dangers of contracting coronavirus, the dangers of avoiding treatment for cardiovascular disease can potentially be worse.
Parkview strives to improve the lives of its patients. This includes taking every necessary precaution to prevent exposure to harm, including coronavirus. Through virtual and in-person visits, emergency care and advanced hospital treatment, patient safety remains a priority.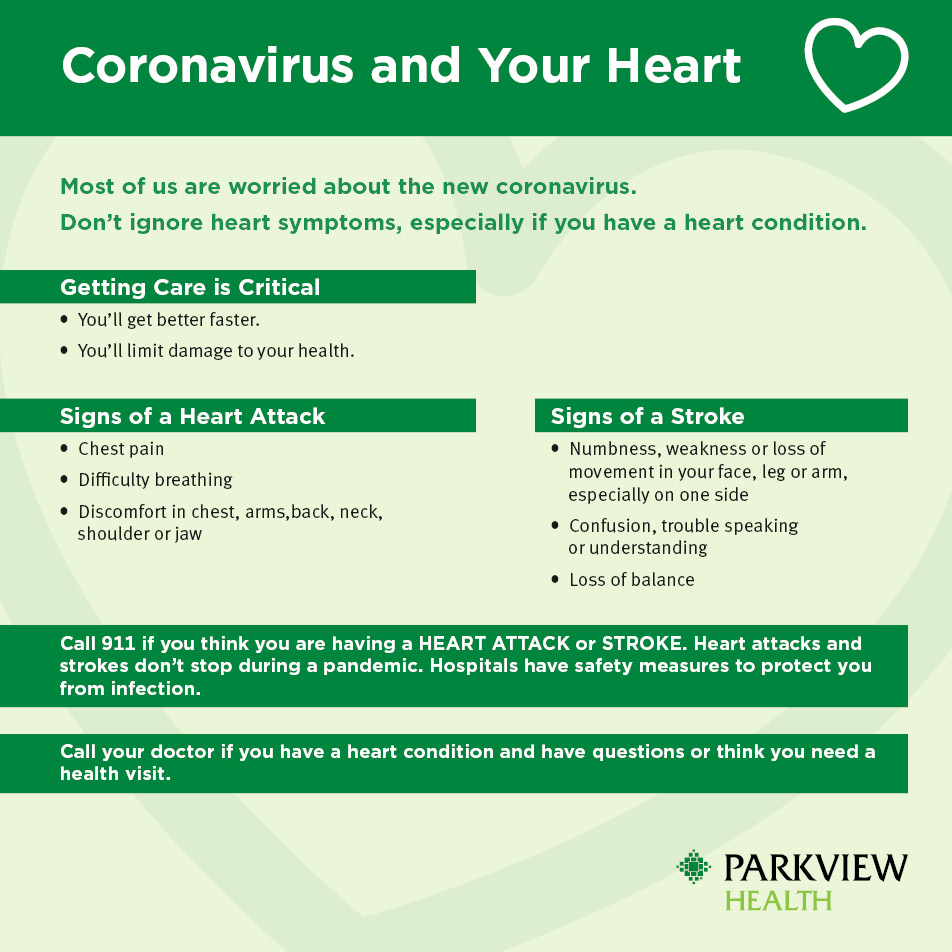 For additional information on COVID-19 and heart health, please visit CardioSmart.org/Coronavirus. For existing patients, if you have concerns about your cardiovascular health, treatment plan or suspect a potential issue, please reach out to your provider via MyChart or by calling 260-266-5700. If you are experiencing any of the symptoms of a heart attack or stroke, call 911 immediately.
The Parkview Heart Institute urges patients to listen to their symptoms, seek care for any concerning cardiovascular problem and stay healthy.