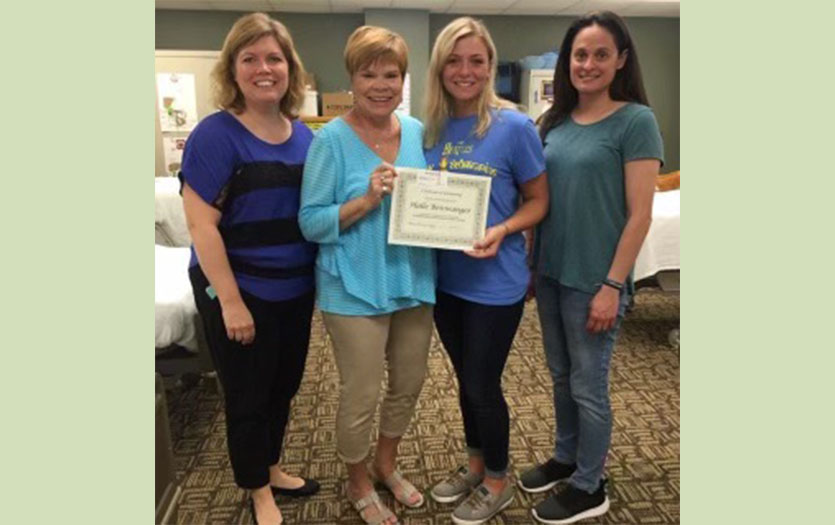 Through the generosity of donors, the Parkview Foundations is able to transform lives and change communities. One way they accomplish this is by offering scholarships, such as the Florence L.M. Rolland Nursing Scholarship, to area students who are pursuing a career in healthcare. Halle Beiswanger is the most recent recipient of this scholarship. We invited her to share more about her educational journey and reflect on the various ways the scholarship has impacted her life and nursing career.
The Florence L.M. Rolland Nursing Scholarship
Florence L.M. Rolland was born in Whittingem, Scotland, in 1903 and lived a life of service to her family, community and those in need. She was a registered nurse (RN) and dedicated her life to supporting patients, their families and the employees of hospitals. In her many years of dedicated service at Parkview Hospital, she completed more than 10,000 volunteer hours, and it was her firm belief that "Nothing rewards more than aiding strangers."
Even after passing away in October 2005, her compassion and care lived on. Funds from her estate were designated for a nursing scholarship for students pursuing ongoing education at the University of Saint Francis, Indiana University Fort Wayne or Purdue University Fort Wayne. It was her wish to help worthy students in their preparation for the career she valued so much.
Betty Allen, Florence's daughter, expressed her gratitude for how her mother's legacy lives on through this opportunity. "I'm so proud of her," Betty said. "It wasn't until later in my life that I truly understood the magnitude of her actions and accomplishments. It means the world to me to know that a piece of her, and her unwavering dedication to caring for others, will continue to live on through the gifting of this scholarship."
The Florence L.M. Rolland Nursing Scholarship is awarded every four years to a high school senior enrolling in a nursing degree program at a Fort Wayne university. The recipient receives $4,000 a year for four years, provided the student maintains good grades and progresses toward the completion of a nursing degree.
When asked why they chose Halle Beiswanger for the scholarship four years ago, Betty warmly stated, "She reminded me of my mother. And of all the applicants and applications we reviewed, Halle's essay and description of working with patients reflected the same love and commitment my mother gave to those she cared for throughout her life."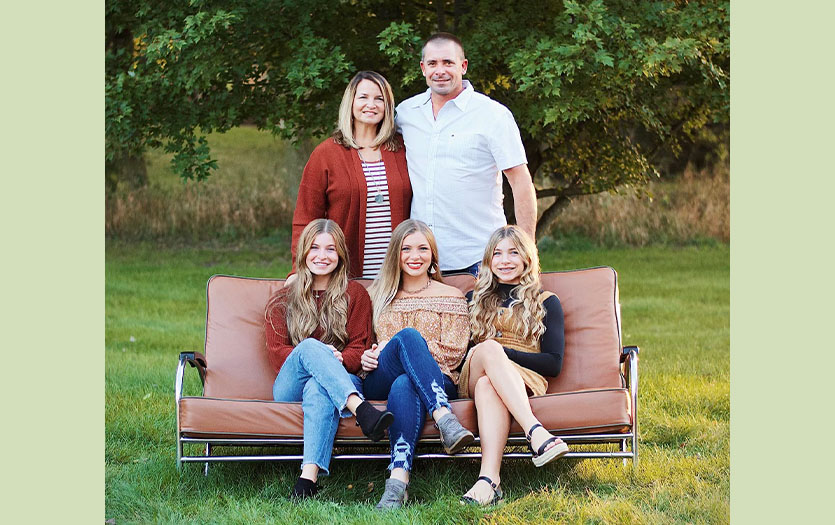 Halle's journey
Halle Beiswanger is a graduate of East Noble High School and the 2019 Florence Rolland Nursing Scholarship recipient. She has two younger sisters, enjoys reading, and loves spending time with her family and friends. She's been working toward becoming a nurse for several years, and thanks to the generous gifts of the Parkview Foundations, she is one step closer. We asked Halle to share more about her experience and what winning the nursing scholarship meant to her.
What prompted you to apply for this scholarship?
I learned about this scholarship through my Impact Institute teacher. I applied for over 30 scholarships during my senior year of high school, knowing I would be applying to the nursing program and working to pay for school myself. I remember I had submitted applications to all the healthcare scholarships my high school had to offer, but then my teacher emailed me one more scholarship opportunity. I filled it out immediately and noted how different this scholarship was from the others I had applied for. It didn't just focus solely on my grades and volunteer hours throughout high school. The essay inquired about "why" I wanted to become a nurse and "how" I wanted to make a difference and contribute to the profession.
What were your hopes and expectations?
After applying for this scholarship, my hopes and expectations were to be awarded as the recipient, and to my surprise, I was! Meeting the Rolland family upon being awarded the scholarship made it all the more special. They are very kind, genuine people who believed in me and wanted to see me succeed.
What led you to choose this career path?
I'm not sure if there's an exact reason I chose nursing as my career path, but ever since I was little, it's something I've always seen myself doing. No one in my family works in healthcare, but I've never seen myself in any other profession. Honestly, I didn't even have a backup plan for anything other than nursing. It's always been my biggest goal and the only option in my mind. There are so many opportunities in this ever-evolving field, which I'm looking forward to.
What are your plans for the future?
After graduation, I plan to work as a labor and delivery nurse at Parkview Noble Hospital. I'm currently working in their Family Birthing Center as a student nurse apprentice, trying to be a sponge and soak up all the information I can before taking my licensure exams in May. I've always been passionate about working in women's health, so I was thrilled to accept a position with Parkview as my first job post-graduation. Eventually, I want to return to school once I pay off my undergraduate degree. But for the moment, my long-term priority is to finish my education as a women's health nurse practitioner.
What does it mean to you to receive this scholarship?
This scholarship means the world to me. As a senior in high school, getting ready to start my career in healthcare, this scholarship gave me the boost of confidence (emotionally and financially) that I needed. It encouraged me to work hard, maintain good grades and make myself and others proud. It felt like somebody had their hand on my shoulder, pushing me and telling me, "We believe in you; you can do it."
How has this scholarship impacted your life?
My plan was always to work during school so I could pay for my tuition. I worked full-time during my freshman and sophomore years, then eventually dropped to part-time my junior year when classes and clinicals started picking up. Fortunately, this scholarship gave me the peace of mind I desperately needed. It's benefited me financially, mentally and emotionally as well. It helped me focus on my schooling instead of worrying about how many hours I needed to work a week. This scholarship was such a blessing and took a considerable weight off my shoulders.
What advice would you give someone considering a career in nursing?
Do not quit! It's easy to doubt your abilities or think you can't keep going, especially in nursing school. I know I did. But finding the motivation and perseverance to keep going is critical. I'm here to reassure you that all your hard work will pay off if you stick with it, and you will be so proud that you did.
Is there anything you'd like to say to those at the Parkview Foundations who chose you for this scholarship?
I am so grateful and want to extend the biggest thank you to the Rolland Family and everyone at the Parkview Foundations! I wouldn't be where I am today without you. Parkview has supported me in many ways over the last four years, from the Florence L.M. Rolland Nursing Scholarship to clinical and job shadowing opportunities, my student nurse apprentice position and my eventual transition to the role of an RN. This has been such a great organization to start my nursing career, and I'm excited to see where the future takes me.
For more information about the available healthcare scholarship opportunities, please visit the Parkview Foundations page.