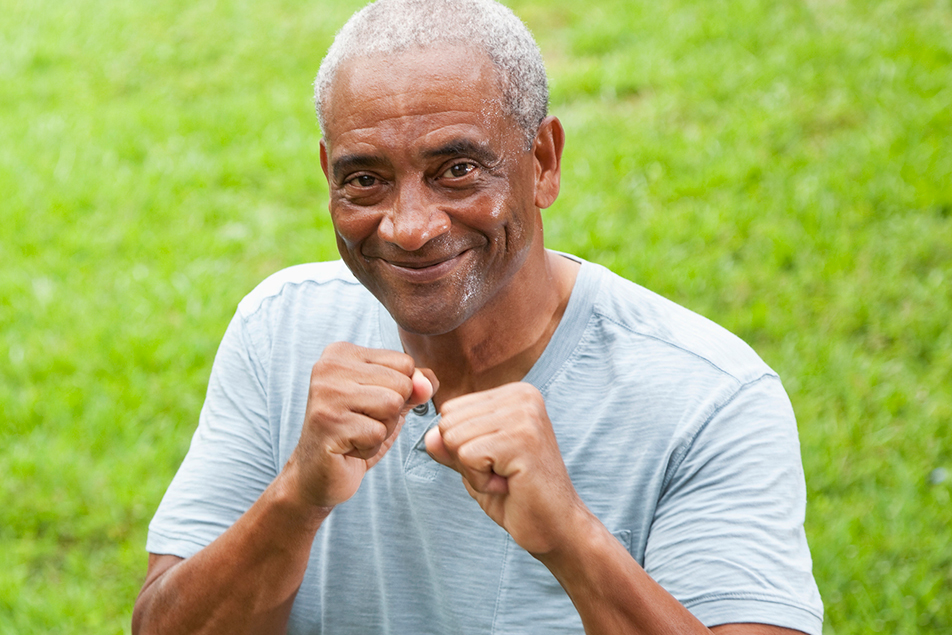 This post was written by Taylor Yoder, supervisor, Parkview Center for Healthy Living.
Parkinson's disease is a chronic progressive neurological disorder, and as it advances, symptoms will worsen over time. Receiving a Parkinson's diagnosis can stir up a lot of feelings. In many cases, those diagnosed will experience anxiety, depression, fear, isolation and often have a feeling of helplessness. And, while there are few resources available to help address the quality of life for those living with Parkinson's, studies have shown that intense exercise is a way to empower sufferers while combating such a debilitating disease.
Rock Steady Boxing
One of the tools to help people fight back against Parkinson's is Rock Steady Boxing. It allows individuals to fight their disease by providing non-contact boxing-style fitness programs that improve their quality of life, sense of efficacy and self-worth. Recent studies also suggest that intense exercise may be "neuro-protective," working to delay the progression of symptoms. Rock Steady Boxing also encourages a "tough love" approach, inspiring maximum effort, speed, strength, balance and flexibility. Boxing works by moving your body in all planes of motion while continuously changing the routine as you progress through the workout. RSB classes have proven that anyone at any level or stage of Parkinson's can slow the progression of their symptoms, allowing them to lead a healthier, happier life.
So, where did this innovative approach originate? The Rock Steady Boxing Method developed in Indianapolis over the course of seven years. In 2012, they launched the program, choosing to share the method and empower others to fight back against the disease. Today, there are over 700 Rock Steady Boxing affiliate programs worldwide, initiated by certified Rock Steady Boxing coaches who have all completed the requirements of Rock Steady Boxing and are officially certified.
Class overview
All classes are taught by certified Rock Steady Boxing coaches and include an exercise program that attacks Parkinson's at its most vulnerable neurological points. While the bulk of the workouts will focus on overall fitness, strength training, reaction time and balance, they will also include:
Ring work
Focus mitts
Heavy bags
Speed bags
Double-ended bags
Jump rope
Core work
Calisthenics
Circuit weight training
Additionally, no boxing experience is necessary, and people of all ages are welcome to participate.
Get involved
Collaboration is the key to improving the health and well-being of our communities. This is why Parkview Noble Center for Healthy Living and Parkview Noble Foundation is proud to partner with the Cole Center Family YMCA in offering this program to the Noble County and surrounding communities.
To learn more about participating or volunteering in the program, please contact Taylor Yoder, Parkview Noble Center for Healthy Living at taylor.yoder@parkview.com or Ryan Ferguson, Cole Center Family YMCA at coleymca@rsbaffiliate.com. Classes will begin the week of August 16th at the Community Learning Center in Kendallville.