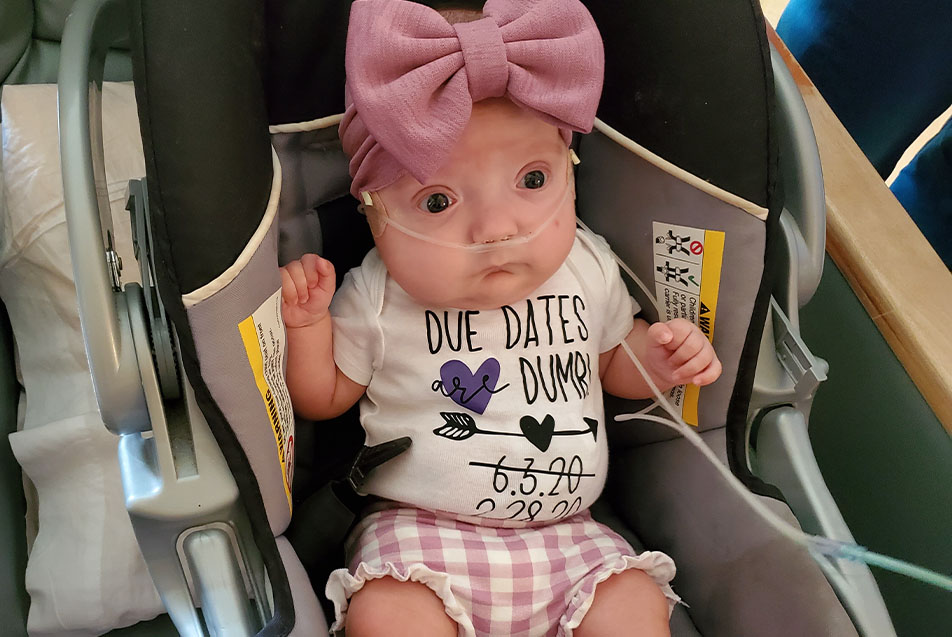 Approximately 1 in 10 babies are born prematurely each year, an estimated 15 million infants worldwide. Having a premature infant and becoming a NICU parent can lend a unique perspective to life with numerous highs and lows. In hopes of raising awareness of preterm births, we asked Emily Louden, a mother of six, to share her premature daughter Esther's story and insights into the exceptional care they received.
What can you share about Esther's health journey?
Esther is our sixth child and our second premature baby. So, there was a lot of fear for me about going into labor early again. Knowing this, we decided to take every precaution that we could. I was seeing my OB every few weeks, checking everything, making sure it all looked good. I was on progesterone injections weekly to keep Esther in my belly. They kept a close eye on things and don't know why I ultimately went into labor early with her.
Around that 24th week of pregnancy, I started having more contractions. I made two different visits to triage to make sure I wasn't going into labor. Both times, the contractions weren't regular enough, so they did a fetal fibronectin test, which would let me know if I was at risk for going into labor within the next two weeks. Thankfully, my test came back negative. With those results, my OB felt comfortable with things and sent me home.
About five days later, my water broke. At the time, my kids and I stayed with my parents because my husband had the flu. Unfortunately, each kid eventually got sick and had to be sent back home to stay with dad. The morning I took the last kid over and resigned to the fact that I would be the only one staying with my parents, my water broke. I called my husband, and he met me at the hospital. Thankfully, he was the first to get sick, which meant he was fever free and feeling better, just a little run down.
At that point, I was 24 weeks and six days. Once admitted, they gave me a couple of different shots to stop the contractions, but they didn't work. My doctor admitted me on February 18, and Esther was born ten days later, on February 28 at 12:36 p.m. The downside is that I had to hang out in the hospital for ten days, but the upside was that it put me at 26 weeks and two days, giving Esther a little extra time to grow.
During those ten days, I was able to get steroid shots to help her lungs develop, but, at two and a half pounds and 14 inches long, I knew ahead of time that she would go straight up to the neonatal intensive care unit (NICU). It wasn't a surprise, especially considering our past experiences and preterm birth with our son Zeke.
I remember giving birth to her. I got to see her sweet little face for just a few minutes and hear her first cry before they took her to the other side of the room where they intubated her. About an hour later, we were able to go up and see her. The doctor immediately placed Esther on oxygen with a breathing tube and ventilator.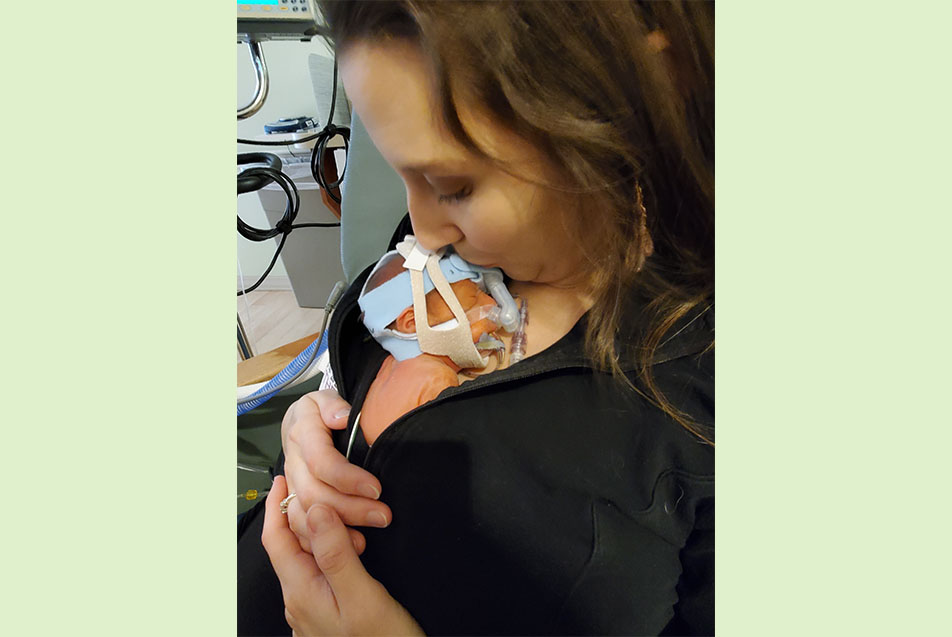 We knew what to expect in that aspect. It was nice to know some of the people we would be dealing with, along with a good friend I had made during our first experience with the NICU, which put me at ease, at least a little bit. Of course, it's never exactly how you think it's going to be, and it's never easy, but I felt comfortable knowing who was going to be taking care of her.
She spent the next five days on a ventilator. She then weaned off that to a CPAP ventilator after just a day. We weren't expecting this because our son, born at 29 weeks, was intubated for almost a week. Fortunately, we could hold Esther on day five. She was so tiny. She fit right inside my shirt like a baby kangaroo because that's what they call it, kangaroo care.
Then, about three weeks later, she aspirated while eating, which caused her to stop breathing. We're not exactly sure what happened, but they had to do an emergency intubation again. She stayed on that breathing tube for roughly three weeks along with antibiotics. Over time, Esther showed significant improvement and progressed, eventually being discharged on July 31. Overall, she was in the NICU for just over five months.
What role did the Parkview NICU team play in Esther's journey?
Simply put, they were amazing! We knew she was in the best place possible because of our prior experience. Knowing how well they took care of our son Zeke gave me confidence in who they are and their capabilities. We knew from firsthand experience that they could handle anything that came at them, but they also went the extra mile by taking care of us emotionally. They continually loved on Esther and us, too.
It's such a strange feeling when you have a baby in the NICU because you don't get to do those typical newborn things with them. Instead, these amazing nurses are the ones giving them their first bath. Not to say you aren't there with them, but they're the ones helping you through those firsts with your baby.
This closeness allows you to create a special bond that you don't have with anybody else. They're your family. They're the ones that know your baby when really nobody else does.
There's not one doctor, nurse or therapist at Parkview that I wouldn't trust with my children. Not only are they the most intelligent doctors, but they're experts at talking with us as parents and making sure we understand what they're doing and why they're doing it. They always made us feel at ease every step of the way.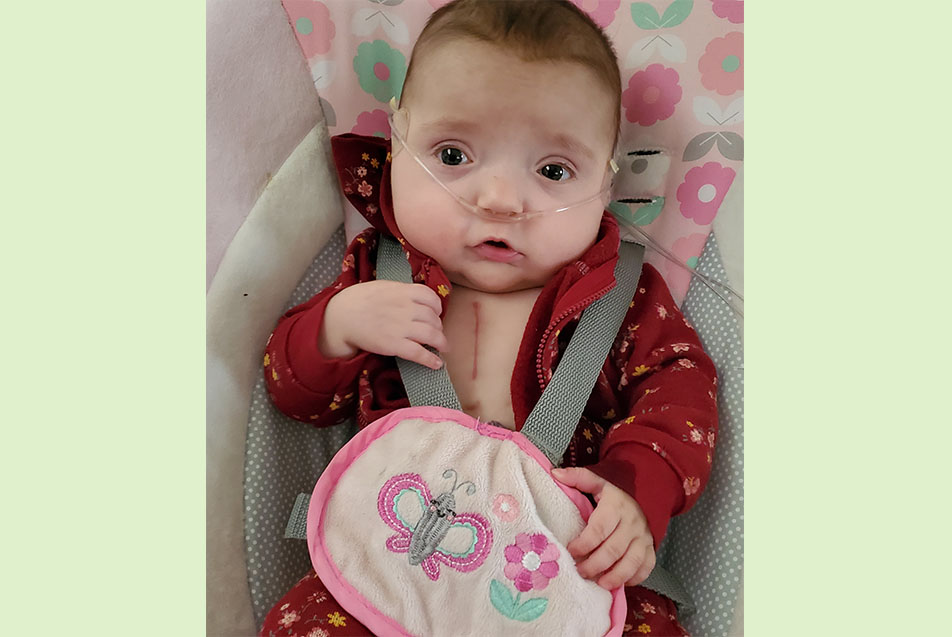 What does this mean for Esther in the long-term?
Well, we're still working through things at this point. Before we left the Parkview NICU, we found out that Esther had to have open-heart surgery. Her cardiologist, Vimal Jayswal, MD, PPG – Pediatric Cardiology, did a final echo and noticed Esther had pulmonary vein stenosis, a rare heart defect. This diagnosis meant the veins in her heart connected to her lungs were narrowed and restricting blood flow. We found out days before being discharged, but everyone was great about helping us figure out our next steps, including Esther's heart surgery that needed to take place at Riley Children's Hospital.
For the moment, I think her heart defect is the main reason she's still on oxygen. But, in the long term, she'll have to continue to see her pulmonologist, Chandrashekhar Yalamanchali, MD, PPG – Pediatric Pulmonary & Critical Care, and her therapy team. Then, they'll help us determine when she's ready to progress and be taken off things. She just had a swallow study done a few weeks ago, showing she was no longer aspirating on her bottle. These results mean we're finally at a point where we can slowly start to incorporate it back into her routine again. She hasn't taken anything by mouth in quite a while, so she'll have to relearn it. It's going to be a long process, but at least we're at a great jumping-off point.
What would you like to say to everyone involved in Esther's care?
There's so much. It feels like thanking everyone is never enough when you're talking about your child's life. When it's the difference between life and death, the phrase "thank you" never seems big enough to encompass it all. But, if I had to say something, I would say these people are some of the most caring and devoted individuals I've ever known. They've taught me a lot about what it means to care for a whole person and an entire family. They're not just taking care of a baby. They're taking care of a mom who's flustered and scared about the decisions she needs to make and a dad who's unsure if he should hold or change the diaper of this tiny, fragile infant. They're teachers, and I am so thankful for the friendships I've made through our NICU experiences. Everyone truly became a part of our family. I'm so grateful for the time and effort they invested in us and into every single patient.
What advice would you give other families going through a similar experience?
Don't be afraid to ask questions if you don't understand something. That's the best way you can be an advocate for your child in those difficult situations. The nurses and doctors are happy to explain everything, no matter how small. Try to make the most of a challenging situation, look for the silver linings like friendships, new knowledge and terminology, and take hold of those opportunities you wouldn't have gotten otherwise.