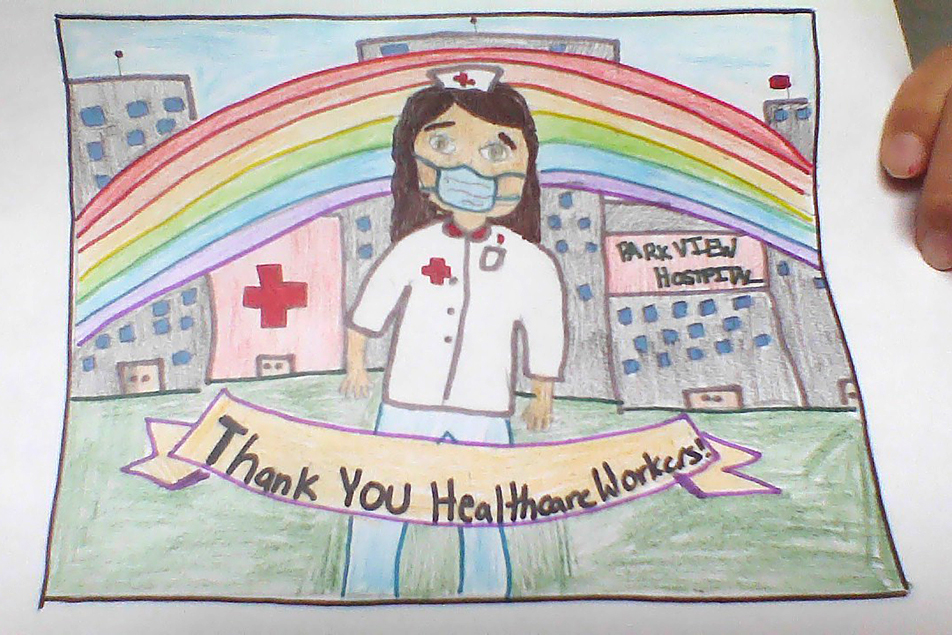 As the world began to feel different earlier this year, Christina Baloski, an art teacher at Cedar Canyon Elementary, Northwest Allen County Schools, had an idea of sharing student artwork to raise funds within the community.
Initially, Christina wanted to develop a program that would reach out to the community while making a difference by utilizing student artwork. But COVID-19 would soon have her switching gears to find a completely different way to implement her vision. As classrooms turned virtual, teachers were quick to find new ways to accommodate Christina's goal, including her vision of how the students could be involved. Christina and a few friends, Lizette Downey and Courtney Veith, began brainstorming ideas on how the project could be adapted.
Originally, the artwork was to be hung in Parkview Regional Medical Center because Christina knew the students' drawings would bring joy to patients, staff and the community. "Children's artwork is very powerful and uplifting," Christina explained. "They're so innocent and have so much joy in their art." But with the world going virtual amid COVID-19, it made sense that the artwork could too.
Christina decided to virtually teach the students how to draw and color Parkview Health-related pictures that would be showcased in a virtual art gallery. For Christina, it has always been important to tie art to the community and teach students about giving back. At Cedar Canyon Elementary, their motto, 'kindness matters', is represented in a hallway mural as well as spoken and lived out by the staff. This project was a way to create a feeling of connection while hopefully eliminating any loneliness students may be experiencing during this time. Each grade level was asked to focus on a specific area:
Kindergarten students drew the Parkview Samaritan.
First- and second-grade students drew their interpretation of 'healthcare heroes' with doctors and nurses in capes.
Third- and fourth-grade students had a hearts of compassion theme.
Fifth-grade students drew Parkview Regional Medical Center with their backgrounds and encouraging messages.
"One thing we've talked about with our students is how much everybody in health care has been giving right now towards our community, how much they've sacrificed, how much they've been working overtime. We just want to put a little bit of bright light in their day to let them know that we care about them and appreciate them," Christina expressed. "If nothing else, it just makes them feel good and they'll know people value them."
Over 600 students participated in the project and a handful of the student artwork was chosen by the Parkview Foundations to display and brighten spirits. This virtual art gallery reminds our community that we are all in this together and brings a sense of healing generosity that is needed now more than ever. This is truly art from the heart. To learn more about how you can make a difference, visit ParkviewFoundations.org.