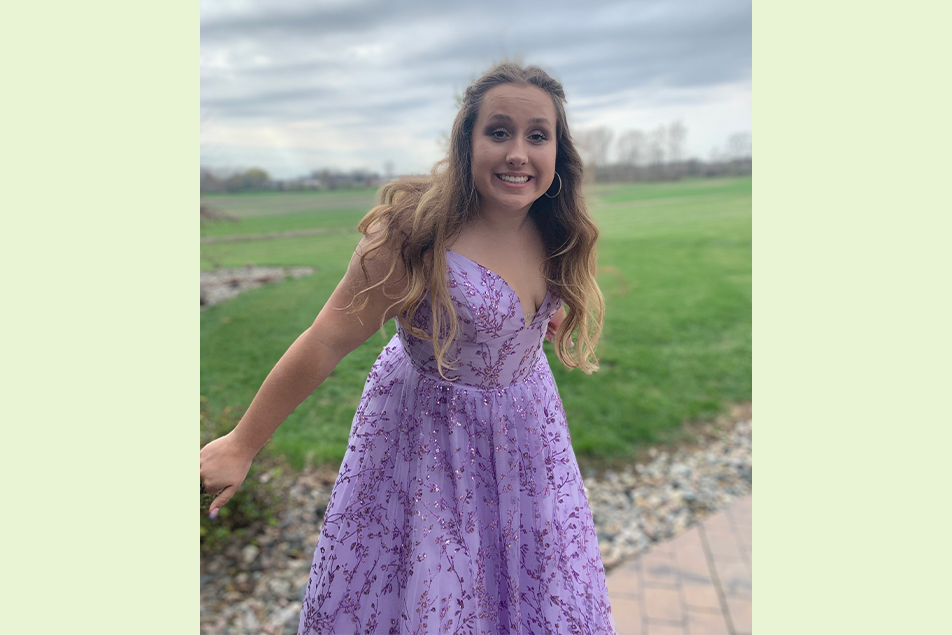 Grace Albert was an active 17-year-old, showing animals in 4-H, taking dance classes and enjoying her senior year of high school. But in early November 2021, her health took an unexpected turn.
"Grace got really sick," her mom, Katherine, shared. "She developed a rash and then a fever. She got worse, so I took her into an urgent care facility in Angola. She tested positive for both strep throat and COVID. She also had a bladder infection and was in septic shock. She was so dehydrated they couldn't get an IV in her."
She was transported by ambulance from an area hospital to Parkview Regional Medical Center, where she was admitted into the Pediatric ICU.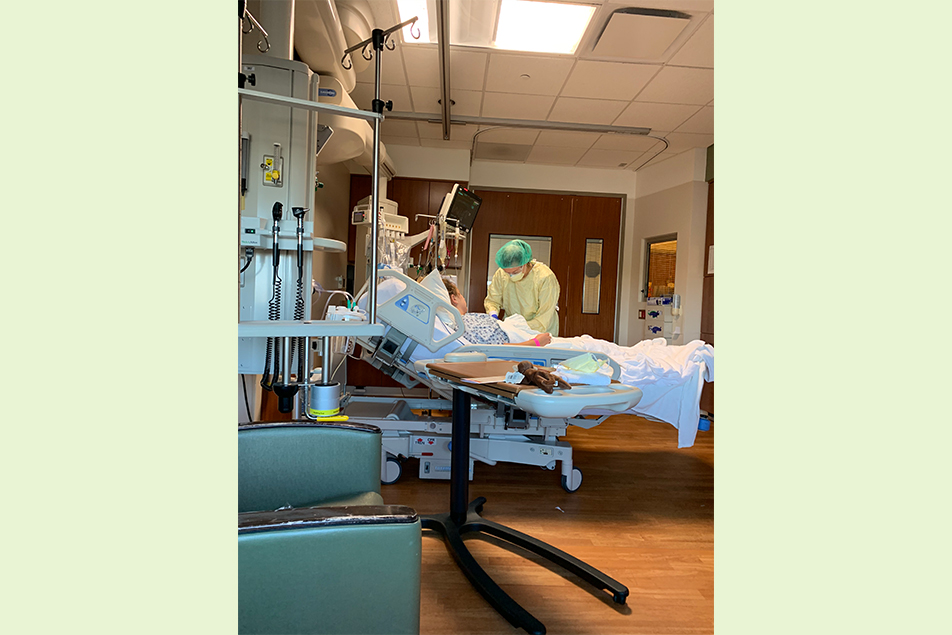 The primary concern was getting Grace's heart rate down and her blood pressure up. On the first day, Chandrashekhar Yalamanchali, MD, prescribed antibiotics to address her infection. Grace had developed pneumonia as a complication of her COVID diagnosis, so the second day was focused on treating the virus. She was a prime candidate for a monoclonal antibody infusion. By the third day, she was feeling much better.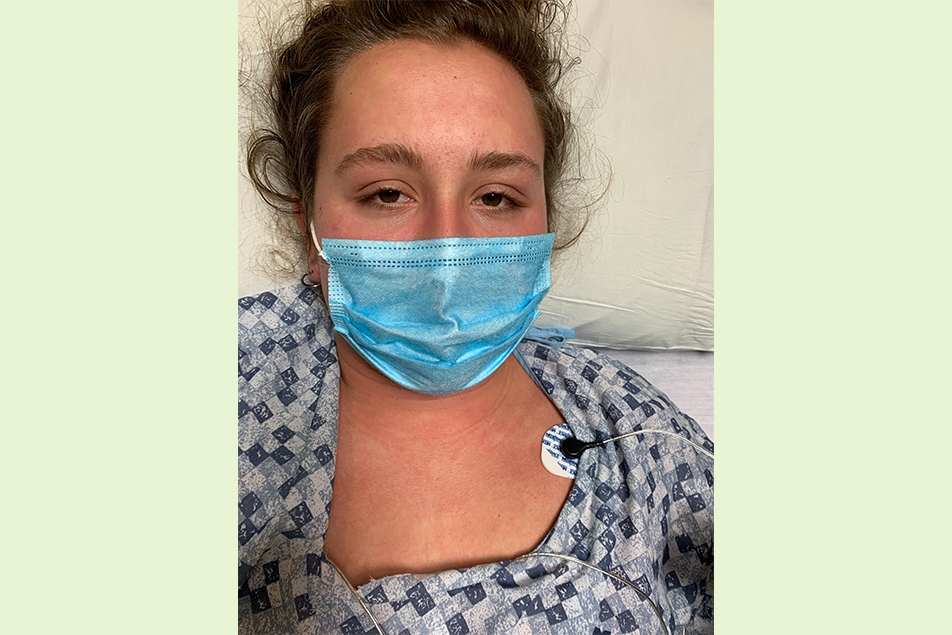 "The care we received in the ICU was exceptional. We never waited more than 1 minute for help," Katherine said. "Every single person made us feel like we were family. We weren't patients, we felt like they were taking care of someone they loved. I truly believe the way they treated us helped with Grace's recovery. She had a lot of things going on, and the care was out of this world, from the doctors to the nurses to the techs. In my 51 years, I've never seen care like that."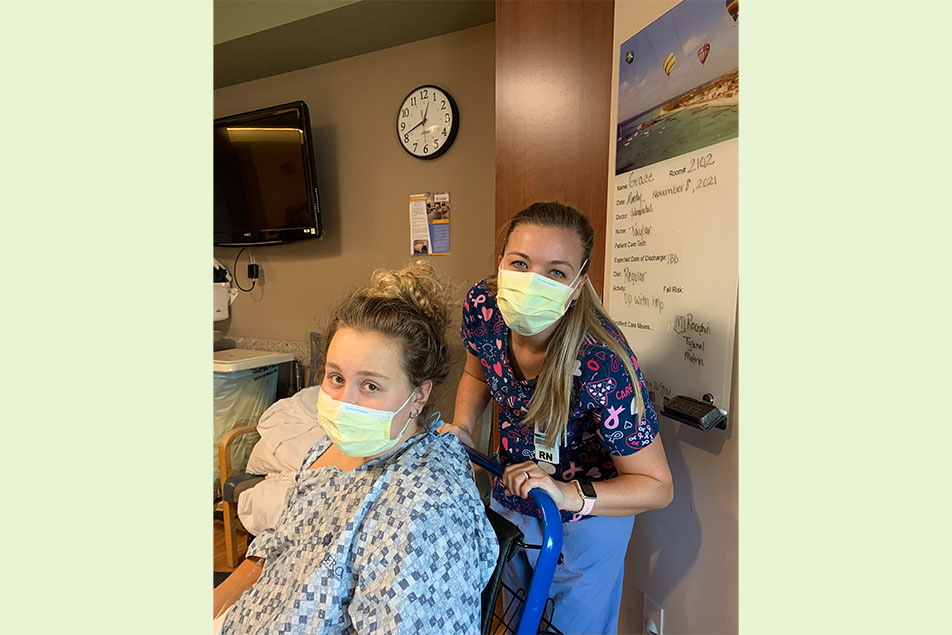 The long COVID battle
After four days, Grace was released from the hospital, but in many ways, her recovery journey was just beginning.
"While I was still in the hospital actually, I started losing feeling in my fingers, down to my fingertips," Grace shared. "It was scary." After discharge, the numbness continued, as well as a host of other symptoms. "I couldn't breathe very well, and I had a lot of chest pain. I got terrible headaches. All the skin fell off of my hands and feet and I had terrible brain fog. I remember going back to school and I couldn't recall basic math! I had a strange 'L' on my chest, which it turns out is common for kids post-COVID. And, on top of everything, I was just exhausted."
The Pediatric Post-COVID Long Hauler Clinic was created by Parkview Physicians Group - Pediatric Infectious Diseases and PPG – Pediatric Pulmonary to provide specialized support for children dealing with chronic symptoms of COVID-19. Grace was referred to the clinic and worked closely with Robyn Schmucker, MD, and her nurse, Kimee Hines. Patients at the clinic also see Denise Gilham, PNP.
"We call her 'Dr. Saint Schmucker'," Katherine said. "There were just so many unknowns and we were so scared, but everyone at the clinic was phenomenal, and we knew they would help Grace get better."
The care team took a number of steps to help Grace ease back into her routine, including working with her school to adjust Grace's schedule to accommodate more sleep as she recovered. After the holidays, Grace was ready to go back to a full schedule, armed with two inhalers – a regular and a rescue – in case she needed them.
Grace was also referred to a special physical therapy program for young patients, held at the Parkview Field House. "When she first recommended physical therapy, it made me feel old!" Grace laughed. "But she ended up really liking it there," Katherine added.
Dr. Schmucker's team also addressed Grace's mental health, ensuring she had the resources and support she needed.
Back on track
Today, Grace is feeling much better. She's returned to her normal activities, including dance class, though she does have to take the occasional break. "I still get some numbness if I let my fingers hang to my sides too long, and I have trouble breathing when I walk far or go up stairs, but that's about it. I'm doing great," Grace said.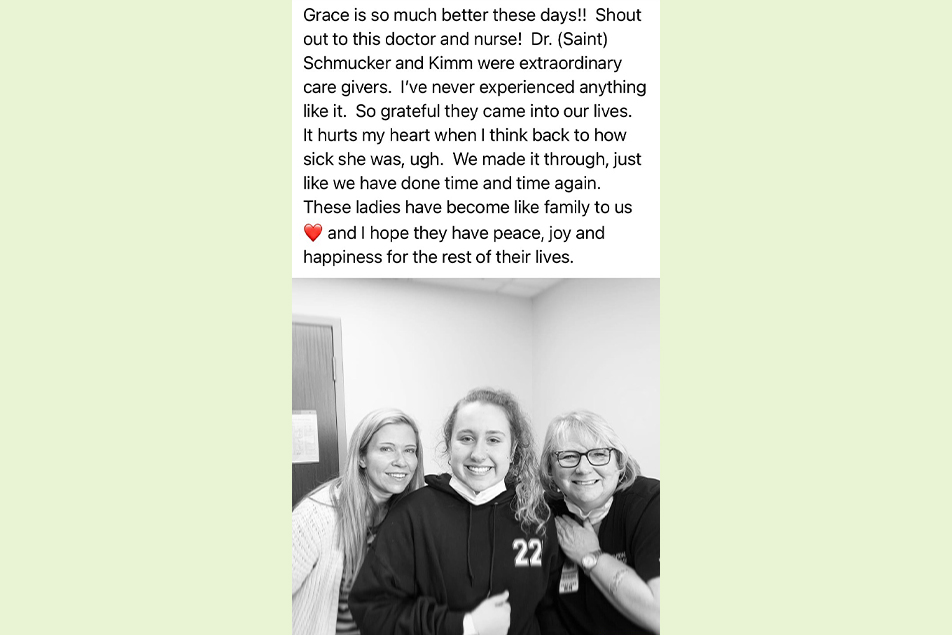 It's a reprieve Katherine is particularly thankful for. "Those people were amazing," she said. "Every single one of them. I remember Dr. Yalamanchali showing us pictures of his gradpups, bulldogs. We would show pictures of our bulldog and we'd compare. It made us feel so comfortable and secure.
"Dr. 'Saint' Schmucker really helped, too. She cared for us mentally, emotionally … just, in every way. We didn't know what was going to happen and we were terrified. But everything she said was spot-on. We're at about the 6-month mark, and she's come so far. She felt well enough to go to prom and she's feeling good about herself. There are so many positives, I could go on forever. They did an outstanding job with both of us."
Grace graduated from high school on June 2. We wish her all the best in her continued recovery and in all of the adventures that await her.
To qualify for referral to The Pediatric Post-COVID Long Hauler Clinic, patients must be under the age of 18, have a confirmed COVID-19 diagnosis and be at least four weeks post-diagnosis with lingering symptoms. For more information or to request a referral, contact your pediatrician or primary care provider.
To learn more about long-hauler symptoms following COVID-19, see our pre-recorded video sessions featuring Parkview providers, available at parkview.com/LonghaulerMovingForward.