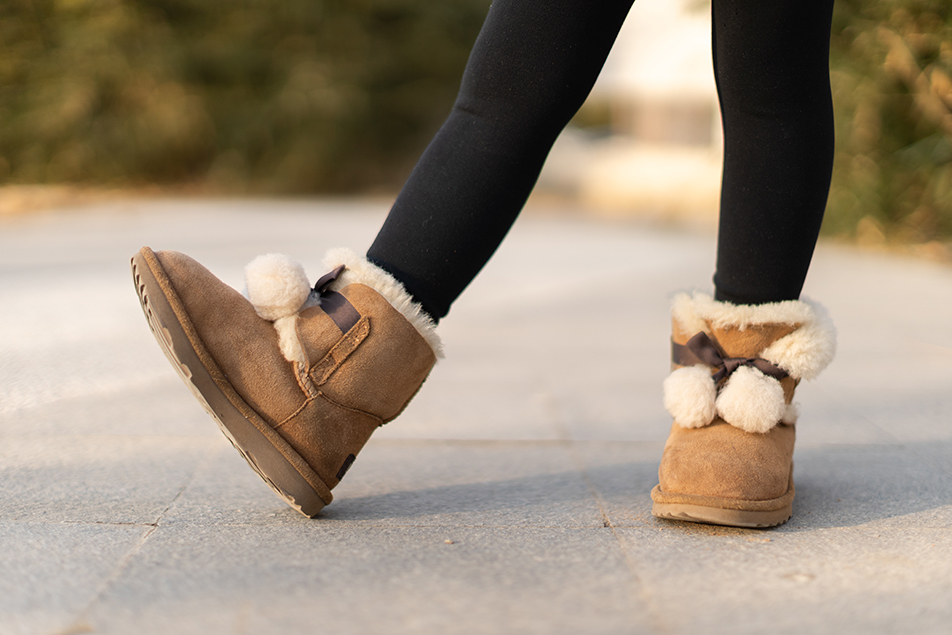 This post was written by Ashley M. Bojrab, DPM, FACFAS, ABPM, CWS, PPG – Podiatry.
Winter fashion in the Midwest is a reflection of the conditions that accompany the season. We see styles meant to combat cold temperatures and wet snow. This includes the fashions we find on people's feet.
Over the past few decades, we've seen a sharp incline in the popularity of sheepskin fleece-lined boots, most commonly associated with the brand UGG®. Surprisingly, UGG boots were created by an Australian surfer, and made their debut in the SoCal beach scene in the late '70s. By the mid-2000s, however, the brand was a symbol of the social elite, showing up in celebrity sighting photographs and reality television shows. Today, UGG boots and similar silhouettes created by various brands are a mainstream style staple.
Surfers, socialites and fans of the sheepskin boot all agree that the design and material keep feet cozy and dry in colder conditions. But, as a podiatrist, I am more concerned with whether the boot is good for your feet. As with most things, there are some pros, some cons, and some ways to improve this product. I'll explain …
For warmth
The upside: The sheepskin boot keeps feet warm and protected from the harsh winter conditions. These boots can be helpful when managing certain conditions, such as Raynaud's disease or chilblains.
The downside: Sometimes too much warmth can be a bad thing. Feet have thousands of sweat glands and if they get overheated the inside of the boot can collect moisture, which could harbor bacteria and fungus. As a result, sheepskin fans decide not to wear socks in these toasty boots, thinking it will help cool the feet. Wrong! When the feet become wet for a long period of time, the skin can break down and look pitted, giving the foot a "crumpet-like" appearance.
My advice: If you have sweaty feet, use a sock that wicks away moisture or change socks frequently throughout the day to keep your feet dry. Also, let your boots air out completely before wearing them again. Consider alternating wearing them every-other day. In addition, antibacterial spray can be helpful in preventing bacteria growth, thus reducing odor.
For comfort and support
The upside: Typically, sheepskin boots are roomy, and therefore give a sense of comfort.
The downside: The synthetic sole in most brands is flat and bendable, which means they don't offer much arch support. In some cases, if the toe box is too wide, the feet can become strained trying to grip the ground, thus causing pain to the forefoot or heel. This could lead to bigger issues for the ankles, knees, hips or back, as you adjust to compensate for the foot pain.
My advice: You can improve the support by using an orthotic – a shoe insert that would provide support to the arch. Occasionally, a custom orthotic will be needed.
Depending on which brand you choose, sheepskin boots can be somewhat pricey, so the instinct is to wear them until they fall apart. But that's a big no-no! Shoe gear is inherently good for 3-4 months of wear time or 500 miles. How can you tell when the boots are ready for retirement? When the feet hurt or there are visible signs of wear.
As you build up your cozy winter wardrobe, consider this guidance for keeping your feet happy and healthy. As always, if you have any questions, I would encourage you to reach out to your podiatrist for assistance.