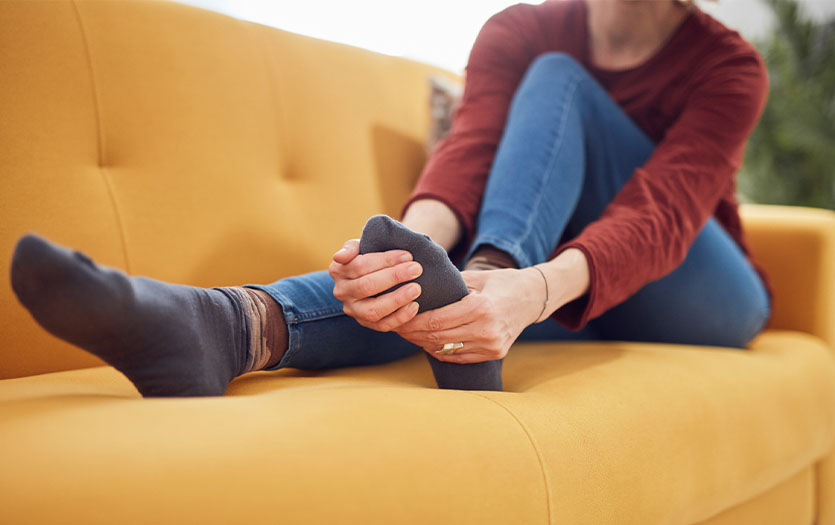 This post was written by Fen Lei Chang, MD, PPG – Neurology, and Jessica Pater, MS, PhD, manager and research scientist, Health Services and Informatics Research, Parkview Mirro Center for Research and Innovation.
The Parkview Post COVID Clinic has been providing, not only world-class medical care to patients, but also an outlet for leading innovative research efforts and facilitating medical education. Since it opened in March 2021, the Parkview Mirro Center for Research and Innovation's Health Services and Informatics Research group has had the opportunity to collaborate with clinic team members to conduct impactful research that is informing models of care for patients affected by the lingering impact of coronavirus.
A total of 18 students have been trained through this research, including eight medical students, three PhD students, six master's degree students and one undergraduate, altogether representing the IU School of Medicine, Purdue University, Georgia Tech, the University of Washington, Marquette University and the University of Toronto. They have had multiple research posters, podium abstracts and manuscripts accepted, with more in development.
In this post, we will explore two recent research studies that highlight the power of connecting informatics with health.

Study No. 1 – Risk Factors and Demographics of Peripheral Neuropathy in Long-COVID Patients
In a review of electronic health data and patient-reported symptoms of patients seen in the Post-COVID Clinic, we found that peripheral neuropathy, which often presents as weakness or numbness in the hands and feet, is higher in long-COVID patients than in the general population.
In total, we reviewed the data of 639 patients. The key findings include:
New-onset neuropathy was found in 3.3% of our patients. This compares to an annual incidence rate of 0.8% per year in the general population.
Patients with new-onset neuropathy were slightly older than the average for the clinic patients (55.5 years vs. 50.3 years), were male (47.6% compared to 26.3% for women) and were more likely to have been hospitalized for COVID (47.6% vs 22.4%).
Patients who already had neuropathy but found that it got worse after COVID (or was progressing) were much older than the average patient age (65.5 years vs. 50.3 years) and much more likely to have hypertension (70.0% vs. 34.2%) and diabetes (35.0% vs 15.2%).
This research was led by the Post-COVID Clinic and three IU School of Medicine students during their Student Education Research Fellowship with the Post-COVID Clinic in the summer of 2022. The manuscript for this research is currently under review for publication in the Journal of the Peripheral Nervous System (JPNS).

Study No. 2 – Are There Differences Between COVID Long-Haul Symptoms Shared in the Clinic vs. Online?
Patients in the Parkview Post-COVID Clinic report on their top five symptoms before their first appointment. We were interested to understand if these symptoms were like those being discussed online. We collected social media posts from two popular platforms, Reddit (12,900) and Twitter (133,000), using key terms like #longCOVID and #COVIDLongHaul. A random sample of 500 Reddit and 500 Twitter posts were analyzed by a team of researchers to compare them to a dataset of 543 patients from the Clinic. Key findings include:
Overall, there were different patterns observed between the electronic health record (EHR) and both social media platforms. There were also differences between the two social media platforms: 11 symptoms were present in the Reddit data that were not present in the Twitter data, including seizures, asthma, hearing loss and weight change.
Several symptoms found in the EHR data were never mentioned in the social media dataset. These included issues related to endocrine problems and cysts.
For neurological symptoms, symptoms reported in Reddit were more like the EHR than Twitter.
This figure shows the differences found across the EHR, Reddit and Twitter when discussing one of the most common symptoms, fatigue. Fatigue was much more commonly discussed in the EHR and the symptoms connected with it differed slightly depending on the platform.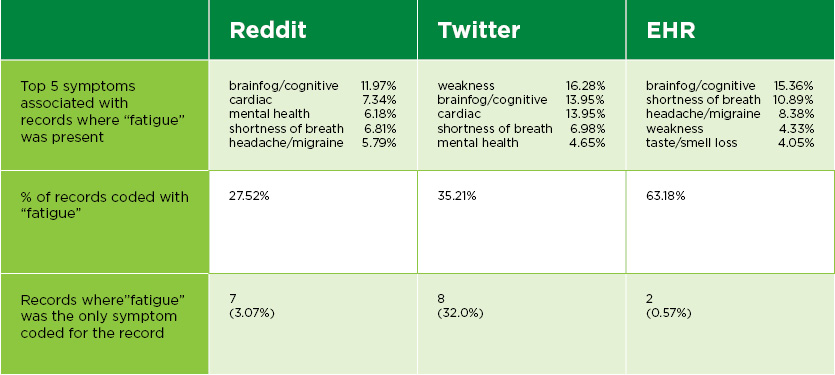 This research was led by the Health Services and Informatics Research group and included students from IU School of Medicine (3), Marquette University (1) and Perdue University (1). It was published in the Journal of ACM Human Computer Interaction in April of this year. Click here to access the article.
References
Li, J., Bohn, C., Todd, N., Pater, J., Carrol, J., Henriksen, B., & Chang, F.L. (Forthcoming). Peripheral Neuropathy in U.S. Long-COVID Patients: Demographic Distribution and Risk Factors. Journal of Peripheral Nervous System (JPNS).
Pater, J. A., Coupe, A., Nova, F. F., Pfafman, R., Carroll, J., Brouwer, A., Bohn, C., Li, J., Todd, N., Chang, F.L., & Guha, S. (2023). Social Media is not a Health Proxy: Differences Between Social Media and Electronic Health Record Reports of Post-COVID Symptoms. Proceedings of the ACM on Human-Computer Interaction, 7(CSCW1), 1-25. https://doi.org/10.1145/3579624