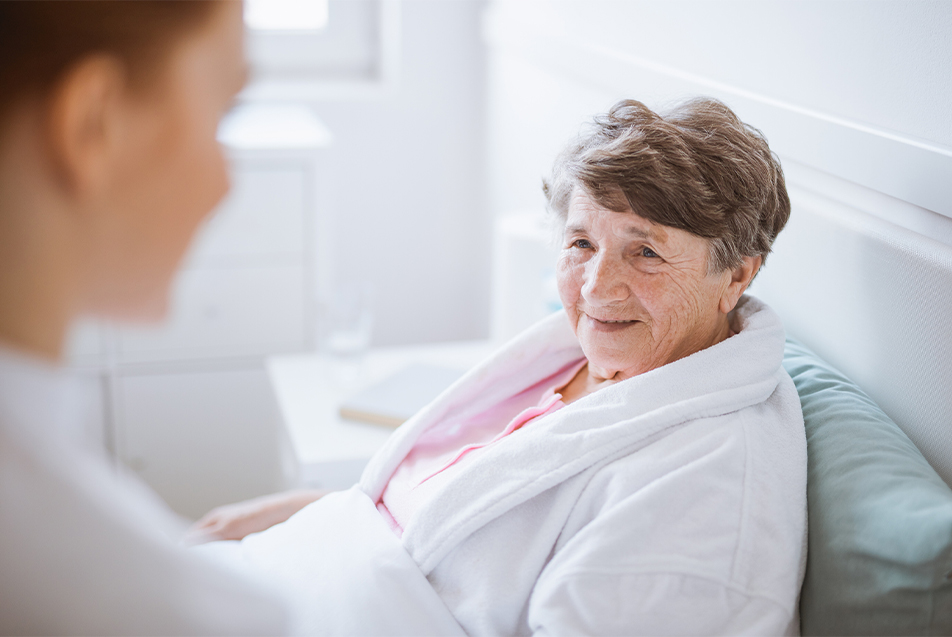 We spoke with Cassie Kurtz, MHL, supervisor, Volunteer Services, Parkview Health, about how the men and women who donate their time to the health system impact our co-workers' and patients' experience, and how you can apply to be a volunteer.
About how many volunteers does Parkview typically have?
Parkview Volunteer Services of Allen County has a volunteer base that ranges from 250 to 500 volunteers. This number varies depending on projects available, season and departmental need. We have a diverse volunteer base, allowing us to assist in many different areas of the health system. Our community hospitals also have a varying volunteer base.
In what types of roles do they serve?
Volunteers serve in a variety of roles which include clerical support, patient contact, environmental supports, community focused special projects, and more. Parkview currently provides volunteer support to over a dozen different departments in Allen County at both hospitals and offsite campuses.
How did that change with COVID-19, and how did we utilize volunteers during the pandemic?
In response to COVID-19, with health and safety in mind, volunteers were suspended temporarily from onsite service in early March 2020. However, within a couple weeks we were able to utilize them in a call project aimed at keeping or creating community for vulnerable older adult populations. This project was in collaboration with Parkview Senior Health Services/Parkview Seniors Club and lasted until early fall. The project connected long-term volunteers with roughly 100 older adults who may have been experiencing a decline in their social landscape. The hope was to keep a sense of community alive, build the sense of support systems, and maintain mental health.

By early summer 2020, we were utilizing volunteers for offsite special projects to support our units. This included tasks such as admission packet building, mask sewing, and/or greeting card prep for areas that recognize birthdays or do thank you cards. As 2020 drew closer to an end we were able to slowly reintroduce specialty groups into the hospital setting on an as-needed basis. These groups included special projects supporting gown folding, COVID-19 test kit assembly, NODA (No One Dies Alone; serving non-COVID positive patients dying with limited or no family/social supports), and Kindred Hearts (serving those experiencing pregnancy loss).

We had to be very conscious of our process, modify a few steps, work closely with leaders, and check-in more frequently, but it went beautifully. Those experiences then paved the way for a tiered approach to return volunteer beginning in early 2021.
How is volunteering beneficial for the health system?
Volunteering is beneficial for the health system in many ways. Allowing additional support in our departments in the form of volunteers affords our co-workers increased opportunity to focus their efforts on our guests with the assurance that other tasks are being addressed in a timely manner. This directly impacts patient experience in a positive way. We view our volunteers as an extension of our team, as they also view themselves.

Our volunteers can bring their unique experiences and skill sets to support the needs of our departments in a way that aligns with our motto of excellent care every person every day. Often volunteers are some of the first and last faces a guest may see in their time here at Parkview. This allows us additional opportunities to really build on the goal of being an excellent place to receive care by laying the foundation of quality or building on it. Volunteers truly do fill in the blank spaces allowing for each day to flow more efficiently.
How is volunteering beneficial for the volunteer?
For a volunteer, these experiences often provide a sense of purpose. Many times, a sense of belonging. Volunteers are given many opportunities to be part of moments that truly are unique and impactful. For many this is a way to fill their day and allow them valuable social experiences that feed their spirit in a way that is both necessary and valuable.
What sort of feedback do you hear from the volunteers about their experience helping?
Many volunteers are so grateful to have the opportunity to be a part of someone's health journey or to lessen the load of healthcare workers. Many express their gratitude for having the opportunity to give back to a place that gave them so much in their own time of need. Or perhaps to feel a true sense of community. We hear often how blessed they feel to be a part of something—the big and small moments.

This all became increasingly more important during the pandemic. Volunteers were still feeling called to support the frontline and serve their communities. They were willing to go above and beyond to support Parkview in the effort of caring for our communities. I think one additional reason they continue to serve at Parkview is they truly do feel like a part of this organization. They often share that they are embraced by our co-workers as people who really matter and impact our success. In many places they become more than a volunteer—they become a valued friend who really feel like their department leaders invest in them.
Is Parkview currently looking for volunteers and what can I do if I am interested?
Parkview is accepting applications for individuals 18 years of age or older. Interested individuals can apply for Parkview volunteer opportunities in Allen County here or obtain information on how to apply to one of our many community hospitals.