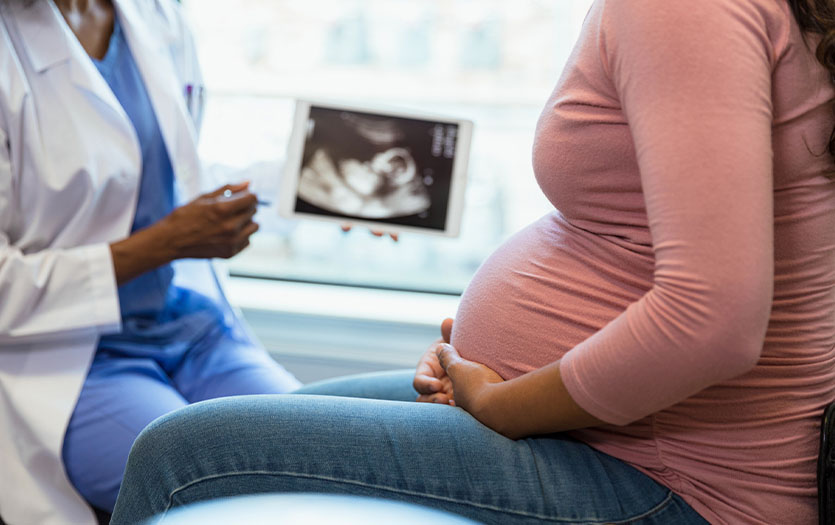 This post was written by Geoffrey Gordon, MD, PPG – Maternal-Fetal Medicine.
All pregnancies are unique and each one has a different level of medical attention required to ensure a positive outcome for mom and baby. Thankfully, Parkview has a team of Maternal-Fetal Medicine experts who are there to guide you and ensure a healthy pregnancy. If your pregnancy is considered high-risk, there are some important things you should know about the type of care you will receive.

What is a high-risk pregnancy?
The term "high-risk" is very broad and includes any pregnancy that deviates from what would be considered "standard" or "routine" prenatal care, including pregnancies with maternal or fetal health concerns.

What are some maternal health conditions that make a pregnancy high-risk?
Sometimes, a pregnancy is high-risk due to concerns with the mother's health. An otherwise healthy woman who develops gestational diabetes or gestational hypertension, for example, will be considered high-risk. Or, if a pregnant patient has a history of a medical condition prior to pregnancy, she would be considered high-risk. This could include rare issues in pregnancy such as cancers or cardiac disease, but more commonly includes conditions such as obesity, advanced maternal age or thyroid conditions.

What are some baby-related conditions that make a pregnancy high-risk?
In addition to concerns with the mother, there could also be fetal concerns that would put a pregnancy into the high-risk category. For example, if there are any findings for fetal abnormalities on an ultrasound, this can make a pregnancy high-risk. This could include dilated kidneys, cleft lip or palate or heart defects, to name a few. A high-risk pregnancy can also include problems with the placenta, such as placenta previa (placenta over the cervix) or issues with fetal growth restriction.

How are high-risk pregnancies managed at Parkview?
Once your obstetrician decides that your pregnancy is high-risk, he or she will send a referral to Maternal-Fetal Medicine (MFM), which includes highly specialized physicians who are experts in treating complex maternal and fetal conditions before and during pregnancy.
Your Nurse Care Coordinator will review the request and forward the information to one of our physicians for review. We then determine the timing for a consult, in which a care plan will be developed that is tailored to your individual high-risk needs. This may involve follow-up with your OB provider alone or may include follow-up appointments with the MFM team.

What can I expect at my consult?
During a consult with MFM, you can expect to be greeted by one of our front office staff members. These team members are the scheduling coordinators once the plan is made. They are well trained in scheduling appointments that rely on specific timing based on gestational age, ultrasound needs and follow-up clinic visits.
Following the initial check-in, one of our highly specialized sonographers will perform a detailed and in-depth ultrasound. These images are reviewed prior to you leaving the ultrasound unit and entering the MFM clinic. Upon entering the clinic, one of our nurses will escort you to a consult room, where they will perform a clinical check-in, which includes checking your blood pressure and asking some questions. Based on the concerns, there may be an additional appointment with a genetic counselor.
Next, you will have your consult with an MFM provider. This can be a physician or a nurse practitioner, based on the referral. This is where all the information from the ultrasound and your history will be pieced together to create a plan for your care. Following most consults, you will meet our office social worker, who will ensure any other needs that may require attention have been addressed.
Lastly, you will return to the front office staff for check-out and to schedule any follow-up appointments, if needed.

If I am high-risk, do I have to transfer my care to the MFM team?
No. Because the Parkview MFM team does not do routine OB care or deliveries, you do not need to transfer your care. MFM team members act as consultants who work directly with your obstetrician. Their role is to develop evidence-based care plans to keep moms and their babies safe and healthy, but their services do not replace those of your regular obstetrician. In women with more complex concerns, the MFM team may participate more frequently throughout the pregnancy.

What type of care will I receive?
The MFM team is a specialized, multidisciplinary group that works closely together to deliver high-quality care to patients with high-risk pregnancies. Not all high-risk pregnancies will require multiple visits to see MFM, but for those that need close follow-up, the team will work alongside you with dedication and compassion as you navigate your journey of a high-risk pregnancy.