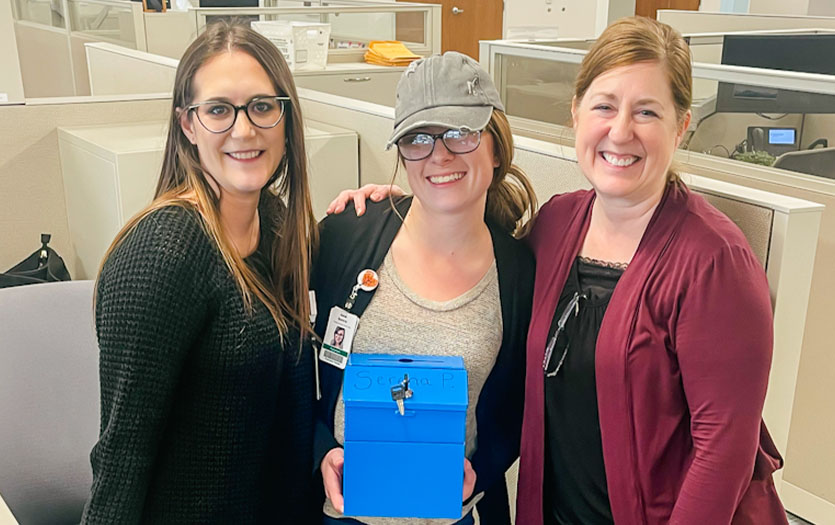 On March 26, Serena Persinger, an authorization representative for Parkview, received a devastating phone call. "We'd been out of state, visiting my sister and nephew in Michigan for spring break," she recalled. "We came home and decided to take our dogs on a hike, since they'd been on that long drive. Our neighbors called and asked if we were home. They told us that our house was on fire."
They acted quickly. "We rushed back, and the fire department was there. It was a huge mess. It was an older house, and they said the cause was an electrical fire in the attic." The Persinger family's home was completely destroyed, and yet, all was not lost. "Everyone was fine, and that's what matters. The most important things are still here," she said. "Our two children, our two German Shepherds … the neighbors even rescued our fish! They ran in to get our dogs and when they noticed they weren't there, they grabbed the fish, instead. They are such incredible people."
Helping hands
After learning about the Persingers' tragedy, Serena's supervisor, Samantha Welter, CMA, Inpatient Authorizations, knew it was crucial to rally around them. "She called on Sunday night, while her house was still in flames," Samantha recalled. "She was in shock, as most people would be. After I hung up, I shed more tears than I'd like to admit. Serena is one of the kindest people I've ever had the pleasure of meeting. I knew they'd need as much support as possible, and that our Parkview family could come together and provide."
Being vulnerable and accepting such generosity was new to Serena. "Sam told me she wanted to help, which was just so sweet," she recalled. "I didn't know what to say. I'm usually somebody who likes to help everyone else, and it's always been hard for me to accept help from others. But this was a situation where you have to be humble and accept the kindness."
Samantha purchased a secure donation box and placed it on her desk for cards, money, prayers and notes of encouragement. "Since our departments are mostly remote now, I also provided an app-based option so people who wished to contribute could donate that way."
Many had it in their hearts to give in other ways as well. Samantha received several bags of clothing and gift cards for everyday essentials. Parkview Human Resources sent out a system-wide email asking for paid time off (PTO) donations and received a strong response. In just days, Parkview co-workers had raised hundreds of dollars, PTO hours and essential staples for the Persingers.
"There are still good people in the world"
"The day we gave Serena the donations, it was hard to contain my excitement," Samantha shared. "Our director, Amy Eavey, and executive assistant, Justin Hamby, were there. We presented her with the donation box, and she was in such shock she wasn't quite sure what to do. Her face was full of gratitude and her smile made our hearts grow."
The contents were more than Serena had imagined. "I got a lot of cards from people I don't even know," she said. "It was so touching. People even donated things for our dogs! My sisters kept telling me that I'm always the first to jump in and help, so I should let others help me. They told me that it was obvious we are loved."
The acts of giving are a testament to the strength and heart of the health system. "This is the definition of our Parkview culture–coming together and supporting each other and knowing that kindness and love are as tangible as an in-person hug. It's a beautiful thing," Samantha said. "Not only can we come together to provide for our patients, but we can do the same to provide for each other in delicate times of need.
"We've all heard the saying, 'There are still good people in this world.' The truth is, there are a lot of good people in this world. It doesn't take much to make an impact on someone's life. I hope this helps Serena and her family feel appreciated, loved and supported, both emotionally and physically. I hope it gives them a sense of security, knowing that they are not alone. Life threw them a truckload of lemons, but there are a lot of hands here to help make some lemonade."
As for the family's next steps, Serena shares that they have some big decisions to make, but they're doing so with incredibly thankful hearts. "We're doing OK," she said. "We're meeting with a contractor to decide whether to rebuild or move. I think the biggest thing is realizing how lucky we are to have this really strong support system from our jobs, the kids' school and sports teams, churches in town and the fire department. I love my job, and honestly, I was ready to go back and feel normal again. I don't think I've worked in a better place."
Samantha and the team are just happy to be there for support. "This was one of the most fulfilling moments I've ever had the opportunity to be a part of," Samantha said. "It gives me goosebumps; it was such a beautiful thing to witness and participate in. The impact of helping Serena and her family is something I will never forget."