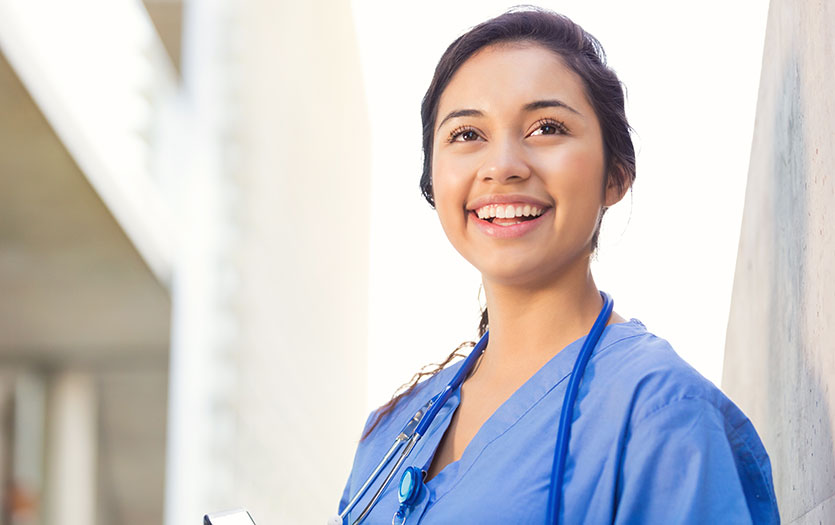 At Parkview Health, we understand there are many seasons in life. It's true for so many facets of the human experience, and your career is no exception. As our personal situations ebb and flow, so, too, do our professional circumstances. As an employer, we have made it a priority to meet our co-workers where they are and offer flexibility for frontline staff. This is perhaps best showcased in our Flexible Career Options for registered nurses (RNs).
From a desire to travel, to scenarios that require a specific schedule, we recognize that there isn't a one-size-fits-all model for clinical positions. We are committed to maximizing our workforce by providing unique paths to professional development, and finding the schedule that works for both the health system and the co-worker. The ability for nurses to choose their journey is a win for our employees and our patients, yielding a positive impact overall.

A conversation about flexibility
For a personal perspective on the benefits of Parkview's unique career opportunities, we asked Kiley Capodice, BSN, RN, Registry Department, Medical/Surgical Unit, Parkview Regional Medical Center, and Leonetti Bester, MSN, RN, internal travel nurse, Pediatrics, Parkview Regional Medical Center, to tell us a bit about their positions in the health system.

What is your current schedule?
Leonetti: Fridays, Saturdays, Sundays, 7 a.m. to 7 p.m.
Kiley: Thankfully, we are able to make our own schedules and to work a variety of hours. I am a Tier 3, which means in a four-week period, I'm required to be scheduled 96 hours. There are Tier 1 and Tier 2 options if you want to work less hours. In this position, I can schedule myself on any day, I'm not required to work weekends, and I only have to work one minor holiday. I typically work Tuedays and Wednesdays, 3 p.m. to 3 a.m., and pick up an extra shift on Thursdays. But I have the flexibility to move my days around to accommodate life and help co-workers with their schedule needs and changes.

Why does this schedule work well for you?
Leonetti: It works great for my family because it alleviated the need for childcare services.
Kiley: My husband works four ten-hour days, Tuesday through Friday. This allows us to spend quality time together on our days off, travel and be with our dog, Kinsley.

What does it mean to you to have the opportunity to work this schedule?
Leonetti: It means I get to enjoy my family! I'm able to watch my daughter reach milestones, and there's no need to budget for daycare expenses.
Kiley: I like to work my shifts in a row rather than be spread throughout the week. This helps me keep a consistent schedule, have a mix of free days and nights, and maintain a healthier work-life balance.

How does this flexibility impact your role as a caregiver?
Leonetti: I feel as though I have autonomy with my schedule. I'm well rested when I come to work and that's reflected in the care I give.
Kiley: Being in the float pool allows me to provide care in several specialties. Because of this, I'm always being educated and keeping up on my skills. I have grown as a nurse and have created a great rapport with all the different floors I work on and the co-workers in those areas.

What does it mean to you that Parkview offers this flexibility?
Leonetti: I am grateful.
Kiley: It truly means Parkview cares about their employees and wants to provide what's best for nurses. Before I accepted this position, I wasn't able to maintain a healthy work-life balance. For the past two years, I've seen a significant difference in the way I have been able to balance my everyday life and work schedule. I travel two hours to be a Parkview employee by choice. The Registry department has given me the opportunity to be at important personal events and to better provide for me and my husband. Every Tuesday, I travel across Ohio, stay with family, and provide care to Fort Wayne and the surrounding communities. I'm honored to be a part of a department and facility that supports great flexibility.

What has your experience at Parkview been like?
Leonetti: I am a rehire with Parkview. I worked here as a tech from 2012 to 2014, prior to receiving my nursing license. I have always had a pleasant experience working for the health system.
Kiley: My Parkview experience has been top of the line. As a co-worker, you truly feel like you are family, understood, taken into consideration and cared for. I'm thankful for a department that has grown, but also stayed close to each other. Our directors, managers and operational leads check in with us and work alongside us so we can be better healthcare providers. Our facilities are well taken care of and have earned the highest respect. I'm proud to bleed Parkview green!

What would you say to a nurse who is looking for a position that fits into his/her life?
Leonetti: Consider flexible nursing. It really does impact how you feel about coming to work. There is just something revitalizing about knowing I chose my specific hours.
Kiley: To the nurse who is overwhelmed or can't seem to find the right balance, this is where it starts. Finding yourself a department that will work with you in every aspect of your life. A department that will still allow you to be present for the littlest and biggest moments that matter to you. If you are looking for a variety of nursing experiences, can adapt to change, and want flexibility, I highly recommend the Registry Department.
Learn more about our current openings, benefits and what it means to be a Parkview nurse, by visiting us online.