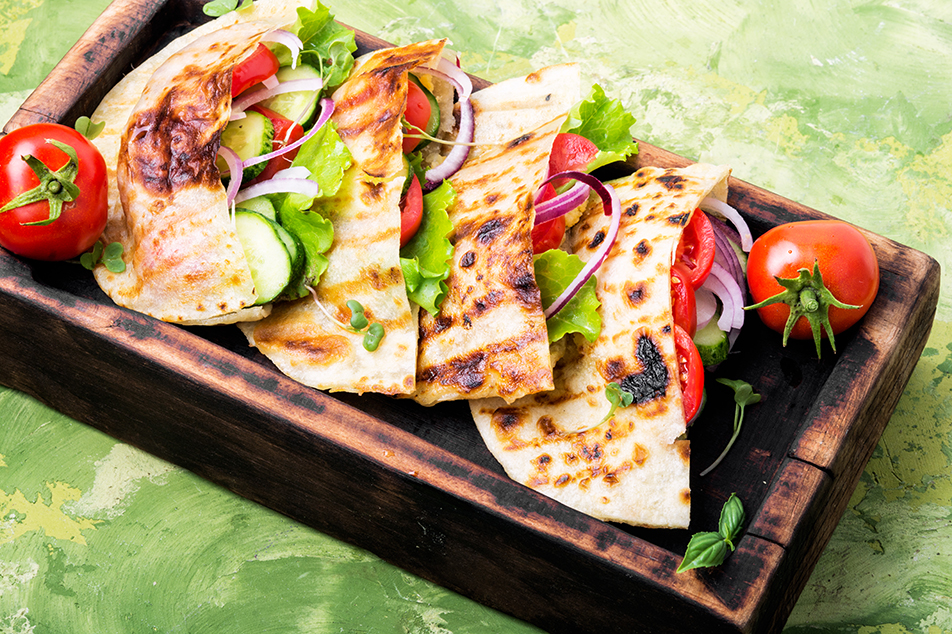 This series was written and created by Sarah Mohrman, RDN, LD, MA, dietitian, program coordinator, PPG – Cardiology.
Last week, we took a closer look at the delicious ways to utilize two soy-based superstars, tempeh and tofu. In Week 9, we're going to focus on something that's both inevitable and enjoyable: dining out.
Eating out while trying to go plant-based can be challenging, but it certainly isn't impossible. More and more, most restaurants are either already offering a plant-forward menu option, or they are willing to modify menu items to accommodate dietary preferences. They can simply remove cheese or meat from a dish to make it vegan-friendly. Here are some simple suggestions that can apply to many different restaurants.
Mexican
The easiest option is vegetarian fajitas. You top your tortillas yourself, so it's easy to skip the cheese or sour cream, but you can always ask for them to be left off the plate and to add more veggies.
Chicken and black bean burritos, hold the chicken and add extra beans. Top it off with salsa instead of cheese.
Fajita taco salads without meat or cheese are a veggie-rich option, especially topped with salsa and avocado.
Some Mexican chains offer tofu-based meat alternatives, so be sure to ask!
American
Look for black bean burger alternatives. You'll be surprised how many restaurants have them!
Think about substitutions. For example, if the restaurant has buffalo chicken wings and cauliflower wings, ask for the cauliflower wings to be used in the buffalo chicken wrap instead of chicken. Be creative! And don't forget to skip the cheese.
Entrée salads can always be modified. Look for one that may have chickpeas or beans for protein and skip the meat and cheese. Oil and vinegar is your best choice for dressing.
Worst case scenario, order a couple side dishes, such as a side salad and baked potato or add in the vegetable of the day!
Asian/Ethnic Cuisine
Try Pad Thai with tofu or vegetable lo mein. Asian and Thai restaurants often have great plant-based options.
Pizza
Explore different pizza options near you, rather than just the large chains. A number of locally owned pizzerias have vegan cheese and plant-based meat alternatives. You can always add extra veggies as well. With vegan cheese, a little goes a long way, so you can request that they go easy on this topping.
My last piece of advice is perhaps the most fun. Be curious and patronize local restaurants that are dedicated entirely or largely to the plant-based movement. We have so many delicious options in our region. A quick online search will produce some wonderful places to dine out and dig in to plant-forward, nutritious dishes close to home.