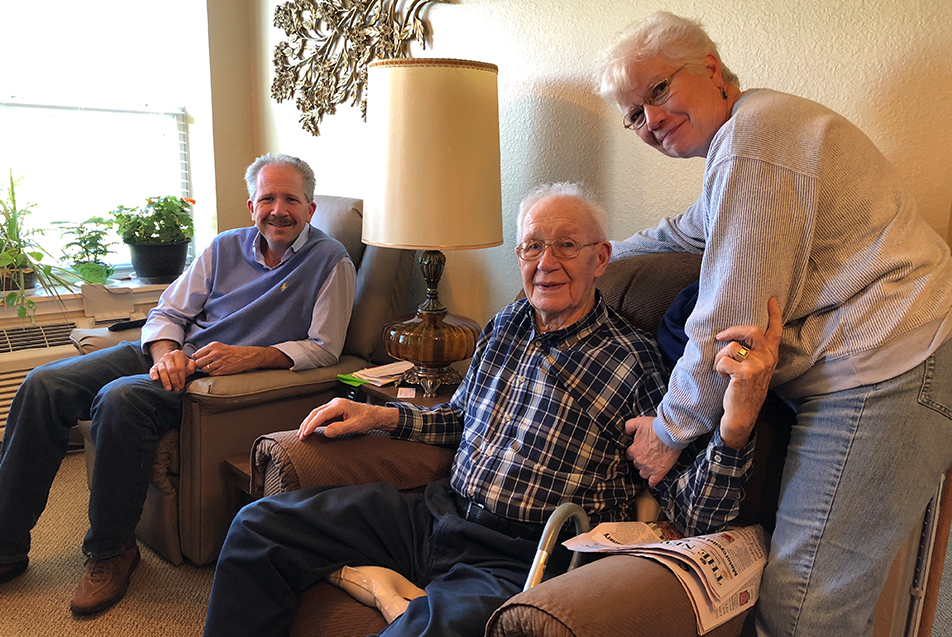 Robert (Bobbie) Brill, age 94, grew up in Wolcottville, and his wife, Naomi, grew up around Kendallville. They were married the day after Christmas in 1948 and raised two children, Mike and Debra. Naomi always cooked for everyone and was determined to continue doing so until her health and Bobbie's had declined so far that their doctor recommended they call in Parkview Home Health & Hospice to assist with day-to-day living, including bathing, cooking, and emotional and physical support for Naomi and Bobbie, as well as for Mike and Debra.
"Our experience with hospice has completely changed our view of what hospice is and what they provide – not just to Dad, but to us, as well. Up until now we assumed hospice was primarily about care at the very end of life. What we learned was that they are so much more. Our hospice nurse, Rosella Kiser, was wonderful with Mom and Dad," Mike said.
Bobbie nodded his head in agreement, saying, "She always helps me with my medicines. She fills my pill boxes for me."
"Mom used to call her 'dear Rosella, my Cinderella'," Debra (Brill) Woods said, "and that is totally unlike her. It showed just how much she thought about Rosella."
"Hospice provided advice and care as we needed it, whenever we needed it," Mike said, "including recommending when it was time to move them out of their own home and into assisted living. At one point, Dad's doctor told us he probably didn't have more than 3-5 days left of life. That was over a year ago now."
On April 23, 2018, Naomi passed away. The couple would have celebrated their 70th wedding anniversary on the day after Christmas, and it is a loss that is still new to everyone in the family. "On Mom's last day, Cathy Petrie, the hospice bereavement counselor, encouraged each of us, including Dad, to go in one at a time, hold Mom's hand, and quietly tell her it was OK to let go," Debra shared. "It was very hard to do. Mom was unresponsive at that time, but this seemed important. As hard as it was, it is a moment I will always treasure. We're very grateful to Cathy for helping us at that time."
Parkview Home Health & Hospice continues to provide support for the Brill family. In June, they encouraged them to take their planned vacation in Wisconsin and take Bobbie with them. "We spent two weeks there every summer," Mike said. "A friend of our grandfather's owned a cabin and rented it out to friends. We have many happy memories of this place." Mike and his wife, Sandra, now own a beautiful log cabin on the same lake.
Debra nodded in agreement, adding, "Parkview Hospice arranged with a hospice organization in Wisconsin to be available to us if the need arose. We had a phone number for them and felt very secure about having the support."
"We rented a pontoon boat that would accommodate Dad's wheelchair and spent every day fishing," continued Mike. "And he still caught the most fish of all of us. We couldn't have done this without hospice and it is a memory none of us will forget."
"I'm hoping to go there again in the spring," Bobbie added.