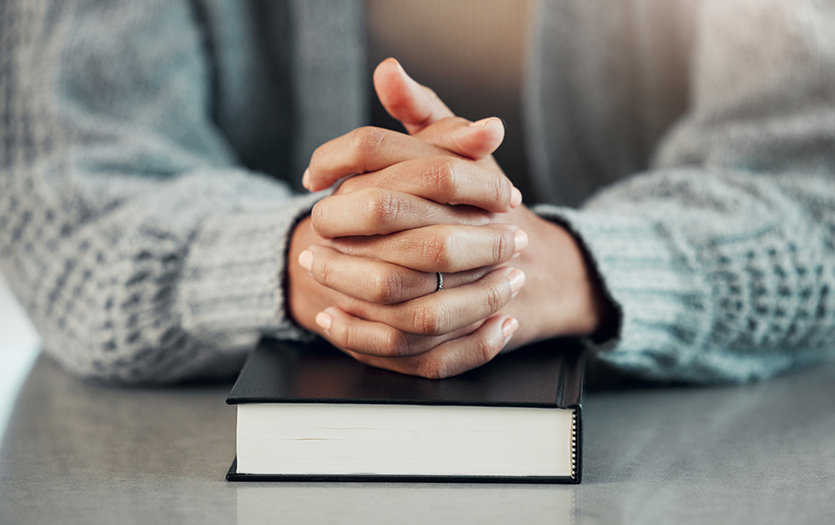 This post was written based on an appearance by Michael Deter, chaplain, and Michael Sprunger, chaplain, Parkview Hospice Care, on the program PBS Healthline.
For patients in hospice, spiritual care plays an important role in offering comfort to them and their loved ones. Just like with physical or emotional pain, spiritual pain can cause hospice patients to have anxiety or concerns as they near the end of their lives. Thankfully, hospice chaplains are available to help patients and their families find spiritual healing and comfort.

What is a chaplain's role?
A chaplain is a part of the hospice patient's multi-disciplinary care team that also includes physicians, nurses, LPNs, CNAs, social workers and more. A chaplain's job is to walk alongside patients as they navigate their spiritual journeys at the end of life. Because chaplains aren't tied to a particular church or religious background, they are focused on meeting patients where they are spiritually and providing the type of comfort and care each patient needs.
This typically involves performing an initial assessment with each patient that helps the chaplain understand their beliefs, church background, faith background and more. This allows the chaplain to find out what is important to the patient and how they can best support them, no matter their religious beliefs or denomination. It also allows them to connect the patient with other religious leaders, such as priests or ministers, who can provide religious-specific support.

Chaplains as listeners
One of the most important parts of a chaplain's job is listening. They will often spend a lot of time with their patients going through a "life review" — which involves listening to the patient as they talk about their past, memories, accomplishments, interests, etc. This life review allows the chaplain to enter the patient's world and gives the patient the often-therapeutic experience of sharing stories about their lives.
Through the life review, the chaplain builds a trusting relationship with the patient that gives them the foundation they need to better provide spiritual support. It also gives the chaplain an idea of things in the patient's past that they may be able to help with and relieve any lingering negativity.

Chaplains as comforters
Providing comfort and easing any anxieties a patient may have as they near the end of their life is a big part of a chaplain's role — and it looks differently for every person.
Religious patients may find comfort in scripture, prayer or sacraments such as baptism or communion. Other patients may have questions about spirituality if they haven't been religious before but are looking for peace. Patients who are not faith-connected may want non-religious support to ease their minds in their final days, such as being reminded that their loved ones are being taken care of. Chaplains also often care for the family members of hospice patients, helping spouses, parents, grandparents, etc., find peace and hope in saying goodbye to their loved one.
For chaplains, it's all about looking for signs of spiritual pain or distress and finding ways to relieve that anxiety and help someone find comfort in their hospice journey.

Chaplains as planners
One way chaplains can help patients and their family members find peace and comfort is by aiding in the funeral process. Often, chaplains are brought in to help with planning or even officiating the funeral.
For many patients who are able, speaking with a chaplain about their wishes offers them a chance to request specific poems, scriptures, songs or prayers that they would like to be read or played at their funeral. It also offers the chaplain an opportunity to gather information about the patient to ensure it's a personal event that honors them in an appropriate way. Speaking about and planning their funeral ahead of time gives the patient peace of mind in knowing the funeral is taken care of — which can help relieve a lot of stress later in the hospice journey.
For hospice patients, navigating their spirituality is a big part of end-of-life care. Hospice chaplains play an important role in helping each individual patient and family member find the comfort they need, no matter their religious belief or background.
For more information or to discuss if hospice services are right for your family member, call 260-373-9800 or 800-363-9977, or fill out this form.