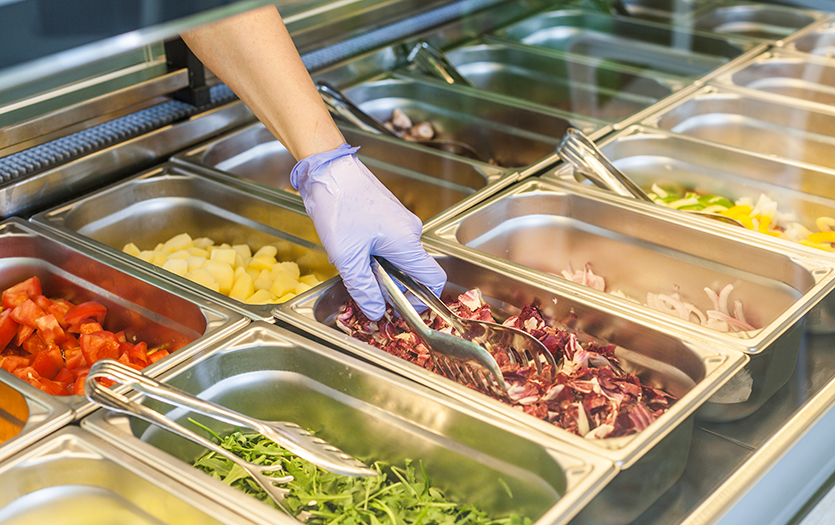 According to an article by Parkview's food management partner Sodexo, food waste is among the top three issues fueling global warming. "In the United States, 30 to 40% of the total food supply is wasted every year. Food service businesses contribute significantly to that waste; a recent report found a half-pound of food is wasted for every restaurant meal, from kitchen waste to customer leftovers. Since Americans eat out six meals every week (on average), this means hundreds of millions of pounds of wasted food."
With this in mind, making intentional shifts to reduce these numbers must be part of responsible, sustainable food management. According to Sodexo, "Overproduction, expiration, trim waste, handling, poor cooking and inventory spoilage are the biggest food waste culprits. But waste can be cut significantly by stringently monitoring these issues."
In observance of Earth Day, we asked Wesley Oburn, corporate director, Food and Clinical Nutrition Services, Parkview Health, and Andrew Lockwood, director, Food Services, Parkview Regional Medical Center, to frame this concept for us from the hospital perspective. They discuss the impact of supply costs, a new tool providing helpful metrics around discarded food and other shifts our teams are making to lessen the health system's carbon footprint.
How have increases in food prices impacted our dietary offerings for patients, coworkers and guests?
We have made modifications to menus to mitigate increasing costs and be fiscally responsible, while keeping prices as low as possible. There hasn't been a noticeable impact to those dining in our facilities.
What are some strategies Parkview uses to address cost increases?
We've put multiple strategies into action, including:
Leveraging purchasing contracts
Stringent inventory controls
Culinary Foundations Training
Reducing over production
Introducing more plant-forward options to reduce high protein expenses
What practices did your team put in place to reduce food waste?
As part of its effort to fight climate change, Sodexo introduced WasteWatch powered by Leanpath at Parkview Regional Medical Center (PRMC). The tool includes a scale and visual display. Kitchen staff weigh food waste and enter the weight, product information and reason for disposal. Over time, the system can identify trends, such as most wasteful days, times and dishes. It also estimates the amount of carbon emissions avoided and savings in water usage, equivalent meals and dollars. It then sets specific waste reduction goals. Once we hit those objectives, they reset to drive more savings.

We plan to implement the tool at Parkview Hospital Randallia soon, based on the success we've seen at PRMC.
What results are you seeing from this focus on food waste reduction?
When we started the program, we established a baseline over several weeks. Using that as our jumping off point, we were able to measure the impact.
To date we have:
Avoided roughly 500 metric tons of carbon emissions.
Conserved more than 1.7 million bathtubs of water.
Saved the equivalent of almost 132,000 meals.
Prevented more than 158,000 pounds of food waste.
Is there anything our guests, coworkers or patients can do to help reduce food or product waste in our facilities?
It's always good to use discretion when ordering catering. Make sure you don't have too much, that will likely go to waste. Also, take the time to recycle, whether you're in one of our facilities or outside of them. It makes a difference!
Are there any other shifts Food Services has made to address Parkview's environmental impact?
We formed a committee and have an environmental impact strategy in motion. Some of the tactics are already underway, and some are coming soon.
One big priority for our team is recycling. We are working to provide education and training for staff around proper recycling, display signs with instructions, consult with our trash company and Environmental Services team, and introduce helpful recycling and trash receptacles. We want to make the process as clear and simple as possible.
Additionally, we have eliminated all Styrofoam materials and switched to either compostable or recyclable products. We also compost all of our fruit and vegetable trimmings.
Additional Earth Day articles
If you're feeling inspired to make changes to address climate change, these posts from the Parkview Dashboard might be helpful:
Transitioning to a plant-based diet–tips and tricks
Ten weeks to plant-powered eating–Week 1 (the first in the series)
How to make sustainable shifts with your food
How to kickstart your composting efforts
Some simple steps to food sustainability