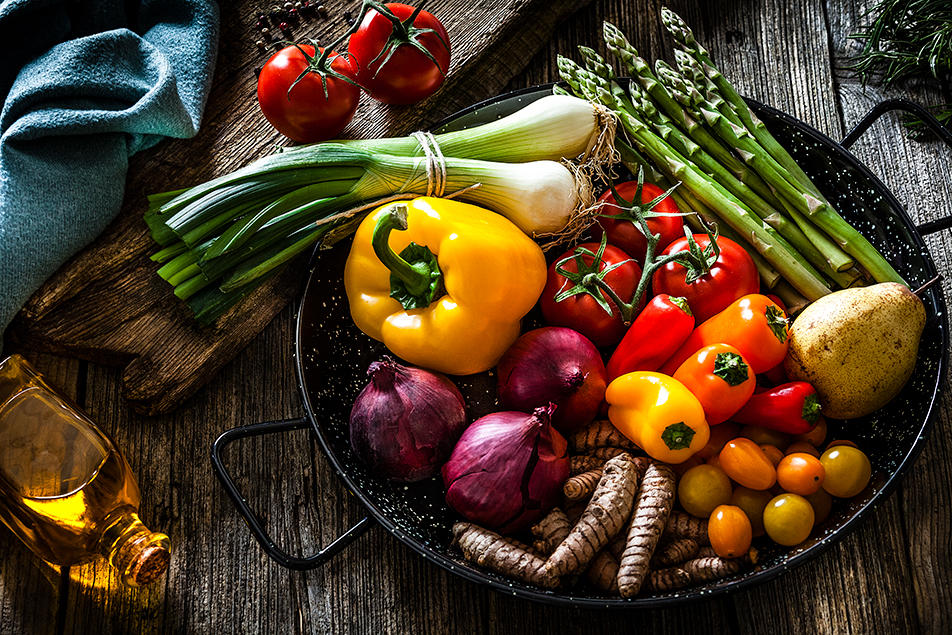 This series was written and created by Sarah Mohrman, RDN, LD, MA, dietitian, program coordinator, PPG ­– Cardiology.
Generally speaking, most new year's resolutions revolve around becoming better versions of ourselves, whether that is physically, emotionally or spiritually. From the physical aspect, often we aspire to lose weight or to eat healthier, but we do so without a clear path or plan on how to achieve these goals.
At the end of the day, most Americans simply don't include enough plant foods in their diets. By plant foods, I mean fruits, vegetables, whole grains, beans, lentils, nuts and seeds. Plant foods are high in fiber, phytochemicals and antioxidants that aid with preventing and reducing many chronic health conditions. Plant-based diets have shown benefit in reducing the risk of heart disease, cancer and diabetes, while also improving our weight and gut microbiome.
Moving toward a plant-powered diet
Knowing the benefits of a plant-forward approach to eating, how do we go about making the change to incorporate more of these foods? How do we get those plants on our plates? I will be sharing 10 weeks of challenges and tips, focusing on a new goal every week. Each will help you move toward a plant-powered lifestyle.
Week 1 challenge: Add to your diet
It's important to lose the mindset that plant-based eating means getting rid of everything you love to eat. This week, focus on adding foods to your diet, instead of subtracting! How can you boost what you are already eating by incorporating more plants? Are you eating fruits and vegetables with every meal?
Here are some simple things to try this week:
Breakfast
Add berries or slice up a banana on top of your whole grain cereal or oatmeal
Add chopped spinach to your omelet
Add sliced peaches on top of your French toast or pancakes
Lunch
Add a sliced tomato, avocado and lettuce to your burger or taco
Add sliced banana to your peanut butter sandwich
Add broccoli on top of your baked potato
Dinner
Add mushrooms, onions and peppers to your homemade pizza
Add grated zucchini or carrots to lasagna or pasta dishes
Add a new veggie choice to your salad
Snacks
Add berries to your Greek yogurt cup or pineapple to your cottage cheese
Recipe to try
15-Minute Vegetable Lo Mein
8 ounces whole wheat thin spaghetti noodles
1 tablespoon vegetable broth
2 cloves garlic, minced
1 onion, thinly sliced
2 cups chopped broccoli
1 bell pepper, julienned
1 carrot, julienned
8 ounces button mushrooms, sliced
1 bunch of green onions
½ cup chopped lightly salted peanuts (optional)
Sauce
2 tablespoons low sodium soy sauce
2 teaspoons honey
1 teaspoon sesame oil
½ teaspoon ground ginger
½ teaspoon Sriracha, or more, to taste
1. Boil noodles according to package directions, then drain and set aside.
2. While noodles are cooking, heat vegetable broth over medium high heat and sauté garlic and onion together for 2 minutes, then add broccoli, bell pepper and carrots. Sauté for 4 minutes, then add in sliced mushrooms. Sauté another 2 minutes. Add additional broth as needed to prevent burning.
3. Whisk together all ingredients for sauce. When noodles are done, drain and add to the vegetables. Pour sauce over top of vegetables and pasta. Toss to combine.
4. Sprinkle green onions and chopped peanuts on top. Serve!
Serves 6
Nutrition facts: 290 calories, 8.3g fat, 1g saturated fat, 0mg cholesterol, 10.5g protein, 46g carbohydrate, 7g fiber, 310mg sodium
Recipe adapted from: https://damndelicious.net