Ruth Wall, was a registered nurse for 54 years, and spent 37 of those working in the operating room at Parkview Huntington Hospital. "I was blessed to work with a great group of surgeons and healthcare workers," Ruth said. "It was also there that I wore out my knees."
Now retired, Ruth got to a point where she couldn't walk comfortably anymore. She was in continual pain and wanted her quality of life back. She knew exactly who to see, Steve Wynder, MD, orthopedic surgeon, Parkview Huntington Hospital. "I worked with him for years and I knew he, not only had the ability to do the surgery well, but also the personality."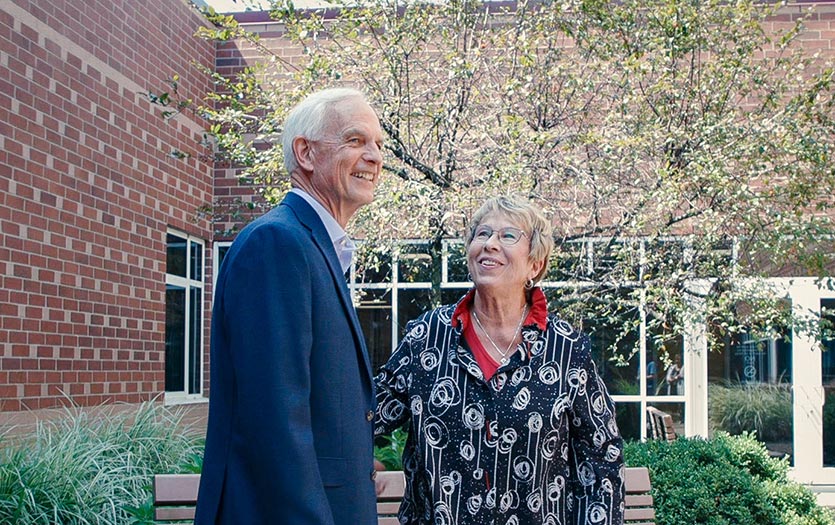 After going in for a consultation, the path forward became very clear. "While there are alternative things you can do," she said, "I was beyond that. It was bone on bone." Together, Ruth and Dr. Wynder decided the next best step was to replace both of her knees.
"Ruth has always meant a lot to me because she was such a calming force for me when I started at Parkview in 2000," Dr. Wynder said. "She had a lot of insight in caring for patients and has a compassion that's upper echelon, in my opinion."
A big benefit for Ruth was her familiarity with the preparation needed before a joint replacement surgery, as she was responsible for patient education in her years working in the OR. "I taught the Ortho Experience Class for Dr. Wynder and his patients, so I knew what needed to be done." She got up to riding 16 miles a day on her stationary bike, started eating correctly and drinking plenty of fluids. She carried these practices through to her recovery as well.
"The morning of the surgery, I asked Dr. Wynder to pray with us. I had one daughter on Facebook and my other daughter there and we all held hands and prayed before the surgery. So I knew who was in control."
The procedure was a success, and today, Ruth is doing great. "It's gratifying for me to see her recovery going so well," Dr. Wynder said.
Ruth credits the thorough preparation, her faith, essential oils and sunshine for her well-being following surgery. "I feel like I have my life back," she said. "I can dance, mow my own lawn, climb ladders and clean my porch. There isn't anything I can't do."