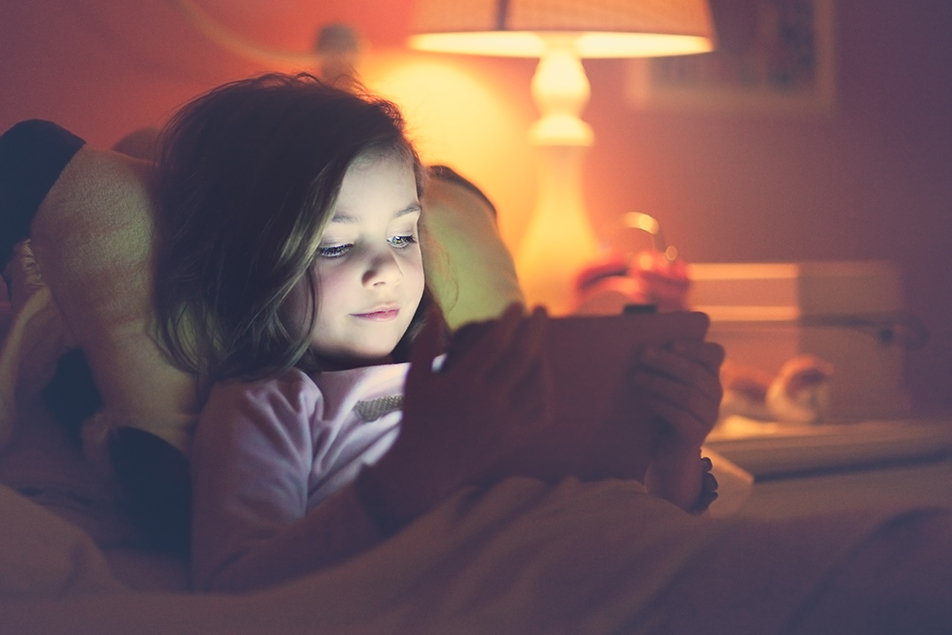 This post was written by Stephanie Appelhanz, child life specialist, Parkview Health.
With all the political and civil unrest in the world today, how do we keep children from viewing things that are too complicated or scary for them to understand? This has been a hot topic over the past few weeks with friends and colleagues. How do we protect our children's innocence and shield them from the issues that are too overwhelming for a person of that age? Here, I provide a handful of possible solutions.
Limit their exposure to the television, specifically the news. When left to watch TV unsupervised, children under the age of 12 could be exposed to topics such as sex, murder, death, abuse, etc. They might see something terrible happen to another person (abuse, murder, bombing, etc.) on a show and have difficulty distinguishing acting from real life or view an actual event and have a difficult time processing it. If you are around, you may be able to censor and interpret what is being said or shown, but keep in mind that once they hear or see something, it cannot be unheard or unseen. Even commercials have been known to sexualize products.
The Academy of Pediatrics discourages media use, except for video chatting, in children younger than 18-24 months. They encourage singing, talking, reading and playing with your child. In children ages 2-5, limit screen time to one hour a day of high-quality programming. It is also recommended to remove television sets from children's bedrooms. Research shows that television in the bedroom impacts:
the amount of time children spend doing their homework, and decreases test scores
sleep, as children may stay up later and watch content that may cause nightmares
children's diets, children ate more fast-food, drank more soda and sweet drinks, resulting in weight gain
future behaviors like smoking cigarettes as an adolescent
Monitor the shows your child and adolescent is viewing. The programs should be informational, educational and nonviolent. Discuss what they watch after the program, and encourage reading, athletics, hobbies and creative play as an alternative activity.
Limit their exposure to social media unless you are present with them and can see what they see. Children are not allowed to set up accounts on Facebook unless they are 13. Once they are set up with Facebook, if the account is not private, anyone can ask to be friends with them, which opens them up to predators.
Limit their online gaming to friends you know and have met. Periodically check on them when playing, listen to what they are talking about and look at who has joined the game to ensure others have not joined in the game and may be sharing information they do not need to know.
Limit the use of the internet in general. YouTube can be a place where there are fun and exciting videos to watch about anything and everything. But what you may see as a harmless video may turn out to have someone talking about inappropriate topics. Activate the "restrictive mode" to filter as much of the inappropriate content as possible. Allow your child limited screen time and keep the volume up so you can hear what is being said. Take time to watch a video prior to your child, so you know the content is safe for little ears.
Turn on the digital "well-being" setting if you allow your child to use the popular TikTok app. This will set time limits and allow you to put restrictions on their account. Keep in mind that once your child sets up a profile, it is made public, so anything your children upload is free for all to see. That means people of all ages, not just children. Your children are also exposed to everything others post; profanity, suggestive clothing/dancing and adult content. Strangers can also send private messages to your child if the account remains public. People who send direct messages can also access data, specifically data that indicates where your child lives.
It's important to set rules and have an open dialogue with your child about their media consumption and app usage. You might not be able to protect them from everything, but setting boundaries at home is a great place to start.
Sources
Tomopoulos S, Dreyer BP, Berkule S, Fierman AH, Brockmeyer C, Mendelsohn AL. Infant media exposure and toddler development. Arch Pediatr Adolesc Med. 2010;164(12):1105-1111. doi:10.1001/archpediatrics.2010.235
Mendelsohn AL, Berkule SB, Tomopoulos S, et al. Infant television and video exposure associated with limited parent-child verbal interactions in low socioeconomic status households. Arch Pediatr Adolesc Med. 2008;162(5):411-417. doi:10.1001/archpedi.162.5.411
Choi JH, Mendelsohn AL, Weisleder A, et al. Real-World Usage of Educational Media Does Not Promote Parent-Child Cognitive Stimulation Activities. Acad Pediatr. 2018;18(2):172-178. doi:10.1016/j.acap.2017.04.020
Anderson CA, Berkowitz L, Donnerstein E, et al. The Influence of Media Violence on Youth. Psychol Sci Public Interest. 2003;4(3):81-110. doi:10.1111/j.1529-1006.2003.pspi_1433.x
Chang JH, Bushman BJ. Effect of Exposure to Gun Violence in Video Games on Children's Dangerous Behavior With Real Guns: A Randomized Clinical Trial [published correction appears in JAMA Netw Open. 2019 Jun 5;2(6):e197377]. JAMA Netw Open. 2019;2(5):e194319. Published 2019 May 3. doi:10.1001/jamanetworkopen.2019.4319
Klein H, Shiffman KS. What Animated Cartoons Tell Viewers about Assault. J Aggress Maltreat Trauma. 2008;16(2):181-201. doi:10.1080/10926770801921568
Klein H, Shiffman KS. Bang Bang, You're … NOT Dead and You're … NOT Even Hurt?! Messages Provided by Animated Cartoons about Gun Violence. Int J Child Adolesc health. 2011;4(3):265-276.
Becker-Blease KA, Finkelhor D, Turner H. Media exposure predicts children's reactions to crime and terrorism. J Trauma Dissociation. 2008;9(2):225-248. doi:10.1080/15299730802048652 (Specific to news exposure- teens)
Fremont WP. Childhood reactions to terrorism-induced trauma: a review of the past 10 years. J Am Acad Child Adolesc Psychiatry. 2004;43(4):381-392. doi:10.1097/00004583-200404000-00004
Schuster MA, Stein BD, Jaycox L, et al. A national survey of stress reactions after the September 11, 2001, terrorist attacks. N Engl J Med. 2001;345(20):1507-1512. doi:10.1056/NEJM200111153452024
Pfefferbaum B, Tucker P, Varma V, Varma Y, Nitiéma P, Newman E. Children's Reactions to Media Coverage of War. Curr Psychiatry Rep. 2020;22(8):42. Published 2020 Jun 13. doi:10.1007/s11920-020-01165-0
Cohen E, Shulman C. Mothers and Toddlers Exposed to Political Violence: Severity of Exposure, Emotional Availability, Parenting Stress, and Toddlers' Behavior Problems. J Child Adolesc Trauma. 2017;12(1):131-140. Published 2017 Oct 11. doi:10.1007/s40653-017-0197-1
Dubow EF, Huesmann LR, Boxer P. A social-cognitive-ecological framework for understanding the impact of exposure to persistent ethnic-political violence on children's psychosocial adjustment. Clin Child Fam Psychol Rev. 2009;12(2):113-126. doi:10.1007/s10567-009-0050-7
Huesmann LR, Dubow EF, Boxer P, Landau SF, Gvirsman SD, Shikaki K. Children's exposure to violent political conflict stimulates aggression at peers by increasing emotional distress, aggressive script rehearsal, and normative beliefs favoring aggression. Dev Psychopathol. 2017;29(1):39-50. doi:10.1017/S0954579416001115
Nicholas C, Eastman-Mueller H, Barbich N. Empowering Change Agents: Youth Organizing Groups as Sites for Sociopolitical Development. Am J Community Psychol. 2019;63(1-2):46-60. doi:10.1002/ajcp.12315 (positive political impact on development/sense of self when group education was provided)