In 2022, Judy Burkholder was diagnosed with stage 2 breast cancer. As she neared the end of her treatment journey for the disease, she was searching for a way to thank the team members at the Parkview Packnett Family Cancer Institute, who'd helped her along the way.
That's when she learned about the Parkview Foundations Grateful Patient program, which gives patients the opportunity to recognize those who have provided exceptional care through a donation and the presentation of a Guardian Angel pin.
"I can't imagine going to another facility and receiving the same or better care than I got here," Judy said. "When you walk into this building, you're greeted by the hostesses with a smile or someone else comes in and asks if you want a warm blanket or pillow, and someone else has a big smile and says, 'How are you doing today?' Everybody had something that they gave to me, and I'm hoping I gave something back to them."
In total, Judy handed out more than a dozen Guardian Angel pins to team members who had an impact on her.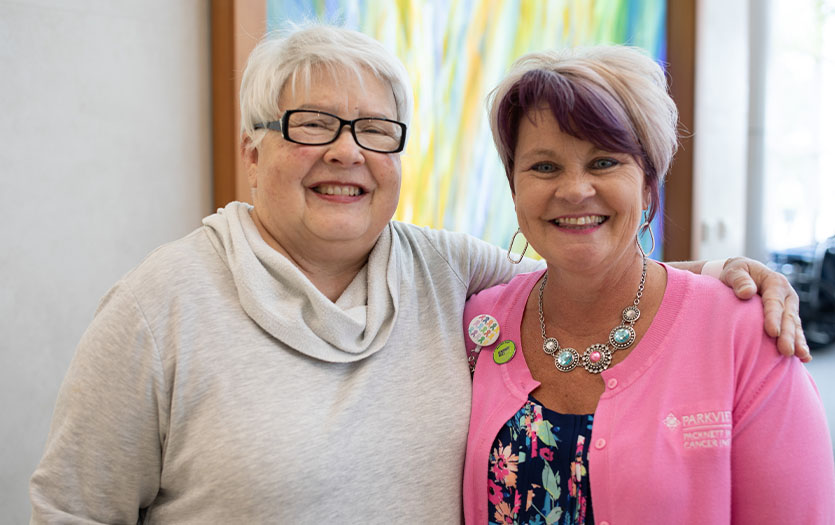 One of those recipients was Shannon Olwin, concierge support team, Parkview Packnett Family Cancer Institute. Shannon had never heard of the program, until Judy came in with a Foundation team member to present her with the recognition.
"It meant more than I can express in words," Shannon said. "I've been here a couple of years and met so many amazing people and built lifelong friendships. Judy's one of those friends. Knowing you've made an impact on someone feels really good, but I want my patients to know the impact they have on me is far greater than anything any of us can do in this building."
For Judy, it was just one way to honor the gifts she received during a challenging time. "I think they probably knew they were appreciated, but now it's evidenced by something tangible they have in their hand, that they can wear and know they truly are guardians. They aren't just professional. They're building relationships with people, and that's important."
If you want to learn more about the Grateful Patient program or other ways to give, visit parkview.com/foundations.