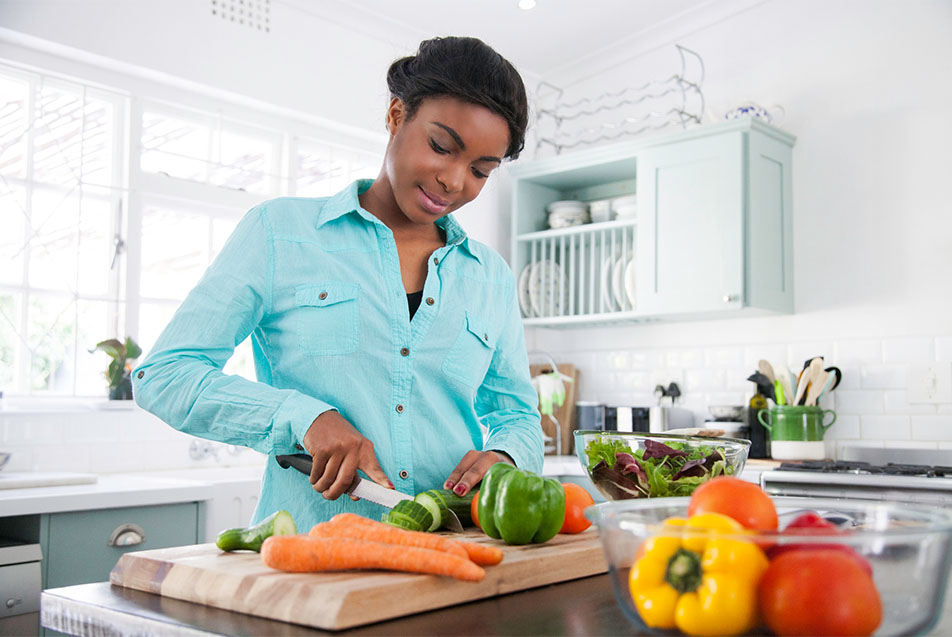 This post was written by Adrianne Kartholl, RDN, and Rachel Bunch, RDN.
Meal planning is not only a great path to healthy eating, but also a cost effective one. While getting started can seem overwhelming to some, we recommend keeping it simple.
Take inventory
Make a list of your favorite meals and take stock of what you have in your pantry and freezer. From there, break down the week into breakfasts, lunches and dinners so that you know exactly what to plan for. We like to use MyPlate as a guideline for building meals with balanced nutrients. Look for half of your plate to be fruit and vegetables, a quarter to be a lean protein source (plant or animal source), and a quarter to be whole grains. Ideally, we want three servings of low-fat dairy per day as well.
Look at the schedule
In looking at the week ahead, consider any scheduled engagements or days when you know you will be tight on time. If you plan ahead for these days, it is a lot easier to provide a healthy meal instead of opting for the drive thru.
If families are busy with evening activities or travel, there are many simple and healthy meals that can be packed ahead of time. Some simple examples would be peanut butter and jelly sandwiches on whole wheat bread, with fresh cut peppers and apple slices. Keep water bottles on hand to stay hydrated and help cut down on sugary beverages. For snacks or sides, keep some non-perishable food items in the car, such as yogurt pouches, trail mix, whole wheat peanut butter crackers or protein bars.
Simple suggestions throughout the day
Breakfast doesn't have to be fancy. Prep an egg casserole in advance and load it with vegetables. Add a glass of low-fat milk and a side of fruit, and your food groups are covered. By prepping larger batches, you can help ensure servings for multiple days. Other quick items can include hardboiled eggs, or hot cereals paired with fruit and yogurt.
For lunches, salads and sandwiches are always a great, customizable option. Again, pair with fresh pieces of fruit and pre-cut veggies for a quick and easy lunch. Also, any leftovers from planned dinners can serve as options for lunch.
For dinners, we often recommend making meal planning a family affair. Looking at the recipes the family members enjoy, and what you already have in your pantry/freezer is a great place to start. If recipes use similar ingredients, this also makes shopping easier.
Busy families can definitely benefit from simple options like crockpot meals with chicken and veggies, pulled pork or light soups. Sheet pan dinners (meat and veggies) or whole-wheat pasta with meat sauce and veggies or salad on half the plate are also smart selections.
Fresh fruits and vegetables are an ideal snack, particularly when paired with a protein. Some simple examples are apple with peanut butter or a low-fat string cheese stick with a serving of whole wheat crackers. When planning for snacks, especially families with young children, decide on 2-3 snacks to provide for the week and rotate them.
Shop smart
Once you know what you plan to have for meals and snacks, make a grocery list of what is needed vs. what you already have at home. To help keep costs down, stick to the list, and never go shopping when you're hungry! This often leads to "extras" in the cart.
Meal planning doesn't have to be time-consuming or require a lot of tools. Just a small notebook and writing utensil. As you get more familiar with the process, it can be helpful to have a list of favorite snacks, recipes and meals organized into a binder that can be accessed as a quick resource. Apps such as Pinterest are also a great tool for meal planning. Consider creating a "Menu" board and pinning your plan for quick reference.
Routinely meal planning is like setting any healthy habit. Once you practice and complete meal planning and shopping, the process will become smoother, and you'll be able to really focus on what works for your family.
Pointers for Plan B
Of course, when time is tight, or something pops up unexpectedly, dining out may be inevitable. When it comes to this, it's important to remember that you can still make healthy choices. If you have an array of options to choose from, popular restaurants such as Chik-fil-A, Chipotle, Subway, Panera and Wendy's offer great healthy options.
Regardless of what you end up choosing, keep the MyPlate method in mind. This can help you put together a meal that is more balanced and avoid selections that are higher in fat. For example, if you want a sandwich, grilled chicken is a great option. It's a good rule of thumb to avoid extra breading and fat from fried chicken or burgers. Then sides such as fruit, yogurt and salads can help round out the meal. When it comes to your beverage, the best choices are water, unsweetened tea, a light lemonade, or even mixing unsweetened tea with light lemonade for half and half. When you crave a sweet treat, opt for a smaller size or split it with someone so that you can enjoy it without going overboard.