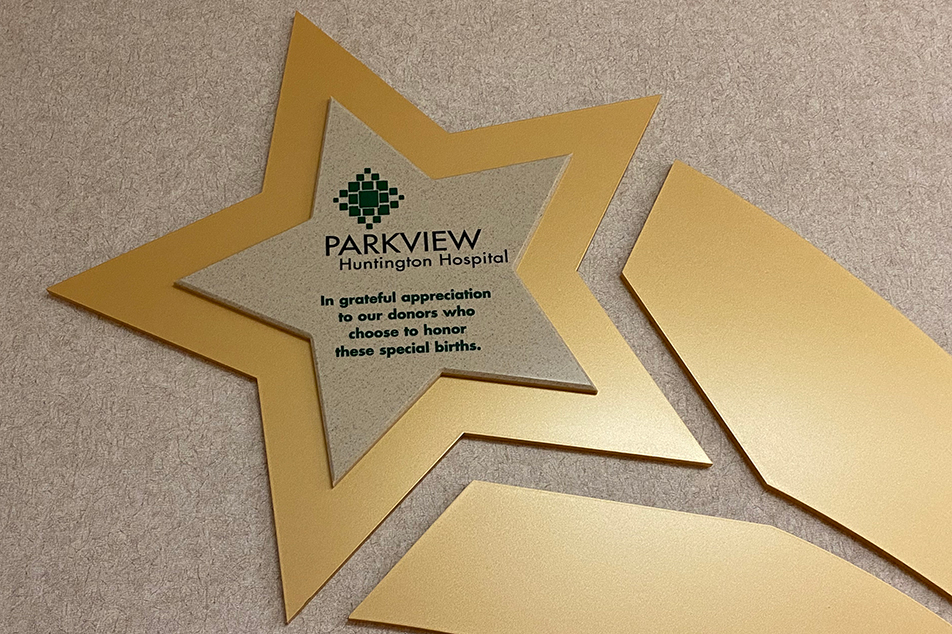 At Parkview, we believe that newborns are miracles and absolutely a cause to celebrate. For this reason, Parkview Huntington Foundation offers parents, grandparents and friends the opportunity to commemorate the arrival of a little one while helping others in the community.
Parkview Huntington Hospital's "A Star is Born" wall of fame celebrates the miracle of life and represents a gift through the Foundation. Loved ones can sponsor a star, custom made with baby's birthdate and name, which will hang on the wall for all staff and visitors to see.
A great grandmother's gift
Charlotte Hippensteel moved to Huntington from Flint, Michigan, in 1999. When the first of her great grandchildren came into the world, she wanted to do something special.
"To tell you the truth, I'm not sure how I found out about it. It was nine years ago now, but I've purchased a star for each of my great grandchildren since. There are three boys and, just this past May, we welcomed a girl! They're all displayed there nicely in a row, which is so nice."
While Charlotte likes that the money helps the hospital and other families in the community, she also like how unique the concept is. "I knew it wasn't something anyone else was getting them. Parkview makes the tile and everything, which is so nice, and how many people in Huntington can say they have their names on a star in the hospital? It's just wonderful!"
Where the funds go
The "A Star is Born" program allows donors to honor a Parkview baby, while also demonstrating their generosity and support for ongoing care focused on service and clinical excellence. A gift made through the Parkview Huntington Foundation goes to support departmental programs and our caring staff of nurses and physicians, therapists and technicians.
Through the generosity of donors, the Foundation has been able to fund the following:
Car seats for low-income families
Safe sleep education programs
Safe sleep sacks
Technical equipment for our Family Birthing Center
Education funding for nurses
How to purchase a Parkview Huntington star
Your gift of $50 will honor your Parkview baby on the "A Star is Born" display for the lifetime of the wall. You may donate by cash, check or credit card. To learn more about how you can make your special miracle part of the wall of fame, visit foundations.parkview.com.