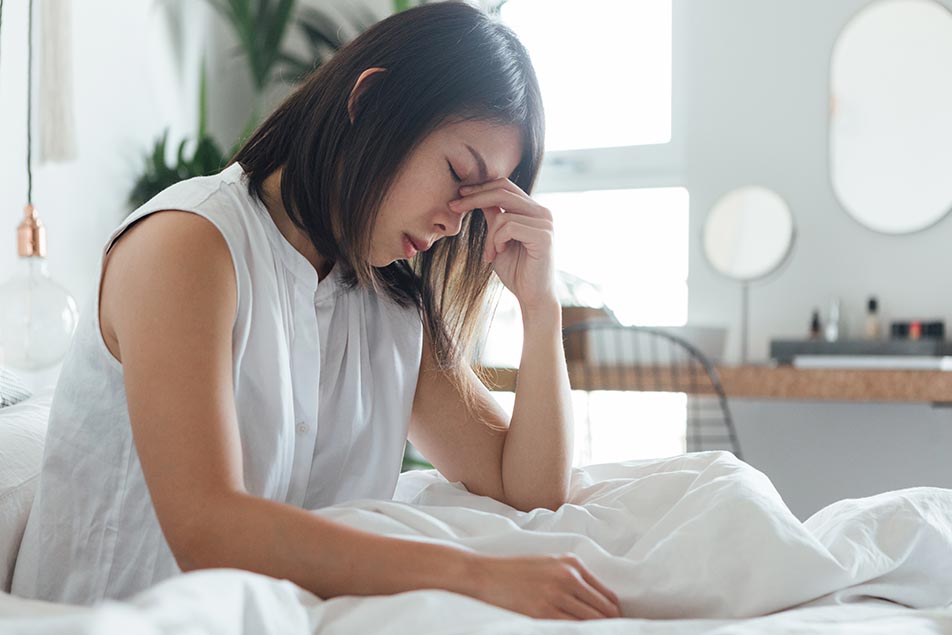 This post was written by Brian Hutner, PsyD, HSPP, Kelly Hutner, PsyD, HSPP, and Renee Buskirk, PhD, HSSP, Comprehensive Pain Management Psychology Team, PPG - Pain Management.
Pain is one of the most common reasons people seek medical help. According to the Centers for Disease Control and Prevention (CDC), roughly 1 out of 5 adults in our country suffer from chronic pain, making this an issue that impacts more Americans than diabetes, cancer and heart disease.
Defining acute and chronic pain
Acute pain is like a fire alarm that warns us when something is wrong such as a broken bone or a burn. When we experience this alarming physical pain, we take steps to address it, and then the pain goes away. Chronic pain, on the other hand, is different and much more complex. It's a pain that lasts longer than six months and has biological, psychological and emotional components. It's like a constantly ringing fire alarm in your body and mind. It can impact all aspects of your life, including sleeping, eating, and moving, which often leads many to develop feelings of anger, hopelessness, guilt, fear and sadness. However, understanding and managing the emotions, thoughts and behaviors accompanying the pain can help you cope more effectively with the discomfort and even reduce the intensity of your pain.
How we can help
If you have chronic and pervasive pain, you may need a referral to Parkview's Comprehensive Pain Center, where we can help you manage your condition and meet your chronic pain needs. Pain psychologists are an integral part of our pain management team. When you meet with one of our providers, you can expect to discuss your physical pain, your emotional health and how your pain perceptions have impacted your life. As a patient, you will also complete an initial assessment with one of our pain psychologists or clinicians during the early phases of your treatment. We do this for three reasons. Let's explore each one of these reasons a little further.
Reason No. 1 – Risk assessment
Since 2013, the state of Indiana has required a risk assessment when a patient participates in a pain management clinic and when narcotic medications may be considered or utilized as a treatment option. We've found it beneficial to administer this mental health screening to patients at the beginning of treatment to help formulate a functional and individualized care plan while providing physicians with the most up-to-date information regarding a patient's mental health attributes. The screening includes mental health and substance abuse risk assessments that utilize validated tools that ask standardized questions. This allows physicians to improve treatment planning and better gauge outcomes of treatments to improve functional life goals. For specific information regarding "First do no harm" laws and safe opioid use in chronic pain management, please visit BitterPill.IN.gov.
Reason No. 2 – Tailored treatment plan
Unfortunately, physical and emotional pain can go hand in hand. The greater the intensity of your physical pain, the more likely you will experience emotional issues like anxiety or depression. At PPG – Pain Management, our team will help develop an individualized treatment plan that's right for you. It could include any of the following strategies:
Relaxation techniques (meditation or breathing)
How to change your beliefs about pain
New ways to think about pain and discuss unhelpful thoughts
How to address anxiety/depression that accompanies your pain
Effective distraction techniques and new coping skills
Weight, nutrition and exercise goals
Sleep hygiene skills
Smoking cessation programs
Also, we know the more interventions you try, the more likely you will find something that works for you and positively impacts your life.
Reason No. 3 – Re-evaluation
Along with the initial assessment, we will also do a yearly re-evaluation. This helps our pain management team evaluate how you are doing while assessing your pain. We strive to offer all patients a comprehensive multidisciplinary approach to pain management while collaborating with your treatment team to help decrease your pain perceptions, increase emotional and social support, and improve your daily functioning and quality of life. By completing this annual assessment, we can track your progress and compare your results to ensure that you are benefitting from the program and that we are doing everything we can to help you with your condition.
How to cope with pain
Now that you know the reasons behind our methods, consider incorporating some of the following tips into your daily routine. No matter where you are in your treatment plan, utilizing a few of these strategies could help you cope with and manage your pain. You could get started by:
Staying active. Pain, or the fear of pain, can lead people to shy away from or stop doing the things they enjoy. It's important not to let your pain take over your life.
Exercising regularly. Stay healthy by being active and choosing low-impact exercises such as stretching, yoga, walking and swimming.
Knowing your limits. Continue to be active in a way that acknowledges your physical limitations. Make a plan to manage your pain, and don't push yourself to do more than you can handle.
Making social connections. Try calling a family member, inviting a loved one to lunch or making a date for coffee with a friend you haven't seen in a while. Research shows that people with greater social support are more resilient and experience less depression and anxiety. Don't be afraid to ask for help when you need it.
Distracting yourself. When pain flares up, find ways to distract your mind from it, like watching a movie, taking a walk or engaging in your favorite hobby. Partaking in pleasant experiences can help you cope with pain.
Being hopeful. With the proper psychological treatment, many people learn to manage their pain and think of it differently.
Following your prescriptions carefully. If medications are part of your treatment plan, be sure to use them as prescribed by your doctor to avoid any side effects. In addition to showing you how to develop better ways of coping with and managing your pain, psychologists can also help you create a routine to keep you on track with your treatment.