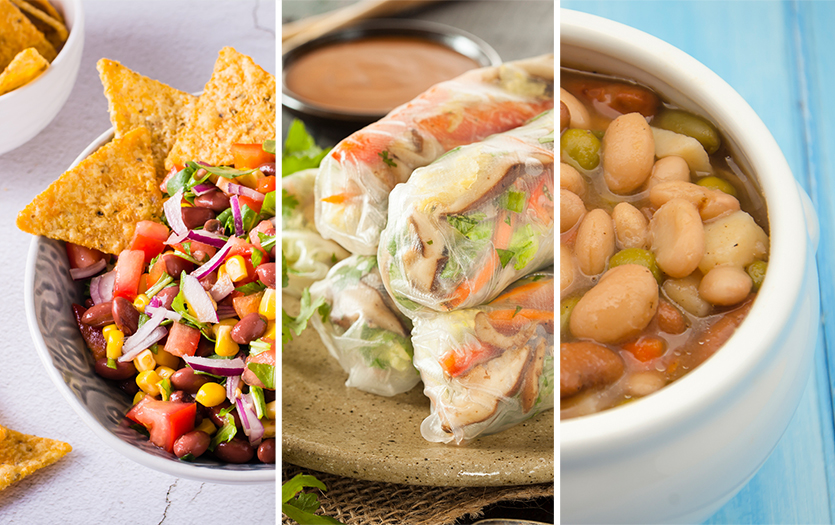 The team of dietitians at the Parkview Heart Institute are dedicated to making smart menu shifts, designed to support cardiovascular wellness, a delicious endeavor. Here, they share a trio of recipes they've overhauled to reduce fat and sodium and enhance the nutritional benefits.

Cowboy Caviar
15-ounce can no-salt-added black beans, drained and rinsed
1 can pinto beans, drained and rinsed
1 ½ cups frozen corn, thawed
6-8 Roma tomatoes, diced
1/2 large sweet onion, diced
2 gloves garlic
2 avocados, peeled, seeded and diced
1 bunch fresh cilantro, finely chopped
Juice of 3 limes
1 teaspoon cumin
1 teaspoon smoked paprika
1/2 teaspoon salt
1/4 teaspoon black pepper
1. In a large bowl, combine beans, corn, tomatoes, onion and garlic.
2. Fold in avocados and cilantro.
3. Squeeze lime juice into the bowl and add cumin, smoked paprika, salt and pepper
4. Stir to combine.
5. Serve with tortilla chips on use as a topping on a potato or salad.
Serves 15
Nutrition
Calories: 104kcal | Carbohydrates: 15g | Protein: 4g | Fat: 5g | Saturated Fat: 1g | Polyunsaturated Fat: 1g | Monounsaturated Fat: 3g | Sodium: 114mg | Potassium: 354mg | Fiber: 5g | Sugar: 3g | Vitamin A: 358IU | Vitamin C: 9mg | Calcium: 19mg | Iron: 1mg
Veggie Spring Rolls with Peanut Sauce*
Spring Rolls
2 ounces brown rice noodles
1 teaspoon sesame oil
1 cup torn romaine or spinach
1 cup thinly sliced red cabbage
1 cup shredded lettuce
1 cup sliced mushrooms
1 large red pepper, thinly sliced
1 small cucumber, thinly sliced
2 medium jalapeños, ribs and seeds removed, thinly sliced
¼ cup thinly sliced green onions
¼ cup roughly chopped fresh cilantro
8 sheets rice paper (spring roll wrappers)
Peanut Sauce
? cup creamy natural peanut butter
2 tablespoons rice vinegar
2 tablespoons reduced-sodium tamari, soy sauce or liquid coconut aminos
2 tablespoons honey
1 tablespoon toasted sesame oil
2 cloves garlic, pressed or minced
2 to 3 tablespoons water, as needed
1. Cook the rice noodles according to package directions, drain and rinse under cool water. Toss the noodles with sesame oil and set aside.
2. Fill a shallow dish with an inch of water. Make sure your prepared filling ingredients are within reach.
3. Place one rice paper in the water and let it rest for about 20 seconds. Remove and carefully lay it flat on a plate or lint-free towel.
4. Leaving about 1 inch of open rice paper around the edges, cover the lower third of the paper with a few pieces of lettuce, followed by a small handful of rice noodles, cabbage, carrots, mushrooms, red pepper, cucumber and jalapeño. Sprinkle generously with green onions and cilantro.
5. Fold the lower (1/3) edge up over the fillings, rolling upward, just until the filling is compactly enclosed. Fold over the short sides, like you would to make a burrito, and roll it up. Repeat with the remaining ingredients.
6. To make the Peanut Sauce, in a small bowl, whisk together the peanut butter, rice vinegar, tamari (or equivalent), honey, sesame oil and garlic. Whisk in water, as needed, to make a super creamy but dippable sauce.
7. Serve the Spring Rolls with Peanut Sauce on the side. You can serve them whole or sliced in half on the diagonal with a sharp chef's knife.
Yields 8 spring rolls
Nutrition per serving (serving size 2 spring rolls)
Calories: 305|Total Fat: 16g | Saturated Fat: 2g | Cholesterol: 0mg | Sodium: 317mg | Carbohydrates: 37g | Fiber: 5g | Protein: 8g
Thoughtfully adapted from a recipe featured on cookieandkate.com

Broke Bean Soup
1 tablespoon olive oil
1 large yellow onion, chopped
1 tablespoon minced garlic
1 teaspoon ground cumin
1 teaspoon chili powder
2 cans diced lower sodium fire-roasted tomatoes
1 can each no-salt-added dark red kidney beans, no-salt-added black beans, no-salt-added white beans, drained and rinsed, combined
4 cups low sodium vegetable broth
¼ cup chopped cilantro
3 cups fresh baby spinach
1. In a 4-quart saucepan, heat olive oil over medium-high heat. Add onion and sauté for 5 minutes, until softened but not browned. Add garlic and cook 1 minute longer. Do not brown garlic.
2. Add spices and tomatoes and simmer about 5 minutes. Add 3 cups of bean mixture and 2 ½ cups of broth and bring to a boil. Reduce to a simmer.
3. Add remaining beans and broth into a food processor or blender. Add cilantro and puree until smooth. Add Mixture into the stew. Stir in spinach and heat until just wilted. Serve hot.
Serves 10
Nutrition
Calories: 210 | Total Fat: 1.2g | Saturated Fat: .2g | Sodium: 140mg | Carbohydrates: 19g | Fiber 5.3g | Protein: 21g
Visit our board on Pinterest for more recipes!