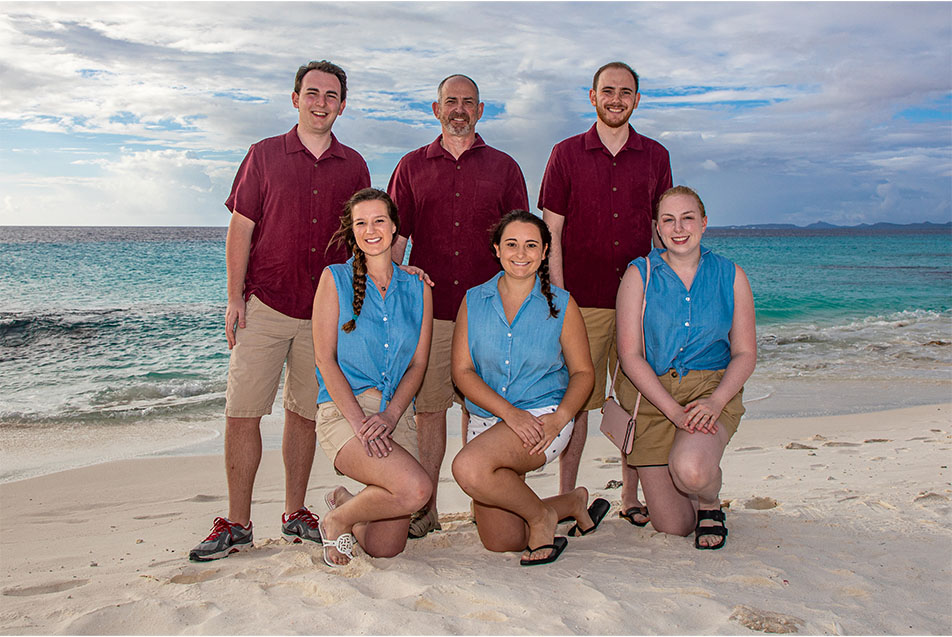 This post was written by Emma Hetrick, digital copywriter, Parkview Health.
Despite a lack of sleep (and coffee), I was surprisingly alert and eager for the day. I woke before my cell phone alarm even had a chance to sound the rhythmic bells that usually coax me out of my sleepy haze. Toggling the digital alarm to its off position, I gently sat up and quietly slipped out of bed. I headed for the dim glow of the master bathroom, where I began my morning ritual and got ready for the day.
As I pulled my hair up and put on my newly purchased scrubs, I couldn't help but feel like I was part of an exclusive group. Being a digital copywriter for a health system comes with its own quirks and perks, but it's rare that I would need my own set of clinical attire. So, when asked to wear scrubs to my shadowing opportunity, I couldn't help but feel privileged to be part of something bigger.
Admittedly, this sounds a little silly, especially to anyone in a clinical or healthcare setting who dons these seemingly plain articles of clothing every single day. But, if I'm being honest, it felt heavy with importance. This unassuming outfit was my ticket to a world that many don't often get the chance to experience unless they go into the field or are a patient in need of treatment.
Noting the time, I finished gathering my things, wrote a note to my still-sleeping kiddos and husband, then grabbed my coffee and headed out the door. On my short drive over to the main campus of Parkview Regional Medical Center, I allowed myself a moment to muse about the possibilities of the day – What is rounding? How long does each procedure take? Will I be able to keep up?
I arrived at entrance 10, grabbed my bag and made my way to the main doors of Parkview Heart Institute (PHI). As I briskly strode across the lobby toward the elevators, I noticed the tiniest flecks of silver in the flooring. They reminded me of small bursts of electricity as the light moved over them, which seemed fitting since I was going to be shadowing David Schleinkofer, MD, PPG – Cardiology, an electrophysiologist, for the day.
If that term doesn't sound familiar, please know you are not alone. I wasn't exactly sure what this position was, either. So, I did a little digging. Electrophysiology (EP) is a branch of cardiology that focuses primarily on the study and treatment of heart rhythms. An electrophysiologist is an expert in the heart's electrical system. In a way, they're like a heart electrician, examining the electrical activities of the muscle, detecting any abnormalities or short-circuiting that could cause problems like arrhythmias, palpitations, fast heart rate and more.
A few moments passed, then the elevator arrived with a low familiar whirring sound. The metallic doors quietly opened, beckoning me to come in. I pushed the button for my floor and enjoyed the last few seconds of solitude before the day got underway.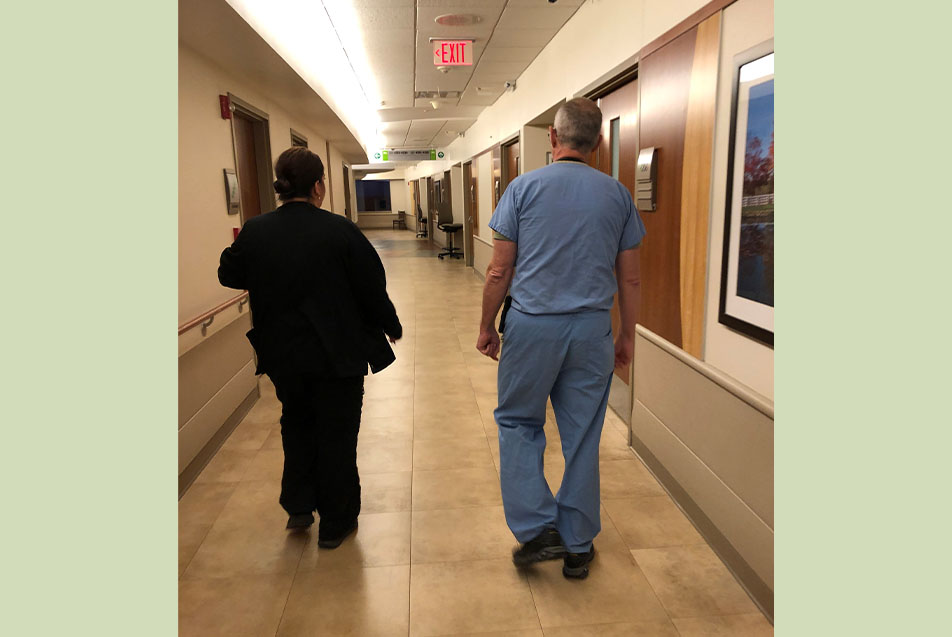 Making the rounds
We made plans to meet on the third floor of PHI at the nurse's station across from the elevators. Upon stepping through those silver double doors, I was promptly greeted by a tall man with glasses. "You must be Emma," he said with a smile. Grinning right back, I confirmed his suspicion, "I am!"
Following a few pleasantries and a quick introduction to the nurses residing at the station, Dr. Schleinkofer led me to his office so that I could unload my bag. Being in his space, I deduced quickly that he was passionate about all things superheroes. One-of-a-kind figurines, artwork and light installations adorned his walls and shelves, illustrating his love for comics and their impressive protagonists. "You may have noticed, I like superheroes," he said. Feigning surprised, I volleyed back, "What? I had no idea."
After grabbing a few essentials, he announced it was time for rounds, so we headed back for the elevator. While we waited, I asked, "Dr. Schleinkofer, why do you love superheroes?" Calmly and without hesitation, he gave one of the best answers I've ever heard, "Because it's an affirmation that one person can make a difference."
At 7 a.m. on the dot, we made our way up to the fifth floor, where we met with Millissa Buchheit, RN, PPG – Cardiology. As soon as we found her in the hallway, it was like someone flipped a switch. Dr. Schleinkofer instantly shifted gears. Picking up the pace, he swiftly settled into a rhythm with Millissa, reviewing patient charts, vitals, labs and notes left by the inpatient care team.
It didn't take long to realize that Millissa was, for lack of a better word, the gatekeeper. A hub of all information and events pertaining to Dr. Schleinkofer's patients. In fact, Millissa rounds with a provider every day. So, if you had a question, it's likely that Millissa had the answer or knew how to find it.
Before entering the first room, one of the floor nurses verified that the patient was comfortable with my presence. Dr. Schleinkofer immediately established a rapport with him and his family. He eased into a casual chat with the patient, asking how he was feeling after his procedure the day before, lightly joking about not running any marathons after being discharged, and reassuring him that everything he was feeling was completely normal. Their comfortable conversation easily transitioned into next steps while Dr. Schleinkofer performed a physical exam, listening to the patient's heart and checking his vitals. Sensing their concerns, Dr. Schleinkofer asked if the patient (and his family) had any more questions. He spent the remaining moments educating them and providing them with answers.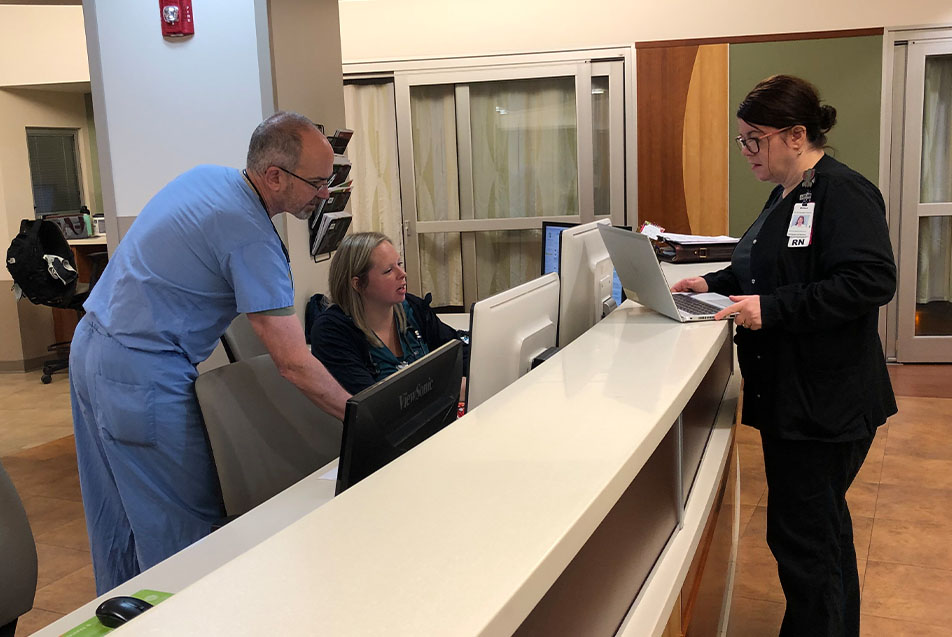 Back in the hallway, Millissa immediately began briefing Dr. Schleinkofer on the next patient in his rotation. Hearing something of interest, he made a beeline to one of the nurse's stations, where he swiftly logged on to one of the computers to check a patient's heart rhythm. Once he was satisfied, we moved to the next room.
Rounding on the rest of his patients didn't take long, but with each case and set of circumstances, Dr. Schleinkofer and his staff were completely present, giving 100% focus and their undivided attention to each individual. I was in awe of their expertise and dedication to their patients.
We finished a little before 8 a.m. After briefly visiting with a few other nurses and providers about their families, recent vacations and the best destinations for diving, we headed down to the EP lab. As we ascended the stairs with only the sound of our shoes tapping the pavement, I decided to capitalize on the quiet moment by asking Dr. Schleinkofer what he loved most about his job. Rounding the landing, he paused before opening the door to the hallway. "I enjoy the continued positive patient interactions, the people I work with, and feeling that I'm doing a good job," he said. "And as long as I continue to learn and help others, then I'm satisfied. I love what I do, so if I can continue to make a difference and do a good job, then I'll stick around."
Prepping and procedures
Dr. Schleinkofer informed me that I would need to change into a sterile pair of scrubs before heading into procedures. He pointed me in the direction of the women's locker room, and we agreed to meet in front of the EP lab doors as soon as I finished.
I leaned into the heavy door, made an immediate left, and found what I was looking for. A treasure trove of light blue sterilized scrubs folded neatly according to size towered in front of me. Admittedly, as a newcomer to the surgical scene, it took me a moment to search the well-stocked shelves for what I needed, but I eventually found my new uniform for the procedural portion of our day.
Dr. Schleinkofer met me outside the women's locker room. I followed him across the hall, and we entered the EP lab. He handed me a powder blue surgical hair net, then headed down the long corridor to the procedural area. Walking through the door, I felt an instant drop in temperature. Suddenly, I was thrilled with my last-minute decision to throw on a long sleeve scrub jacket.
Noting the purposeful preparation taking place, I was intrigued by the individuals who made up the EP team. Dr. Schleinkofer beat me to my question. "We usually have a team of five or six for every procedure (including me). The team usually consists of a radiology tech, two to three nurses and a lead nurse who helps coordinate everything. In addition to our staff, there's always a company representative providing the device in the room. They are there to test the device and ensure it works properly during and after placement."
Over the next few minutes, Dr. Schleinkofer introduced me to each of his teammates – Megan Middleton, RN, Carol Anglin, RT, Kendra Shoemaker, RN, and Phil Bauer, RN. As they geared up for the day, Phil informed me that, at the moment, they had four device placements scheduled, but that could change at any minute, especially if they received any add-on cases.
While we waited for the first patient to arrive, knowing Phil had been in cardiology for some time, I asked him why he enjoyed working with Dr. Schleinkofer. "Hands down, because of his compassion," he said. "He's passionate about what he does, the people he works with and the patients he sees. He's an advocate for his patients and everyone that works in his room and on his team," he said. "Years ago, he told me something that's really stuck with me. He said his goal was to leave the lab better than he found it. He's a man of his word, and I truly believe he's doing all he can to do just that."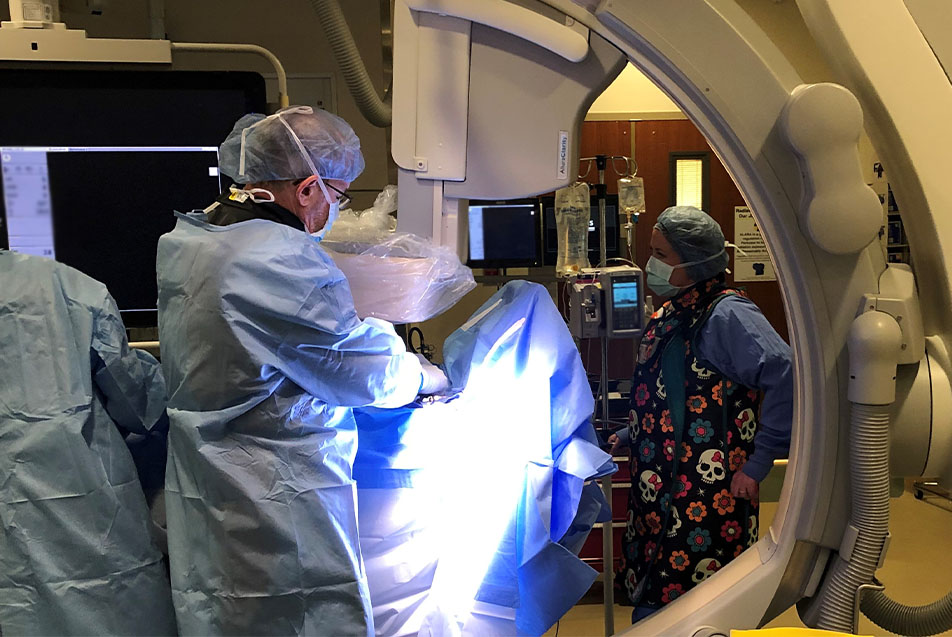 Just then, the team signaled that the first patient was prepped for the procedure. "You'll need to put on a lead vest, apron and thyroid shield for this procedure," Dr. Schleinkofer told me. He explained that they would be placing a defibrillator, a procedure requiring x-ray imaging, which is why we needed to wear protection.
Suiting up seemed fairly straightforward, but it was much heavier than I anticipated. The lead vest and apron reminded me of being underwater or just coming off a trampoline. I could still move freely and easily, but there was a noticeable weight.
Not having protective equipment of my own, I borrowed the vest and apron of a nurse who had the day off. I noticed everyone had a different design or personalization on their vests and aprons. Dr. Schleinkofer's vest displayed – what else – his favorite superhero pins and paraphernalia while my gear exploded with brightly colored flowers from top to bottom. Little details I observed and appreciated because it's not often we get glimpses into the personalities of the dedicated professionals who choose to suit up for their patients every day.
Before heading in, I asked Dr. Schleinkofer to help me understand the difference between a defibrillator and a pacemaker. He explained that both are implantable devices that can help with arrhythmias, but there are distinct differences. A defibrillator monitors the heart rate and delivers an electrical shock to restore the heartbeat to normal in the event of an irregular rhythm or cardiac event. A pacemaker sends an electrical impulse to help regulate the heart's rhythm and prevent slow rates.
Now, wearing the appropriate attire and armed with a bit of extra knowledge, I followed Phil through the doorway. After Dr. Schleinkofer scrubbed in, we met him, the rest of the team, the device rep and a visiting RN from another department in the procedure room. Donning his sterile gown, mask and gloves, Dr. Schleinkofer delivered the three words the entire room was waiting for. "Let's get started." He began by making an incision to create a pocket for the device in the patient's upper chest. As the procedure unfolded, it was like watching a well-orchestrated symphony where everyone knew their part. And with the rise and fall of every transition, the patient was at the forefront.
The journey to electrophysiology and beyond
Dr. Schleinkofer finished the first procedure in what seemed like no time at all, then motioned for us to step back out into the vestibule. We hung our lead vests and aprons back on the wall, and found a couple of chairs at a long desk in the EP lab. "Tell me, how did you become an electrophysiologist?" I asked.
"I went to Indiana University for my undergrad," he said. "After that, I went to medical school at Washington University in St. Louis. Then three years of internal medicine training and a chief residency in the Washington University system, followed by two years of general cardiology and two years of electrophysiology in Oklahoma."
I countered, "But why electrophysiology?" He thought for a moment, then proceeded. "Honestly, I knew very little about the field of electrophysiology," he admitted. "Luckily for me, my first resident in medical school was an electrophysiologist from Italy. The American Board of Internal Medicine didn't fully recognize her training, so they made her redo her residency, even though she'd been an attending practicing in Italy for several years. She must have seen some potential in me or thought I had the right personality because after working with her for about a week, she said, 'This is what you should do!' I couldn't argue with her. I thought it was a good combination of patient interaction, hands-on skills, technology and puzzle-solving. I know it sounds backward to choose the destination before starting down the path, but once I realized electrophysiology was what I wanted to do and where I wanted to go, I just plotted my course to get there."
I wondered what he would say to other like-minded learners interested in EP or healthcare in general. "If someone were interested in working in the medical field, I would recommend that they look at being a physician assistant (PA)," he suggested. "In my opinion, it's an up-and-coming career. It will allow someone the flexibility to reinvent themselves if they are interested in another subspecialty later in their career. But in general, if someone wants a career where they're constantly learning, helping people, and feel like they're making a difference, then I encourage them to investigate what interests them and go from there."
After charting for a moment and catching up on his emails, Dr. Schleinkofer informed me of the next patient's case, the shifts in our schedule and the procedures that remained for the day – three pacemakers and another defibrillator later that afternoon. Taking full advantage of the downtime between procedures, I posed another question. "What's the biggest change you've seen throughout your career?" He recalled his 26 years of experience. "The biggest change I've seen is how much the technology has advanced over the years and how we've had to adapt. Devices are becoming more advanced, more capable and smaller."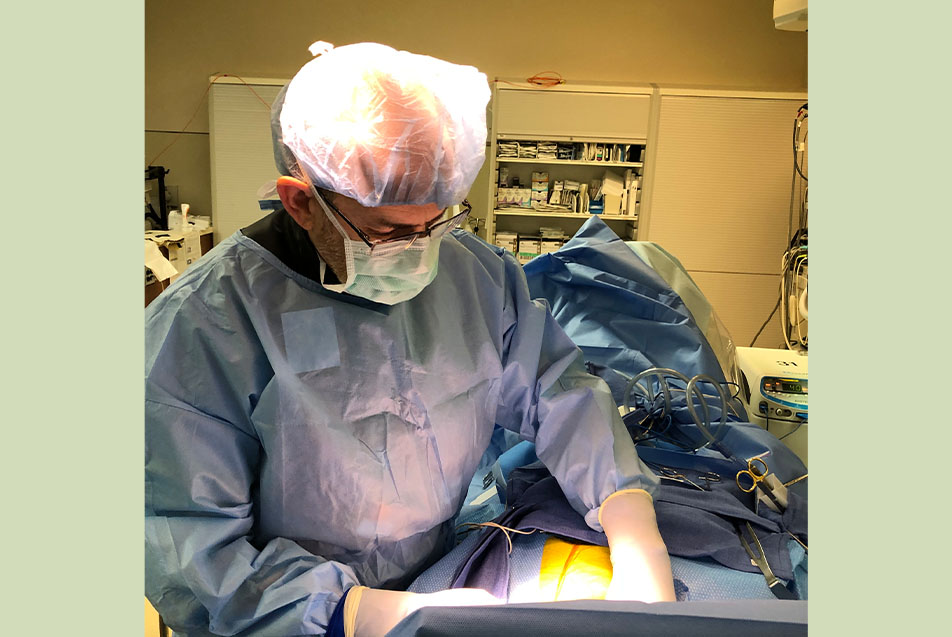 Phil peaked his head around the corner and said, "We're ready for you." Dr. Schleinkofer proceeded to scrub in while I took my place, ready to observe another device placement. The next patient was receiving a pacemaker. From the outside, this procedure looked similar to the last, but I'd learned it was anything but because each patient and situation comes with its own set of circumstances and rules. Holding on to this realization, I wondered if Dr. Schleinkofer had ever had a favorite moment or case.
Following the procedure, I asked him. "I don't know if there is one moment or case in particular, but taking care of friends, past teachers or neighbors, and people in general, is a privilege," he shared. "Knowing that they trust you, believe and have faith in you and what you're doing; it's an honor."
Tough situations and challenging conversations
During our lunch break, I thought about the other side of what the EP team does and the situations they must encounter. While I had met several patients that morning who were doing well and on the mend, and observed successful device placements throughout the day, I knew Dr. Schleinkofer and his team also faced their share of difficult moments and tough conversations. It's an inevitable aspect of any clinical role.
"End-of-life discussions are always the hardest," Dr. Schleinkofer said. "It comes up more frequently than you might think, both in the hospital and office during patient visits. But patients and families need to understand that death isn't necessarily the enemy. Before any procedure or placement of a new device, we go through a shared decision-making process with the patient (and their loved ones) to ensure it's the right step for them. We always try to educate people so they can make an informed decision. Our focus is always on the patient's wants, needs and overall quality of life."
Knowing there are many professionals just starting in their careers, I asked if he had any wisdom to impart. "The best advice I could give is to not focus on a positive or negative outcome," he said. "Instead, try to learn something from your experiences and become better for it."
Closing out the day
That afternoon, Dr. Schleinkofer and his team completed the final device placements of the day. As he spoke with the last patient's family, filling them in on the details of their loved one's surgery, I retired to the women's locker room to change back into my original outfit.
Dr. Schleinkofer met me outside, and we strolled to the elevator, heading back to his office to collect my belongings. On the way there, he asked, "So do you think you got what you needed today?" It was such a considerate question from someone who had given so much that day. Clasping a notebook full of observations and clinical expertise, I smiled and confirmed, "Oh yes, and so much more."
I stole one last look around his office. Considering our time together, I saw his admiration of superheroes in a new light. After all, he wasn't all that different from his favorite characters. Like them, he chooses to spend his life dedicated to helping others. To doing what he can, when he can, for those in need. Seems pretty heroic to me.
He walked me down to the main lobby, and I asked if he was headed for home, too. "Not quite yet," he said. "I like to check in with the triage nurse to see if they need anything and if any consults have come in." Not surprised by his answer, I thanked him for the wonderful shadowing opportunity and expressed my immense gratitude toward him and his devoted staff. I waved goodbye and walked back across that shimmering lobby floor with a new appreciation for the electrical system that keeps my heart pumping and the thousands of everyday heroes who make up our health care system. I pray they continue to be the spark that lights the way for patients and families navigating their own incredible journeys.