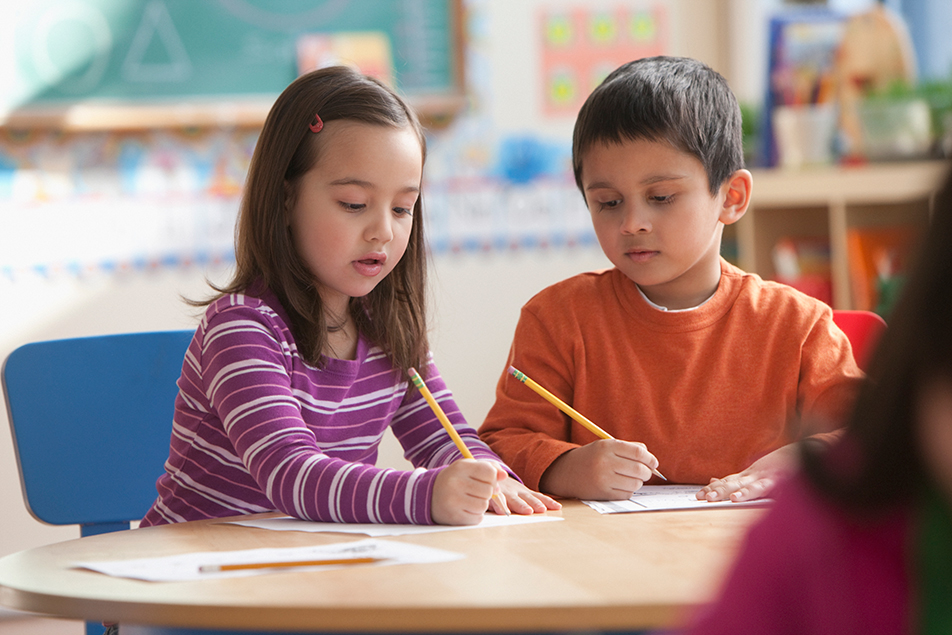 This post was written by Stacie Housholder, RN, MSN, FNP-C, Parkview Virtual Health.
Every fall, we see an increase in the number of illnesses among children, especially with many being in close contact with other students as they return to the classroom. While some illnesses are more prominent than others this time of year, many younger school-aged children are likely to catch 6-12 colds each school year. Fortunately, as children get older, they tend to experience fewer illnesses as they gain immunity to the viruses that cause many of these common conditions.
Colds
The common cold tends to be one of the most widespread illnesses seen throughout the school year. Symptoms typically include a mild cough, congestion and runny nose. Occasionally, children will get a sore throat and/or fever. And because many possible viruses can cause infection, antibiotics are not necessary.
Strep throat
Strep throat is a bacterial infection that causes a sore throat along with a fever, headache and stomachache. It is easily spread from person to person, especially when children share drinks and eating utensils. Providers often recommend antibiotics to prevent complications from the infection.
Influenza
Unfortunately, as schools get into full swing, so does influenza, also known as the flu. It can cause high fevers, body aches, cough, congestion and runny nose. Children need to stay home from school for a few days until the fever subsides and they get their energy back.
Stomach flu
Gastroenteritis, or what many refer to as the stomach flu, is accompanied by vomiting and diarrhea. This usually occurs when a virus infects the stomach and intestines. It's very common and very contagious. Staying hydrated is crucial during a bout with the stomach flu.
Pink eye
Pink eye, or conjunctivitis, is an infection that causes the white of the eye to become red, accompanied by green or yellow drainage. In many cases, a child's eyes might become sealed shut in the morning from the crusting of drainage or discharge. Pink eye is highly contagious and can occur due to a virus or bacteria. Antibiotic eye drops are sometimes necessary to clear the infection.
COVID
A virus causes coronavirus, and symptoms can often range from fever and body aches to cough, congestion, runny nose and a sore throat. Children will need to stay home and isolate according to the school corporation and CDC guidelines.
How to avoid illness
Wash your hands – One of the most impactful things you can do to keep yourself and others safe is washing your hands. It is one of the most effective ways to prevent the spread of germs and should happen before eating, after using the restroom, and blowing your nose, coughing or sneezing. Follow these steps for proper hand washing:
Wet your hands with clean, running water (warm or cold), turn off the tap and apply soap.
Lather your hands by rubbing them together with the soap. Lather the backs of your hands, between your fingers and under your nails.
Scrub your hands for at least 20 seconds. Need a timer? Hum the "Happy Birthday" song from beginning to end twice.
Rinse your hands well under clean, running water.
Dry your hands using a clean towel or air dry them.
For further guidance on hand washing or how to properly use hand sanitizer, please visit the CDC website.
Don't share food or drinks – Children are notorious for sharing a variety of things, including germs. But drinking after another person from the same bottle or cup, eating from the same plate or sharing utensils is a surefire way to spread infection. For this reason, it's important to remind children not to share personal, food or drink items to help limit the spread of illnesses.
Practice good coughing and sneezing hygiene – Use a tissue or cover your mouth and nose when you cough or sneeze. When finished, dispose of used tissues, wash your hands, or use hand sanitizer if soap and water are unavailable. Doing so will help keep germs at bay and off surfaces and objects you frequently touch, preventing further spread. Parents and caregivers can help children practice good respiratory hygiene by keeping a pack of tissues or a bottle of hand sanitizer in their backpacks and desk at school.
Finally, if your child is sick or not feeling well, please keep them home from school and away from other people to prevent the spread of illness. Also, if a relative is under the weather or has cold symptoms, it's best to avoid them and plan your visit for another day. Taking extra precautions and performing the above preventative practices are great ways to stay healthy and make the most of the school year!
Helpful resources and virtual care options
When you're feeling under the weather, virtual care options are available to help you conveniently and safely connect with a provider. Parkview's Virtual Walk-in Clinic allows you to speak with a Parkview provider from your smartphone, tablet or computer and receive the same level of care as an in-person visit at a walk-in clinic. With Parkview OnDemand, it doesn't matter if you're at home or on the go. It is available anywhere in the U.S. and gives you 24/7 access to a primary care provider. For additional information or to learn more about your virtual care options, please go to Parkview.com/VirtualHealth. You can find helpful how-to videos and answers to your frequently asked questions.