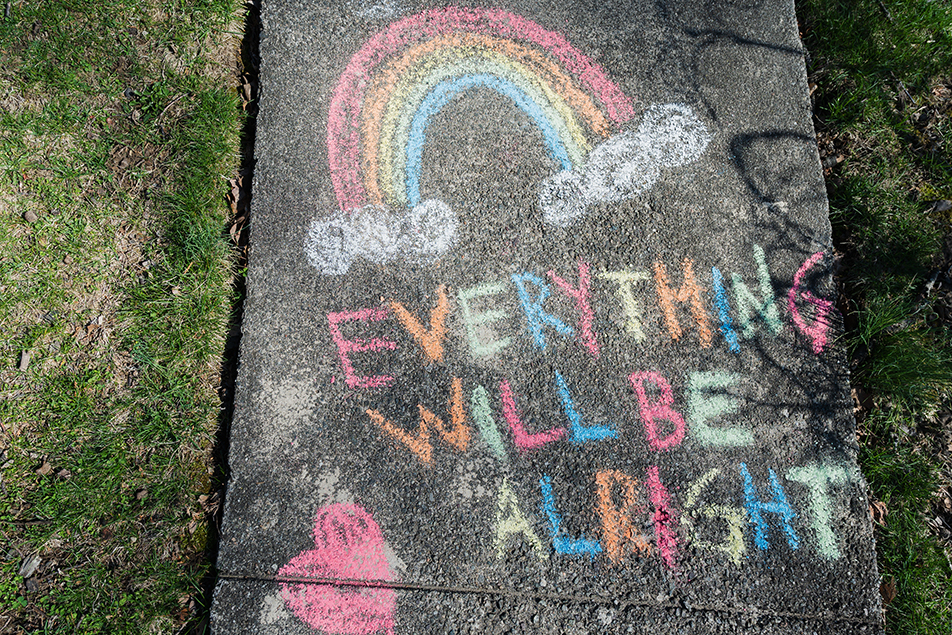 This post was written by LaDonna J. Hayden, MA, LMHC, student assistance counselor, Parkview Employee Assistance Program.
Collective trauma and traumatic events
Globally, we are all experiencing varying degrees of collective trauma due to the impact of the COVID-19 pandemic. Collective trauma is when a group of people experiences a shared traumatic event. Traumatic events vary based on individual perceptions of events including things such as war, sexual assault, abuse or natural disasters. These events can affect individuals through firsthand experiences, but can also have reactions through bystanders, friends, relatives or rescue workers.
Trauma responses during the traumatic event
During a traumatic event, an individual perceives the trauma stimulus as a threat. This threat then triggers the central nervous system (CNS) to react with a "fight-flight-freeze" response, releasing stress hormones to respond to that perceived threat. Once the perceived fear is extinguished, all systems return to regular functioning. However, if a stressor continues or the CNS is unable to return to normal, the response can continue.
Common Phases of Disaster
Figure 1: Common Phases of Disaster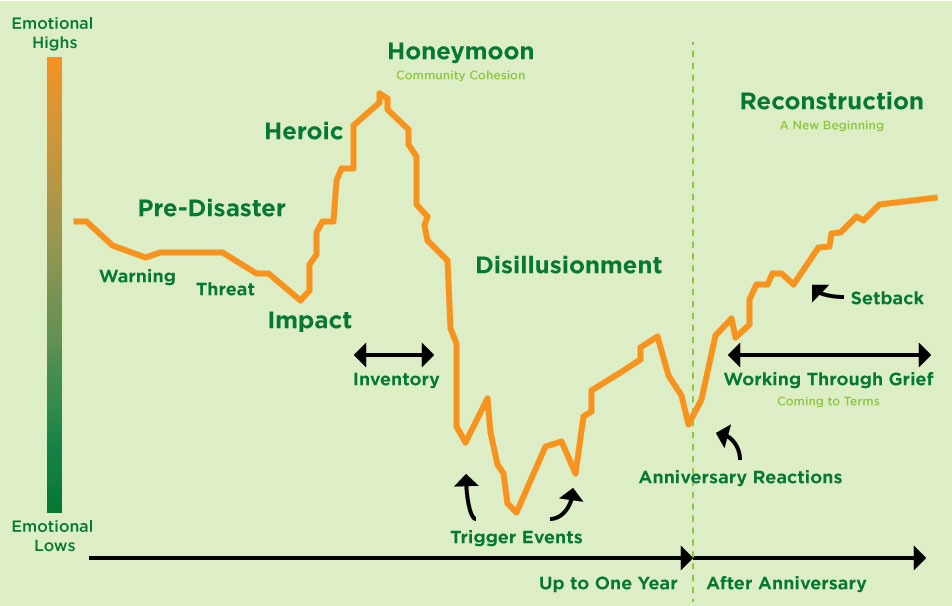 Figure 1 displays the 6 common phases of disaster. Let's explore the following:
Pre-disaster phase: Characterized by fear, uncertainty, vulnerability, lack of security, loss of control and guilt or self-blame.
Impact phase: Characterized by a range of emotions, shock, panic, confusion, disbelief and self-preservation.
Heroic phase: Characterized by altruism resulting in high activity, but low productivity with some risk-assessment impairment.
Honeymoon phase: Characterized by a collective sentiment of community bonding, optimism and rapport building.
Disillusionment phase: Characterized by realized limitations of communal efforts, discouragement, continued stress, feelings of abandonment, physical exhaustion and negative coping reactions such as substance use and abuse.
Reconstruction phase: Characterized by overall feelings of recovery, adjustment and rebuilding while continuing to grieve losses.
Due to the uncertainties involved in a global pandemic and the potential for multiple Impact Phases, the "typical" timeline for disaster response can vary with multiple rapid recycles of phases 1-5 in no definite order. Therefore, it's completely natural to find yourself facing multiple phases of the disaster at any given time depending on your level of exposure.
Is what I'm experiencing "normal?"
Most likely, the answer is 'yes.' In times of active collective trauma, disasters, or crises, it can be common for individuals to experience any number of fluctuating thoughts, feelings, symptoms or reactions to the current state of being. Sometimes we might even find ourselves questioning, "Is my reaction normal?"
The world is presently experiencing abnormal conditions and, most likely, you are reacting naturally, doing the best you can, given your new environment and situation. Although, these are unusual times, building upon previous knowledge of disaster reactions can be the key that helps us unlock our own need for meaning, solace and understanding in these difficult times.
Common disaster-related stress reactions
Below, figures 2 and 3 detail common disaster-related stress reactions. Figure 2 shows the most common emotional, cognitive, physical and interpersonal disaster-related stress reactions. Figure 3 notes the post-disaster phase reactions separated by age group.
Figure 2: Common Disaster-Related Stress Reactions

Figure 3: Common Reactions in the Post-Disaster Phase, by Age Group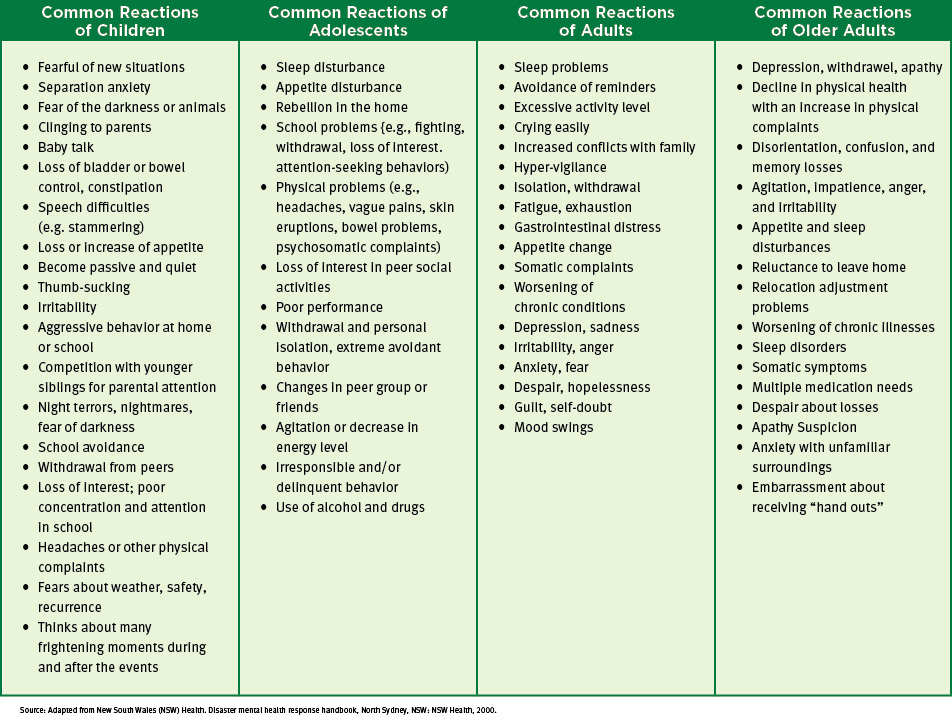 Possible diagnoses following trauma
While what you are currently experiencing is probably on par in the current situation, trauma can elicit ongoing impairments with an individual's psychological, physical and emotional welfare. Trauma might also lead to mental health illness such as acute stress disorder or post-traumatic stress disorder. Learning more about these conditions may help you better understand the disorders and get the most appropriate treatment or assistance.
Acute Stress Disorder (ASD): Symptoms usually last between 3 days and 4 weeks with initial onset occurring within 30 days of the traumatic event. ASD is characterized by the following:

Dissociation (a sense of detachment from one's self)
Severe anxiety
Flashbacks
Difficulties sleeping
Dissociative amnesia (difficulties remembering details from the traumatic event)
Poor concentration
Avoidance or withdraw from people, places or experiences related to the trauma (this is not due to quarantine or abiding by social distancing guidelines)

Post-Traumatic Stress Disorder (PTSD): Similar to ASD, PTSD requires direct or indirect exposure to a traumatic event. Symptoms usually begin within 3 months of the trauma and can last for 1-6 months. PTSD is characterized by the following:

Heightened awareness of danger
Negative thoughts
Nightmares
Risky or destructive behaviors
Intense feelings of isolation
Trouble concentrating
Negative moods
Flashbacks or unwanted or intrusive memories of the traumatic event
Avoidance of places, activities or people that remind them of the traumatic event (again, this is not due to quarantine or abiding by social distancing guidelines)
Potential treatments for ASD and PTSD
There are several possible treatments for ASD and PTSD. Some common treatments include:
Trauma-Informed Therapies including:

Cognitive Behavioral Therapy (CBT)
Trauma-Focused Cognitive Behavioral Therapy (TF-CBT)
Eye Movement Desensitization Reprocessing (EMDR)
Play Therapy
Medication
Support groups
Psychoeducation
Religious, spiritual or mindfulness practices
When do these reactions become problematic?
Clinically, symptoms become concerning when distress responses cause impairments in an individual's interpersonal, academic or occupational functioning. If you notice stressors feeling too overwhelming, you start having difficulties sleeping or you stop taking care of your basic needs or general daily functions in the "new normal," you may find it valuable and beneficial to schedule an appointment with a mental health provider. Many offices are accepting patients and clients virtually. If you are experiencing homicidal or suicidal thoughts, feelings or intentions, please call 911 or go to your local emergency room immediately.
Coping and resiliency under the current conditions
It's natural to feel stress, worry, grief, anxiety and concern during and after a disaster. Everyone reacts differently and even your feelings will change over time, but it's important to recognize and accept how you feel. We tend to be more resilient than we think, which is why taking good care of your emotional health during a collective trauma will help you think more clearly should an urgent need arise to protect yourself and your family. Here are several coping and self-care tips to assist with your long-term healing:
Be patient and kind: This is true for yourself and others. Remember, a little grace and compassion go a long way.
Focus on what you can control: Do your best to let go of what you have no control over. Instead, focus on what you can manage like your words, actions, ideas, effort, mistakes and behaviors.
Breathe and take breaks: Try practicing 4-5-6 breathing. Breathe in for 4 seconds and out for 5 seconds for a minimum of 6 times. Naturally, your heart rate will decrease, and more oxygen will flow through your body up to your brain. You will have more time to think things through slowly and clearly.
Take care of your body: Try to eat healthy, well-balanced meals, exercise regularly, get fresh air and sunshine when possible, and get plenty of sleep. Avoid alcohol, caffeine, tobacco and other drugs.
Communicate: It's important to share your feelings and needs with others (friends, family or appropriate professionals). Be sure to maintain your healthy relationships and build a strong support system.
Break things down: If life begins to feel too overwhelming, write out what needs to be done. Then, break down those needs into specific, measurable, achievable, relevant and timely goals. When goals are broken down, they are less stress-inducing and more attainable.
Establish a routine: Try establishing a routine and schedule, something that makes you feel productive in your "new normal." Wake up, practice good hygiene, change into "regular" clothes, eat meals at regular times and get ready for the day with your goal in mind.
Stay informed: Connect with reliable and official sources of information. Avoid rumors, especially on social media, and always check your sources.
Know your limits: Unplug when necessary. Also, try to do new and enjoyable activities to keep your mind active and engaged.
We're in this together
I hope that from this tragedy, a new world will form. Having mourned our losses together, normalizing the shared emotional experience and cherishing our new connections as well as commonalities, we will be creating long-lasting and extensive communal outlets. With any luck, this expansive group unification of both understanding and support will trigger a collective sentiment, resulting in cultural shifts, altruism and mass accomplishment. In these moments of innovation and openminded exchange, there could be a phenomenal prospect for a worldly transformation towards the betterment of humanity.
Helpful Resources:
CDC – Coping with a traumatic event
The effects of stress on your body
PAHO - Mental Health and Psychosocial Support in Disaster Situations in the Caribbean