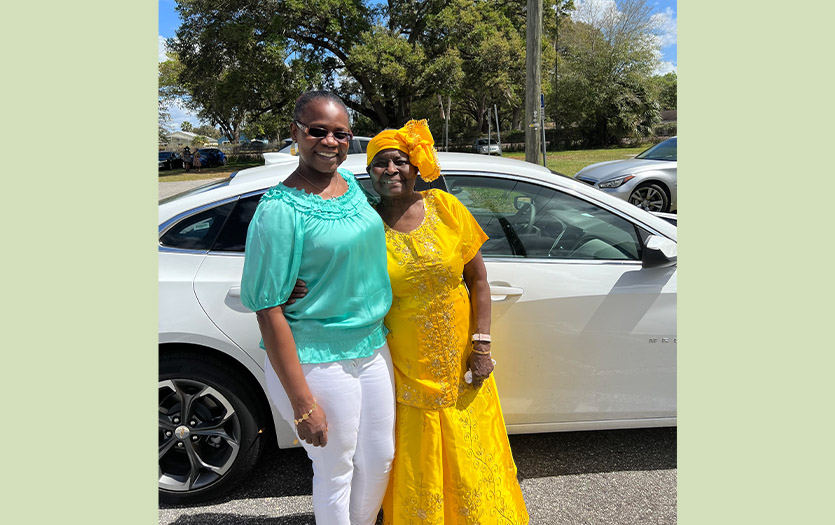 Each spring, we celebrate mothers–the life they give us, the lessons they teach us and the strength we draw from them. June Pollydore, MD, PPG – OB/GYN, won't be with her mother on May 14. She won't even be with her own children for most of the day. She'll be working, and, in a way, that's the greatest tribute she can give to the woman who raised her.
Dr. Pollydore grew up in British Guiana, nestled between Brazil and Venezuela in South America. She had four sisters and one brother, and her mom, Gloria, who was a born healer with a tireless dedication to her family and community.
"My mother was a homemaker," Dr. Pollydore shared. "When I was around 10 years old, she went to nursing school. She was an OB nurse and then went on to become a midwife." In Guiana, during that time, the structure of medical care was more liberal. "If somebody was sick, they could go to the pharmacy and tell them what was going on and they could give you something. You didn't have to see a doctor. I can remember when we would get sick, my mother would just treat us from the medication she had. Sometimes she'd help out friends and other people from the area. She had that liberty."
Dr. Pollydore doesn't have a lot of memories of her mother coming home and talking about the work she did as a midwife. It was one significant family event that triggered her personal interest in pursuing a career as a physician. "My younger sister got pregnant when she was around 16, and my mom and one of her friends, who was also a midwife, delivered her baby at home. I was in the room and saw the whole process. That was my first inkling that I was interested in this field."

A big change
In Guiana, after you finish high school, you have the opportunity to return for an additional two years of education, which Dr. Pollydore did. "At that point, I was still thinking about what I wanted to do, though I was fairly certain I wanted to be a doctor." And she wanted to go to college in the United States. To make her daughter's dream a reality, Gloria moved to the U.S. two years ahead of her daughter, making it possible for her to come and study at her university of choice.
"I came to the U.S. when I was 21 and attended Howard University in Washington, D.C., for both my undergrad and medical school," Dr. Pollydore said. "During my residency, in the last two years, you do different rotations so you can choose your specialty. Initially I wanted to do Pediatrics, but I realized that wasn't a good fit. With OB/GYN, I get to see patients in the office and also do surgical intervention, and I like the mix of both."
Dr. Pollydore met her husband in college, and they have three children, the youngest of which is preparing to graduate from high school. And as for Gloria? "She worked as a nurse's aide in New York up until her retirement." Now 81, she's enjoying some much-deserved leisure time. "She takes her naps and is doing well. We see each other at least once a year and talk on the phone a lot. We actually all went to South America in April for my niece's wedding, and it was fun to go back home," Dr. Pollydore said.

Life lessons
Part of setting aside a day to reflect on motherhood–both pertaining to the women who raised us as well as the beautiful weight of our own parenting journey–is that the view from the other side often bears more humility and respect for the job.
"My mother's work ethic was phenomenal, and that's something I try to emulate," Dr. Pollydore shared. "She was willing to do just about anything for my goal. When I think about how she came over here, after being a midwife, and worked as a nursing aide, and never complained. I admire that so much. I had this opportunity because of her, and what she did. I count myself lucky that she was willing to make that drastic change.
"My kids' goals are so important, and my mother's example certainly drives the way I parent my own children. I love my work, but I also take the time to be there, for their games and track meets. It's a balance between my career and my family. My mom was always my backbone. She showed me what it means to sacrifice for your child and what is means to be a parent."