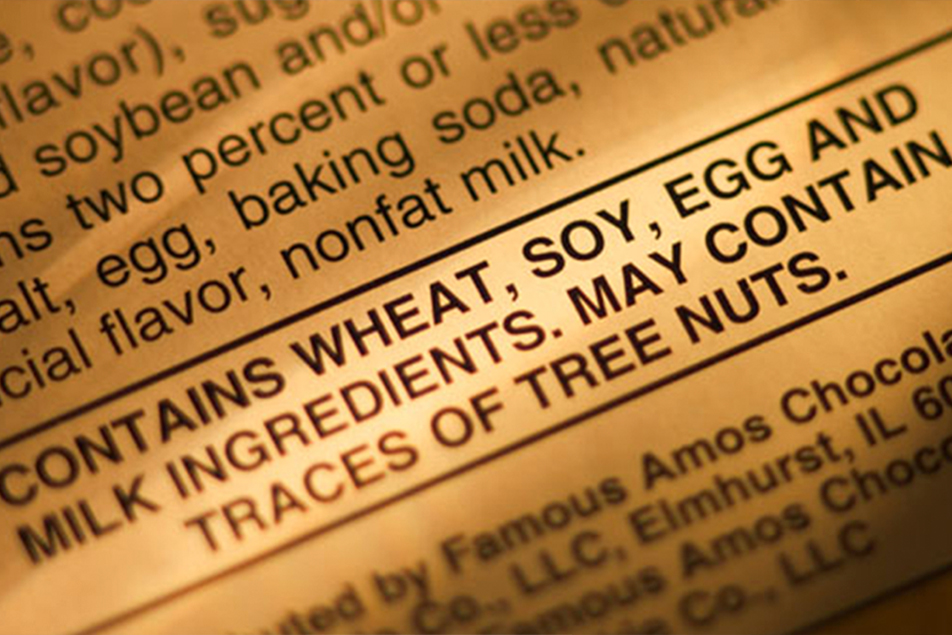 This post was written by Sara Bennett, RDN, CD, CDM, registered dietitian nutritionist, PPG – Cardiology.
When I brought my son, Eli, home from the hospital, I noticed he would get really wheezy after I nursed him. I knew something wasn't right, call it mother's intuition. The symptoms only got worse. He began getting rashes on his face, horrible bloody diaper rashes and swelling around his mouth. I spoke with our pediatrician about my concerns several times, and at his 12-month appointment, we were able to test him for allergies.
An initial blood test told us he was allergic to eggs and sesame seeds. But, as I've learned, things are always changing. We eventually did a poke test on his back and, halfway through, his entire back was swollen. Today we know that his major allergies are to eggs (this is the big one, where I need to be sure and carry an EpiPen®), dairy, soy, beef, fish and eggplant.
Initially, I started scouring websites for information. I wanted to be well-educated on what he might become deficient in and the proper substitutions. It was overwhelming for me, and I have an advantage as a professional dietitian. I can only imagine what other parents go through.

My goal is to share the things I've learned with parents who are on a similar journey and have it all in one place. The key to success, I've found, is to make sure the child doesn't feel different. In our home, if Eli can't have it, then no one can. I try to anticipate special occasions or treats he might want and make a version that is safe for him and that we can all enjoy.
Getting started
One in 13 kids has a food allergy. The most common are eggs, milk, peanuts, tree nuts, soy, wheat, shellfish and fish. Children may outgrow some allergies like eggs, milk and soy but may never outgrow the other ones.
The only way to prevent a food allergy is to avoid the food you or your child is allergic to. The ingredient label on food packages will become your best friend, this is where you will find if the food product contains the allergen you are trying to avoid.
The FDA food allergen label law called the Food Allergen Labeling Consumer Protection Act (FALCPA) requires foods to state if they contain a top 8 food allergen. Foods that contain these allergens must say so in plain English, but there are many foods and products that are not covered by the law, so it is still important to know how to read a label for allergens.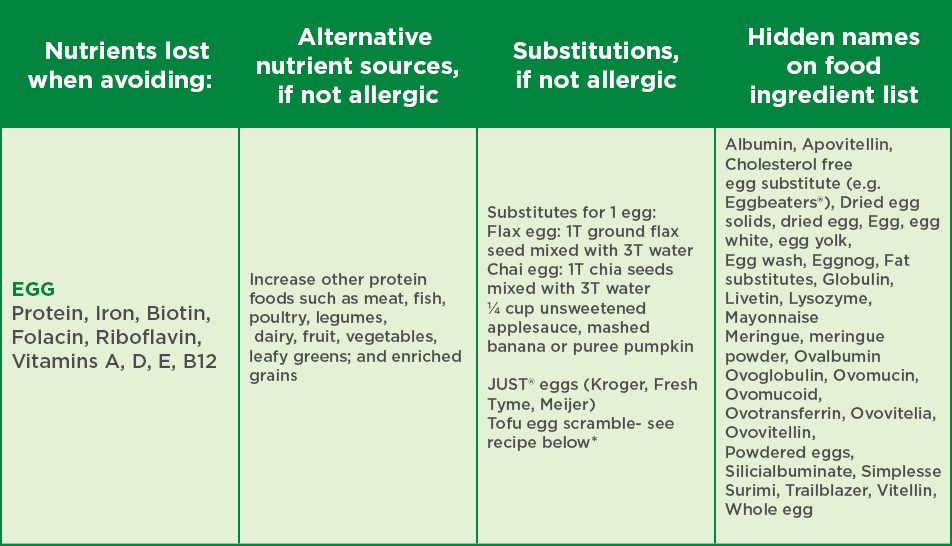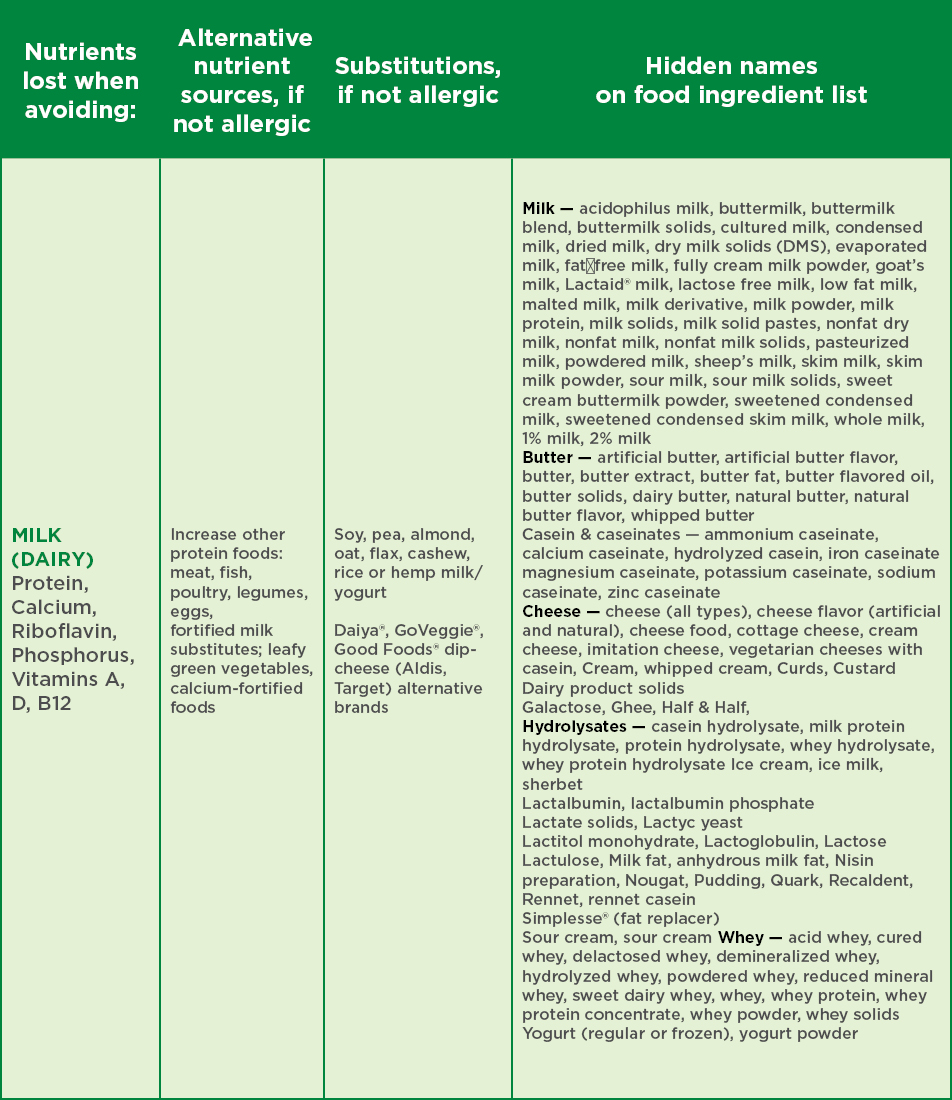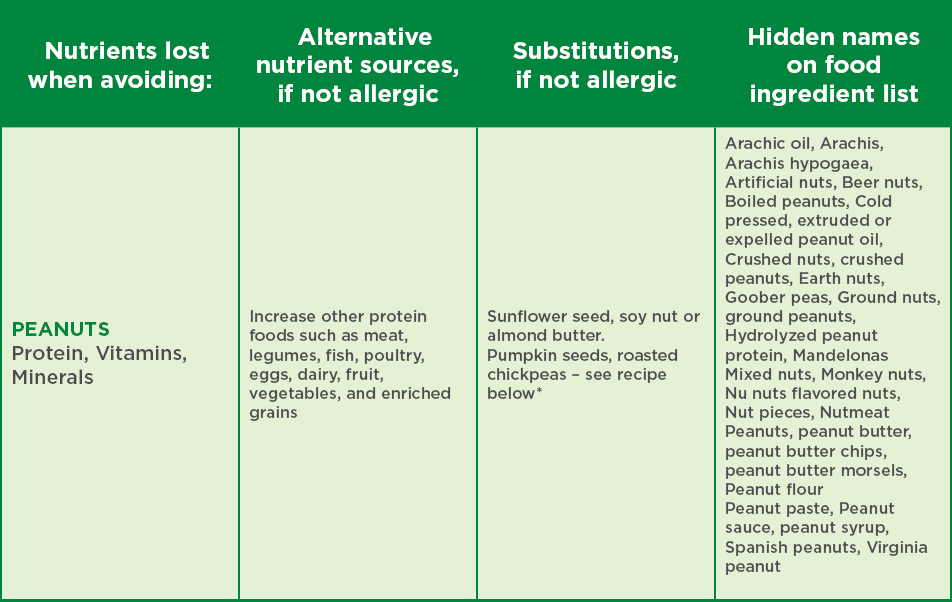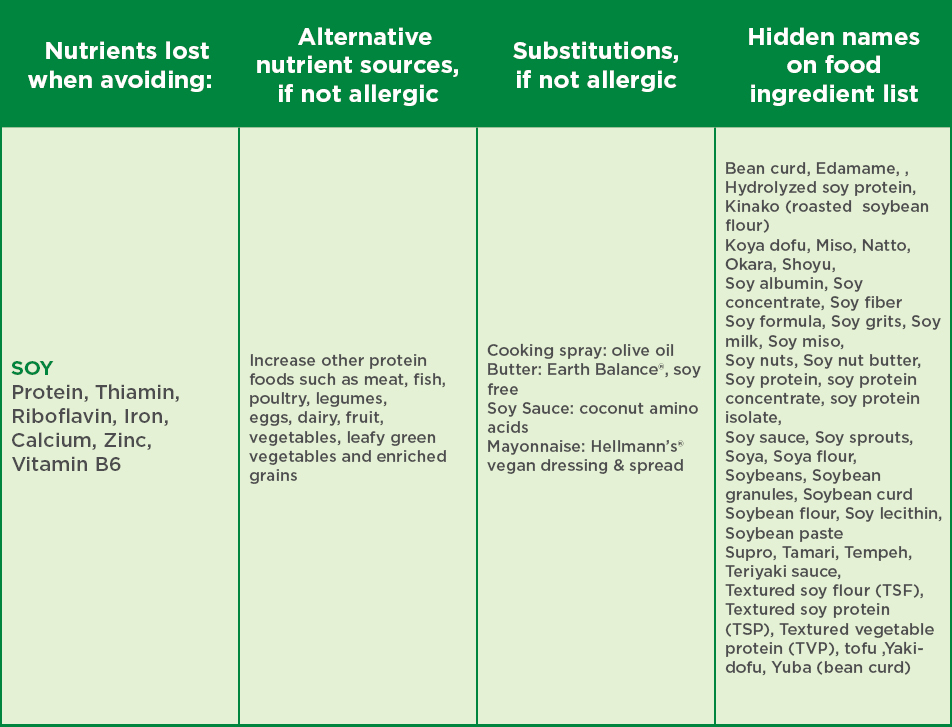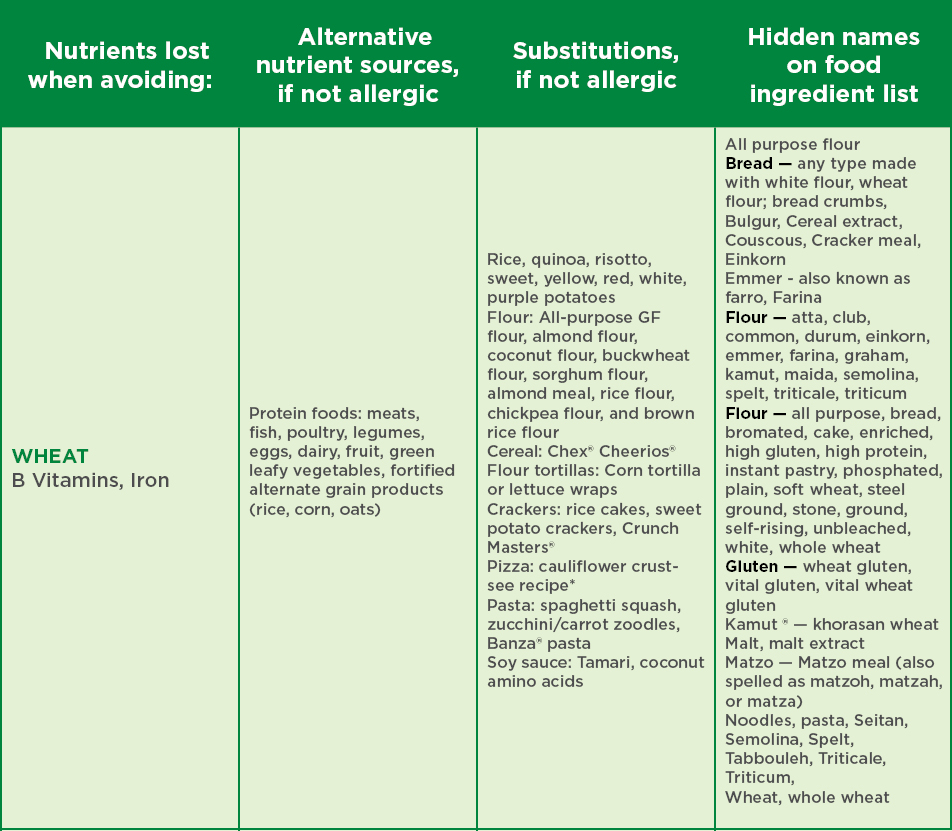 Making recipes safe
Once you become familiar with these allergens and the safe replacements, it can be fun transforming recipes. Here is one example that's quite popular in our house.

Instructions:
Preheat oven to 350 degrees.
Grease your muffin tins with olive oil (cooking spray contains soy).
Peel bananas and put them in a big bowl with the melted butter. Smash it all together with a fork. Keep blending until the mixture is creamy and smooth, not chunky.
Add sugar, flax egg and vanilla and mix until just combined.
Stir in salt and baking soda.
Add flour and chocolate chips and mix until just combined. Do not overmix!
Divide into muffin tins.
Bake until a toothpick pulls out clean, about 18-20 minutes.
Makes 12 muffins
Use technology
I have found that these apps help make life with food allergies a little easier to navigate.
Allergy Safe – This app allows you to choose from a list of seven of the most common food allergies. After selecting your allergens, you can browse from a variety of frequented restaurant chains and see only the foods you can eat. You can also find these restaurants on the map near you.
Spokin – This app saves you time and offers a sense of community. Customize your feed to match your food allergies, interests and location. Find new resources from people who share your same allergies. Discover the best resources, down the street or around the world. Share your favorite restaurants, food products, hotels and more.
Sift Food Labels – Their mission to bring transparency to the food industry. The easy-to-use mobile app will translate your food ingredients and flag any ingredients that are banned in other countries or pose a risk to your health. Sift offers support for a variety of lifestyles, including paleo, gluten-free, dairy-free, FODMAP, no added sugar, soy-free and 30 Whole Days.
Get cooking!
These are some of our favorite recipes. They are proof that eating healthy and avoiding allergens doesn't have to mean sacrificing flavor. Give them a try!
Tofu scramble
8 ounces firm tofu (225 g)
1 teaspoon olive oil (or water)
1/4 tsp salt (You can use to use any type of salt, we use Kala Namak salt, also known as Himalayan black salt, because it tastes like real eggs)
1/4 teaspoon turmeric powder
1/8 teaspoon ground black pepper
1. Chop the tofu and use a fork to crumble it into bite-sized pieces.
2. Add olive oil or water to a pan and when it's hot, add the tofu, salt, turmeric powder and pepper. Stir until well combined and cook over medium-high heat for 5-10 minutes. Stir occasionally.
3. Serve immediately.
Nutrition facts: Serving Size: 1/2 of the recipe; Calories: 80; Sugar: 0.7 g; Sodium: 248 mg; Fat: 4.7 g; Saturated Fat: 1 g; Carbohydrates: 2.1 g; Fiber: 1.1 g; Protein: 9.3 g

Roasted chickpeas
Recipe featured on the blog Vegan Heaven
Vegan cauliflower pizza crust
Recipe featured on the blog Minimalist Baker
Deep dish cookie pie
2 cans white beans or garbanzos, drained and rinsed
1 cup rolled oat
1/4 cup unsweetened applesauce
1/4 cup natural nut butter
2 teaspoons pure vanilla extract
1/2 teaspoon baking soda
2 teaspoons baking powder
1/4 teaspoon salt
1 cup brown sugar
1 cup vegan chocolate chips
1. Preheat oven to 350 degrees.
2. Blend everything except the chocolate chips very well in a food processor.
3. Mix in chocolate chips and pour into a 9-inch springform pan.
4. Cook for around 35-40 minutes. Let stand at least 10 minutes before removing from the pan.
Nutrition facts: Yields: 16 servings; Serving size: 1 cookie square; Calories: 122; Total fat: 4 gm; Saturated Fat: 1 gm; Cholesterol: 0mg; Sodium: 133 mg; Total carbohydrates: 20 gm; Dietary fiber: 2 gm; Sugars: 12 gm; Protein: 3.3 gm