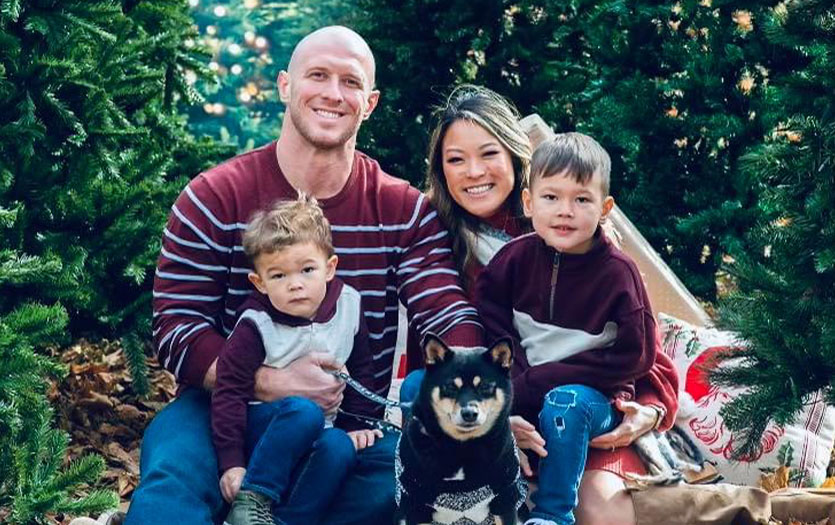 This post was written by Emma Hetrick, digital copywriter, Parkview Health.
Fun fact about me–I have a twin brother. And while we are complete opposites in almost every way, we have one thing in common: We were born several months prematurely (26 weeks, to be exact). If you ask my parents, they can describe, in great detail, their experience, how small we were, our long haul at the hospital, how hard we fought to get to discharge day, and their gratitude for the unwavering dedication of the doctors and nurses involved in our care. While I don't remember a thing about my dramatic entry into the world, I know it was an overwhelming and emotional feat that my parents will never forget. So, when the opportunity arose to shadow Lisa Piwoszkin, DO, PPG – Neonatology, I knew it would lend me a remarkable view of the unbelievable journey that many families–including my own– take to bring tiny blessings into their lives.

First impressions
Dr. Piwoszkin and I planned to meet in her office in the Newborn Intensive Care Unit (NICU) shortly before 8 a.m. I approached the door to the building just ahead of a couple carrying an empty infant car seat, and wondered if we were heading to the same destination. I smiled and held the door for them. Once inside, they veered left, hopefully on their way to collect their new addition, and I strode straight to the elevator. Dr. Piwoszkin advised me to wear quality shoes, and I wiggled my toes in my oy fairly new running shoes, hoping they'd be up to the demands of the day.
After my brief ride to the second floor, I wound around to the locked double doors of the NICU. I picked up the receiver on the wall next to a video call box and let the pleasant voice on the other end know I was there to see Dr. Piwoszkin. She buzzed me in and offered a warm, "Good morning!" before escorting me to the physician's office.
My first impression of the caregivers who make up the clinical side of this selective club was that of congeniality. I was merely a visitor for the day, but the moment I walked through the door, they greeted me with genuine kindness and a willingness to help me find my way. I followed a young nurse as we twisted and turned down several corridors, a labyrinth I would, with any luck, learn by the end of the day. We eventually found ourselves in a small cul-de-sac of shared offices, one of which was Dr. Piwoszkin's. Realizing I was a bit early, I quietly peeked around the corner and announced myself.
Angela Booth, NNP, paused her conversation with one of the night NNPs, smiled, and invited me in. She told me that Dr. Piwoszkin would be arriving momentarily and that I would need to change into some sterile scrubs to attend a delivery later that morning. Angela showed me to the women's locker room. On the way, she praised my sneaker selection. "You chose the perfect shoes for today! We are busy, and comfort is a must around here." She badged me into the locker room and gave me some privacy to change.
When finished, I walked back down the hall to Dr. Piwoszkin's shared office, where I found her and Angela discussing their weekends. When she saw me, she hopped out of her seat. "Hi! I'm Dr. Piwoszkin. Welcome to the NICU!"
We exchanged a few pleasantries, and I reminded her that I was a mere observer for the day, and she was welcome to go on with business as usual. I learned quickly that there would be no shortage of that. She pulled up charts, made notes and grabbed a headset off its charger, a device all providers within the unit wear during their shifts to facilitate swift communication when needed. She was busy, but calm, with a reassuring ease about her, a demeanor I'm sure parents are grateful for as they navigate their NICU stay.
She paused to drink her coffee and took the break to invite any questions. I was grateful for the opening. "What does a typical schedule for you and the other providers look like during the week?" I asked.
"We currently have six neonatologists and seven neonatal nurse practitioners (NNPs) in our unit," she explained. "We typically have three neonatologists during the week who will be on for the next seven days. Then, at night, the providers who weren't here during the day will rotate every other night for that week, so at least one provider will usually have the full week off. I know it sounds confusing, but this one-week-on, one-week-off structure allows for continuity for patients and families in the NICU while providing us with a work/life balance. And while we usually know our entire schedule a year in advance, we still have the flexibility to swap shifts when needed. Life happens, and we all understand that." As a married, busy mother of two, Dr. Piwoszkin, like many in the workforce, is constantly striving for a manageable mix of her professional and personal demands.
I glanced at my watch and saw that we still had a little time before the team meeting and shift change, so I asked Dr. Piwoszkin how many patients the NICU can accommodate. "We have 29 rooms, with two of those set up specifically for twins, so there are 31 beds up here in the NICU," she said. "Then we also have 10 more beds downstairs in the Continued Care Nursery (CCN) for babies who still need a little help but are almost ready to go home."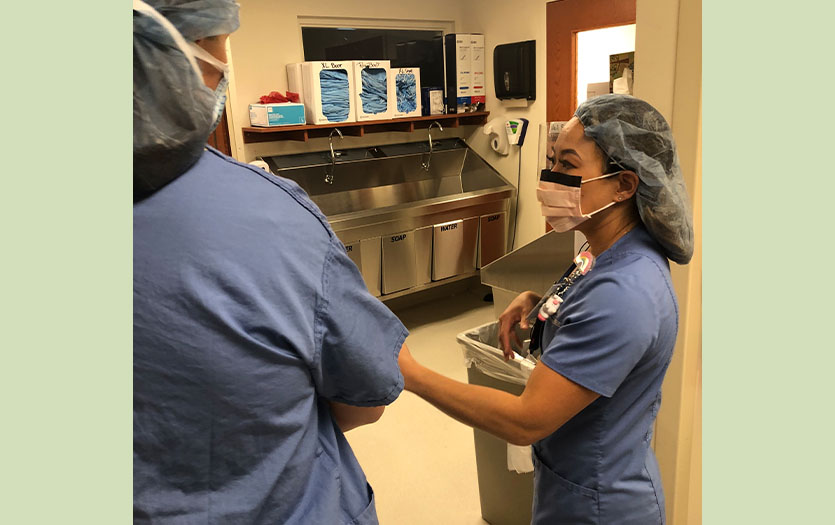 I was curious about when, in the pregnancy and delivery process, these patients came under her care. "As neonatologists, we get involved in a women's pregnancy and prenatal care if her baby has an anticipated need, in which case we're in the delivery room to treat the baby immediately after birth. In other cases, when a condition is unexpected, we don't get involved until after the baby is born. For example, if a full-term baby is delivered in the Family Birthing Center downstairs at Parkview's Women's & Children's Hospital and is anything other than a healthy newborn, they will come to us. We often see patients if they are having difficulty breathing, not feeding well, have low blood sugar, are exhibiting signs of an infection and so on. However, an infant doesn't have to be in critical condition to see us. That's one misconception about the NICU. In the adult world, if a patient is in the Intensive Care Unit (ICU), they are truly critical, whereas, in the NICU, we can have a variety of patients that we are treating, ranging from very critical and premature to full-term babies who need a little help before heading home."
I jotted down a few more items in my notes and noticed Dr. Piwoszkin was closing out of her computer and rising from her chair. I stood too, ready for the next stop on our day together.

Morning meeting and debriefing
Before walking out the door, Dr. Piwoszkin grabbed several papers from the printer, then turned to me with a smile and said, "Okay! You ready?" Matching her energy, I flipped to a new page in my notepad, made sure my pen was poised and ready, and replied, "Absolutely!"
She led the way into a small conference room down the hall. As we took our seats, several others filtered in around the table with their own sheets of paper and beverages of choice. Once everyone had settled in, Dr. Piwoszkin began by introducing me to those in attendance, which was just a portion of the Neonatology team – Mellissa Rice, DO, Felix Quist, MD, Ravi Kudumula, MD, Angela Booth, NNP, Taylor Michael, NNP, Karen Whitesell, RN, and Matt Carter RN.
Dr. Piwoszkin informed me that this was their normal morning briefing, where they discuss all details pertaining to patients and families currently in the NICU or CCN. They went around the table, and each provider and nurse shared their notes, insights, successes and challenges as the group collaborated on care plans and next steps. It was clear that this thorough debrief is a NICU necessity to ensure exceptional patient care and a smooth transition from night and weekend shifts to weekday teams. Their level of teamwork was inspiring.
For the final agenda item, the providers split the patients between the primary attending physicians and NNPs. The third floating neonatologist absorbs any extra cases to help balance the workload for the week. Walking back to her office, I inquired about the process and team approach.
"We give our NNPs full autonomy," she shared. "They have the skill and knowledge to take charge of rounding on their own patients, deliveries, procedures and assisting with new admissions, so we let them. They are an amazing group and have continuity with their patients, but if they need us or would like to collaborate, we (the attendings) are always close by because we do still staff every patient and serve as their collaborating physician."

Rounding and deliveries
With her patient list in hand and a noticeable uptick in her pace, we began rounding. Dr. Piwoszkin explained that the main purpose of rounding is to see how a patient is doing and provide parents with vital information about their child's condition. "We perform a physical exam, listen to the baby's heart, lungs and belly, and check their vitals to ensure their comfort and safety," she said. "We also leave room for questions, discussing care plans, next steps, and how to work toward getting their little one healthy so they can graduate and be discharged."
We entered the first room and Dr. Piwoszkin checked in with the room nurse and verified that Mom and Dad were comfortable with me coming in. She quickly established a rapport with them, asking how they and the baby were doing and several other gentle but necessary questions to assess their child. During the physical exam, she reassured them that their sweet baby's vitals looked good, praised them on their excellent progress with feeding and weight gain, and then easily transitioned into what they could expect moving forward. Dr. Piwoszkin asked if they had any more questions and spent the next several minutes educating them on the intricacies of their infant's condition.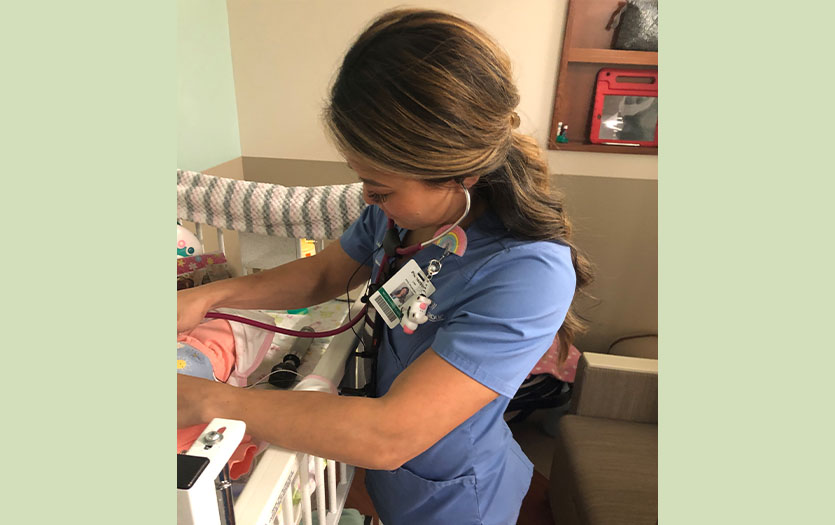 We saw a few more little warriors–enough for me to notice a theme. With each visit, Dr. Piwoszkin was entirely present. She never rushed and gave each baby and parent her undivided attention. She knew their names, genuinely celebrated their successes, offered support and guidance through disheartening setbacks, and addressed each concern gently but with a confidence that said, "We've got this. You've got this." She was facilitating family-centered care and stepping into every exchange with an empathetic foot forward first.
"No one wants to be in the NICU," Dr. Piwoszkin later told me. "Coming up here is never part of a family's original birth plan, but when it happens, we are here, ready to help."
As a parent of two kiddos, I wondered how she navigated the initial meetings with families and the emotionally charged conversations that inevitably transpire. "When we first meet parents, they are in shock, followed by fear, then disappointment," she shared. "Most of the general public has no experience caring for sick babies (whether early or full-term). It can be incredibly scary and traumatic. Additionally, for many parents of premature infants, this will be the smallest baby they've ever seen, and they often question if their child will survive (thankfully, nearly all do). But no matter the situation, we do all we can to comfort them. We strive to normalize how stressful and overwhelming the process is, no matter the circumstances or outcome, because, like any parent, they want to know when they can hold their child or take them home. Many of us can only imagine how it must feel to leave the hospital as a parent after delivery without a baby. However, a blessing in disguise is that we have a lot of providers and nurses who have had their own experiences with children in the NICU, so they can relate to families, which is one of the best ways we can help in the healing process."

Double time
Noticing the time, Dr. Piwoszkin mentioned to a nurse and fellow team member in passing that we were heading downstairs to observe the twin delivery, then we'd be heading to the CCN to continue rounding.
When we emerged from the stairwell, I saw a line of medical professionals parading past and into the surgery wing of the birthing center. Registering my interest, Dr. Piwoszkin said, "Yep! There's our NICU team on their way to get ready for the delivery." We fell in line with the others.
I realized the magnitude of what was about to happen, and the number of people involved. "As you can imagine, multiple births can get crowded," Dr. Piwoszkin explained. "Mom has her own care team with her OB physically delivering the babies. For the premature infants, we bring in two full teams from the NICU. Our team consists of a neonatologist, a respiratory therapist, an NNP, and a nurse (times two) standing by, so each baby has their own team once they're born."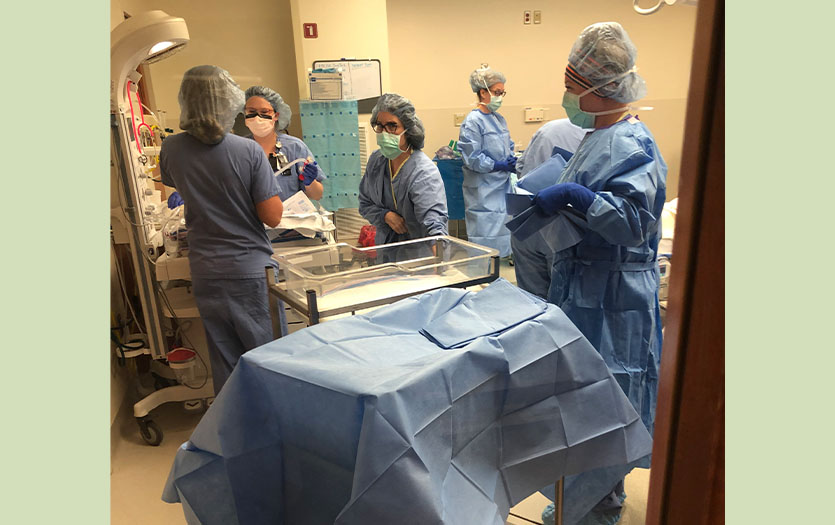 To my surprise, the delivery only took a matter of minutes. Even after going through two C-sections myself, I couldn't believe the pace and coordination. We looked on as each NICU team thoroughly examined their assigned infant, evaluating their condition and providing any additional support or care they might need. Dr. Piwoszkin informed me that when ready, each team would escort their twin upstairs to the second floor and get the new patients settled in their NICU rooms.

The graduates
With our observation over, we disposed of our PPE, grabbed a pump of hand sanitizer, and headed to the CCN to round on a few more patients. Walking the halls, I heard a lullaby from the speakers over the Family Birthing Center, signaling the arrival of another precious baby boy or girl in the world.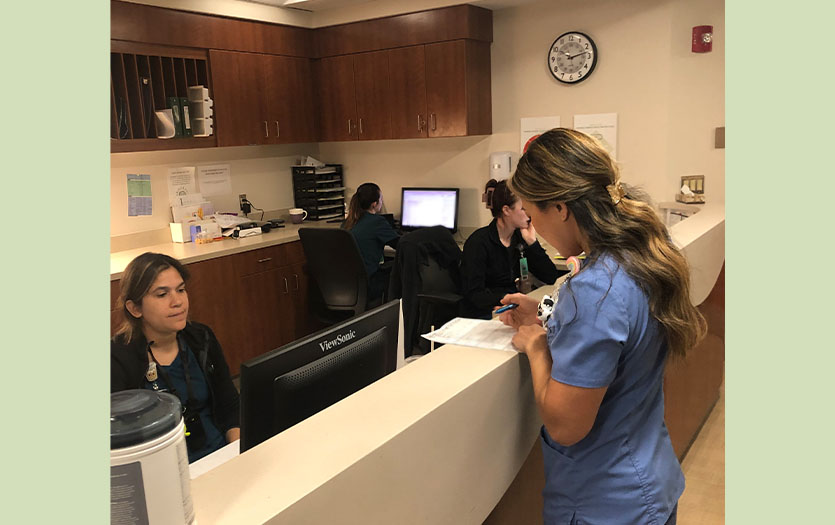 Our first stop was the CCN nurse's station. Dr. Piwoszkin verified a few details with them, then checked in on the three patients staying in the nursery. Once we finished and were on our way back up to the NICU, I asked Dr. Piwoszkin about a program I heard her mention earlier while speaking with a mother whose baby was on the brink of discharge, "Meds-to-Beds."
"The Meds-to-Beds program is a service offered by Parkview's outpatient pharmacy that allows families to purchase babies' prescriptions (usually over-the-counter items) and have them delivered to the bedside. It saves families a trip to the store, allows them to have the medication in hand and get a tutorial on administering it before being discharged and going home."
As you can imagine, discharge day from the NICU is a very big deal around here, both for the staff and the families. "How do you prepare parents before they leave your care?" I asked.
"In addition to celebrating our NICU graduates, there's also quite a bit of education provided to families before discharge," Dr. Piwoszkin explained. "There's a series of educational videos all parents must watch before leaving the hospital (both for healthy newborns and NICU babies), and a provider will review anticipatory guidance with parents on various topics such as feeding plans, medications, growth and development, safe sleep, car seat safety, fevers, illnesses, follow up appointments and more. The nurses will also review this information along with day-to-day details like preparing milk/formula, demonstrating how to administer medications, etc. We also ensure that the infant's primary care physician receives copies of the discharge summary. We also try to connect with the provider to discuss the patient if there are complex or unusual follow-up needs."
We finished rounding on the rest of her patients a little before 1 p.m. After briefly visiting with another nurse and respiratory therapist about their days and the beautiful weather over the past weekend, Dr. Piwoszkin declared it lunchtime, "Come on! Let's go grab something to eat."

A midday chat
With provisions in tow, we retreated to her office for a working lunch. Understanding the rarity of downtime in her world, I used the pause to ask Dr. Piwoszkin how she became interested in neonatology. "I've known I wanted to be a doctor since I was little, but I didn't realize then that this was an actual job," she said. "You see, I had horrible asthma growing up, and anytime I had an attack, I had to go to urgent care, the ER or my pediatrician's office. Needless to say, I spent a lot of time in medical facilities, so I became that goofy kid who wasn't afraid of going to the doctor. In fact, I loved my pediatrician so much that I wanted to be that sense of calm for someone else. It didn't hurt that I enjoyed math and science. So, when people asked what I wanted to be when I grew up, being a doctor was a natural response.
"Honestly, when I went into medical school, I had every intention of doing general pediatrics," she continued. "But I had an amazing newborn and NICU rotation during my residency program that changed my mind. I remember having this aha moment when I realized that with this field of medicine, I would experience all the things I was passionate about, like hands-on procedures, high acuity moments, day-to-day continuity, and relationship-building with patients and families. It just made sense."
She snuck in the last few bites of her late lunch. as she continued charting, adding notes to patient files while periodically answering questions from colleagues passing by or looking for feedback. A speech-language pathologist popped in to update Dr. Piwoszkin on the next steps for one of her patients. Then, one of the pharmacists they frequently work with stopped by to discuss the medication options for a recent admission. The neonatologists' offices were a revolving door of guidance and collaboration.
While she's thrilled with the work she's doing in the health system, Dr. Piwoszkin will be the first to tell you she didn't always plan to see patients in the area. "Full transparency, we had no plans to return to Fort Wayne," she said. "My husband was adamant that we weren't going anywhere unless it was at least as warm or warmer than where we were. However, one of my close friends from college had a baby at 30 weeks, and they happened to be here, in Parkview's NICU. We came to visit them and meet the baby, and while I was here, I spoke with the provider rounding on them, a shameless plug, to see if they were hiring. That's how I met Dr. Quist for the first time. Unfortunately, they didn't have any openings, but he encouraged me to apply anyway, just in case something came up in the future. A few months later, I discovered an open position, and the rest is history."

Shift change
As Dr. Piwoszkin finished charting and our time drew to a close, I posed one final question, "What do you love most about your job?" She sat back in her chair and contemplated the scope of her role. After a deep breath, she'd arrived at her answer. "One of the coolest aspects about my job is being able to walk into a room knowing that if I needed to save someone's life, I could do it," she said. "Knowing that I have the knowledge, training and skills to accomplish that amazes me. I will never get over that. The other facet of this job that I love is meeting families where they are and building relationships with them. And while I don't believe being a doctor has made me a better mom, I hope that being a mom has made me a better doctor, and that my patients directly benefit from that."
We said our goodbyes, and I thanked her (and her exceptional team) a final time for allowing me to be her shadow for the day. I changed out of my scrubs and back into my regular clothes. Walking to the front of the NICU, I took note of the tiny cries echoing in the hallway, and I thought about their stories. I thought about their parents and pictured my own, so many years ago, patiently waiting for the day we got to go home. For these families, the hours in the NICU are long, but the caregivers are exceptional. They make it possible for these tiny warriors to go on, grow up and, if they choose, to become parents themselves one day. Perhaps only now, with a newly acquired perspective, can I truly appreciate the magnitude of the miracles that happen every day in incubators and delivery rooms. I can relate to the feeling of walking in with an empty car seat and leaving with one weighted by life's biggest blessing.
On behalf of former graduates everywhere, I'm grateful to providers like Dr. Piwoszkin, who nurture the smallest beginnings, so that we can dare to live big lives.