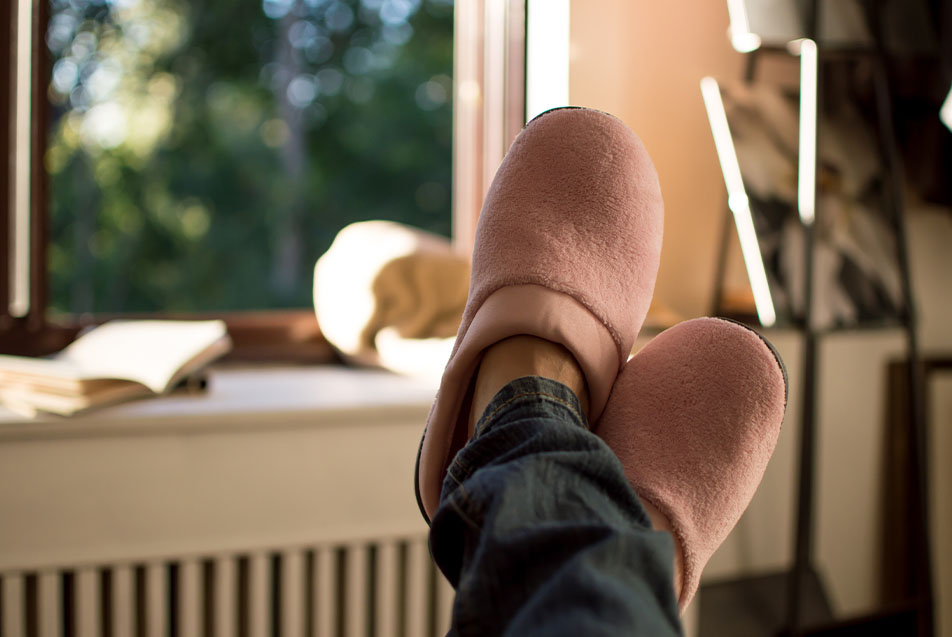 This post was written by Ashley M. Bojrab, DPM, FACFAS, ABPM, CWS, PPG – Podiatry.
After a long day on your feet, it feels nice to come home, kick off your shoes and socks, and relax. Personally, I look forward to sliding into my cozy and comfortable slippers. In this post we're going to discuss the things that, from a podiatry perspective, I want you to look for when purchasing casual, at-home footgear.
Slipper considerations
When shopping or scrolling slippers, there are four key features for your consideration:
Easy access – Slippers should only be worn in the house to keep your feet nice and warm. As a bonus benefit, slippers protect your feet from hazards in the house. Pick a style that covers the toes so that you can relax, knowing your tootsies have some protection. You'll want to make sure the slippers are simple to slip on and off, which increases the likelihood of wearing them regularly.
Rubber sole – Houses have different types of flooring. Some surfaces are more slippery than others. A rubber sole could help grip the ground more, which prevents falls. A rubber sole can also offer protection for the bottom if the foot If someone potentially stepped on something sharp.
Comfort – Find a slipper that is comfortable to you. You may like the softness of faux fur, or the added warmth that only wool delivers. Maybe you prioritize a cushiony base that makes you feel like you're walking on a cloud. Comfort is about personal preference, so make sure the style is checking this box for you.
Sizing – Getting a slipper that's the right size for your foot is important because if the shoe is too small it's uncomfortable, and if it's too big, it can be a tripping hazard. If you utilize additional support in your other shoe gear, consider trying a supportive slipper with an arch support to keep the foot comfortable.
As much as you consider these factors when choosing a slipper for yourself, the same rules apply when gifting the cozy shoe gear to others. Pick the best style, slide into something more comfortable and relax!