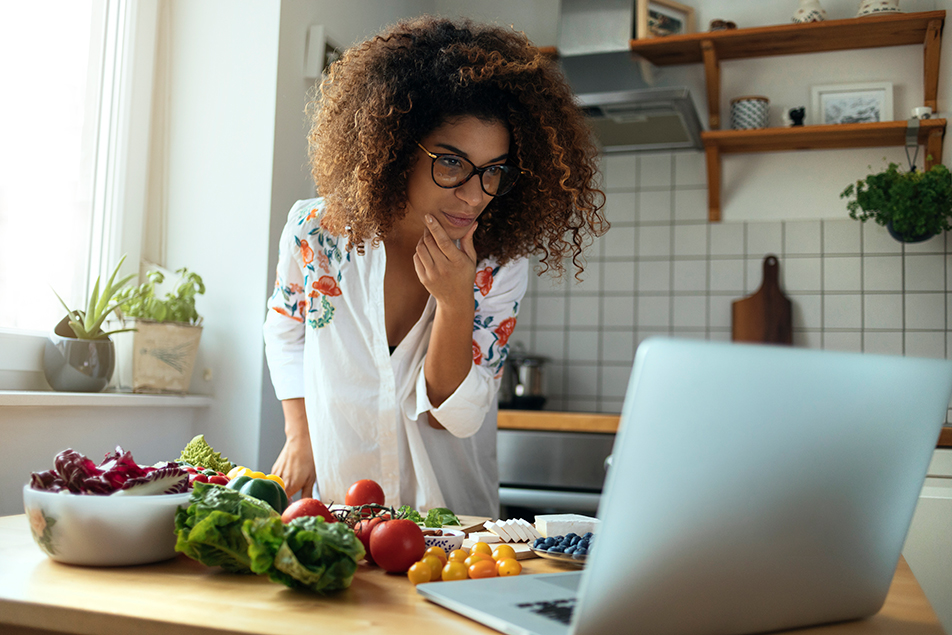 This series was written and created by Sarah Mohrman, RDN, LD, MA, dietitian, program coordinator, PPG – Cardiology.
In Week 5, we stepped up our supper game with seven themes designed to make meal planning a breeze. This week's challenge is to ditch the dairy and move to plant-based alternatives. It's easier than you think.
Milk gets a makeover
With new products arriving on the shelves each week, there's an impressive variety of choices. My advice when choosing a good nondairy product is to look for options that are unsweetened and keep your individual goals in mind. If your goal is weight loss, you might want to stick to a lower calorie choice, such as unsweetened almond milk that is only 35 calories per cup. If you are looking for a thicker alternative, perhaps for creamy soups, smoothies or an addition to your morning coffee, an oat milk or soy milk would do the trick.
Cheese, please
When looking at cheese alternatives, many of the choices can be high in saturated fat and sodium, which is a main reason why we are trying to avoid the "real" cheese! Instead, challenge yourself to find ways to enjoy your food without any cheese or cheese alternative. For example, instead of adding vegan cheese to tacos, add more vegetables, like pico de gallo or avocado. When making a quesadilla, opt for hummus spread instead of cheese. If you have a desire for a cheese sauce or a dip, experiment with ways to make your own cheese from ­– wait for it – vegetables! Here is one of my favorite cheese sauce recipes.
Recipe to try
Vegan Cheese
2 cups potatoes, diced large
1 cup carrots, diced large
? cup olive oil
¼ teaspoon onion powder (optional)
1 tablespoon lemon juice
¼ teaspoon garlic powder (optional)
½ cups water
½ cup nutritional yeast flakes
Dash of cayenne (optional)
1. Boil the potatoes and carrots until soft.
2. In a blender, blend potatoes and carrots together along with the rest of the ingredients until the cheese is extremely smooth. This recipe will make a "Velveeta®-type" blander cheese for a variety of dishes. Store in refrigerator for up to a week.
Makes 10 servings
Nutrition Facts (2 tablespoons per serving): Calories 126, Fat 6.6g, Saturated Fat 1g, Cholesterol 0mg, Sodium 27mg*, Fiber 2g, Protein 3.3g
*Sodium will increase if adding hot sauce.
Notes:
This cheese will melt just like real cheese! If it sets up a little in your fridge, just microwave it for about 30 seconds. It will soften up again so it's easy to spread.
For more of a spicy queso, add green onions, crushed red pepper, smoked paprika, and Tabasco® or Siracha sauce, as desired.
Recipe adapted from Vegan Yumminess.
For more recipes, tips and inspiration on living a heart-healthier lifestyle, like Parkview Heart Institute Her Heart on Facebook.