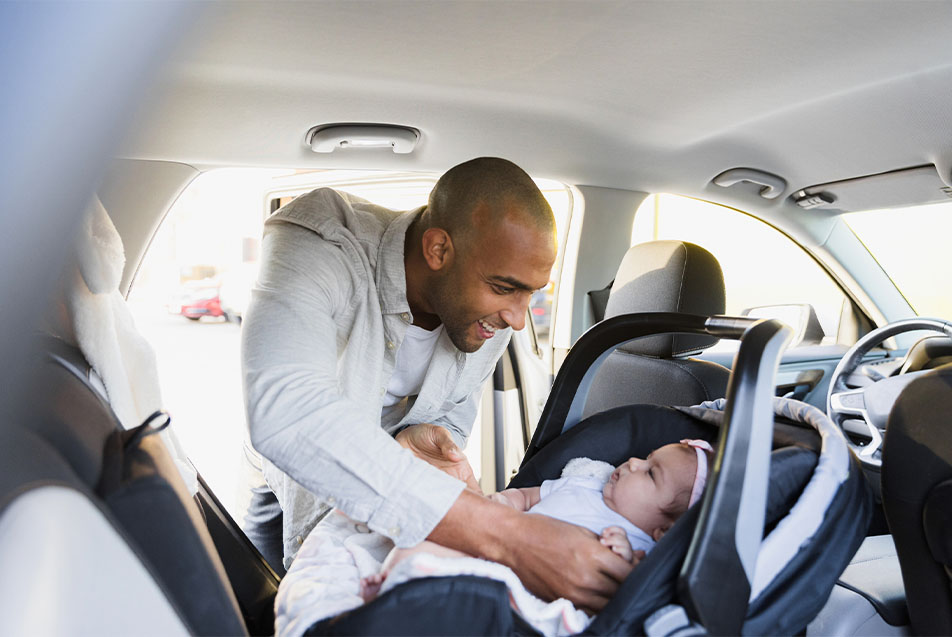 This post was written by Erin Norton, director of community outreach, Parkview Women's & Children's Hospital.
For many of us, installing a child's car seat is a task we find more difficult than expected. Every car seat, every vehicle, and the growth patterns of every child are slightly different. A change in any one of these variables warrants revisiting car seat safety guidelines.
Car seat safety tips
Beyond the installation and fitting, there are some universal guidelines to keep in mind. These are not hard steps, but they are easy to overlook. Take a few minutes to read through and act on this list to relieve some worry in the future.
1.Register your car seat. Registering your seat is important because it's the most efficient way to learn about recalls. You can do this by filling out and returning the card that came with your car seat. If you don't have the card, you can look up your seat and register online.
2.Label it. In the event of a serious accident, the adults in the vehicle may not be able to communicate with first responders or healthcare providers. Fill out and affix a label or sticker to your child's car seat that includes their name, birth date, emergency contacts, allergies, medications and their physician's contact information. If you do not have a label, a permanent marker will get the job done.
3.Plan for growth. Recommendations change as children grow. Rear-facing becomes forward-facing. Children outgrow car seats and become ready for boosters. It can be exciting to move your child up to the next level, but to maximize safety, the National Highway Traffic Safety Administration recommends not moving them up as long as they fit within the manufacturer's height and weight requirements. It can be helpful to take a photo of this information or write it down in a prominent place when you first get the car seat so you're not hunting for it later.
4.Pick one – and only one. Car seats can be installed in two ways: lower anchors or a seat belt. You should only use one of these methods. This is an instance when "doubling" does not make it safer. Choose the one method that works best for your situation and stick to it.
5.Keep the manual handy. The manual that comes with your car seat contains all sorts of valuable information. Some of it you need right away and some of it you will need later. Put it in a safe place so you can reference it when you need it.
6.Check the expiration. Along with general wear and tear, the plastic and materials that make up a car seat weaken and deteriorate over time, especially with changes in temperature. The manufacturer includes an expiration date, usually printed on the side of the seat. Check the date. It is one of those things that can sneak up quickly, especially if the seat is handed down from an older child in the family.
7.Remove projectiles. In the event of a collision, objects in the car become projectiles. A small stuffed animal might not be dangerous, but many other things might. Consider a metal tool or other hard object on the rear dash. You wouldn't want this to make an impact with your infant in a rear-facing car seat. It's much safer to secure potential projectiles in the trunk of your vehicle.
8.Prepare other caregivers. If someone else is transporting your child, make sure they know how to properly install and use the car seat. Even if the caregivers are parents themselves, they might not have experience using a car seat like yours. If you are leaving a child in someone else's care and there is a chance that they'll need to transport him or her, make sure that an appropriate seat is available and that the caregiver knows how to use it. Infants and children should not make even one unsafe trip.
9.Dress for success. Thick or bulky coats and snowsuits are unsafe for infants and children to wear in a car seat because they can prevent the straps from becoming appropriately snug. For younger children and infants, tuck a blanket around them once they are safely buckled. Older children, once buckled, can slip their arms in the coat backward.
10.Avoid accessories. Do not use any car seat accessories that did not come with the seat unless they have been approved by the car seat manufacturer. Aftermarket products have not been tested and may negatively affect safety performance.
If you have questions about choosing the right seat for your child, installation or other car seat safety concerns, seek help. Parkview's Certified Passenger Safety Technicians (CPST) perform car seat safety checks free of charge. They can help you determine the best place for each car seat in your car and make sure each child is appropriately secure. To schedule a time to meet with a CPST, call either 260-373-6856 or 260-373-9651.