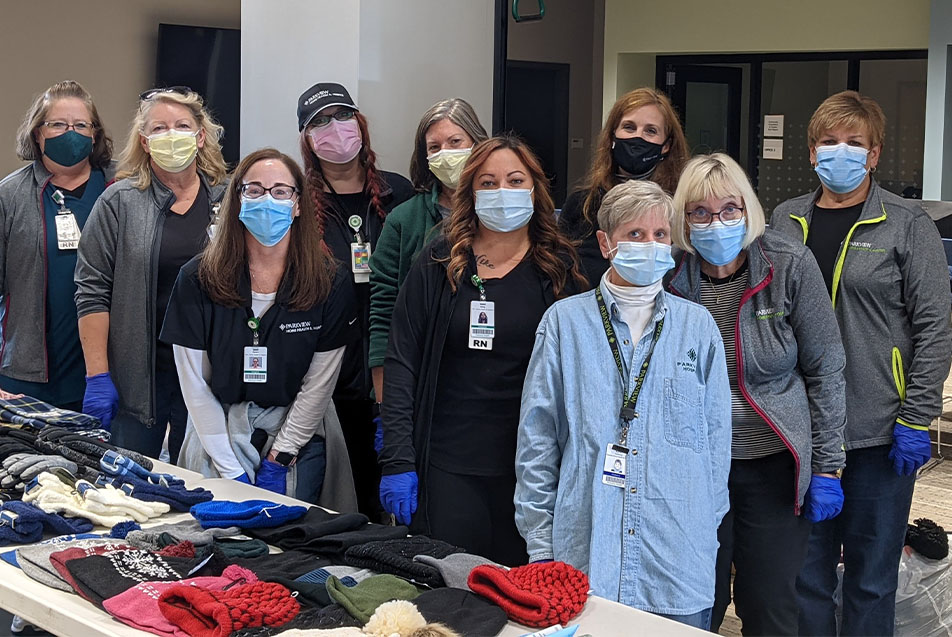 National Make a Difference Day is a nationwide initiative that encourages everyone to get active in their community and do charitable work. Millions of people worldwide come together on the fourth Saturday in October to make a difference and improve the lives of others. That was certainly the case for Jackie Richey, RN, Parkview Home Health & Hospice, and the Parkview Hospice Nursing Clinical Assessment Team (NCAT) committee, when they recently sponsored a donation event at The Rescue Mission, a nonprofit organization providing restorative care for men, women and children.
What can you tell us about the Parkview Hospice NCAT committee?
NCAT stands for Nursing Clinical Assessment Team, and almost every nursing department within Parkview has one. We typically get together once a month to discuss issues, assess our operations, update each other on any happenings within our department and choose a charitable project that could help others. We do this in hopes of bringing about change and improving someone else's quality of life. This year, I mentioned that National Make a Difference Day was in October and that we should do something in honor of the observance. Everyone agreed, so we got to work.
What motivated you to get involved in this national initiative and sponsor this event?
I firmly believe that while I'm just one person and can't do massive things, I can choose to do little things that will make a difference in someone's life. There are so many ways to do this. For example, I donate a small portion of my paycheck to the Parkview Employee Assistance Program. I tell people if I give $2 a pay period, and they give $2 per pay period, and another person gives $2 a pay period, we can make a significant impact and help our coworkers who may be struggling. That's why I love National Make a Difference Day. It's inspiring to know that if we all work together to perform these little acts of kindness, in the end, they really add up and make a big difference.
How did you go about organizing this event?
Fortunately, I had a lot of help from my team! Our department secretary, Nancy Swisher, was integral in the collection process. She oversaw the whole thing. We started collecting winter items in September and continued through October. We set up bins in our front hallway and encouraged people to drop items off. We were fortunate in that so many people brought things in to donate to the event. We ended up collecting over 1,000 items consisting of hats, gloves, scarves, blankets, a few coats and some toiletries.
From there, I called Sharon Gerig, Director of Emergency Services and Community Outreach for The Rescue Mission, and she was kind enough to connect me with a member of their staff who helped coordinate the event. Then, on Saturday, November 6, several of us met at the Rescue Mission to hand out the much-needed items to the homeless and those in need during their community lunch.
What does it mean to the people receiving these donations?
Well, I think a common misconception is that people who utilize The Rescue Mission don't work when that's not the case at all. In fact, several individuals who came to the event mentioned how badly they needed heavy-duty work gloves for their jobs, especially with the little bit of cold weather we've already had this year. They were so grateful and appreciative that we had them. It was so rewarding to see that this small item that many of us take for granted had such a big impact.
Is there are moment that stands out for you during this event?
I remember one gentleman coming through who had had a stroke. He was trying to pick things up one-handed to see what would fit him. I'll never forget it, but one of our nurses went to help him. She went through the line with him and helped pick things out, ensuring he got what he needed. I mean, we're all nurses, and we give all the time. It's what we do. We do it every day in our jobs, but to step outside of the hospital walls and do this for ordinary people on the street is very rewarding.
Final thoughts
I want to say thank you to everyone involved in the process. I couldn't have done this alone. I also want to remind people that we can all make a difference in people's lives by doing small things. Not one single person had to donate a lot of money or time. We all gave a little bit, and we were able to do something positive while producing a wonderful event for those in need.
Special thanks to everyone who donated items, helped set up the event and handed out items.