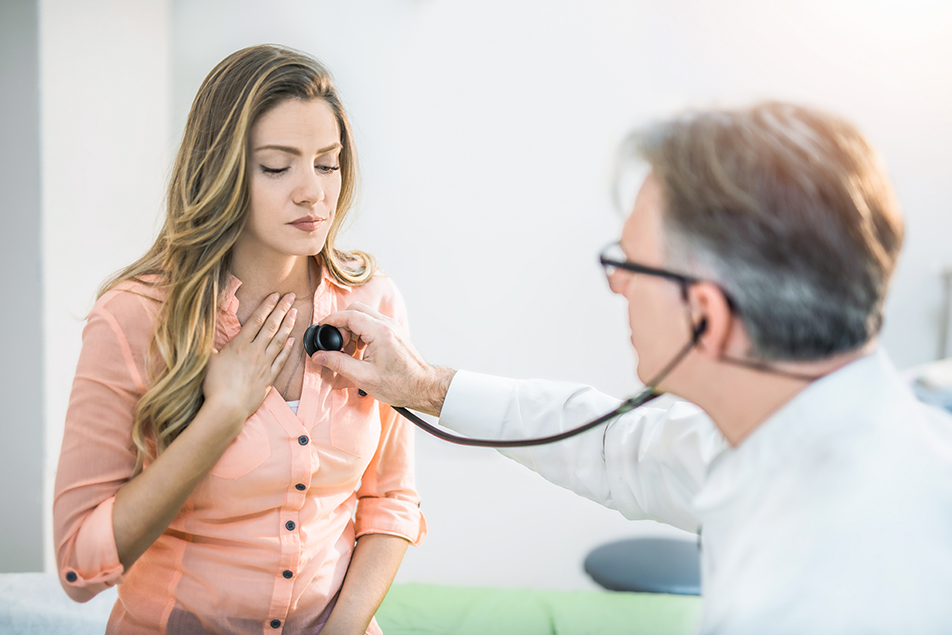 This post was written by Heather Willison, MSN, FNP-C, PPG – Allergy, Asthma and Immunology.
I ventured into the field of allergy and asthma care back in 1999, and let me tell you, it is a whole new world out there!
The evolution of the inhaler
The metered dose inhaler (MDI) was invented in the 1950s and was the first device to effectively deliver medicine to the lungs. Since that time, asthma treatment has evolved from the original MDI to breath-actuated MDIs, diskus and ellipta inhalers, and spacer devices, just to name a few. Inhalers even include handy dosage counters now.
Potentially containing up to three different medications, inhalers have also changed in appearance and functionality. There is one inhaler on the market that has a QR code on the top of it that when scanned will sync the inhaler to an app via Bluetooth technology. This app helps to track dosing, gives feedback on inhalation techniques, and even sends reminders to use the inhaler. What will they think of next?
Biologics
A 2019 analysis in the American Journal of Respiratory and Critical Care Medicine found that from 1999 to 2015, asthma mortality fell by 43%, proof that asthma care has improved drastically. Partially responsible for this improvement is the fairly recent addition of biologics to treat severe asthma.
How biologics work
Asthma is a disease of airway inflammation, and this inflammation can make it difficult to breathe. Biologics work to disrupt the pathways to this inflammation by altering the activity of cells or genes.
The first biologic for the treatment of moderate to severe persistent asthma was approved for use in 2003, and it worked by reducing blood levels of immunoglobulin E, or IgE. IgE is an antibody produced by the immune system that contributes to airway inflammation.
The next generation of biologics helped to reduce the number of eosinophils, another driver for airway inflammation in asthmatics. The most recent biologics target thymic stromal lymphopoietin (TSLP) and interleukin 33, two immune system proteins that are found further upstream in the inflammatory process.
How biologics are administered
Biologics are given as an injection into the fatty tissue (subcutaneous) and can often be self-administered at home. Doses are administered every 2-4 weeks typically, with one product being administered every 8 weeks. The dosing intervals and ability to self-administer make biologics a convenient option for many.
Who is a good candidate for biologic therapy?
Biologics are a good option for severe persistent asthmatics, or people who experience difficulty breathing (coughing, shortness of breath, wheezing, chest tightness) frequently, with these symptoms interfering in daytime activities, as well as sleep. If asthma symptoms persist despite traditional asthma treatments being used optimally, then a biologic would be the next step.
Adherence to the treatment plan is key to a good outcome with any chronic disease state. Many asthma specialists would likely say that biologics may not have a place in asthma care if more patients with severe asthma stuck to their treatment plans. Unfortunately, it can be difficult to remember to use a daily or twice daily medication, especially if you feel good much of the time.
Are biologics affordable?
The newest and latest in drug therapies come with a higher price tag, but the companies that make and promote these drugs do offer copay assistance. These copay assistance programs often result in asthma biologics being nearly free for most commercially insured patients. The bottom line is that insurance companies cover biologics because these patients no longer frequent the emergency rooms or urgent care clinics, and they are not missing school or work. It is a solution where everyone benefits.
If you feel that you might benefit from a biologic therapy for asthma, please discuss your symptoms and current plan of care with your primary care provider or asthma specialist. If you don't have an asthma specialist, you can ask for a referral to PPG – Allergy, Asthma and Immunology. We would love to participate in your care and help stop asthma from interfering with your life.