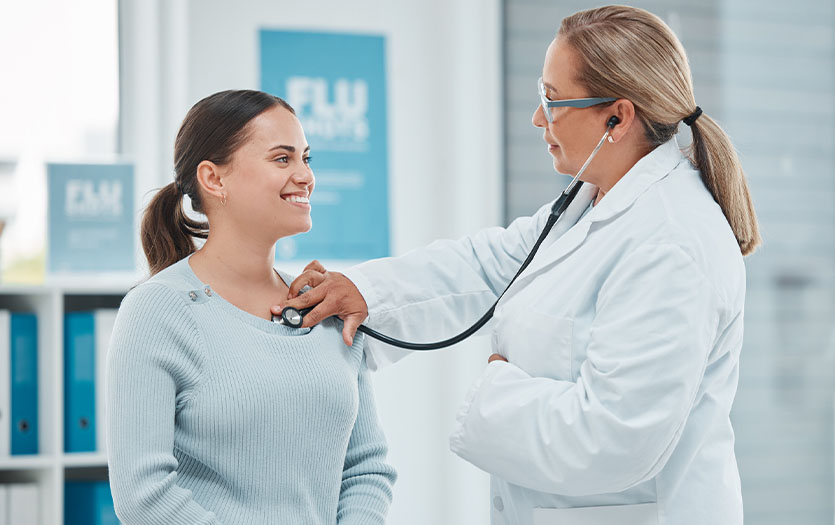 This post was written based on a recent appearance by Jill Zahm, MSN, RN, AHN-BC, program coordinator, Parkview Heart Institute, and Kaitlyn Brita, NP, PPG – Cardiology, on the television program PBS HealthLine.
As women, we often wear a myriad of hats – wife, mother, friend, doctor, chef, chauffeur, counselor, teacher, multi-tasker extraordinaire – each requiring something different. But in our haste to put others first and don that extensive list of headgear, we often forget to accomplish the most important task of all: self-care. With the assistance of two Parkview Heart Institute experts, we cover a variety of questions to help educate and empower women of all ages to invest in themselves and take charge of their cardiovascular health.
What is bikini health?
Bikini health refers to the mistaken belief that a woman's health only differs from a man's when regarding the parts of the body that a bikini would cover, which is an outdated notion, considering many health issues like cardiovascular disease, osteoporosis, cancer and autoimmune diseases affect women differently than men. This often happens when the physicians (and sometimes patients) only focus on the gynecological and childbearing aspects of women's health (i.e., pelvic and breast exams) when checking their cholesterol level and blood pressure are just as important.
Why is it important to "know your numbers?"
By knowing your numbers and taking advantage of appropriate preventive care, you can reduce your risk and even prevent the development of some major diseases. A few of the most important numbers you should know include:
Weight
Cholesterol (specifically LDL or bad cholesterol)
Why do women delay seeking care for a heart attack?
Many women feel guilty for taking time for themselves, which is one of the reasons they don't seek care right away when experiencing discomfort. The other is because of the symptoms they develop. While chest pain is a common sign of a heart attack in both sexes, women are more likely to feel nauseous, light-headed, heaviness in the chest, shortness of breath, and pain in the jaw, neck, back, arm and/or shoulder. For this reason, it is vital not to ignore symptoms you may be dealing with and to seek help immediately if you are having any issues.
Are there any long-term effects of cholesterol-lowering medication?
Cholesterol-lowering medicine can be very beneficial, especially if your cholesterol is high. It can help reduce any potential for buildup or blockages within the arteries. However, some side effects like muscle aches and fatigue are associated with long-term use, which is something to keep in mind and speak to your healthcare provider about when considering statins.
Can cardiac issues occur during and after pregnancy?
Many patients may experience a fast heart rate during pregnancy because the blood in their body increases, causing their heart to work harder to pump the extra fluid throughout their body (and to the baby). This process can result in heart palpitations. Some women may also experience shortness of breath and swelling in the legs. If any of these occurrences affect someone's daily life, they should immediately consult their physician to see if their symptoms warrant further evaluation. This could be through blood tests, an event monitor or an ultrasound of the heart. In addition, we want to ensure we're screening for diseases like gestational diabetes and high blood pressure to mitigate and reduce a mother's risk of a cardiac event. Recent research has found that women with these conditions can have cardiac symptoms even 10 years after delivery.
How much physical activity should you aim for each week for heart health?
The main goal of being active is to get your heart pumping. Walking, running, swimming and cycling are all great choices that will help strengthen your heart. We recommend at least 30 minutes of aerobic exercise five times a week. Now, we realize that's not always feasible for everyone, but even if you start small, those efforts will add up over time.
Key takeaways
Women have to make self-care a priority. We encourage you to carve out a portion of each day when you can say, "I have nowhere to be, no one needs me, and I have nothing to do." Allow yourself to have that moment to breathe.
Remember, we want a healthy community. With women making most healthcare decisions for their children, spouses, and elderly parents, they need to be well-educated about their health and how to access appropriate care. If you are concerned about your heart health, consider asking your primary care provider for a referral to the Women's Heart Clinic at Parkview Heart Institute.