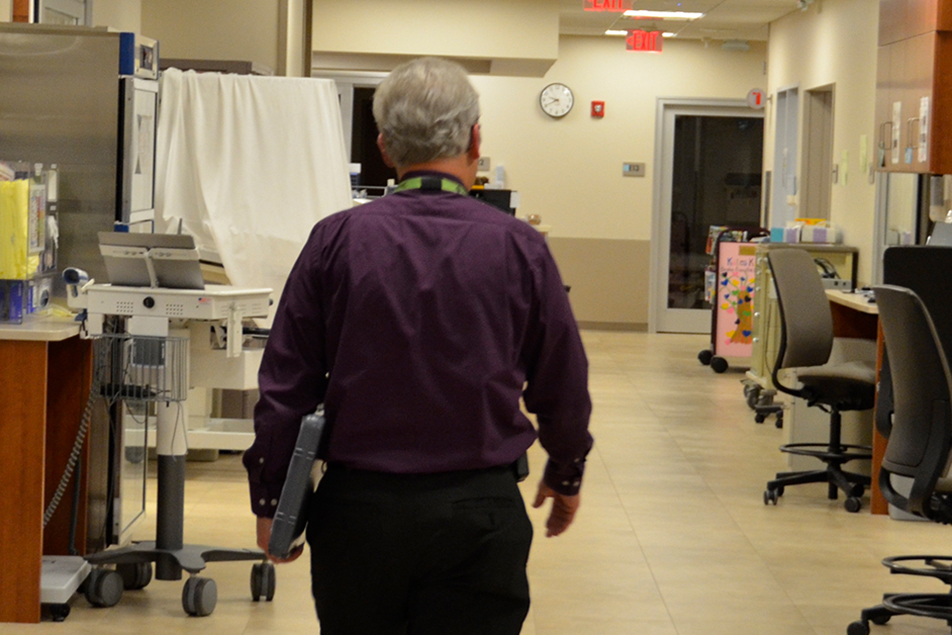 This post was written by Courtney Leach, digital/social media manager, Parkview Health.
7:30 a.m.
I pulled back the curtain in my bedroom. The porch light was on and I could see the snow coming down, quickly, the steam from my coffee fogging the glass between us. I admired the dancing flakes for a minute or so, thankful the girls didn't have school that day. Then I left them, three little round faces in a row tucked under the weight of our heavy winter comforter. I am blessed, I am blessed, I am blessed. I thought.
My quilted black coat was hanging on the back of a chair in the dining room. I put it on and reached into the pocket for my gloves. My fingers grazed a wrinkled piece of paper; the program from my aunt's memorial service a few days ago. My heart felt so heavy, so depleted after the last week. How could I handle nine hours with a team of chaplains, even if I had made a promise?
8 a.m.
The drive to the hospital was slow and slick. I got halfway to work before I realized the radio wasn't on. I parked and made my way out of the cold and across the sky bridge to the wayfinding signs leading to Chaplaincy. Chaplain Kent Green was waiting for me, already tracking the day's cases. Kent, who's been with the team for more than five years, recently returned from medical leave. Previously a pastor at a missionary church, he was more than ready to return to his post at Parkview this month. When I welcomed him back, he said, "I love this place. There's such a need for us. I never feel like I have to come here. I feel like I get to come here."
8:25 a.m.
I'd hardly had time to change out of my snow boots when I heard Kent's pager sound. My heart dropped to the pit of my stomach. This was what I'd been dreading for weeks. Combine all the nerves I'd ever experienced on a shadowing assignment – Parkview Samaritan, cardiothoracic surgery, trauma, MICU, labor and delivery – and multiply them by a hundred and that's how anxious I was about this day, these scenarios. It had been my experience that the raw emotions of another human being experiencing unfathomable heartache had a tendency to completely level me. Hence, my hesitation. And now, the assignment was real. The pager had beckoned. Someone would be having a dark day, and I would be their witness.
Kent gathered a folder with grief materials and a few documents. "We put a card in there with our name and phone number," he explained. "That way they have someone to call if they need anything." The Parkview chaplains are responsible for completing the necessary paperwork for end of life situations. "We follow Indiana code," he said, "but there's nothing in there about the compassionate care we offer. That's extra."
As we approached the room, I noticed a picture of a single white flower on the doorframe. This, Kent explained, is an image to alert the entire staff of the patient's passing. Road conditions had slowed some of the family's journey to come say their goodbyes. Sons, daughters, spouses, grandchildren came in groups of two and three, their grief confirmed as they reached the room. I'd picked a dark forest green sweater to wear that day, thinking of discretion. Now, the palette seemed especially appropriate. I slowly walked away, and found a bench a few rooms down. I stared out into the white powdery horizon, hoping the brightness would burn my impending tears into submission, but I had little success. Crying inconspicuously is a craft I never mastered.
This would be my first glimpse at the counterintuitive courtship between the men and women of chaplaincy and the isolation of loss. Everything in my being was telling me to walk away. To give this mourning family privacy and time. But this is when the chaplains walk in. This is the cue to insert themselves. It's a presence they've perfected over countless exchanges.
9:50 a.m.
Back in the office, Kent received a page for a spiritual consult. He also grabbed a stack of pamphlets on completing advanced directives, another initiative the team oversees. We worked our way through a maze of hallways and secured doors, the chaplain my seasoned tour guide of Parkview Regional Medical Center. When I commented on his navigation prowess, he shared that the team of 22 covers multiple miles on a typical 12-hour shift. "In fact," he said, "That was part of my rehabilitation before coming back to work. I had to make sure I was able to handle the steps."
10:20 a.m.
Kent and I were able to sit and chat for a few minutes with Tim O'Sullivan, chaplain, Lydia Miller, chaplain, and Father James Bromwich, a rare gift for the busy group. My first question was the question I'd wanted to ask from the moment Patrick Riecke, director, Volunteer and Chaplaincy Services, invited me to observe his team: "How do you do this job, day in and day out?"
"This is a calling," Lydia said. "God helps me in the moments I need help, and certainly, we have hard times. I mean, we stare death in the eyes every day."
"But it would just be so hard," I countered.
"Yeah, but that's kind of the barometer for this job," Tim offered. "If you don't feel anything, that's when it's time to stop."
"And Patrick really holds our feet to the fire when it comes to self-care," Lydia said. "If he sees us overextending, he says something."
"I think I would be a mess," I admitted.
"We are that element of peace in a situation that has no peace," Tim said. "If we walk in fired up, that doesn't really have the desired effect."
"You'll find that many of us have walked a journey and come out with hope," Lydia added. "We've all experienced things that led us here. I was diagnosed with breast cancer within three weeks of my mom, and my daughter was critically ill for years. Fellow chaplain Susie [O'Shaughnessy] was born premature and wasn't expected to live. We have chosen to let God do something with that pain. I choose to accept my miracle. And there's power in walking into a room and saying, 'I've been there.' It brings the walls down and gives hope to the hopeless."
They would go on to explain the unbreakable bond formed after years of both beautiful and brutal cases. Within the walls of their office, they've formed an exclusive club, where membership requires resiliency and vulnerability, conviction and acceptance. If there was a common theme as I chatted with team members throughout the day, it was the shared love and camaraderie among these chaplains. They walk together when the next step seems unbearable, and they pray together when faith is the only answer.
"You amaze me," I said, confessing the work and the emotional weight of it all truly frightened me.
"You don't want to live in fear, but it's certainly there," Lydia said. "Most of us have been around long enough, we know the rhythm of the room. We know, based on how fast people are moving, how many are in there, and what their faces say, when it's time to just pray. Pray for the patient and pray for the words to comfort their family."
Tim added, "My heart beats faster every time I have to make that dreaded call in the middle of the night."
"Often, we're the cushion for the clinical information," Lydia said.
"We'll ask, "Do you understand what the doctor just told you?'" Tim explained. Because often people respond in unpredictable ways. It could be fainting, or screaming or anger. The chaplains' goal is to make sure the situation is clear and then help the family begin to accept their new truth.
"And then we tell the physicians to go do their job, and we do our job. We start with basic needs: Does the family need something to drink? Do they know where the restroom is?" Lydia said. "We want to help, whatever they need."
10:50 a.m.
Kent and Lydia, who was the rounding chaplain on duty, got a page in the Emergency Department (ED). The chaplains get a call every time patients come in for a stroke, cardiac arrest, trauma, motor vehicle crash, victim of violence, near drowning or miscarriage. Depending on the situation, the team's responsibilities can be extensive and surprising. If there is no family present and the patient isn't responsive, chaplaincy handles gathering and taking inventory of their personal belongings. They also work to identify Jane and John Does – people who come in with no known identification – though they actually use cities for first names. In this instance, Kent was able to talk to the family, offer a prayer and reach out to their pastor to notify him of the patient's health event.
When we returned, the group, now joined by Denise Schwaberow, chaplain, who works with palliative care patients, was gathered around fellow colleague, Chaplain Jon Swanson. I would discover later that Jon was facing one of the most challenging circumstances for someone on this team. He had just come from visiting a friend who was extremely ill. Her prognosis was unclear.
"What can we do for you?" Lydia asked him.
"How are you feeling physically? Are you OK?" Denise inquired.
"I'm fine," he said. "I just need to go home so I can get ready to come back and work."
"We love you," Denise said, as he put on his coat to walk out.
She turned and walked toward me. Denise wanted me to join her and Lydia early that afternoon, when they would sing for a gentleman who had made the decision to remove his tracheostomy tube. Sensing my hesitation, she leaned closer.
"There's beauty in the journey into heaven," she began. "This is what he wants. Ultimately, we're not making any decisions. If there's a miracle that's going to happen, it will be. And if his healing is meant to happen in heaven, then that will be."
The pager sounded.
1:15 p.m.
Kent got a call to the ED, a heart attack in progress. We walked past the curtain into a crowded space with controlled yet quick activity. In the midst of x-rays and beeps and monitors, there, at the foot of the bed, sat the patient's wife, looking on, helplessly. All eyes were on the gentleman in distress, except for Kent's. He walked over and crouched down at her side. Eventually, we would walk her to the waiting area at the Parkview Heart Institute. On that brief stroll, she shared endearing details of her husband and of their marriage. She smiled warmly as she sifted through 65 years of memories, picking and choosing what to disclose.
We checked her in and made sure she had everything she might need. And then it was time for us to go. For a writer, like myself, I yearned to know how her story would end. I wanted more about these characters and their lovely past and the plot twists ahead. But this would be all I would get. A beautiful walk with a beautiful soul and a shared moment of uncertainty and reflection. And that, in a nutshell, is much of what chaplaincy is.
2 p.m.
Kent walked me up to the ICU. Tim waited at the nurse's station as Denise, tuning her guitar, and Lydia made their way into the room. I followed behind them with my camera. The family agreed to share this precious moment with me, which meant more than I would be able to convey in the time that followed. With his wife and son looking on, the patient stared into the space just beyond his bed as the two big-hearted chaplains smiled through harmonies and hymns, their voices piercing the heavy air.
It was angelic and haunting. I could feel my composure slipping away. I stepped out just before the tears started to fall, and Kent quickly offered to walk me back to the office. Tears are not uncommon for this group, but I couldn't help feeling self-conscious about my reaction. After all, these people make a living coming alongside others in their darkest hours. When everything feels like it's spiraling, they are the stabilizing force. They walk through their day gathering burdens and sadness like pebbles on a rainy beach from the hearts of others in the hope they might lighten their load even the smallest bit.
But it wasn't just the emotion of that moment. It was the warning it triggered deep down inside me. It was the image of those three little faces I'd left in bed that morning and their amazing father. Did I tell them how much I loved them? Am I living a life today that I can celebrate in my final hours? It was the clarity that we are all fragile and we are given a gift every morning we wake up. I suppose that's an occupational hazard in healthcare. Revelations like these.
2:30 p.m.
We found a window in the afternoon. Kent was working on charting – a vital part of the job and something chaplains do to communicate with clinicians and each other – and handing off his responsibilities to Jon at shift change. Lydia took the opportunity to check in on me.
"There's nothing we can do to change an outcome," she consoled, as she kindly chose not to acknowledge the inky smears below my bottom lash line, "but we can come alongside and help people process. We can comfort and offer calm."
I confessed that the energy in the room got me. It felt so vulnerable and delicate and private. It stirred things in me and triggered an uncontrollable cascade of emotion. But it wasn't the presence of the ache that surprised me. It was the power of it.
"You have these moments when you sing a song or say a prayer and then the family will tell you it was a song their loved one used to sing, or something they used to say," Lydia said. "And we get Godbumps."
"Godbumps?"
"Yeah, that's what we call them. Godbumps."
3:25 p.m.
Jon had the pager now. My final hours with Chaplaincy would be spent watching him help a family through the loss of a loved one. On our walk to the waiting area, I shared how impressed I was with their team.
"A lot of people come to chaplaincy from hurt," he said. "But hurt that's healed. We truly respect each other, too, and that makes a difference." It was a fascinating point. So often we only think of chaplains coming in and taking pain away. As the unflinching pillar of belief and strength. But nearing the end of my time with them, I had a new understanding of how those pillars were built; from a foundation of poignant pain and purpose born of adversity.
He continued. "I don't know if you're familiar with Donald Miller at all, but he has a great podcast. He had this famous restaurateur on once, a guy known for his customer service. He told Donald that, when people come into their restaurants, they're trusting them with their treasure – their first dates, their proposals, their celebrations. What we do is very similar. But those treasures are related to the body and soul."
We found the family in the waiting area and Jon sat down with them. After expressing his condolences, he began going over the grief packet and paperwork. There were a lot of unknowns for this family. A lot of discussion and hesitation and confusion. He offered them the gift of time, excusing himself for a bit to begin some of the documents.
Jon and I walked over to the chapel and had, what would turn out to be, one of my favorite conversations of the day. He began, "Sitting in my office at a church, I would never intersect with the people I get to intersect with here. So many people are recovering from church, and this is my opportunity to bring healing. Without sacrificing theology at all, I'm able to bring grace and clarity to a confusing situation."
"Why do you think there's so much confusion?" I asked, the trickle of the baptismal font the only other voice in the sanctuary.
"People don't often have these conversations outside of the moment of death," he said. "That's why we encourage things like Advanced Care Planning."
"Do you think that's because people fear death?" I asked, admitting it was something I personally struggle with.
"Oh, absolutely." he said. "Acknowledging death means acknowledging our failures. The things we'll never do, never fix, never overcome … And all of that is really hard, so we just don't do it."
There was something about Jon. He spoke like a stoic philosopher, even about the most routine of interactions. He tailored his analogies to my life, like he'd known me for years. His words were slow and steady and his smile warm. Next to him in that chapel, I felt like I was exactly where I was supposed to be exactly when I was supposed to be there.
He sat with the family for nearly 40 minutes, when all was said and done. He remained quiet until his instincts told him to lean in and intervene with advice. He was the epitome of patience and empathy. He told me later, "The paperwork gives us an excuse to be close to people during a difficult time."
4:30 p.m.
Denise was the only chaplain left in the office when we got back. The two went about the business of running through the latest patient developments. When they were through, she came and took a seat next to me, eager to hear about my day. I had no words. What do you say about such humble heroics?
"God was preparing us for this job all our lives," Denise said.
"Lydia touched on that a bit earlier," I said. "The stories that brought people here. Jon, I didn't ask, do you have a story that you feel brought you to chaplaincy?" Denise looked down and then back up at Jon, consoling him without saying a word.
"Yeah," he said. "My second child was a daughter. She had trisomy 18. When my wife was getting closer to delivery, we weren't even sure we'd get to meet her. But she lived for five weeks. Standing next to her grave, I realized that I could believe in God even if no one else did. I was given the certainty that I wasn't talking myself into my faith."
A brief silence was the only appropriate transition.
"In my previous role, I prayed God would give me a desk job, with no emotions," Denise said. "He sent me here. Quite the sense of humor he has. It was a great reminder that I can't ask for what I think I need. I can only ask to follow His will. I love this job. I've never felt such a team energy. To know that everyone has your back and that you can leave knowing the person you hand off to cares as much as you care … that's amazing."
5 p.m.
I glanced at the clock and started gathering my things. I'd need to go relieve the sitter soon. Jon's pager sounded two, maybe three more times. His day was gaining momentum as I was giving myself permission to wind down. He would be making his way back to the ICU in a few minutes.
"You know, my aunt was just here in the ICU," I said. "Actually, she passed away, but I heard everyone who treated her, including chaplaincy, was phenomenal."
"Aw, what was her name?" Denise asked, likely so she could add her and our family to her prayers that evening.
I told her my aunt's name. Jon lifted his head from the computer screen, turned quickly to face me and focused his eyes.
"What was her name?" he asked.
I repeated myself, raising the syllable on the end the way people do when their statement is also a question.
"I was with her," he said.
And once more, I was weeping, though this time I hadn't seen it coming. It hadn't built behind my eyes or threatened for days. Jon was with her. The thought brought me a peace I hadn't known I needed. Like he was the bridge between my grief and her release. Denise had her arms around me in a minute. She hugged like a woman who made a living doing just that. As I pulled away, I looked down at my arms. With layers to shield the snow outside covering my flesh, I couldn't see them, but I knew they were there … hundreds and hundreds of tiny, glorious Godbumps.