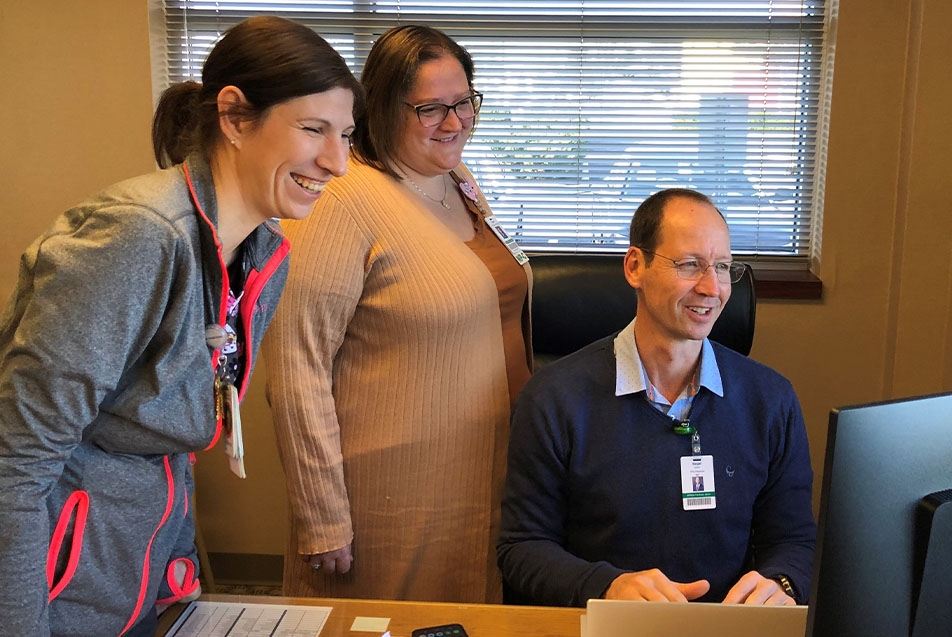 This post was written by Emma Hetrick, digital copywriter, Parkview Health.
Fruits, vegetables, brightly colored containers and a thermos filled with piping hot water littered my countertops. As I sipped my coffee and continued chopping carrots and cucumbers for my children's lunches, I couldn't help but wonder about the foods I was packing them. Are these items healthy? Is one cup too much or not enough? Is the small piece of chocolate I included as a tiny treat going to cause a sugar crash or is it simply a fun surprise?
Now, my children don't have any dietary restrictions or food allergies, and they haven't been diagnosed with any conditions, so I don't usually have questions like this swirling around in my head while going through our morning routine, but today was different. I had the privilege of shadowing David Segal, MD, PPG – Pediatric Specialties, Endocrinology, for a shift, and the anticipation of my experience had me thinking.
Knowing I was going to spend a day observing Dr. Segal, I did a little research. As a pediatric endocrinologist, he has specialized training and education in conditions relating to the hormones and endocrine glands, which affect the growth and development of pediatric patients throughout all stages of childhood up to the age of 18.
My arrival
After dropping my kiddos off at school, I headed toward the PPG - Pediatric Endocrinology office located on the southwest side of Fort Wayne at 8028 Carnegie Blvd, Suite 500. I walked through the lobby doors and wound around to the back of the building, where I found my destination.
I quietly opened the door to the waiting room and was promptly greeted by the front desk staff. Their bright smiles and warm greetings spilled over the counter. I introduced myself, and there was a flicker of recognition in their eyes. They gave me a verbal green light, "Come on back! Dr. Segal is waiting for you."
With my notepad and pen in hand, I gently tapped on the open door. Dr. Segal smiled, welcomed me to the team (for the day), then showed me where to stow my things. After a few pleasantries and a few quick introductions, we headed into his office.
I noted the comfortable surroundings and purposeful placement of furniture. Dr. Segal's desk was shifted to one side of the room, with cozy chairs placed around it and his computer monitor on a swivel, no doubt for sharing information and going over key components of treatment. Noting my observation, Dr. Segal explained, "I arrange my office this way because it's more conducive for conversation, collaboration and discussion." I also noticed a small play kitchen set, pretend produce, books and toys in the back corner of the room for the younger patients to explore while parents and caregivers delve into essential details pertaining to their care.
Leaving the main seating for patients and family members, I chose a small chair on the side of the room. While we waited for his patient to arrive, I asked the first of many questions on my list. "What types of conditions do you [a pediatric endocrinologist] treat?"
"In our practice, we typically see and treat children for prediabetes, diabetes (Type 1 and Type 2), obesity, thyroid disorders, puberty disorders (early or late) and growth disorders," he explained. "But we can also treat and see patients for rare conditions, like disorders of sex development, bone disorders, adrenal disorders and many other endocrine conditions."
A unique approach
Moments later, Dr. Segal's nurse popped into his office to inform us that his first appointment had arrived and was in the waiting room. She swiftly disappeared around the corner and, in no time, returned with the patient and their family, escorting them all into his office and gesturing toward the empty chairs.
Dr. Segal greeted them warmly as they took their seats, picking the conversation up from the last time they spoke, touching on recent struggles, their child's denial of their diagnosis, the reality of what mismanagement of the disease could result in, and the best strategies to empower and benefit them all as they learned to manage the condition. He didn't hesitate to meet them where they were, helping to breathe new life into a challenging situation.
I immediately noticed that Dr. Segal and his staff approach appointments differently than other providers. Instead of leading patients to an examination room to conduct the visit, they held most of the appointment in his office, conversing, collaborating and creating a path forward. After they had exhausted all their talking points, they transitioned to an exam room for vitals and a physical exam. That change in format showcased their dedication to their patients and the individualized care they gave each of them.
He rounded out the appointment by asking if they had any other questions. Sensing their hesitation and understanding that the conditions they treat can be overwhelming, he spent the remaining minutes reviewing the next steps and reassuring them of their abilities. He also reminded them that they could always reach out if they needed anything.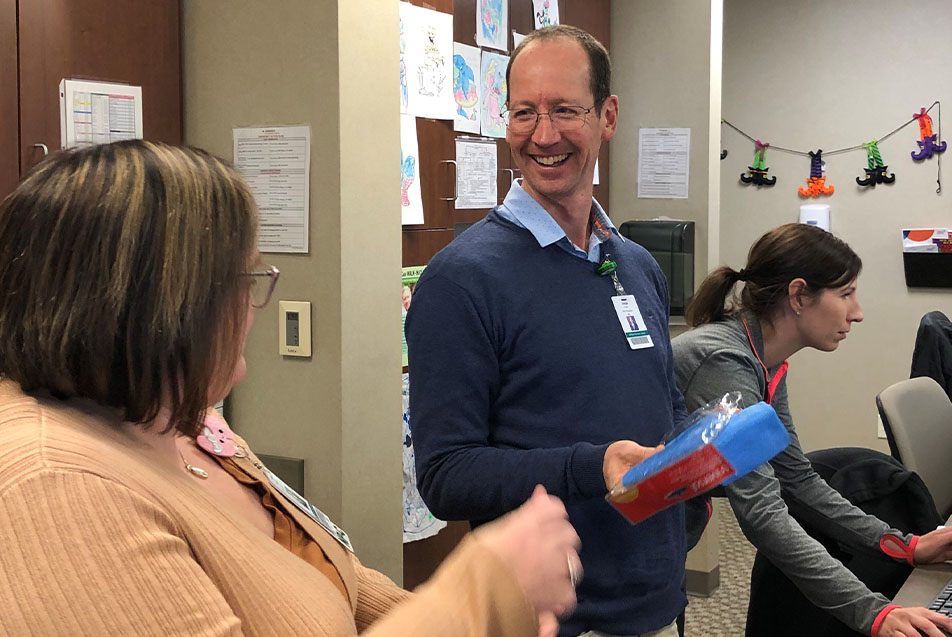 Becoming an endocrinologist
Dr. Segal briefed his nurse on the specifics of the appointment, then transferred his notes and observations to the patient's chart. As he finished reviewing other patient files and checking his email, I found an opening and decided to politely break the silence. "So, how did you become an endocrinologist?" I asked.
"Well, I'm originally from South Africa, but I did most of my training in America," he explained. "I completed all of my undergrad, post-grad and residency training in pediatrics at the Cleveland Clinic in Cleveland, OH. Then I did a Fellowship in Pediatric endocrinology and diabetology at Riley's Children's Hospital in Indianapolis."
He paused for a moment, silently confirming the details of his professional timeline before continuing. "After that, I went back to South Africa for a bit. I worked in government hospitals and established a thriving private practice, which was one of the largest endocrine and diabetes service practices in Africa. We served over 1,000 diabetes patients. During my time there, I helped run the practice and provided diabetes training and education to the doctors in the country. Eventually, I started a telemedicine company that specialized in diabetes management. We managed a few thousand patients remotely across South Africa with the help of that program."
I commended him on his accomplishments and asked when he'd returned to the States. "After roughly 19 years of being away, I returned to Indiana. I came to Fort Wayne because Parkview is a very interesting healthcare system. You see, my passion in life is changing patient journeys and healthcare experiences by educating and empowering patients in the decision-making process, showing them how to be more involved in their own care, and giving them the autonomy to do so. Plus, I wanted to continue my innovation work and efforts in scalable healthcare reform. Fortunately, I am part of the Mirro Research and Innovation Team, which allows me to do that. We are currently working on building a diabetes risk management platform for those living with the disease."
I investigated further. "Tell me, why did you choose the field of endocrinology?" With complete conviction, he explained his path. "Honestly, it's interesting, and there are so many facets to the field," he said. "There's a lot of precision and investigative work that goes into what we do in pediatric endocrinology. Take diabetes, for instance. We can't cure it, but we can use the tools, knowledge and expertise that we have to manage it and manage it well. There may not be a remedy for many of the conditions or diseases we encounter, but there are a lot of interventions, strategies, and therapies at our disposal to help treat everyone and everything we find in endocrinology."
Then, with a small knock on the door frame, Dr. Segal's nurse informed us that his next patient had arrived.
He welcomed both patient and parent into his office to chat. However, this appointment was slightly different from the previous, because this pediatric patient did not have a diagnosis yet. Their pediatrician referred them after mom expressed concerns about her young daughter's weight, the recent fluctuation over the last two years, and her overall health and well-being.
Sensing the pair's nervousness, Dr. Segal quickly put everyone at ease with his calm demeanor and casual conversation. They discussed the mother's concerns, their home life, and their nutrition, exercise and sleep habits. Throughout the exchange, Dr. Segal continually brought the patient into the dialogue, speaking softly and asking her questions. Eventually, they headed into the exam room for the next portion of their visit. Ultimately, mom and daughter seemed relieved, knowing they had a solid set of next steps, including lifestyle modifications and a follow-up visit.
More than just a job
After seeing the patient out, Dr. Segal turned to me and said, "Let's take a quick break. Follow me." We made our way down the hallway, where we stopped to chat with the friendly team at the front desk. They briefly spoke about the weather, each other's families, recent and upcoming vacations and other common interests. The conversation paused when the phone rang, but my intuition told me there was more to uncover about Dr. Segal's hobbies, so I kept the banter going.
"Yes, actually, I love cooking," he said. "One of my favorite dishes to prepare is picanha steak with a chimichurri relish and roasted vegetables." I asked him who he found inspiring when it came to creating in the kitchen. With a broad smile, he confessed, "I really like Gordon Ramsay. He's got such a good heart and passion for what he does. It's inspiring." We both confessed, however, that we would most certainly cry if Chef Ramsay yelled at us.
Digging further into his extracurriculars, I asked if he had any other interests outside of work. "Yes, I also really enjoy coffee. In fact, I'm a bit of a barista. I have a very fancy coffee machine at home and love trying new roasts and making my own drinks." And because we had some time before the next patient arrived, he suggested we retreat to the break room for a small cup of his favorite beverage.
Although I already had my morning jolt, I am never one to turn down a quality cup of coffee and knowing that Dr. Segal had an affinity for the perfect roast, I knew I was in for a treat. As the smell of freshly brewed espresso filled the sunlit room and we casually sipped our lattes, I posed one of my favorite questions, "What's the best part of your job?"
He took another sip, then explained his passion for what he does. "I've committed 20 years of my life to managing diabetes and endocrine conditions. It's what I do, what I live and breathe, and I love it," he confessed. "I love direct patient contact, inspiring and connecting with people to show them that there's another way of doing things. I thoroughly enjoy educating and supporting my patients and their families because I know I can help make a difference in their lives."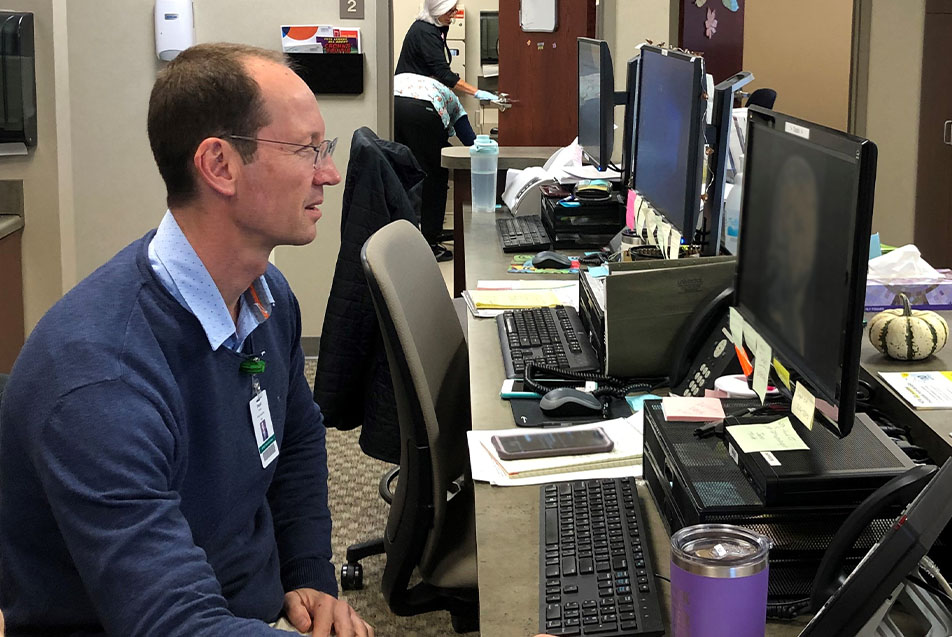 Knowing when to pivot
We left our mugs in the sink. We walked back to the nurse's station, where we were reluctantly informed that his last patient of the afternoon was no longer coming in. While the unforeseen cancellation left a hole in the schedule, he quickly changed gears and made the most of the opportunity. He said over his shoulder, "This actually gives me a chance to check on a recently admitted patient."
Back in his office, he dialed the number for his patient's care team to check on his condition. It was a thorough conversation, covering everything from what he had to eat that day and his blood sugar readings, to the results of a recent scan and when he should get his next dose of medication. Following the phone call, he took a moment to make notes and add the information to his patient's chart.
With decades of experience in the subspecialty, I was curious about the biggest shifts Dr. Segal had seen throughout his career. "Well, I'm constantly learning new things from my patients every day. You never stop learning in this profession, but by far, one of the most significant changes I've seen during my career is the invention of closed-loop pumps," he said. "Continuous glucose monitoring closed-loop pumps have been an absolute game changer for diabetes management."
Rounding out the day
As things slowed down, I had one final question to check off my list before leaving. "What's one thing you want people to know?" Without hesitation, he answered, "I want people to understand that we have some serious talent and expertise here at Parkview. People have dedicated their lives to learning how to better manage conditions and patients, but you can't access these resources or practitioners if you don't come. Healthcare is a shared decision-making process. There are two parties: the healthcare practitioner and the patient. We both have a specific job in managing a disease. There shouldn't be any asymmetry, but rather an equal partnership."
As he walked me down the hall and back out to the quiet waiting room, I thanked him for his time and for allowing me to be his shadow for the day. I waved goodbye to the front desk staff and followed the long corridor to the main lobby doors. Walking back to my car, breathing in the crisp air, I thought about the families and patients I'd met today and tried to place myself in their shoes. Would I be as strong as they were in the face of overwhelming unpredictability? Would I be successful at managing my own child's chronic condition? I don't know the answer to those questions, but I do know that I would find comfort in knowing that there are resources so close to home.