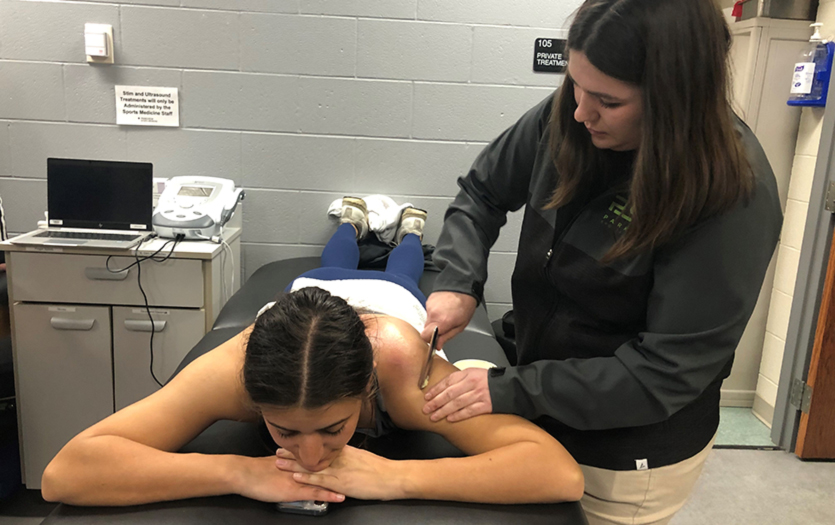 This post was written by Courtney Leach, social media manager, Parkview Health.
I sat in my driver's seat, left hand on the door handle, right hand on my backpack riding passenger. A rare late-winter rainstorm was holding me hostage. I clenched my teeth as the thunderous drops pounded against the windshield and hood of my car, pummeling – and power washing, if you're a glass-half-full type – the exterior. I'd already watched the clock on my radio tick up five times. I had to make a run for it.
I pulled the hood up on my jacket and carefully tucked any stray hairs under the thin rayon buffer between my straightened strands and the unrelenting shower. Face to the ground, dodging puddles best I could, I made quick work of closing the space between the parking lot and the main entrance to the Schaefer Center on the Indiana Tech campus.
The sensory nervous system is hardwired to create instant connections, so it took one whiff of the rubber mats, the distinct clank of weight plates coalescing in the distance, and a flash of brilliant orange accents to acclimate to the athletic dwelling. The Schaefer Center, nestled in the center of the Indiana Tech grounds, houses Kline Court, and is used primarily for the school's basketball and volleyball programs. Just off the hallway where I entered, the facility also houses a weight training space, and tucked in the back corner of that room, an athletic training office, where I would meet Maggie Tomlinson, MS, LAT, ATC, a certified athletic trainer with Parkview Sports Medicine (PSM).
PSM provides specialized services for athletes of all ages and levels of play. Based out of the SportONE Parkview Fieldhouse, many of the programs and treatments are available by appointment, but the sports medicine arm of the health system also has athletic trainers, like Maggie, embedded in the school environment at five colleges and more than 30 high schools. When I asked if I could shadow for a shift in observance of National Athletic Training Month, leaders were quick to connect me with Maggie, and assured me there would be plenty to take in. It was an understatement.
The starting line
Referring to the area where the PSM athletic trainers meet with students as an office feels a little arid in comparison to the environment I walked into. On Maggie's heels, I entered a pulsing, flowing, shifting space, alive with athletes and experts, vibrating in various stages of regimens, filling three-fourths of the treatment tables. I followed my subject's lead and put my backpack along the wall, next to several others.
Dressed in khakis and a PSM long sleeve polo, Maggie looked every bit the part of an athletic trainer–prepped and practical. Typically, when I observe a co-worker for an article, there's a grace period in which I settle in and start building rapport through small talk. But the sports world runs at a different pace, and the canon went off for Maggie's morning marathon the second we showed up. Noticing her first athlete had arrived, she pulled out a tabbed notebook and jotted down a few things, offering me high-level intel between scribing clinical shorthand.
She closed the cover and approached the waiting student, eventually taking a seat on a stool, putting her chest height with the freshman softball pitcher. She asked her how things were going and mentioned the impending snowstorm jeopardizing the varsity team's weekend triple header before transitioning to the guidance at hand. Maggie explained that being a primary pitcher often means long games, so she wanted to prioritize maintenance and recovery. She walked through the concept of blood flow restriction and voodoo flossing, a term that, admittedly sent my eyebrows up. Sans sorcery, voodoo floss is a band used to temporarily reduce venous blood outflow from an area. Once removed, a fresh supply of blood rushes to the targeted spot, which can promote healing. "But you have some games coming up," Maggie said. "So, we won't try that today. I don't want to introduce something new and run the risk of impacting your performance."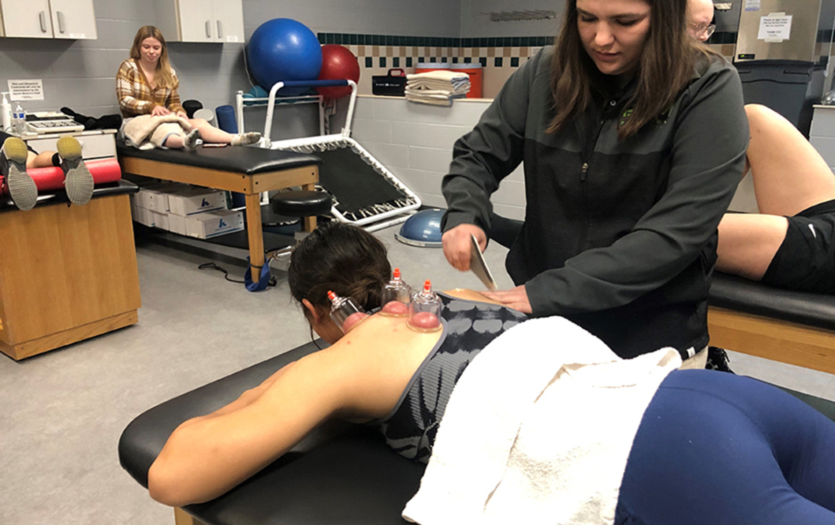 Instead, she offered mobility movements, followed by scraping and cupping, two tactics that sound suspicious, but are as common as morning coffee in the athletic training facility. I looked over Maggie's shoulder as she rubbed ointment around the silhouette of the young athlete's scapula, pressing along the profile of her primary mechanism of acceleration–the vehicle she'd likely spent years fueling, fine-tuning and depending on to perform. Maggie is the mechanic. She's there to facilitate maintenance that keeps the engine in top condition for as much of the season as possible, tune-ups when time and tension demand them, and the right tools and teammates when trouble takes a player off track.
Special treatment
And these sidelining setbacks certainly happen. A female wrestler came in, wearing a knee stabilizing brace. Maggie pointed to a table across from her. Overlapping visits was a constant throughout my time with the athletic trainer, but never seemed to overwhelm her. It's to be expected, considering the breadth and nature of her work.
There are six PSM athletic trainers at Indiana Tech, led by head athletic trainer Rich Riles, MS, LAT, ATC. The college has 25 varsity sports – with competitive dance and archery coming next year – and approximately 900 student athletes. Each athletic trainer is assigned to multiple teams. Maggie has women's and men's wrestling – both of which had record-setting seasons for the school – and women's softball, a professional roster of more than 150 Warriors.
This makes for a complex schedule, as you can imagine. On the Monday I observed her, Maggie had just returned from the women's wrestling Mid-South Conference Tournament in Kentucky. She was getting her ducks in a row to leave the next day at 10 p.m. for a 12-hour bus ride to Kansas for the National Association of Intercollegiate Athletics (NAIA) Men's Wrestling National Championship. This would be followed by a brief 48 hours at home and then the NAIA Women's Wrestling National Championship in North Dakota. (Editor's note: The Indiana Tech men's team took 5th and the women's team finished 17th in their division, and altogether, earned five All-American honors for the Indiana Tech wrestling program.)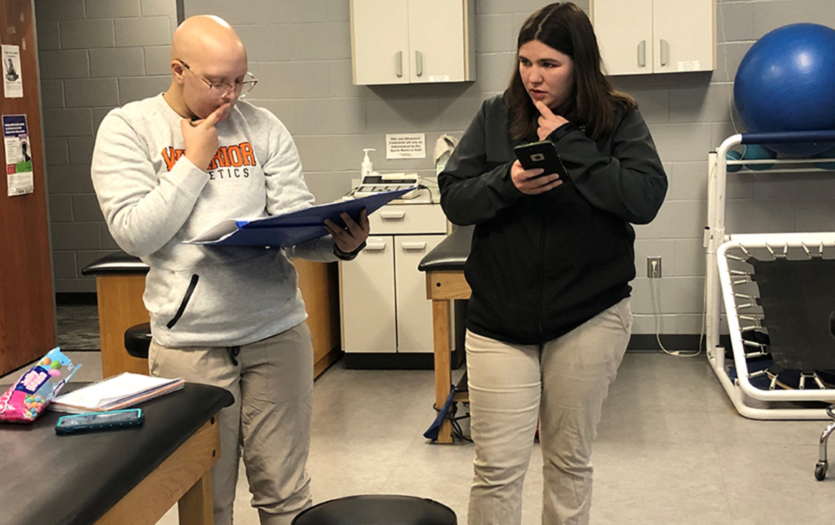 On days she travels with her teams, Maggie has to make sure another PSM athletic trainer is available to cover her practices and games, a kindness (and obligation) exchanged frequently among the group.
Maggie spends her mornings at the Schaefer Center because it's convenient for her athletes. She has a QR code posted outside the athletic training facility that links to her schedule so that her players can book appointments with her, but they can walk in as well. On a typical day during the season, she sees up to 14 players for individual rehab, evaluation and/or treatment appointments. She gives them her cell number in case they need her, but she has designated quiet hours. "I set boundaries at the start of the season, and they respect my time," she said. "We have really great athletes."
She turned her attention to the female wrestler, who'd removed her brace. Maggie shared that the lady Warrior was recovering from an LCL tear, an injury she sustained when she hyperextended the ligament during a match. The PSM team was managing the tear non-surgically, utilizing the brace and various therapies, including stretching. The athletic trainers collaborate with other specially trained PSM providers, including Mike Turcovsky, a physical therapist who is on the Indiana Tech campus four times a week. This allows for a multidisciplinary approach and best outcomes for players.
Maggie mentioned that the women's wrestling team, in particular, had been battling a lot of injuries during the season, which, after the tournament just days ago, was coming to an end. Maggie knew she would be seeing a lot of the team throughout the morning. "The girls got pretty beat up this weekend," she mentioned, as, almost on cue, another one of her athletes walked in.
The NAIA adopted women's wrestling as the 28th championship sport in 2022, and as of this year, more than 100 colleges in the country have varsity wrestling programs. I was curious about the structure. "It separates by gender at the collegiate level," Maggie explained. "Women do freestyle, and the men do folkstyle." The difference between the two comes down to scoring criteria, with folkstyle focused on getting away and freestyle on being turned or exposed. "I've learned to really love wrestling. It's a full body sport."
I noticed that, while there were plenty of sportsmen in the space, which was buzzing with lively recaps, replays and consultations, none of them were there to see Maggie. "Do a lot of your male wrestlers come by?" I asked. Maggie, whose a huge proponent of conditioning for injury prevention, explained that she didn't see them as often, a product of a smart program. "They are intense athletes and do intense conditioning," she said. "The coach knows when to taper their workouts, and his approach overall certainly leads to less injuries. Though things will still happen."
It was apparent that the office was a familiar asylum for the athletes. They would come and go with a comfortable informality that signaled feeling safe. A softball player arrived and walked over to the area where players could get self-serve bags of ice and towels, and grabbed a moist heat pack. She hopped up on a table and rested it over her legs. Maggie approached and had her flip onto her stomach. It took a light touch to recognize how tender her muscles were. Maggie started rubbing her calves with shea butter, followed by scraping.
Muscle scraping has been shown to improve blood flow and alleviate painful adhesions. As Maggie explained it, the muscles are wrapped in a Saran Wrap-like material called fascia. When overworked or injured, fascia can develop sore spots, or adhesions. Running a muscle scraper over a targeted area can relieve discomfort and reveal the specific location of troublesome areas. "Oh yeah," Maggie said, as the scraper skipped in one particular spot on the student's calf. "Is that tender?" The girl laughed and nodded, an involuntary clench saying what she didn't need to.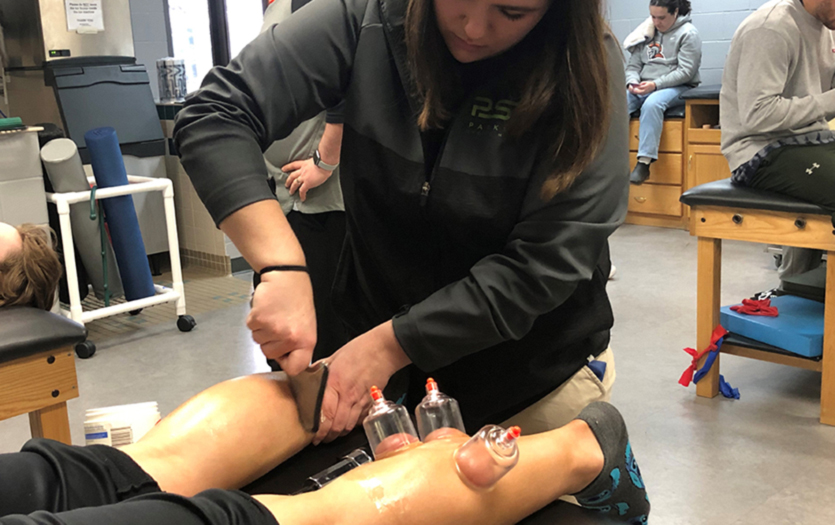 Maggie typically follows scraping with cupping, a tactic she says is low risk for most. Of everything I observed in our packed day together, this was the most fascinating to me. There's no doubt that the ancient method has been having a moment for the past several years. We'll call it a comeback, since the practice dates back centuries. The process involves applying a small glass cup to an area of concern. It's then suctioned to and draws in the skin. Once secured, the cups stay on for approximately ten minutes, during which time you can see the skin reaching various shades of maroon and crimson. Maggie explained the darker the circle, the worse the inflammation underneath.
I watched athlete after athlete relax as the seal on the cups gave way and they were removed, leaving behind eye-catching cinnamon-hued circles. The practice promotes healthy blood flow and encourages the body's natural ability to heal, but the storyteller in me started conjuring up more interesting narratives for the women to offer their friends. Alien hickeys seemed like a fitting tale to tell.
Comprehensive considerations
As the athlete pulled her pant legs over her sphere-clad calves, Maggie suggested frequent foam rolling before practice and protein immediately after. "Protein is going to help repair those muscles you used," she offered. The pair exchanged recipes, guaranteed to squash the player's sweet tooth, and keep the scraper from skipping.
It's hard to talk about women in sports, wrestling in particular, and not eventually broach the subject of weight. "Nutrition is definitely at the forefront of athletics," Maggie told me. "I will say that, by the time they get to college, these players know their bodies and how food can help with recovery and performance. They either already recognize, or we educate them about how they can get injured if their nutrition is off. We talk about their calorie intake, including their micro and macro nutrients."
Regarding wrestling specifically, there are practices in place to keep participants healthy. "Our team weights range from 101 to 190, with all different body types and training and nutritional needs. They do weight certification at the start of the season, using a skinfold measurement. There's an equation to indicate the minimum weight they can wrestle at, and they can't compete if they're below that."
This doesn't completely diminish the risk. "Our coaches are really good about athletes' weight, and they don't promote unhealthy weight loss," Maggie offered. "That being said, the athletic trainers know how to spot extremes. We can talk to them and provide education or connect them to Sami Kauffman, our sports dietitian. At any time, if a concern is outside of our scope, we will refer players to a specialist."
Her eyes flashed over toward the door, where a softball catcher, recovering from a bad ankle sprain was hoisting herself up onto an inclined table. Maggie checked in with her, looking over the joint. "Have you noticed any swelling?" Her athlete confessed, apprehensively, that yes, perhaps just a little. "That's actually a good sign!" Maggie assured. "It means healing is happening." She walked the catcher through a series of joint mobilization, stabilization and balance exercises, using sliding plates and a BOSU trainer.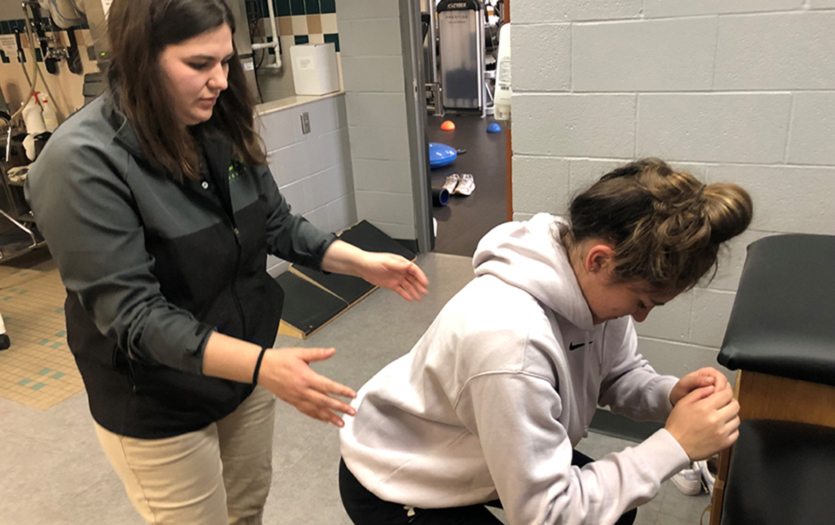 "Proprioception is so helpful for athletes who tend to over or under correct," Maggie explained. "I like to encourage strengthening and function as much as possible. When I'm working with someone who has sustained an injury, the goal is to get the player back to their 'normal'. If they didn't wear a brace before, I'd like to get them to a place where they don't need it."
Another athlete, looking somewhat timid, came in. Maggie picked up a long resistance band and walked her to a less-crowded corner. She introduced the girl, a softball pitcher, to a series of exercises designed to strengthen that essential shoulder girdle and prevent strain. "We don't just treat injuries and address pain," Maggie later told me. "If a player wants to get stronger or work on a particular skill, I can help them with that, too."
Just before 1 p.m., Maggie ducked into the narrow space where the athletic trainers' desks are to call and offer a coach an update on a starting Warrior. "We work really closely with the coaches," she started, stopping abruptly when a voice came through the speaker. The discussion encompassed a lot of considerations, including what percentage of effort the player could give, how it would impact the team overall and the risk it presented for the player's potential the following season. Maggie offered to sit in when the coach spoke to the student regarding her status for the immediate schedule.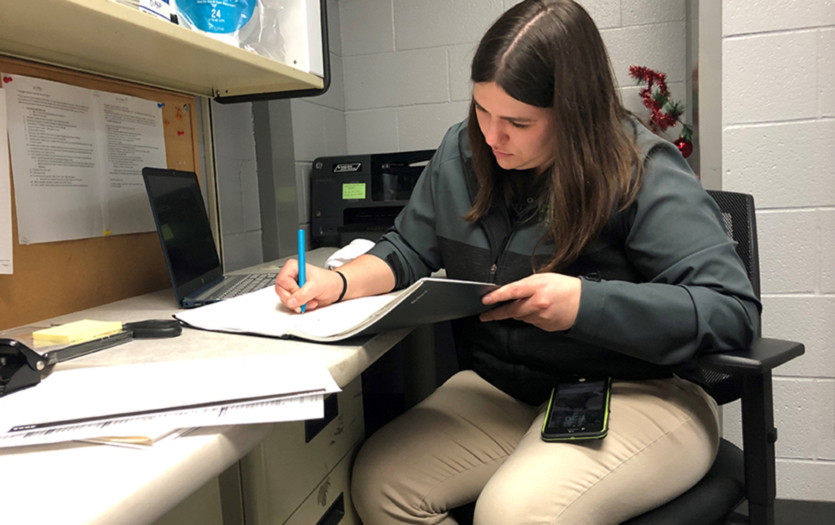 Communication and professional advisement pertaining to the clinical aspects of the athletes on the teams she cares for are a constant commitment. Maggie is responsible for charting visit details for each player and completing a daily injury report for coaches. With the pace and quantity of interactions, I was beyond impressed. "That's why I write everything down!" she laughed.
Return to play
A female wrestler stuck her head in. "I'll be right with you," Maggie said. She shared that the student was there for a concussion evaluation. "Any time an athlete is injured, we have a return to play protocol, but there's a very specific protocol for concussions." She pulled a paper out of her bottom desk drawer and the three of us walked into a small, private side room. "You lost consciousness at your meet over the weekend," Maggie started. "When that happens, we consider it a head injury, and follow this specific set of steps, OK?" The girl nodded.
The evaluation included a series of questions, rating symptoms over the past 24 hours on a scale of occurrence, and physical screenings, including eye tracking and balance exercises. Maggie explained that the wrestler would need to complete an ImPACT test (a computer-based assessment tool) at home and be cleared by a physician before she could resume activity.
"Of course, our biggest concern is something called second impact syndrome." This is the term used when an individual experiences a second head injury before recovering from the first and can be extremely dangerous. Athletes are referred to Joseph Mattox, MD, the primary team physician. They can also see Jason Frampton, MD, at Ortho Express, or the physician assistants at the Fieldhouse location for medical needs outside of concussion.
Listen and learn
The intimate space where we found ourselves accentuated a trend I'd noticed in all of Maggie's interactions. She took her relationships with her teams very seriously. It was evident in the questions she asked and how, when they answered, she respected their feedback and input. She used small openings to provide education and guidance. Maggie mentioned at one point that she isn't that much older than the students, and so it's easy for her to put herself in their shoes.
Over and over, she picked up on a passing comment or flash of a facial expression, which led to a small but impactful suggestion or further exploration around sleep, diet or relationships. The mental health component is a key priority for the athletic trainer. "Our players have access to Lauren Tait, our Peak Performance coach, and we're all trained in crisis management, but it's more about the rapport you build," she explained. "With athletes, their sport becomes their identity and that brings a lot of pressure. As the athletic trainer, you become very protective of them. They're like your kids in a way, so it's hard not to absorb the emotional weight of what they do. You feel devastated when they get hurt, but you also get to celebrate their first match back. That's the reward."
And perhaps it's her age proximity that keeps the unique challenges of their chapter of life so accessible for Maggie. "They have so much going on," she told me. "Being a student athlete comes with a lot of stress. You have to handle budgets, schedules – including practices, classes and games – relationships with your classmates, teammates and coaches, and maybe being away from home for the first time." Maggie kept the door open for conversation around all of these topics during her appointments, always offering a positive counterpoint or perspective they might not have considered–filling the part of the unassuming role model with the healing hands and empathetic ear.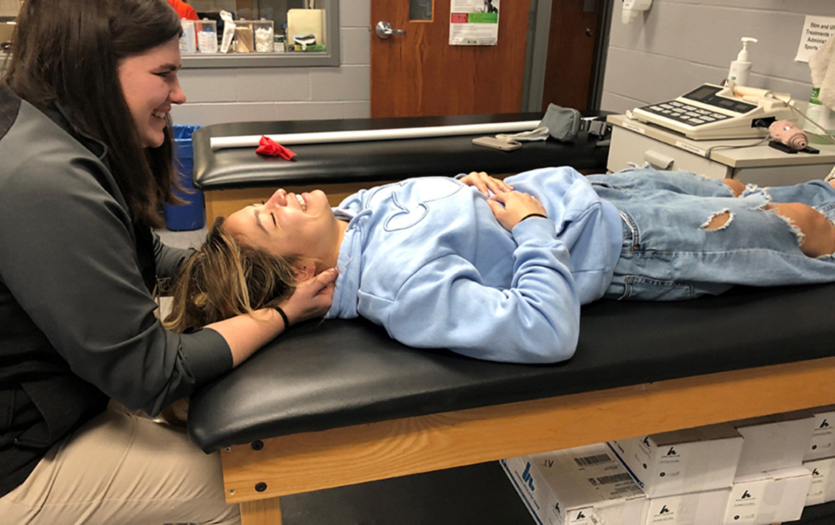 Just as the pace was slowing, one of the women's wrestlers walked in. With her championship match a mere stone's throw away, she woke up that morning with pain radiating down her arm. Maggie had her lay down and met her at the head of the table. She placed her fingers at the base of the girl's skull and started investigating, running them down the sides of her neck and tops of her shoulders. After several minutes, mid-sentence and in a low voice, Maggie declared, "found it," perfectly in sync with a subtle wince on the wrestler's forehead and eye creases. This earned the All American one cupping session.
In case of emergency
Once she felt satisfied with her athlete's condition, Maggie invited me to pack up and join her at Warrior Park, Indiana Tech's track and athletic training facility that opened in 2019. It was a short drive to the building off Tillman Road. The hours-long rainstorm was dumping precipitation in a higher gear than when I'd arrived that morning. I waited until I was sure Maggie was inside before I made an embarrassing dash for the door.
Here, Maggie attends practices for softball (3:45 to 6 p.m.), men's wrestling (4 to 6 p.m.) and women's wrestling (6 to 8:30 p.m.). Between practices, appointments and games, Maggie sees her athletes every day during their season. "I'm at practices in case of emergencies or if they have any needs," Maggie said. "But I try to do one-on-one visits in the office, at a different time. Their coaches need their full attention during practice."
It doesn't take a calculator to tally up the time commitment required of PSM athletic trainers. "I know, I know …," Maggie said, "but it only overlaps like this for a few more weeks, and then it eases up quite a bit. It's a balance. Spring is almost here." Even with the change of seasons on the horizon, the hours demand dedication. "You have to have a true love for it because it's difficult to maintain the pace if you don't. It's certainly an underrated profession. Yes, we tape ankles and set up watercoolers, but there's a whole lot more to what we do."
That prompted me to bring up the incident this past winter with Buffalo Bills safety Damar Hamlin, a sobering reminder of how vital trusted sideline care can be. "Our role is important," Maggie agreed. "Something isn't going to happen every single day, but when it does, you want someone there who knows what to do."
Sitting in the quiet office space, her valuable, undivided attention for the first time all day, I realized I hadn't really talked to Maggie about her career origin story. "I was an athlete in high school, but I knew I didn't want to play in college," she said. "I wanted to do something medical, but I wasn't quite sure what specialty. I thought about everything from being an EMT, to a physical therapist, to a physician's assistant, or working in the ER. When I discovered athletic training, it encompassed a little bit of all of those."
After becoming certified five years ago, Maggie, who is originally from Michigan, worked as a graduate assistant athletic trainer in West Virginia, while completing her master's degree. She then went to work for an orthopedic surgeon at Central Michigan University. "It was a tough job, but mostly, I missed the relationships. I wanted to be part of the decision making for the patient. At one point, I thought I was overwhelmed, but I think I was just bored! I realized I belong in the traditional athletic setting, where no two days are the same."
She joined the PSM Indiana Tech team in August of 2022. Now, with nearly a year under her belt, she's garnered a solid rapport and is finding her rhythm. "There are patterns leading up to injuries," she said. "Having both men's and women's wrestling has been incredibly helpful. I've been able to see how their movements differ, and now I know what to implement for each group."
Maggie lights up when given the space to really dig into the nuts and bolts of her work. "The cool thing about athletic training is that we are knowledgeable in all, and masters of none. We have to be able to recognize red flags pertaining to orthopedics, cardiology, neurology, and so on, and then get our players the right referrals." The Indiana Tech athletes, many of whom aren't Fort Wayne natives, benefit from the team of PSM care navigators, located in the Fieldhouse. "Every time we refer an athlete, we have to do an insurance claim, and coverage can be a barrier for some of the kids. Our navigators do an incredible job of helping them get what they need." It's part of what Maggie loves about PSM and the Parkview health system. "As an employee, also, I have to say, I've never felt like my employer cared for me like I do at Parkview."
While recognizing chronic physical, emotional, nutritional, and mental health issues that require specialized resources is part of the job, Maggie is also uniquely adept when it comes to a holistic approach. "Yes, I treat injuries, but I also listen a lot. If it's within my scope, and they're offering information, I have no problem being that person they share with, because often emotional healing leads to physical healing. When I really focus on them and what they're saying, their whole energy can shift."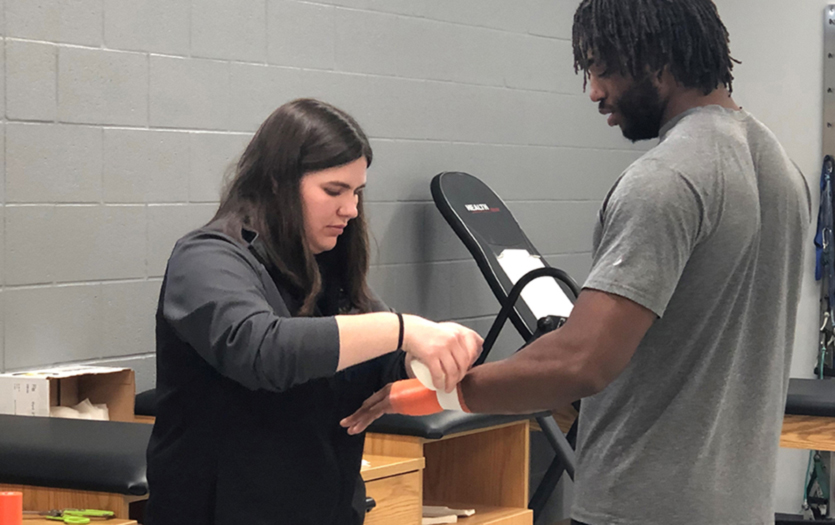 Practices were getting underway, and a spandex-clad gentleman walked into the office. He lifted his right hand slightly, and Maggie stood up. "Want me to tape it?" she asked, deducing his request from the gesture. "Please," he confirmed. I followed the pair into a treatment room across the hall, where male wrestlers started multiplying. Maggie taped several fingers, and a wrist, asking them for feedback on the materials she was trying–always wanting the best result for her athletes.
The seventh inning stretch
I had an obligation across town, through the downpour, and I knew I needed to get going. In the courage of our dwindling time together, I confessed how much I loved spending the day with her, but particularly, how intriguing I found the cupping process. "Do you want to feel it?" Maggie asked, a perky smile spread across her face. Of course I did. She had me flex my forearm and rubbed a dime-size dollop of shea butter on a modestly meaty spot. And then, suction! My day was made. She left it for only a handful of seconds (this was intended strictly to cure curiosity), so no alien hickey for me, but I was thrilled.
Instead of a cinnamon circle, I left Maggie like I leave all of the co-workers I follow–with a broader view of the impressive scope and expertise it takes to perform her role. I would argue that, like all who rise to the top of their field, Maggie has that professional hat trick of talents it takes to be exceptional. A sharp clinical mind, an empathetic intuition, and an inextinguishable passion for the work. As is true for all mechanics worth the service fee, Maggie operates from the mindset that maintenance is the best vehicle for prevention. And, while there are no warranties or guarantees, when the body breaks down, the best diagnostic approach is one that takes both the physical and emotional parts into account.
"There's so much pressure on these athletes," she'd told me, earlier that afternoon. "Their body is their instrument and a lot of them have scholarships on the line. But I hope that I'm a good role model for them. There's a future out there, beyond their sport and I want them to be able to enjoy that, too."
I'd say Maggie has landed in the perfect place, among the Warriors, where a win for one is celebrated by all. Warriors are champions for a worthy cause. They're soldiers with a relentless commitment and bias for bravery. Heroes, who show up when others are battered or broken. Maggie possesses these traits in spades, and they surface in the countless ways she advocates for her players and profession.
As these young athletes take to the fields and mats where their collegiate memories will play out, Maggie will be on the sideline, watercooler set, confident she's done the work to protect her players and poised for the moments no one can predict or prevent. It's an exhausting job. One that demands long days and bears an emotional weight. But, as any true warrior will tell you, it's the challenge that makes it great.