In 2012, Lizzy Makin, then a college track athlete, suffered an injury that led to the discovery of a tumor in her right leg. Lizzy underwent chemotherapy, radiation and surgery to address the growth.

A cycle of surgeries
Unfortunately, the type of cancer Lizzy had recurred every three years. It came back in 2015, at which point she did chemotherapy. Then, in January 2018, she discovered she was pregnant, and at her seven-week ultrasound, she also learned that she had another tumor.
Lizzy and her husband welcomed a healthy little girl later that year, but in order to remove the new tumor, Lizzy needed hip replacement surgery. The procedure resulted in nerve damage to her hip and a loss of function in Lizzy's right leg. She was experiencing lymphedema (swelling) in her leg and multiple dislocations, each requiring another surgery.
"We were at the end of our rope," Lizzy said. "I had to decide if I wanted to keep doing surgery after surgery or have an amputation. I chose amputation. They took my pelvic bone and any other bone structure I had in that area."

Addressing the wound
As a result of her amputation, between April 2021 and February 2022, Lizzy was dealing with a very deep wound. Her surgeon referred her to the Parkview Huntington Center for Wound Healing.
Here she met Cynthia Wellman, MD, CWSP, certified wound physician specialist, Parkview Huntington Hospital, and the team of wound care professionals.
"Because of radiation done several years before, but still affecting wound healing, Lizzy qualified for hyperbaric oxygen treatment," Dr. Wellman said.
Lizzy would go to Parkview Huntington, Monday through Friday, and get into the oxygen chamber. "I'd drop below sea level for an hour and a half to heal from the inside, out," she said. "I would watch a movie every day. It is bizarre to know you're in a tube, but it's clear so I could see and it wasn't so not scary. It made my ears pop like on an airplane. Then you get out of the chamber and go on your way!"

Healing and support
"This isn't just one person doing this, it's a large team," Dr. Wellman said. "We truly care about these patients. When you see somebody day after day or week after week for months at a time, they become friends or family."
This was the case for Lizzy and the Huntington team. "Going daily, I built relationships and got to know them really well. I looked forward to going and seeing them, even though it was for treatment. The nurse I had with me every time was fantastic. She brought me movies and we'd talk, but she also checked on me outside of the wound clinic. I felt like more than a patient–I was a person."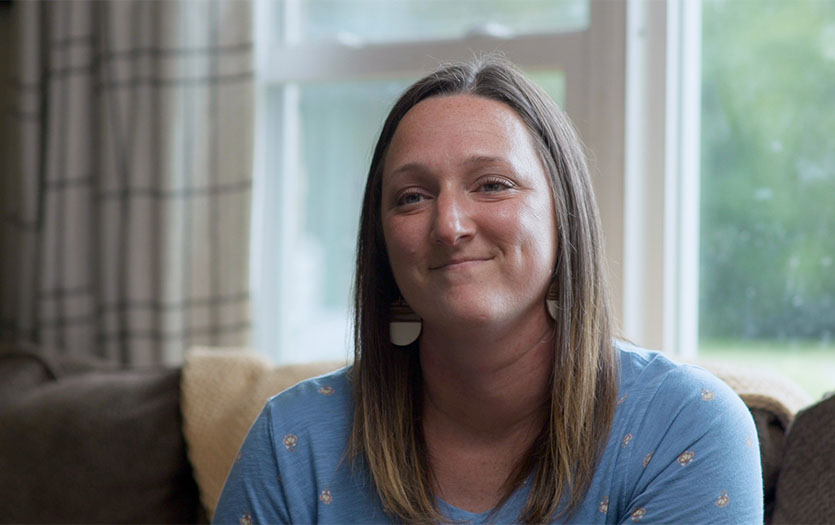 After a long road, Lizzy was able to close the wound from her amputation. "Sometimes [with wound healing] you stay the same for weeks or even go backwards, and patients give up or lose faith," Dr. Wellman said. "Lizzy kept the faith and worked with us, and we got here. It healed."
These days Lizzy is enjoying a more open schedule and finding new ways to do the things she loves. "My health is better than before I had my daughter," she said. "There's nothing wrong with me. I don't have a leg, but life is easier. I'm learning to do things in my own way and life is fun. I don't have to worry about when my next appointments are, and I feel like I can actually live life now!"