Each May, The American Nurses Association pauses to draw awareness to and recognize the invaluable efforts of the dedicated caregivers who serve in a variety of nursing roles across the country. This year's theme is "You make a difference," and we couldn't agree more.
To mark National Nurses Week, we wanted to highlight a few of the stories from the men and women who make our health system so strong.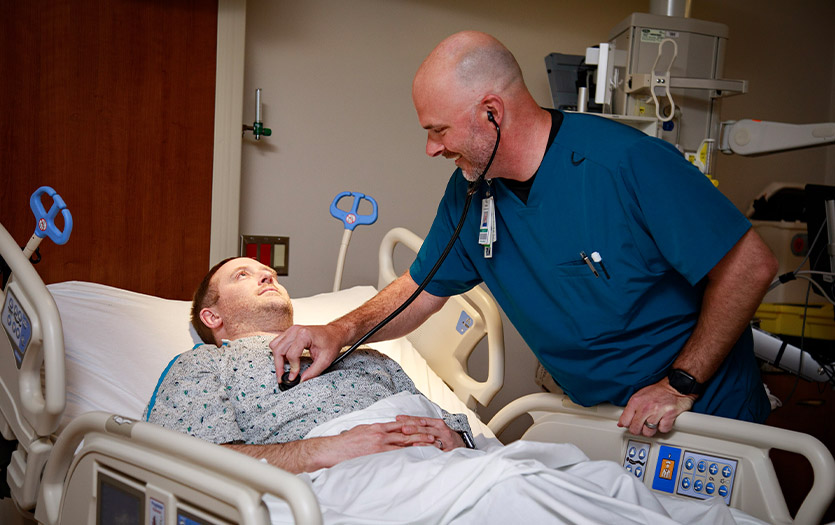 Discovering the career of his dreams
Compared to some of his co-workers, Josh Stork, RN, BSN, Surgical Trauma ICU, Parkview Regional Medical Center, is the new kid on the block. "I was one of the older ones coming through nursing school," he said. "I joke that I didn't know what I wanted to be when I grew up." Once Josh felt called to the profession, the path became clear. "There are other ways to get into nursing rather than straight out of high school. The opportunities are there, no matter what age you are or stage of life you're in. If you have a passion for caring for others, you can make it a reality."
As a bonus, Josh has outstanding teammates to assist him in navigating his later-in-life career pursuits. "I like the atmosphere of working quickly and doing the job well. Everyone is willing to jump in and help me out. I feel supported and appreciated for what I do, and I can tell that everyone enjoys their time here."
Doing the work you love makes all the difference, and for Josh, connecting with a deeper purpose is confirmation that he's in the right place. "This really is a selfless profession. We sacrifice time with our families to help people we don't know," he said. "The people whose lives are altered in seconds–they get in an accident or have a stroke–I can sympathize with them, but also know I can make them better. I know I'm going to love this job because I'm not just touching the patient, I'm also touching their family and those around them, and offering comfort in their time of need."
Thank you, Josh, and all of the caregivers who make Parkview such an exceptional place for hope and healing. Happy National Nurses Week!